---
Travels With Oso con Migo
Sojourn In America
OAE On The Road Again, The Northern Border States-Closing The Loop
---

6 February 1999, last letter 28 August 1998 (Letter 98g)
Greetings Cohort,

Sorry about the long delay in getting this letter out.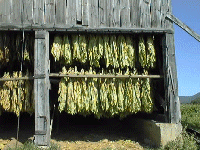 5 September 1998, What's round at both ends and high in the middle?
...and has more "new" towns than any other, what? Somebody said: The only state with cleavage... The states are getting smaller now as I move east. I can cross one a day now and all of it lies within the same timezone, even. Closing the loop is becoming a likely accomplishment. There are several points coming where I could claim that but at this point I'll try for Center Conway where I really started. But then--what next? Where next?

Eighteen-wheeler is a another word for big truck. They have two axles at the back, two in the middle, each with four wheels, and then an axle at the front with two wheels. There are trucks on the road here with ten four-wheeled axles and the single two-wheeled steering axle: 42! I don't know what they are carrying. Imagine... just the tyres for such a truck cost as much as a small car.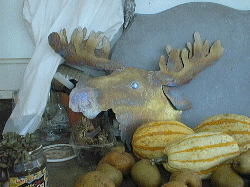 9 September 1998, Steel The Wind at Jersey Shore
I never did find out why he's called Nude. Maybe has something to do with his other moniker "Naked Head" but I can't fathom that either. What ever, Mike Patterson <torchfun @ uplink.net> is an artist who sculpts stainless steel and welds together the most incredible designs for house and garden. Our paths first crossed in one or another Antarctic station where he was getting paid to weld and welding as a creative outlet as well. His sheet steel relief map of Antarctica is a center piece in the NSF Chalet at McMurdo. Now he's just returned from an art show just in time to apply his torch to a most delightful supper.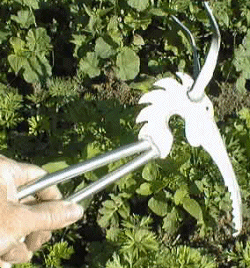 The next day, while I mow the back yard Nude sets up to build his next batch Heron Head garden tools. The yard is an obstacle course of garden paths and fruit trees and the fine old ticka-ticka-ticka rotary push mower turns the windfalls into applesauce. The Heron Heads are a combination cultivator, ice ax, and geologist hammer. From the looks of the angles and edges they look like they could also double as can and bottle openers.
Jersey Shore is Amish country. Out back of Patterson's is a large furrowed field of some tall grass crop. While I was mowing the short grass in Nude's back yard with the old rotary mower a boy in that adjacent field was mowing the tall grass with some sort of horse drawn mower. But the interesting thing was that mower, while it was pulled by a horse for this kid who's way of life eschews autos and tractors and electric powered appliances, was being powered by a small smelly smoky gasoline engine.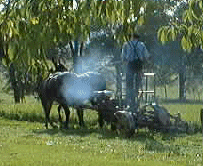 13 September 1998, Havens, Finger Lakes District
There is not much to write so I won't. I think I'm about all written out but just to record something someplace here.
14 September 1998, Sorting Trash
There is something here to mention. The trash and the water. Its hard to tell them apart? No, the water isn't that bad; in any other place they would be capitalising on the sulfurous quality: "Mineral Hot Springs..." When I took a shower last night it didn't take but a few minutes to get past the odour and then I didn't smell it at all. But the folks in the next site downwind; I could hear them chatting as I lathered my tresses and then for a moment they stopped: --Smell that, one asked? And the other replied: --Someone must be taking a shower.

But in all this travel this is the first place that expects guests to sort their trash beyond just removing the aluminium cans. "No burning of trash at sites. Fee of $1.50 per bag. Has to be sorted. Garbage in one clear bag, cleaned recyclables in another clear bag; bring to the clubhouse Sunday, 10 a.m. to noon. If you do not wish to separate your garbage, take it with you." I don't have any clear bags...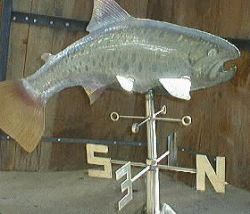 18 September 1998 Last Stop, End of the Line, Close The Loop
Center Conway New Hampshire, 17,090 miles, 322 days, from 1st November 1997. Thirty-one fillups totaling 1,925 gallons of diesel for an average of about 9 miles per gallon. That comes to $2,837.45 for fuel plus an estimated amount for lube-oil-filter three times for a total of slightly less than twenty-three cents per mile. From another perspective telephone charges for email, calling back home, calling ahead, calling to get rescued, amounted to fourteen cents per mile including unbilled amounts estimated to be due this month.

From Venice Florida to the Arctic Circle and Chula Vista California to here. Now it is time to clean house and catch up with the snailmail.

I'm back to visit with Kenny and Jane on their hill in Center Conway and for the first time come face to face with the devastation caused by last winter's Ice Storm. The hillside looks as though it has been left over from a clear-cut. The canopy of the forest is simply not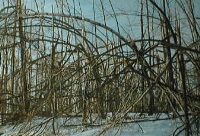 there--lots of topless trees with branches and crowns laying about at their feet, vast numbers of birches and oaks bent over in graceful, deadly arches, snags of spruce and maple laying leafless in the branches of their surviving neighbors. But even the survivors are at risk. It may be not unreasonable to say that 90% of the trees are lost: those that are not down already will die within two to five years because they have no crowns to support further growth and the split and jagged wounds of broken boles above the lower tiers of branches will invite fungus and disease into the forest.
My last guests were two Through Hikers, end to end hikers along the Georgia to Maine Appalachian Trail, who, like me, were nearing the end of their adventure. I picked them up with their bags of groceries at the Fabyans market and carried them back to the Crawford Notch AMC Hostel where they would spend a night or two before resuming their hike to the northern terminus of the trail at Mount Katahdin. And we each asked the other: --What are you going to do next?
I don't know. Start over, on another adventure of course, but of what sort? The options are countless, I canna make up my mind. See my resume if you will. If you have any ideas please take a moment to write. I am looking for work in areas of campground host, campground maintanance and light construction, computer consultant, programmer. Short term contract or seasonal situations preferred. Salary, stipend, quid pro quo, considered.
Stay Gold, bcnu, Send Money, Love, ajo


Back to ajo
Copyright (c) 2002 A.J.Oxton The Cat Drag'd Inn