---
Travels With Oso con Migo
Sojourn In America
OAE On The Road Again, North Along The West Coast
---

17 July 1998, last letter 16 May 1998 (Letter 98c)
Gentle Readers,

This is way overdue--sorry about that--and way too long--so I've cut it up and'll send two or three at once.
3 May 1998, Sunday, Ajo Aridzona
When a road sign says "Pavement Ends - Next 20 Miles" there are at least two interpretations. At every side road the pavement ends just beyond the Stop Line. At 20 miles the pavement ends. Arizona Route 238 makes the best of both. My new GPS navigator from DeLorme http://www.delorme.com/ plotted the shortest route from AzHVR (near Maricopa) to Ajo via the road beyond the end of the pavement; it plotted the fastest in the opposite direction and then round back on I-8. By the time I came back from the end of the pavement the route via I-8 had become the slowest and then was made even slower by yet another breakdown.

Mechanics who swear by high tech innovations should at least learn how to install them correctly. It goes without saying that customers who know of these problems should speak up to counter the so-called wisdom of these highly paid professionals. Its one of those things--I could just feel it was wrong but who am I to question these guys who I'm paying forty-five dollars an hour (in some places its been as high as seventy-five an hour) to do something right the first time. So after two hours of steaming along with the temperature gauge up near to the pin I notice, just as the last chance exit ramp drifts past off the starboard bow, that my air is getting dangerously low. It seems I have had this dream before on a cold and rainy day in Crawford Notch just after having some work done on the air lines. At least today is not cold and rainy. But with the a/c not working I'm gonna be wishing it were if I have to stop here. The low air flag came down and I drifted into the breakdown lane, started the hazard flashers, and coasted to a stop under a handy bridge just as the low air warning buzzer announced imminent brake failure.

Same symptoms as before: A loud hissing indicating a hole in one of those fancy newfangled nylon air lines. Here I am in the land of copper wishing I had some... But this time at least I have more of the nylon junk. So to make a long nightmare into a dreadful nap I eventually got the spare air line installed and was underway before the highway patrol came by to tell me I couldn't camp there.

Ajo was named by the Spanish Conquistadors who found garlic growing wild in the neighborhood. That's the storey one hears frequently but it is probly not the real storey. The Pima Indian's word for paint is au'auho and the red oxide and green carbonate made great body paint. When the Spanish arrived on the scene they connected carbonate with au'auho, turned the carbonate to copper and au'auho to ajo. It was only coincidental that the desert lily has a garlic like bulbous root; some say it tastes more like a mild spring onion. Today the community is billed as the place "Where the Summer Spends the Winter" and all the carbonate ore has been turned into a huge hole in the ground south of the center of town. Which, incidently, is 42 miles from somewhere according to the milepost near the Town Plaza.
4 May 1998, Monday, In Search of the Hesperocallis undulata
In this town named after body paint, the ajo lily, desert lily, wild garlic, only one person could describe the plant and offer any clew as to where I might find one. --Over there, on the other side of that little mountain, follow the dirt road, about ten miles.

Hesperocallis undulata blooms March to May, they're all gone past now so I guess I'll just have to come back some day. There are a lot of other things I'd like to do here as well that would easily take a week of casual visiting: Organ Pipe Cactus National Monument and the Kitt Peak Observatory just for starters.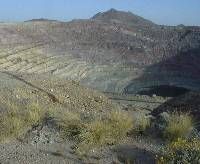 The Cornelia Copper Mine is closed at the moment but copper has been mined here on and off since before the mid 1800's. In its heyday Phelps Dodge employed more than 1,000 workers. Last year Phelps Dodge announced plans to reopen the mine and employ 400 people by late 1999. Such a move may reverse present efforts to turn the Curley School into apartments.
Cinco de Mayo, Another Word Not In Mi Diccionario
Most of today was spent waiting for air conditioner service only to learn that the process and the parts will take a week to complete. So much for buying top of the line equipment. The rest of the day was spent driving slowly up hill. From "sea level", that's what the sign said on I-8 near the intersection with Dunaway Road, some distance west of Yuma, to 3,241 feet msl at Mountain Spring Pass. Now I'm in a little valley, in a cold rain, a little below the pass on the San Diego side. It no longer matters the a/c is broken, time to turn the heat on.

According to themselves it was not really the fault of Arizona RV in Yuma that they could not or would not fix my a/c; most of the blame has to lie with Coleman for their policy that the dealer is not permitted to use local parts but must exchange warranty parts with Coleman. So it would be a week waiting for a new compressor even though it might be some other part. On the other hand if it is, for instance, the compressor starting capacitor, these guys couldn't tell. I got the feeling that they gave up too easily because, being warranty work, they were not going to get paid to find out what was wrong, only change the compressor.

The road was one long optical illusion. At first I thought it was the wind holding me back. There was a sign saying "Strong Winds Next 80 Miles" and I could see by the white caps on the irrigation canal beside the highway that there was in fact a strong headwind. But the road was unmistakably going Down Hill. Except that my altimeter was climbing more than a hundred feet per mile and the telephone poles were leaning over at a strange angle. Maybe I'd been going along the flat desert for so long my eyes refused to recognise a mountain when they saw it. At 2,000 feet msl I pulled over to see how things were going back in the engine compartment. The Allison four-speed transmission was smoking a little and there was oil of some sort all over the front of the little truck. So I'm still learning how to drive up hill. I poured in a quart of tranny fluid and shifted the axle into low range and crept along a little slower while all the Macks and Winnebagos went screaming past.

Despite the altitude of this camp at De Anza Springs the ring of higher summits effectively blocks the FM signals from Yuma to the east and San Diego to the west. Interestingly enough tho, the cellphone connexion is good enough to get the mail in and out. "Seeking" with my radio finds only rock and talk and bonita mi chica, no NPR. The WHIMPUR map shows there is an NPR station in Tuscon on AM. AM? Will this radio even know what AM is?
7 May 1998, Chula Vista, The Round & Round Continues
How does one write about a fire in the brakes without frightening the passengers? Maybe I'm over reacting but the smoke seemed real enough. Long after it was gone from the right rear wheel the left rear continued to look like a hibachi, but it smelled worse. Eventually I gave it a good dose of gatoraid--that always cools me off. It smelled worse for a while, worse than me that is, then the smoke changed to steam and dissipated.

All that was back along SR94 coming down from 3,000 feet to sea level again. Aside from the section of 399 in Florida along the coast east of Pensacola Beach this is probly the closest I have been to driving "the outermost road" so far on this circumdrivebulation of CONUS.

I finally gave up on the weather at DeAnza Springs and headed west. The road wound up and down and round and round. There was a sign, one of those "diamond" shapes that advise caution: "Trucks over 30' Kingpin to Rear Axle Not Advised" but this rig is only about seventeen feet from hitch to the rear axle of the little truck. The sign was a half a mile past the last chance to escape from this road and by the time a turn-around came available I was half way along to SanDiego. But not through the worst of it.

The road drops down through Diabold Canyon, a small town where they don't play much baseball (the grass and weeds in the infield are so deep the Little Leaguers would be in over their heads) and then continues west through Campo where the San Diego Railroad Museum has a lot of rusting rolling stock and offers excursion rides. I began to see surface water along side the road, little streams dropping down the steep sides of the canyon, collecting and gurgling through culverts and bridges from side to side. It was on one such bridge that I stopped to water the brakes.

Where SR94 dips a little more south at the junction with SR188 was the point of closest approach to Mexico tho Venice holds the record for the furthest south by nearly six degrees of latitude.

Eventually Chula Vista where I meet friends from way back in the old days and will try once again to get off the merry-go-round of warranty service from Coleman.
8 May, Friday, Santee, Getting the Brass Ring.
Its been a long go-round, taking time away from visiting friends, to get the a/c fixed. From back in Yuma when the first technicians poked and prodded and tested everything but the failed part to four shops in greater San Diego before finding an establishment where I could a: get past the flakes who field the phone calls, b: get an appointment before it was time to be in Seattle to get the ferry, c: consult with a technician who knew what he was talking about--and what he was doing--and could recognise the symptoms and find the problem. It was not the compressor after all. It was not the wiring in the bus. It was not the voltage. And it would not take four days to a week to get parts. Even Coleman, through their front "Recreational Vehicle Products", didn't know who could fix this thing, they only knew what I already knew: The first place I called was out of business, the second place was too busy, the third would be happy to sell me a new a/c but had not the time to install it, the fourth place couldn't change the compressor even if they had one--they'd given up their license to handle Freon due to the regulations and high cost of maintaining qualified refrigeration technicians. But this third place, Budget RV out on S.R.67, did know who--for sure--could make the repair: a guy named Lenny who specialised in a/c and refrigeration for recreational vehicles. Not only did they know Lenny but they were able to set up an appointment for the next morning.

Lenny operates in a warehouse behind an RV parts and service shop in Santee, even further away than Budget RV. But they have a big lot and, as I said, Lenny knows what he is doing. I could tell he specialised in roof a/c units as soon as he dragged his scaffold on wheels to the side of the bus. No ladders for this guy. When I started to rattle off all the tests that had been already been done he held up his hand to shut me off. --You want this thing fixed? Let me get on with it. I don't want to know what all them others couldn't do, don't have time.

I went up to take apart my HF aerial and remove the cover from the a/c, Lenny went into his garage and started another project. When I was through I followed him in and found him puzzling over a brand new cooler chest. We chatted about that and I helped him for a few moments before we returned to my project. I like this guy, I like his style. When he climbed to the roof of the bus and removed an inspection port he took only a moment to find the compressor starting capacitor had failed. --Look!, he said, its all covered with soot in there and the safety valve is blown out. (Why didn't the guy in Yuma see that I asked my Self...) A few minutes later the capacitor was replaced and the a/c was getting cold as it properly should. It remains to be seen if the capacitor just simply failed or was destroyed as a result of some greater problem like a voltage surge but for now the compressor is ok and we're ready for the road again.

Thanks Lenny! Its good to know where you are and I wish you a long and happy life.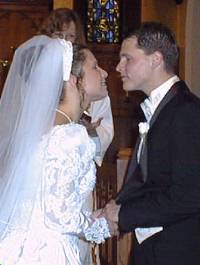 9 May, Saturday, Nashua, Six Months To Go--Six Hours To Return
In late November The Cat Drag'd Inn to Florida after a couple of weeks on the road from Nashua; by early May we were in San Diego after twelve weeks in Aridzona playing in the desert and a few more days driving in a drizzle and a fog. Now the tickets that were in Nashua have finally caught up with me in Chula Vista and I made it back to Nashua to the church in time for my sister-daughter's wedding. Lori looks just like her mother did when I photographed that wedding twenty some years ago. Susan looks surprisingly almost like our mother did at that same time. Maybe some of that is wishful thinking at this special Mother's Day. Good Luck Lori and Shawn.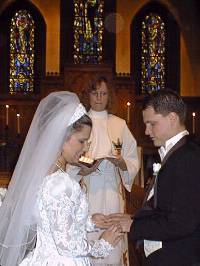 Happy Mother's Day to all my Other Mothers: Mrs.Marchando, Mrs.Silva, Mrs.Cole, (they were all back in the old days) Betty, Nancy, Jan, Joan, Diane, Nancy (again-still-other) and Elizabeth.
My flight back was better than the flight forward. I went to visit Jan for a cup of tea and then just made it to the airport on time. Good thing the flight was late leaving. It was pretty full as far as Columbus but then I changed planes for SanDiego and that one was near empty and I had three seats across to sleep in. Propped up with two pillows and tucked into a blanket I read from Time On Ice and between naps watched with interest the guy sitting on the aisle across from me. He was not as old as me, shirt and tie, long trousers and shiny leather shoes that he kept on the whole four hour flight. I wore shorts and curled my bare feet up on the seat. He sat up with his head flopping around as he slept while the two seats next to him were empty like mine. What is it about some people that they simply will not take advantage of the situation. Do you think he really likes to sleep sitting up with his mouth hanging open and his head bent over?
Stay Gold, bcnu, Send Money, Love, ajo


Back to ajo
Copyright (c) 2002 A.J.Oxton The Cat Drag'd Inn