---
Travels With Oso con Migo
Sojourn In America
OAE On The Road Again, Smoke Transmissions Much
---

17 July 1998, last letter 17 July 1998 (Letter 98d)
Gentle Readers,
13 May 1998, Wednesday, Lebec, The Virtues of an Engine Outback
For those of you leading lives of quiet desperation let me say: All the excitement is here. With the a/c problem finally out of the way it was time for a Lube-Oil-Filter and on this old bus that means half a day at the International dealer's Big Truck Quick Lube. Three fuel filters, two oil filters, and an air filter on both the engine and the air compressor (sounds like a song I know from somewhen) not to mention 14 quarts of oil. These guys really get the big bucks! The itemized bill shows $23.00 labour to change the $3.00 air filter on the compressor. I watched the mechanic do it: He took a 7/16th inch Snap-On open-end wrench and removed a nut and stud from the side of the compressor; he lifted off the air filter housing and removed the filter from within; he held the yucky-oily-blackened filter out to me while observing dryly: Yup (but not a proper down Maine "ayuh") that's dirty ok; he walked to the parts counter and got a new one; he installed the new filter and used the 7/16th wrench to tighten the stud and nut. Five minutes? Maybe eight? Ten at best. I've got one of those 7/16th wrenches, its a combination style, but it should do; at least its a Snap-On.

Next stop was to visit OAE Rex with whom I've wintered and summered. He and his young daughter communicate in ASL. That's fascinating! I felt uncomfortable being introduced and watching Rex tell her about me. Its not like she does not understand my language--she does not hear me speak. I've got a lot to learn and so not too much to say.

On the way north there are several annoying occasions of engine failure. It shuts down like someone turned off the ignition. Except there is no ignition. On a Diesel there is a fuel solenoid. When you remove power to that the engine is starved into shutdown. Most annoyingly--it was happening going up hill--was that it would always restart with no problem. Restart, in gear, just get rolling--I mean not even out of first gear sometimes--and stall. It was in such fits and starts that I finally made it over the pass at The Grapevine (Not sure if that name is for all the twists and turns or cos the road is the main way into the grape growing area of central California.) and into a rest area for the night. The next morning everything worked fine until I was many miles along and the engine had warmed. Maybe this has something to do with heat? Eventually I came to an exit where there were back to back truckstops.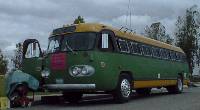 Parked on the road between two truckstops was a pretty green and yellow old bus. Thinking that two old busses would be better than one old bus I wheeled around and parked on a clean slab nearby. A sign on the front proclaimed Ralph and Alice Kramden - Truck Cab Interior Detailing. But it was really a 1947 Flexible with Ron and Rebecca. She does the detailing, he does light body work. The '47 Flexible use to be a Greyhound. They have done quite a bit of work on the interior and live there with a few cats and all the tools of their trade while working out of the bus at truckstops.
After exchanging visits I set to crawling around under The Cat Drag'd Inn, tracing out the circuits to the fuel solenoid. There was a related problem not mentioned above where the cruise control would drop out every now and again. At first that did not seem to be related to the shutdown problem and likewise it would always resume when I pressed the button. Then I found a common point in the wiring, they both get power from the same source. After a while I found two bad connexions up front, plugs where the chassis wiring mates with the coach wiring, and one possible problem back in the engine compartment. Neither of them really explain the symptoms but with them fixed the bus is behaving. We'll see.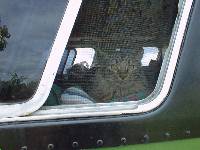 The Cat Drag'd Inn is 35 feet stem to stern and I am getting my daily exercise going walkabout to the engine outback. Check the oil, the glycol, tranny fluid, sniff around the propane hoses, palpate the belts and the tyres. Thung-thung, thung-thung, there is a certain almost bell-like quality to the sound and the feeling when you bounce a mallet off the tread of a properly inflated tyre. Especially with the dual wheels, they should sound and feel the same. Thung-thung, thunk-thunk. Oops! What was that? Thung-thung, thunk-thunk. The inside right rear was quite flat. Tho the outside was holding the weight without noticeable distress I'd have to visit at the next truck stop and be very careful getting there. I've gained a lot in the step up from the old yellow van that served me well for 330,000 miles of garnering the Lower-48: headroom to stand so I needn't walk on my knees, a full kitchen, a real commode, enough roof acreage to have one aerial for each radio and the photo-voltaics to power them. But I have given up the ability to change, and fix, my own flats. The bus has no spare, there is no place to carry one nor could I lift it if there were. Fortunately this flat was one of the duals. At South Bay Tire of Stockton, a big wheel drive through, there were three trucks ahead of me so I had time to catch up on reading and writing.
When it was my turn these professionals had the wheel off in a few minutes and torn down in a few minutes more. Work goes fast when you have the right tools. They removed a quarter inch bolt from the interstices of the middle of the tread. It had been there long enough to wear the head down to a dime thin disk and to wear a hole in the inner tube.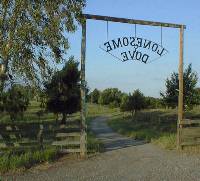 14 May 1998 Thursday, Lodi, A Visit to The Doctor
Rob was the winter-over doctor at Palmer that year my shoulder froze. He's a professional saw-bones and also an amateur shrink. I had the task (pleasure?) of introducing him to computers that winter; now he's combining his medical background and computer foreground to write a new evolution of the dungeons and dragons concept: Virtual Appendectomy--Doctor on a Disk. And he loves to cook. (Is that what you do with all the leftover parts of your patients?) We had a grand few days swopping storeys and recipes.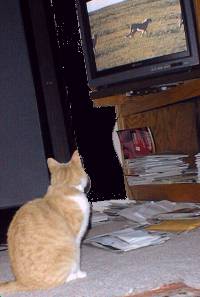 16 May 1998, Not Annie Cat Will Do
Rob held forth extolling the virtues of Annie the tawney tabby who lives with him in the big house overlooking the Mokelume River. She watches television, he said proudly. I mean, he continued, she actually sits there and pays attention!

Not your regular floor potato kind of cat, I allowed.

A National Geographic Special on the subject of Cheetahs of The Short Grass Plains that was just getting under way on PBS had prompted his comment tho he'd made mention of her proclivity before during my visit. When the first cheetahs caterwauled across the screen Annie came thundering down the stairs and took her seat on the slightly worn spot in front of the telly. She was posed like that dog in the RCA trademark logo listening to "his master's voice" on the gramophone. Her head would tilt from side to side, her ears never strayed from capturing the mewling of the kits and their mother. Once when vultures descended on the scraps of cheetah lunch Annie's tail twitched. And she knew: when the brother and sister cheetahs ambled off into the sunset that the programme was over and sauntered away before the credits rolled.
18 May 1998, Durham-Chico, A Balanced Diet
Almond View. While most folks have grass and flowers in their front yards these folks have all that and a grove of almond trees. Mark says he makes his living slivering the almonds with his Swiss Army Knife, when he's not busy being a carpenter for science in McMurdo.

Almond scions, and those of other nuts, are grafted on to plum root and trunk nursery stock. The plum is more disease resistant, the almonds are a cash crop. That explains why all these trees have a dark rough bark near the ground and then a foot or so above the roots there is a sharp demarcation where the bark becomes smooth, lighter.

Fran and Matthew make pottery at their Almond View Clay Works. For dinner Monday evening there were pork loins (from the pigs next door?) spicy sausage, eggplant, and several other vegies I wolfed down too quick to properly identify, all grilled by Matthew and served on unique handmade plates for each of us--not only a delicious meal but an artistic adventure as each bite uncovered another portion of the view.

I spent much of my visiting time admiring their creations and making odds and ends of modifications to The Cat Drag'd Inn. One project was to pull up the forward PV panel on the roof and fix a leak that had developed around one of the hold-down bolts. Another was to add speakers to the GPS so the synthesized spoken directions might be heard at the driver's seat.
20 May 1998, I-5 Anderson Grade, Almost to AKasla.
I wonder what's happening on the beaches of the Oregon coast?

Between Weed and Ashland on I-5 the temperature is 32f this Wednesday morning in the rest area where I spent a comfortable night. There is snow on the road and in the air and on my bicycle seat. Driving is hazardous. I thought maybe I would have left El Ni¤o behind in Chico but the evidence is to the contrary. Road closures are being reported by the truckers. Now I'm north of Weed, on the north side of Anderson Grade and the road is closed north of me due to wet slippery snow, six to seven inches--drifting and blowing drivers. I'm in another rest area, didn't get very far. May be here until afternoon.

I must be almost to AKlaska already!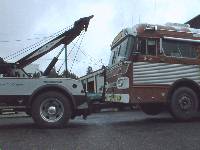 22 May 1998, Friday, Springfield Oregon, The Cat Gets Drag'd In
Then: At this rate we may never get to AKlaska. My spirits rise and fall like I-5 crosses the mountains. Rain continues, the leak I thought I fixed on the 19th was back, and so was the engine failure problem. Only this time it was not intermittent. I had made it to Grants Pass and then Sexton Mountain Pass. Smoke was getting into the cabin from somewhere. I pulled over and took a fire extinguisher back to have a look. No flames but the Allison four-speed automatic was sizzling.

Now: This does not bode well. I wonder if I may have any recourse against the garage who installed this Allison, or the manufacturer or installer of the exhaust brake that should not be used with it. The transmission specialists at Pacific Detroit Diesel and Allison Transmission in Springfield have told me that the type AT545 transmission is a poor match for the 8.2 Detroit Diesel and the weight of the bus. It should have been at least an MT643. In addition the AT545 affords no positive-lock back pressure to assist braking and with the exhaust brake holding back the engine heat buildup in the transmission is exacerbated on the long down-grades.

Then: After waiting for the smoke to dissipate and the transmission to cool we continued on, the Cat and I. But what does all this mean? Is the little truck too much of a load? Am I pushing too hard to take these hills at only twenty miles an hour? We made it over Smith Hill Summit and Stage Road Pass. I was really looking forward to Rosenburg where highway 42 branched west to the coast. Then the smoke came on again only thicker, more acrid--and the engine quit. We're going down hill, I tried an in flight restart. No go. Not twice. A rest area looms ahead and we coast off I-5 just making the momentum last to the first empty slot.

Now: I realise of course that ultimately all the decisions are mine but some several people along the way have failed me, perhaps by their own ignorance, when it comes to providing the best most accurate data with which I made those decisions. It is quite clear from the transmission data sheets that the AT545 is under-rated for this application. Marginal at best. And it does not have the Lockup Clutch necessary to provide the engine braking so necessary when taking a heavy vehicle on long down grades. I would like to think that any mechanic worth his salt would have made a more informed decision when it came to making the recommendation that resulted in my purchase and I wonder what additional forces were at play.

Then: This time the smoke was primarily from under the instrument panel. The insulation of the primary ignition wire was bubbling like a marshmallow at a Cub Scout cookout. The ignition switch was warm and the amp meter was reading 85 amps discharge. From all I could trace between the source and the switch, and the wires that branched from there, the problem had to be outside in the rain. Eventually I found a bundle of wires related to the reverse gear switch and the backup light had melted where they were tywraped to the transmission dip stick tube. In the course of effecting that repair I also found another of those nylon air lines leaking where it crossed over the oil hose between the transmission and its oil cooler. Finally, with everything fixed and some dry cloths on, I eased the bus out of her slip in the rest area and knew right away that there was something even worse ahead. The Allison was not shifting.

Now: Gerold (and that's with a hard G, like in Guy not Gerry) is a really neat Human. By the time I met him after working my way up the chain of auto clubs, wreckers, coincidences, and more bad news from "the doctors" my Self was feeling somewhat depressed. I was exploring options that ranged from taking up residence in Oregon to abandoning The Cat Drag'd Inn and making a clean break--escaping with what I could carry in the little truck. But what of Alaska--that's really what all this is about--to make sure that everything is in shape to make that part of the tour go without a hitch. Or a tow. Gerold met me just after I'd learnt that the place I'd been towed to second (the first place was only an over night stopover, to get off the highway and wait until business opened in the morning) Pacific Detroit and Allison, would not do a repair on the burned up transmission since it was under-sized for the job. It was a liability issue. And they did not want to take on the job of installing the one they recommended since there would be a lot of custom refit and that was not their area of expertise. And to help dissuade me they quoted eleven thousand dollars. But I was free to live in their parking lot, even plug in to the building. Gerold was the man they recommended, he does this sort of job well.

Then: By this time I was out on the get-on ramp beyond the rest area and had stopped and started several times but the Allison would not shift out of first. No matter I thought, I've still got one more pass to go before a community of any sort, I'll just limp along; ten miles an hour is not all that much different than twenty. I need to explore my reluctance to call for road service. What is this? Am I afraid to give up and call for help? Finding a phone is not a problem, there are two cellphones here--stereo, one in each hand. And the later it gets the harder it will be to do the tow, there is only a few hours of daylight left such as this dismal grey cold drizzle can be called daylight. The engine was hot, the transmission was hotter, I passed exit 95 and something snapped in my psyche: I've been paying my dues long enough, its time to collect, time to give up and cry help, say uncle, call AAA. Canyonville Bill came to my rescue but he already had a camper in tow from somewhere behind me--they'd blown out their radiator. He wanted to let me know that my call had been forwarded and he'd be back shortly.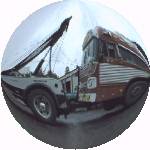 Now: The Cat Drag'd Inn feels right at home at Gerold's Transmission. We're surrounded by work in progress and heaps of parts on the hoof. That's a euphemism for junkyard when you get right down to the nitty- gritty. Gerold's face lights up when he finally sees the bus. He likes old buses. He appreciates steel he can weld to. His enthusiasm over this chance to effect some creative repair on a worthy piece of machinery is contagious and I feel my spirits take a few tentative steps up out of the mire. And his quote is less by nearly a third.
Then: I followed along behind the bus, an interesting perspective I'd never seen before, as Canyonville Bill's big wrecker took The Cat Drag'd Inn tow. Along the way we pass through Rosenburg, now two days later than I'd planned, past the exit for highway 42 west to the coast, continuing north through intermittent rain, to Springfield and 42nd street where Pacific Diesel lies a block west. Another overnight. I'm getting a lot of reading and writing done if nothing else and if the rain would just stop long enough I'd get back on the roof and fix that leak for sure.
Now, this morning, I consult with Carl and listen to all the specs and learn things I should have known a year or two ago. Big John's even bigger than Canyonville Bill's wrecker comes and once again I follow along in the little truck (thanks again Ann-Marie for insisting that I take this little truck along with me) and plan how I am going to salvage some of the visiting with friends time that is being lost to this project.
One thing's for certain--I've saved a lot of fuel being towed this far.
Stay Gold, bcnu, Send Money, Love, ajo


Back to ajo
Copyright (c) 2002 A.J.Oxton The Cat Drag'd Inn