---
Travels With Oso con Migo
Sojourn In America
OAE On The Road Again, New Hampshire to Florida
---

24 January 1998, last letter 20 October 1997 (Letter 97j)
Gentle Readers,
22 October 1997, Shiloh, Jefferson, Cat on a Cold Glacial Erratic.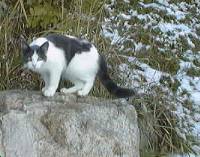 The five inches of new snow that fell overnight while I slept on the floor by the woodstove with Mousetrap caught me with my toes out. The Cat Drag'd Inn was away at the far end of her tether and any warm woolly rag socks to wear with my summer sandals would have to be retrieved from that far place by me, Mousetrap does not play fetch.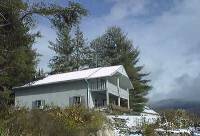 Shiloh is a family run Christian Retreat Center surrounded by the majesty of New Hampshire's High Country, a "spiritual gateway" where small groups and families might refresh themselves by conducting their own retreat--all the way to preparing their own meals (and cleaning up after) or the operators will develop a programme to suit your needs. Greg and I use to work on Mount Washington together back in the old days, now he runs Shiloh and its satellite the East Haven cabin on top of a mountain by the same name in Vermont's wild Northeast Kingdom. (There is a pretty good description of this neck of the woods in _Stranger In The Kingdom_ by Howard Frank Mosher.)
27 October 1997, Oso con Migo returns to Trask Mountain, Colebrook.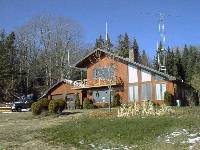 A retreat Center of a different sort, this one serves bagels and lox for breky, and Pinwheels for lunch, is at the top end of a long snow covered drive that The Cat Drag'd Inn had to have a running start to get past the worst slippery spot. Persephonie does not cotton to cold rocks tho, she prefers the warm fieldstone fireplace.
Pinwheels are the ultimate addiction. A sweet chocolate coat over fluffy marshmallow on a tasty chocolate biscuit--Yum!--they are available only in the winter and this is the first week of Winter in Colebrook.
Some of the folks here were downtown a few months back when that dreadful shoot-out rocked this small town and in the time of a few moments radically altered the way they look at their neighbors and listen to their banter.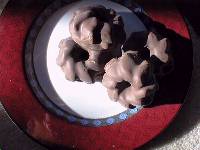 The bus performed well on this final shakedown cruise; a few minor items remain and then its on the road again. Just in the nick of time too as far as the weather is concerned. The past few days have been cold, raw, wet, snowy... Snowplows were on the roads of some of the communities north of Crawford's Notch and Winter Parking Regulations go into effect in many places at the same time deer hunting season gets underway next week.
5 November 1997, Saturday, Nashua, On The Road Again.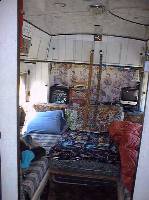 I'm away just in the nick of time; I can feel old Jack Frost breathing on the back of my neck and whistling around the hem of my shorts. The Cat Drag'd Inn her anchor and departed at 13 o'clock, 5th November, Florida bound, me driving, no passengers. Oh Well.
Up and down across southern Vermont on route nine then south from Albany towards Nazareth. There is still very much a fuel delivery problem, the engine wants to starve at times and it seems to be getting worse as the day goes on.
Then some where between hither and yon, south of Godawful and west of Toodarktosee, the Work Table fell through the floor. Now I know what that silly aluminium ashtray looking thing was that I threw away last month. Fortunately the trash can and sewing box arrested the tables streetward motion before the pedestal that held it up had a chance to sever the speedo cable or brake line going to the left front wheel. Apparently the ashtray like think that was under the carpet and holding up the pedestal had quite thoroughly rotted away and all the swaying and bumping of old route nine broke the remaining collar. Then to complicate matters one of the engine radiator cooling fans failed.
7 November 1997, Friday, Nazareth
I'm on my way to Florida to run away with the circus. I figure I have a lot of experience with circuses and I've read _A Son of the Circus_. (--What experience with the circus do you have, son? Oh, I've walked the tightrope blindfolded, and I've worked both ends of the throwing razor sharp daggers at the spinning person game, and I've done my share of cleaning up after the prancing ponies, but mostly I'm a clown.)

South of Wurtsboro, where Ludwig Hagen makes fine mugs, soup bowls, crafes and goblets at Holland Pottery, you can find the Village Diner at Route 6 & 209 in Westfall Township. If you come by on I84 its worth the extra mile or so to get off and find this place. The topic of conversation at the counter during this visit had to do with the way we treat our pets vs the way we treat our children, parents, and selves for that matter. A man sitting two stools to the east had ordered two hamburgers, one with onion for himself and one without for his dog (who was waiting out in the car.)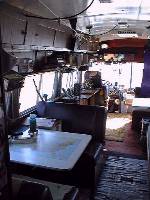 The rain stopped long enough today at Nazareth, so with the help of Rick of Polarmail, I am playing at being mechanic, carpenter, plumber and tool borrower. Suffice it to say that UPS delivered the hastily ordered parts and everything is fixed.
9 November 1997, Sunday, Greenbelt, A short drive from Baltimore.
On Saturday I drove from Nazareth, in the rain, to the junction of I695 beltway and US40. There's a mall, Westview, that looked like a good place to spend the night. I am learning that many shopping centers are designed to make it difficult to negotiate with a thirty-five foot bus and tow. I was no sooner parked than a blinking yellow security truck was barking at my door. --Are you shopping at the maul? the guard wanted to know. I might be if you'd leave me alone long enough I thought. Later after a grueling perambulation past a plenitude of purveyors I snuck back through the rain to the bus for a nap. ...and there was a yellow truck again. The guy must have been watching for me. --You can't park here all night, he said, but I can tell were you can go. I was totally lost by the time I'd followed his directions to a Park&Ride lot where he'd said I'd not be bothered. Except for a strange tilt to the floor that made it so the toilet seat would not stay down the rest of the night was not bad.

On Sunday I eventually found my way downtown to the waterfront, The Inner Harbour, to the Baltimore President Street Station and the Civil War Museum there. Did you know that the first casualties of the Civil War happened on Pratt Street, Baltimore, 19th April 1861, exactly 85 years after the incident in Lexington? Stanton Collins, local historian and genealogist showed me around and we discussed the role of my various Oxton ancestors in the Revolutionary and Civil Wars.
10 November 1997, NASA Goddard
The fuel starvation problem is back. After a couple of days of great performance the starvation is severe and most noticeable when pulling away from stop lights. I filled the tank yesterday so I suspect the filling stirred up all the debris from the bottom of the tank. Tomorrow I'll pull out the filter screen again.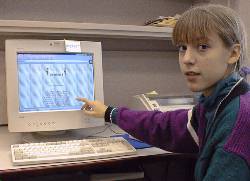 Michaela (wL7xw), an eighth grade home schooler from Alaska, first met NASA Mike one day when his kids needed a baby sitter. Today her interests in science, especially the study of Gulf Stream sea surface temperatures and cloud cover, have led her into helping to edit and test an interactive project called Exploring Technology With Satellite Imagery. GOES-8 is the primary satellite but they also collect weather images from GOES-9 and GMS. Five schools are presently participating in this project and several other home schoolers come to NASA Goddard to help with the editing and testing of the course book and WWWeb pages. You can write to NASA Mike to learn about involving your school. On Monday Andy Humphrey, NBC Channel 4 Meteorologist met with the home schoolers and their advisors at NASA Goddard to talk about how satellite imagery is used for weather forecasting.
In the meantime Merlin, a Welding Wizard over at Brown's Welding Shop, across the tracks from the Wonder Bread Day Old Store, was rebuilding the tow bar hitch points on the front of the little truck. The thin bumper material where the hitch originally attached was ok for straight pulling but the torque of turning corners had turned the bumper into a pretzel and broke some of the bumper mounts.
In 1957, while I was attending my first Boy Scout Jamboree at Valley Forge, Paul Siple (_A Boy Scout With Byrd_, _90 South_), the first Boy Scout to participate in the United States Antarctic Programme, had returned to lead the first winter over at the new South Pole Station. Robert Benson, who works at NASA Goddard now, was with Siple at South Pole for that first winter of the 1957 International Geophysical Year. See if you can find the April 1958 National Geographic Society magazine for the storey and pictures. Paul Siple wrote the book on Wind Chill.
11 November 1997, Another 40th...Lest We Forget...
What do Oso con Migo and Russian satellites have in common? Forty years ago Russia launched the first Sputnik, its beep-beep--beep-beep electrified the world. I was in high school then, learning about radio, the ionosphere, propagation, and I listened to that first Sputnik on a National NC-109 general coverage shortwave receiver as it transmitted the first message from space on a wave length around ten or eleven meters. The radio was as big as a breadbox.

Last week a scale model sputnik constructed by Russian and French school kids was launched by hand from the Mir space station to commemorate the 40th anniversary of Sputnik 1. This morning at 11h11EST, 11/11/97 (16h11GMT, 11nov97) with a radio smaller than Oso con Migo I copied the beep-beep--beep-beep as Sputnik 40 passed over Annapolis. The transmitter output is 145.825 FM and the batteries may last about three weeks more.

According to my Webster's sputnik means travelling companion.

I am glad I took the little truck. At first I had a few regrets and once or twice, climbing the hills of southern Vermont and trying to negotiate some of the parking lots and narrow streets along the way, I even thought of leaving it by the side of the road and calling my sister in Nashua to come and get it. But now, here in Annapolis, it has been particularly useful getting around in this ancient city with its narrow brick streets that are little wider than the sidewalks they resemble.

I have located the records of the arrival of the Ship Ann which brought my ancestor William to the colonies. At the Maryland state archives in Annapolis are A List of all Ships and Veffels which have entered INWARDS in the Port of Annapolis in Maryland and also ... which have cleared OUTWARDS... Also to be found there is microfilm of the Maryland Gazette for the period.

In ...Veffels which have entered INWARDS... looking onward from April 1766, when the Ann departed London, I found the Ship Ann arrived on 15 July 1766. The record goes on: Mafter's Name, Christopher Reed; Tons, 236; Men, 15; Where and when built, G Britian 1752; Where and when regiftered, London 3 April 1762; Package, Sundry European Goods; Contents, 109 Convicts [#60 was William]; From whence, London; Where and when Bond given, London 14th April 1766.

And in the microfilm archives of the Maryland Gazette: Annapolis July 17. Monday laft arrived in Severn, after a long Paffage from London, the Ship Anne, Capt. Chriftopher Reed, with upwards of a Hundred of his Majefty's Seven Year Passengers.

I still have to find how William got from Annapolis to Gloucester Massachusetts.
13 November 1997, On the Warm Side of the Front
I had an epiphany in Annapolis. For years uncounted I've been carrying around a sewing kit. It started in one of the early stuff sacks I made at the sewing workshop at Pinkham but it grows with each projects' scraps of material and partial spools of strange coloured thread until now it comprises a wooden beer case full of stuff I hardly ever use--tools of tailoring. At the Annapolis Maul I had occasion to build a gasket for the mail fuel tank--part of yet another attempt to solve the fuel delivery problem. I made this gasket out of cork material from a local auto parts emporium. It required eleven holes for 1/4-20 bolts. I set an Xacto razor knife against the cork and thought about how careful I would have to be and how long it would take me to cut these eleven holes--square or round- -and how nice it would be to punch them and whether I could drill them... And a picture of a punch came to mind, one that might have been used to make holes in material for grommets and a little voice said--There are two in the sewing kit! Wow! After all this time.

Now it is Thursday evening at a rest stop. There have been several rest stops, a few naps, lots of miles. Partway through The Peach State the outside temperature jump'd up ten degrees, from 60 to 70, in the space of a mile--windows fog'd, cooling fans came on--the air has become heavy with humidity and the rain stop'd. I must now be on the warm side of the front that is making all this rain (and snow not too far behind me.) The air smells summery. Yum!
17 November 1997, Monday, Holiday's Over--Back To Work
Well I've been here two nights. I'm getting use to it and I miss New Hampster. But I like the warm. There is a bug of some sort living in my match holder. He doesn't seem to fly but he sure runs fast.I hope its not a cockroach already.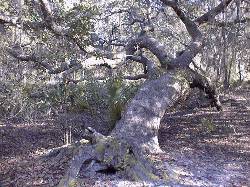 There is an aloe growing in the woods behind where I have parked the bus at this RV camp. Do you know how to take a snip of that and transplant it inside? I have a spider plant named Jane and a Christmas Cactus named Louise. If I make a place for the aloe I would call her Rainbow after the name of this place--the Rainbow's End RV Park. Its a downscale open space between walls of trees at the low class end of 11th ave. Enough room for a loop of driveway and not much else. Roger found it for me and I can't complain, its only a few blocks from the computer store downtown in one direction and only a few blocks from a Food Lion (Shaw's it ain't) in the other direction. The post office is in the between.
I've got leaves in my hair from crawling around under the bus measuring the hopper tank that is needing to be replaced or repaired... There are dogs barking in several directions as the kids return from the local Baptist church. Some folks here are living in old bread trucks and camper trailers, some in tents with a week's laundry hung between the trees. Aside from the manager's fifth wheel trailer I've got the biggest "home" here for what ever that's worth. My biggest worry is that the bus will sink into the sand by the time I try to back her out next month. I figure I'll want to move her once a week just to dump the hopper tank and refill the water. Eventually they expect to have sewer and water hookups at all the sites and even telephone maybe. But for now electric is all that is available. That's enough.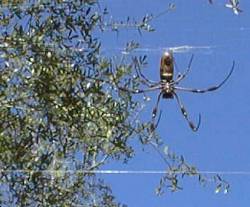 I think I stay'd in New Hampster too long or left too soon but I'll get over it. I'm happy to be away from the snow. Well its not the snow, the snow and the skiing I would have liked to have stay'd for, but the salt and the driving is what I'm really happy to be away from. Its a high price to pay.
I start work this Monday morning. At least I start learning about my new work and there is a lot to learn. The computer store has several school kids who are apprentices. They come in after school and earn twenty dollars an hour. When I get to be as good I'll earn the same. The youngest is 13.
Another reason I want to be here is that there is something almost electric between my bare feet and the earth under them. Its like a tingle or a tickle when I go out with no shoes and that was becoming hard to find in New Hampster with the ground getting so frosty that last few days.
23 November 1997, Now where did I ever leave Off?
I've completed my first week in Florida. I think I may have come to some resolve about my direction from here. I'm not sure how to articulate it yet but I think I have made a choice.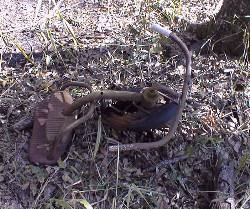 There are some great bike trails at Flatwoods Park and Morris Bridge. In the middle of the week you're more likely to run across a great heron or an alligator than another cyclist. There are mosquitoes too.
28 November 1997, The Day After Thanksgiving...
...and all round the Inn a great noise was afield, a cacophony, a din. Twas the neighbors, they're moving to the drumbeat of disco; three trailers, two tents, and kids from Jalisco. Cousin David's letter arrived to tell me his family wouldn't be home for the holiday which was just as well.

I had a pre-cooked lump of molded prefab reconstituted turkey product infused with honey and other natural flavours and who knows what all. But a fairly real baked potato to go with it. I made a pumpkin pie from a recipe that included more Bailey's than pumpkin--YUM! All in all a good repast. Then I invited the old guy living in the bread truck next door to share it with me. He is or use to be a carney operator, now spends his time in the carnival season doing what he calls slumming--following one or more show around their circuits selling hats and trinkets.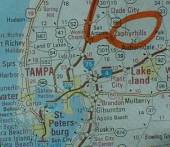 And then I made a swing in the tree between my site and the one across the street in the corner of the camp.
7 December 1997, Sunday, Happy Pearl Harbour Day
When the transformer blew up at the End of the Rainbow and all the lights went out I thought at first all the Thunderbolts and Mustangs from yesterday's show at the Z'hills aerodrome were staging a re- enactment but it was probly just an overload caused by all the neighbors turning on their electric space heaters as the temperature dip'd to an overnight low of 35f. Is that a hint of frost in the air? Do I smell snow?

Follow-up on the Octal-Thorp discussion: We all know that Virgule is the proper name for the "/" character. So is Elugriv the proper name for the "\" character?

As this sojourn in America unfolds I'll continue to post my On The Road Again Letters but now instead of penguins I am writing about pendency and peneplain, and penury.
12 December 1997
cmdr writes from McMurdo:

We had a science lecture about thyroid effects down here. It has now been proven that people subjected to cold for even a few minutes a day get lowered T4 levels in their brain, causing short term memory loss, and other problems. That is, it causes loss of short term memory, but no one has studied if it comes back or not, or if it is cumulative. Cold makes you stupid. The T4 drops, and you forget to put on your coat. Thus getting colder and stupider.

Feral roosters prowl about the yard; there are no feral cats to keep them in check. The dogs are keeping the cats in check. This is a mostly doggerel (and smoking) camp. Not sure what it is about this class of people, in our classless society, but I have observed that the lower the economic stratus, or status, the greater the propensity for dogs. But in the course of all this I saw chickens fly! One rooster, very colourful indeed with feathers puffed, running in circles around the trees, followed in closer circles by a dog who's rear legs were skidding out from under, suddenly became airborne and flew to the top of a tree, leaving the dog still running in circles.
21 December 1997, Sunday
Today is the Winter Solstice and tomorrow is the feast day of Saint Thomas. The winter weather here is partly cloudy and 55f, calm, with rain expected monday or tuesday. I have a candle lighted in the window and the growing trees around me are decorated with green leaves and orange fruits, no need to try and better that with cut boughs and tinsel. Happy Winter.
24 December 1997, Christmas Eve
Then there is this boy I have sort of adopted as someone to provide for. He is living with his mom and little more than the clothes on his back in a tent-camper not theirs. So a few days ago I found this old bike at the used bike shop behind the computer store where I'm hanging out and parked it next to mine under a tarp in front of The Cat Drag'd Inn.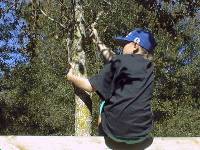 I sort of expected the kid to remark on that--he is spending a lot of time hanging around, I'm teaching him chess and which fork and spoon to use when he's confronted by more than one at table. But he never seemed to notice the extra bike that was just his size. He didn't even catch on when I asked him to try out a new helmet and then measured his inseam so I could adjust the height of the seat. Then on Christmas Eve after he and his mom had dinner with me I asked him how many times he was going to walk past the big box with his own name on it. What box? The one you just trip'd over. Even when he tried to move the box and found it was tied by a string to the front wheel of the bike he did not make the connexion. I was getting the feeling he could not even see the bike and not until I took his hand and placed it on the front wheel did it finally sink in. Merry Christmas chico.
31 December 1997 The Sixth Day of Christmas
My friend Charlie, the one who simply refuses to correspond by email sent a cartoon that hits the nail right on the head: "Thatch" dated 12/7, three sundays back. Did you see it?

No? Too bad. It concerns the arrival of a letter, written on paper and delivered by hand, to a computer geek who spends all his time with email. Hold on, he says after someone explains to him that the letter is a sort of old fashioned email, you mean someone wrote this out by hand, on paper, and then paid someone else to carry it all the way here to deliver it to me? Right on, his friend says, through sleet and snow and dark of night. Wow, man, Thatch says, I'm gonna treasure this for ever; I think I'll go scan it into my hard drive right away.
5 January 1998, No Rigs Over Ten Years Old...

No Kids, No Buses, Nothing over 30 feet, People extra, Full Up... One place after another; and they call themselves RV parks. It was interesting that the place that would not take the bus would take RVs. What's the difference? I asked. --I dunno, owner's policy, I just work here. How many times have I heard that. I just work here. As if that exempts one from the knowing.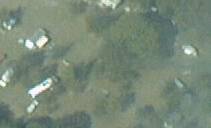 This couple from Ontario, Alena and Bob, ended up at the Rainbow's End by some misfortune when their auto suffered a blown head gasket out on the interstate. They were tenting in the slot on the other side of the carny in the bread truck when I met them a few days after they found out their car would not be ready for a few days yet. I had them over for dinner, Louise's famous sausage-celery-spinach soup. Louise's recipe didn't call for celery but there was a bunch of it leftover from Christmas and it was going to be soup of its own accord soon enough. So today on the spur of the moment I suggested we take the bus to the beach--which was what they came all the way from Toronto for after all. So now we're parked behind the florist on the corner of Klostermy Street (its a cul d'sac) and old alt US19.
13 January 1998, Doyle writes from Portland Oregon:
The national news (CNN, etc) keep talking about the North EAST part of the nation, ... but the local news is nothing but reports of accidents, closed roads, power outages, etc. here in Portland. [It's the type of weather that people in Montana complain about or use for comparative hardship stories at lunch, ... but it certainly isn't enough to close schools! All the more reason it's fun to sit here and look out. I mean, ... for heaven's sake, it's 33 degrees on the window thermometer!! Most people in Montana wouldn't even be wearing mittens!!
Two days before Christmas, my sister-in-law (God bless her) asked me if I'd be interested in quitting early one afternoon if she bought tickets to the L.A. Gay Men's Chorus. This was the very first time I've been able to attend one of these events. It was a special moment for just the two of us [my nephew was catching up on sleep following his return from Japan, and my brother was working a flight to New York]. The last segment before the intermission, was something I wish I had on video to share with you. There was a guest artist, a woman, doing a rendition of one of Patsy Cline's trademark hits, which seemed to have nothing to do with the holiday festivity of everything else in the program. And her outfit was so tacky, ... especially for an audience with so many "fashion- conscious" men! Looking like a short opera singer, she wore a low- cut, lilac-colored ball-gown with hoop skirt and a large purple bow. "Tres gauche!" She was clutching some large rectangular object to her bosom as she walked on stage, ... and she began to sing, leading into the refrain, "...I've got your picture; HE's got you"! [There was some amused chuckling.] As she continued, she came again to the words "I've got your picture...", and she showed the audience the over-sized photo of this bare-chested "hunk", ... which she then threw across stage as she lamented, "HE's got you". She continued singing, "... I've got your records,", and, reaching into her cleavage to pull out a 45-record, she threw it like a frisbee as she continued, "he's got you." She sang of all the things she had of his, ... and proceeded to pull out more records (6 or 8 of them), ... hands full of records!, ... and socks & colored kerchiefs ... even a rubber chicken (which like everything else got thrown across the stage).
It was quite a laugh, ... but then she changed key and sang in a lower pitch, and everyone calmed down. At least, until she pulled out the 18" heavy duty plumbers wrench which made a sickening "thunk" sound as she threw it onto the stage. People were wailing with laughter and trying to catch their breath as she concluded ... reaching again into her cleavage to pull out a full-size wood saw! ... and a golf club!! ... and then, hand-over-hand, a full size wooden crutch!!! Everyone was totally out-of-breath as the curtain descended! [During the final curtain calls, everyone noted that she was a mere wisp of a thing, appearing in a slinky black velvet skirt & top.]
15 January 1998, Thursday, A Visit From The Sheriff
Yesterday I got a speeding ticket for keeping up with the traffic; today the sheriff came by to pay his respects and let me know that someone had made an anonymous call that I might be doing "something".

It says in The Book at Psalms 82:3 --Defend the poor and fatherless; do justice to the afflicted and needy.

And in another book of admonitions on how to live: I slept and dreamt that life was joy./ I awoke and saw that life was service./ I acted and behold, service was joy. --Rabindranath Tagore

But beware the grouches and the busybodies, the selfrighteous do- gooders, all of them who would cast aspersions on anyone who does not play by their rules, who would have anything they don't like be a crime, even the very act of enjoying life. Guess its time to move.
20 January 1998, Central Time Zone, On The Road Again.
Bubble bubble toil and trouble; I got to get out of here on the double. And just in the nick of time my contact in AZirona calls.

Stay Gold, bcnu, Love, ajo

The best way to avoid paying for an analyst is to write a book.


Back to ajo
Copyright (c) 2002 A.J.Oxton The Cat Drag'd Inn