---
Travels With Oso con Migo
Sojourn In America
OAE On The Road Again, What's It Like to be a Rattlesnake
---

28 March 1998, last letter 24 January 1998 (Letter 98a)
Gentle Readers,
26 January 1998, Monday, Mejor Que Nada
On the road again... reporting from somewhere southwest of Roswell New Mexico. I saw snow along the road over the past two days on my way to visit The Wacky Webers, Ed and Nan and the few kids left of the brood they started so many years ago.

The Webers live in Hartley TXeas, North TXeas that is, and the snow was in drifts along US385 just south of their home. Ed said they had three snows and that some of the drifts were three feet deep.

In the course of getting this far I have visited a few folks and missed a few, had a mostly good ride except for nearly loosing the lower propane tank to the atrocious roads of LAweeziana--I'll not go that way again in the near term--and undertaken to have The Cat Drag'd Inn given her first away from home lube and oil change. Two hundred and thirty one dollars at a truck garage in Austin. Everything is bigger in TXeas.

On wednesday I thought I might get from Kenner to Austin but during a walkaround at a truck stop in Beaumont I found the lower propane tank had torn loose its forward hanger in the sheet metal behind the mud flap. Not something I can fix on the road so I bought an official trucker cargo strap--good for 2500 pounds with a mechanism for cinching up real tight-- and tied the lower tank to the upper one. That delay and the following bad weather resulted in one night on the road. As the rain got worse I began to look for a rest area or a truck stop. Along by Baytown there was a big tractor trailer jackknifed in the median--either the wind blew him off the pavement or he was hydroplaning. There was some small hail now and the rain was so heavy the traffic was creeping along under 30 mph. The first place I pulled off at, a truckstop just past Baytown, was full. There was just no room to park except at the fuel islands. Just along from that place I found a rest area where all the truck slots were also full and all the car slots were either full ir inaccessible but I was able to find space between two no parking signs next to an island at the start of the exit ramp. I stop'd there. That was enough. I could not see the surface of the road and some of the drivers on the CB were talking about flooded underpasses ahead. Slow Speed--No Wake was the joke. There was an alligator reported in the eastbound travel lane and in the eastbound rest area water was up to the bumpers. I was on higher ground and had no sooner shut down than an 18 wheeler snuggled up behind me in the same no parking area and then two more managed to slither past us and park up ahead on the side of the exit ramp. The hail had stop'd but the rain and lightning continued as cell after cell went past throughout the evening.

Phew! On thursday the weather continued cloudy and quite a bit colder. The temperature drop'd 20 degrees, from 75 at the start of the rain to 55 in the morning.

And then coming over the hill southwest of Clovis New Mexico there appeared a bump on the horizon. It was not a bump in the road but something off to the side that kept getting taller and lumpier as The Cat Drag'd herself over the crest of US70. We had recently passed into the Mountain Time Zone and were at an elevation of 4500 feet give or take a few yards. The apparition rising from the otherwise flat horizon had all the attributes of a "Mountain"! Even there was white spots on the sides of it, like freckles, only bigger. It might really be a "mountain", my chart shows there is one in the neighborhood, two even--Carrizo Peak at 9,656 feet and Sierra Blanca at 12,003 feet. I hope I don't have to drive too close to them.
27 January 1998, Alamogordo,
The pass last night was around 7,000 feet. It was hard to tell for sure: the AAA Tour Book, my roadmap, and the city limit signs all have different numbers.

According to the AAA Tour Book "Alamogordo" is Spanish for "large cottonwood" but I cannot confirm that from my _Diccionario Moderno_ Ingl's/Espa¤ol. In my book gordo is fat and alamo is poplar. Is poplar another way of spelling cottonwood?

Ah-hA! The several cottonwoods and various aspens are, according to my Little Golden Book of Trees, all Poplars, and furthermore, all are members of the Willow Family. This library at the Inn is getting more useful every day.

On 16th July 1945 at a place near here that has come to be known as Trinity Site mankind ushered themselves into The Atomic Age and at another place near here, Mescalero, is the headquarters of the Mescalero Apache Reservation.

Over the past week the wind has generally come round from behind to ahead, and colder, and thinner, as the road has become increasingly tilted upwards, and windier (is that as in windy or windy?!) and the fuel mileage has gone down:
Date    Miles   Gallons    MPG

20        581    59.7      9.7
21        500    55.0      9.1
24        601    70.4      8.5
26        522    70.2      7.4
The cold factor relates to increased idle time as the engine runs more during rest stops to keep the heat up. I've already driven a thousand miles since the lube and oil service stop in Austin.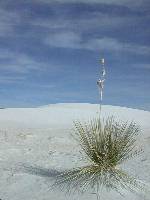 Where else can you find twenty miles of clean white sandy beach, with no sharks, no jellyfish, no riptide? Where else is there 275 square miles of gypsum wallboard ground up so fine it drifts like sand into great dunes? White Sands National Monument. Beyond the roads the quiet is eerie. And the only way out is to follow your footsteps back the way you came.
2 February 1998
Its been just a fortnight since I left Z'hills and except for the rain that night in the rest area near Houston there has been none. Already I miss that. There was a lot of talk on the radio yesterday about rain, in the forecast, on the lips of the neighbors, the hams were all talking reports of seeing a cloud here, or there, behind that hill, or this; but there never were more than a few wispy cirrus.

My official shift starts this thursday, 15 hours a day--thurs, fri, sat-- and then four days off to sleep and travel and sleep. I spent the first day here looking for a place to roost. This is the wrong part of the season to be looking for parking space. All the RV parks near to the location of Motorola in Chandler (SE of Phoenix proper but really part of the metro area) were either full, or would not take such a long vehicle or such an old one. I tried a few trailer parks and mobil home parks but the storey was the same everywhere except for the places that never answered. I spent the first night in a shopping mall and at the end of the second day started driving. After a hundred miles of weaving around checking places not in the metro yellow pages I found space and reasonable comfort at a camp about 35 miles SW of Chandler, beyond Maricopa, almost out to I-8, called Table Top RV Camp.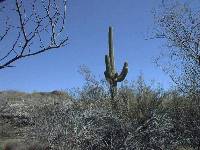 But I've been here a week and have yet to make email work. I have to say its not as nice here as Z'hills. At least in the short time. There is no grass for my bare feet, just dirt and cinders. There are no big trees, little shade, even Z'hills for all its flatness has *hills* compared to this flat desert. There are mountains all around, thirty to fifty miles away, most are posted and fenced--but there are extensive public lands out there, national and state forests, monuments, parks, and &c, that I will get to as time goes by. One cannot just bike to the market and the post office here, the nearest of each are 12-15 miles away; the nearest market with Ben&Jerry's is more than twenty miles. I am all the more glad I drag'd along the little truck.
Thirty some satellites of the constellation for this IRIDIUM project are up and the call center is expected to be on line today to support the gateway installation teams. The hardware is all in place. Now it is time to connect it all together and install programmes and make the interface work. I think they expect to have it ready for public calls by September. The new generation of cellphones will be able to switch between terrestrial and space based cells.
Speaking of cellphone service it has been quite a runaround getting service out here. Even worse than in the Tampa area. There are so many providers with overlapping territories and features, snapping at one another's throats for business, piling on one deal atop another, but in the fine print they all come down to an annual contract. I have had to make some difficult decisions. There are no wire lines into this camp yet, they are a year behind Rainbow's end in that regard, tho a year ahead when it comes to electric, water and sewer connexions.
I've visited AZirona several times in past lives. A couple of visits included stays at The Grand Crumbyon and once I even hiked halfway to the bottom and back. In the next few weeks I want to visit the town of Ajo, to take ajo to Ajo as it were, and hike in the Ajo Mountains.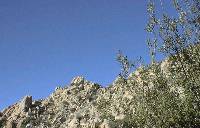 The differences are wondersome to be sure--the colours are intense, vivid, the sky is a kind of blue that I've not seen in New England and the abject flatness of the land combined with the lack of tall trees engenders a quality of bignicity to the celestial dome that defies description--but the similarities are unsettling... so I'm just as happy I did not opt for accomodations in town. I'll miss out on numerous shopping opportuinties I'm sure and have to travel some distance to the concert if I ever figure out how to get tickets but roosting out in the woods is safer and quieter.
I have three, count 'em--THREE--ID tags to wear round my neck. One for me, one for my laptop, one opens certain doors for me. Guards look into your lunchbag and all the screensavers have passwords.
Lazarus Long once said that when a society gets to the point of requiring ID for everyone then it is time to move away. Here I am moving in. But the money is good and I am learning some new things. If I can hold on for twelve weeks I'll have enough set aside to tide me over another summer of wondering and wandering along the windy windy Way.
The main part of the problem with access out here is bandwidth. According to the cellphone technician the local services use a narrow channel--10kHz--as compared to 30kHz in the east. So one is obliged to use a more sophisticated modem and of course a more expensive modem to obtain the necessary compression techniques to achieve connectivity. Modem on order, should be here Monday, and then we'll see what is the next delay.
On top of that there is some obstacle to my using telnet from my work station. The WWWeb works but when I try telnet I am met withso I have to see the network folks about that.

I am working three 15 hour days a week: thur, fri, sat, and then four days off. The working days I am staying at The Cat Drag'd Inn right out in the parking lot then the off days I drive the Inn back to camp about thirty miles south to R&R and whatever. This coming week will be mostly maintenance--vehicle and clothes and bike--but next week I want to take off for White Sands or Ajo.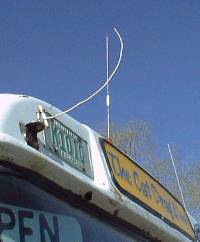 AZirona, or Aridzona as some call it here. It rains so little here that when ever it gets cloudy they put the National Guard on standby. A little sprinkle sparks everyone into a move to "higher ground" which for most means an all day drive its so flat for so far around these parts.
10 February 1998, Tuesday, The Boy Scouts are Eight-eight
Rebuilt hangers for the lower propane tank, patched four leaks in the roof, made my famous bean soup for lunch.

This week I had the lower propane tank rehung on The Cat Drag'd Inn. She has two such tanks, like fecund testicles, spewing gas to heat and cook. The extreme bumpy roads of Lowzyanna nearly accomplished a castration when the front hanger of the lower tank tore away from the frame, taking the right rear mudflap with it. I purchased a cargo strap in a truck stop (I have my entire experience in the Antarctic Programme to credit for the knowledge of how recognise and operate cargo straps--these trucker cargo straps must be made by the same folks as make the c-130 cargo straps) and tied the lower tank to the upper one, which has a more secure mount, and made it all the way to Aridzona. After a week of casual hunting I found a creative welding shop able to affect repair--and willing to let me help. I think they charged me extra for my help. The bill was nearly four hundred dollars for about six hours work.
10 March 1998, What's It Like To Be A Rattlesnake.
On the first of March I moved from Table Top to Hidden Valley which is half the distance to work and out in the desert. Just up the street from Table Top but world's apart. Eight weeks have passed since the The Cat Drag'd Inn to Aridzona. Hard to believe.

Hidden Valley is a fairly new camp, not mainstream tourist, mostly middle aged and elder. I think it takes a certain maturity of mind to appreciate the transience of one's body. The little children enjoy being nude--A family from Vancouver moved in next to me Wednesday afternoon. There is one bear carrying urchin among them, naked and out of the car before they had the engine turned off. The youngest nudest I have seen here. A girl perhaps four or five, she bounced around in the dust while her father arranged their camper and while I was adding a new section to my sewer hose came over to introduce her bear and beaver to Oso con Migo. I must say it was interesting. She was obviously use to living in naught but her skin, and to seeing others that way; I think I could tell that as she was more interested in the sewer hose than she was in me. But even the elders are not ugly. Pathetic perhaps, but then such are the ravages of time on our shells; if anything I find it more ugly when people wear clothing that accentuates aspects of their bodies they would do better to camouflage--if they're going to wear clothes at all that is.

Back at camp I took up with a few of the projects and got everything ready to go. Except my bike, I'll leave that for the next time it gets a flat or maybe next week. One of the things I learnt today was that there are special inner tubes available here in the southwest. Cactus-proof tubes. In cross section they have a thicker wall on the outside than a usual inner tube. Added to that is this yucky slimy stuff that purports to seal punctures. So now I'm ready for the next time a free ranging cactus leaps out of its roots and lays across my path.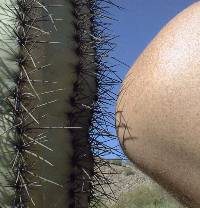 Sometimes they do that--just leap right out of their roots and lay across my path like a rabbit mesmerised by bright headlights. Another bit of yesterday was when I was walking around and felt a bit of stone or stick in the instep of my sandal. When I'm not riding I put on my sandals since the rocks are so nasty. Out in the flats of the desert the sand is great for walking barefoot, but in the transition to the hills it is really rocky. Once you are in the hill, on the hill would be better, the rocks are big enough to present smooth footing but then are sometimes too far apart. So I put on my sandals. When the bit of irritation did not kick away I picked up my hoof to look closer and there was this giant rosette of thorn cluster splayed out on the lug tread and one thorn had pierced all the way through to tickle the sole of my foot. Bummer!

Another part of yesterday was to spend an hour sitting in the open door of a boxcar on a siding a mile or so north of camp. I read for a while, thought about what it must be like to travel in such a big empty metal shell--shed on rails--as a couple of hitchhikers told me about a few years ago. And then one of the west bound freights thundered by toward the height of land on its way to Yuma. It would be pretty thrilling to ride the rails in an open car as long as the weather was like it is here...
14 March 1998, The Day After Friday The Thirteenth
The place is a blooming desert here abouts. I'm working three 15 hour days per week and have the rest of the time to play in the desert. Mostly I ride my bike around or walk in the hills. Some days have been spent with vehicle maintenance and at least one day a week is spent in housekeeping and shopping. I really don't understand how folks can work five days a week and get any living done.
My feet are getting itchy and its not that cactus thorn, I pull'd it out of my sandal. This contract ends about 20th April and I am thinking about what next. Is this the summer to drive to AKlaska? My heart, I think, has already made the decision but has yet to convince my head to do something about it. Many years have passed since my last road trip; once upon a time I was unbeknownst to my Self on some sort of a quest to visit all the states. Then one day I sat down and realised I had travelled in all the lower fourty-eight; camped, slept, ate, in many of them more than once, fulfilling a goal I didn't know until that moment I had been working on for twenty-one years. Its been a while but now I think its time. Hawaii is counted even though it was not a state when this project started; I've been there twice. Alaska remains.

But this tour is going to need $ome $upport and a few companions to make it happen. The Cat Drag'd Inn can accommodate four or five or six 8-13 year-olds and it would be nice to have another sort of adult along to help with the driving, the mentoring, and the housekeeping. Whinging TV addict couch potatoes need not apply. Prospective participants should know how to play Cat's Cradle, wash dishes, like beans and peanut butter (but not necessarily in the same sandwich) and they should know how to read aloud and follow a roadmap. Prospective $pon$or$ need not have any of the above qualifications. Email me if you will help or Snailmail your assistance to me at Center Conway NH 03813-0144.

Someone asked me the other day if I was superstitious and I said no. But now it occurs to me that maybe I need to think about that question again. I burn all my credit card receipts, rather than just throw them away, so that perhaps I might foil the evil ones who rummage through the garbage (in some cases while salaried by research grant monies) to find numbers by which they might cast a draining spell upon my pocketbook. With all those credit card receipts, and envelopes bearing my return address, I also burn the hair from my head that accumulates in my hair brush so these same sorts of evil ones, no doubt in different specialities of research grants, won't be able to make little dolls with my hair that might be used to cast spells upon my health. Is there any real difference between the two beliefs? Does one belief mean I'm superstitious and the other mean I'm practical? Which is which?

Stay Gold, bcnu, Love, ajo

I travel not to go anywhere, but to go. I travel for travel's sake. The great affair is to move. --RLS


Back to ajo
Copyright © 2003, A.J.Oxton, The Cat Drag'd Inn