---
Travels With Oso con Migo
Sojourn In America
OAE On The Road Again, Nazareth -- Zypherhills
---

August 4, 1997, last letter May 31, 1997
Gentle Readers,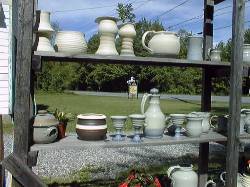 Uh-oh... Uh-oh... Not the bird by that name Roger and Joan introduced to me in Z'hills, but Louise and Rick to each other when I started transcribing the breky conversation on my napkin as the subject turned from Louise's incredible open-faced one-egg omelettes-- (wait!... The fridge is making funny piddling noises... Louise? shall I put down some newspaper like for Puddles (that's the white cocker spaniel)... Oh, yes, back to the omelette)--made with everything, sort of like a land-fill pizza but no green capsicums, to her gourmet bird feeder crunchy peanut butter and gourmet bird seed feed. Louise's birds prefer Skippy, SuperChunk. Jiff's chunks are too big to fit in the little holes in the feeder's beak resistant green plaxtic body. There's a little roof over the feeding area to keep rain from diluting the peanut butter (and turning it to soup?) and there's a little wooden peg for bird parking. The whole contraption hangs out front in a tree where the odour attracts birds (and kids) from all over the neighborhood. Birds really like the peanut butter Louise says, but it doesn't stop up their whistlers any adds Rick.
Fred wrote from South Pole a note inviting us to go out to dinner someplace nice, at his expense. Any toasts should be with Grand Mariner, he wrote. Rick called work and took a couple of extra vacation days and I'm staying over beyond my announced departure. Thanks for the invite Fred. Maybe what we'll do tho is save it until you are home to Alamosa next November and come to dinner at your place. Then you can pay the taxi.
June 4, 1997, New Paltz, Oso con Migo Meets Tasha's Bears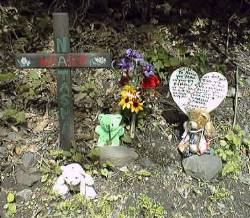 Slanted Slate Lookout, U.S.209, a little south of the Delaware Water Gap. Natasha died by the side of the road near here when she was six. Her 8th birthday was recently, there is a birthday card and two small bears by her marker.
Beyond the other side of the road decommissioned telegraph poles are covered with ivy beside unused tracks. All the copper is gone from between the cross arms but a few of them still have glass insulators to collect. You will need a full-body hazmat suit to get past the poison ivy, and climbing irons and a belt.
At the junction of Delaware Water Gap and Appalachian Trail lies the Trails End Cafe. Its not really at the end, of the AT anyhow, closer to the middle--1100 miles south to Georgia, 900 miles north to Maine- -but according to Patricia who waited on my writing to find out if her Napoli eggs (scrambled in olive oil--tossed with pepperoni) were to my liking, there is no end to the mess the boss Betsy leaves like a trail where ever she goes.
A subset of my fascination with diners is the origins of their eating utensils. Certainly will not do to call it silverware, there hasn't been silverware in a diner since neon lights were invented. But flatware is not appropriate either since none of it is flat. Stainlessware? Ware?
I look to see how many countries are represented--rarely does all the ware match from setting to setting, table to table. At the Trails End, a high class cafe with a pressed tin ceiling that dates from the buildings construction in the 1920s, all the pieces at my table, and all the tables around me, had matching patterns and so I almost didn't look for the country of origin. The forks are from South Africa, knives--Korea, spoons--Japan. All the same brand--Delco (don't they make automobile alternators?) and the pattern is Linnea.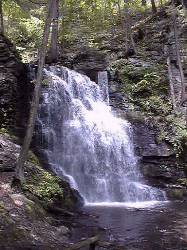 Further north along U.S.209, off to the left, up a twisty climbing road, there's the Goback Falls at the far end of the Momback Trail. The trail is actually more or less down hill out and uphill return; I was not the only one going against the flow. The Momback Trail returns from Goback Falls through Construction Zone, down Slippery Steps and under the Potato Chip Tree. Then you go past the Barking Boys at Adams Flat to the Head of Root Beer Basin just beyond Canyon Corners. Along the trail clouds of Eau de Cutters competed with Oh d'ajo and the occasional whiff of deep fried grease emanating from the snack bar.
June 5, 1997, Thursday, Back To The Days of Christopher Robin...
As I crossed the line from New York to Vermont on S.R.9 there was a bump in the pavement and my radio changed to a different station. ...It's hard to explain, the words of the song said, I'd swear that old bear whispered "Welcome home"... came from the speakers. I wish I really understood. But then if I did there would be nothing left to look for.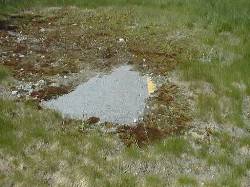 Parts of the old route nine show through the wildflowers along the new route nine as the road climbs east from Wilmington. In the woods at Molly Stark State Park there are nasty mosquitoes and somewhere nearby the thump-thump-thump of a partridge or a grouse--its been so long I've forgotten. The alpine bluets I remember and tonight I was able to light my fire with one match so maybe I'll remember which bird makes that peculiar thumping sound in the woods. Molly Stark, born Elizabeth Page, was the wife of General John Stark. In August of 1777, during the Battle of Bennington she rode about on horseback from farm to farm alerting men to go to the generals aid. Mount Olga rises above the campsites originally built by the Civilian Conservation Corp. and provides a pleasant three mile walk through second (and maybe third) growth boreal forest.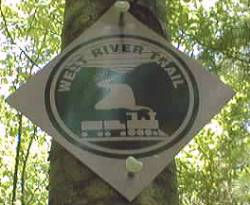 A few miles north, Jamaica State Park, on the West River, is downstream from the Ball Mountain Dam. Every Spring and Fall there is a water release from the dam. This semi-annual event attracts kayakers and canoeists from all over New England. I camped there thirty years ago, when this event use to be a slalom race. There were cables stretched across the river from which numbered coloured poles hung to mark the gates. All the cables and gates are gone now; the primitive camping and pit toilets we enjoyed have been replaced by controlled camping, hot showers (twenty-five cents for five minutes) and firewood at two dollars an arm-load. But the old Railroad Bed Trail still follows the river between camp and dam and at Cobb Brook there is a path to Hamilton Falls where the pools are a bit chilly but great for skinny-dipping.
June 10, 1997, Getting Lost in the Northeast Kingdom
Sometimes the more I travel to different places the more everything looks the same. Instructions I remembered to find one friend went something like drive north from the intersection at the post office and general store and turn up the hill at the covered bridge. Their house is the white one where the road T's.

But that was then and this is now. The general store has been replaced by K-Mart and the post office has moved out of town. Once I'd sorted that out I mis-remembered which covered bridge. There's two, one to the right and then a ways beyond one to the left. Its the second one that eventually comes to a T and now the house is red. And they left yesterday.

Ok on to the next entry on my dinner list. Worcester Vermont isn't even on most maps and S.R.12 is in the finest lightest grey ink you can still discern from the background. I stopped at the last store going out of Montpelier for beer and ice cream, Ben&Jerry's of course of course, and then drove and drove past wriggle and barn, past dam and tarn; until I got to a road, at an uncovered bridge and made a sharp turn to the right. So far so good. Out and up, this way and that; until the road forks, and the pavement runs out. Somewhere beyond, its been quite a while; the road wriggles like this, and climbs just like that. Where there should be a white house, I see now just foundation; but beyond there's the lake, in the right location.

Despite all the new houses, and some old ones I don't remember; there is a drive going down, just where I expect it. So I go down, and around, across gravel and mud; and come up in a yard on the wrong side of a house, that looks almost the right choice, but could be a dud. There's no one at home but the dryer is running; the doors are all open; a cat lays in the sun. Ben&Gerry are melting and so taking a chance I put them in the freezer and give the fridge door a glance. The photos thereon look vaguely familiar, I can't find a name; the phone has no number, the cat's not the same. But nothing unusual, really, considering my brain score; it looks all ok, so I'll go outside and wait, and see who comes home.

A strange woman--who's hair is not red, with a young son, who's the right age, but his hair is not red. She's looking at me, one eye is quizzical, one apprehensive--This isn't the home where Meg and J.C. live,... eh?

--No but I know them, she said. My daughter's there now; you can wait here for Meg, she'll be passing by soon. We have lot's in common but they live somewhere beyond, the road wriggles like this and climbs a little like that, on the left there's a white house and beyond that there's a lake. There's no one else out there, then you come to their drive, going down just like ours does, except they're building a bridge, so you can't get to the house.

I explained about Ben in her freezer, and my beer in her fridge; she got a good laugh, and we shook hands and smiled.
June 12, 1997, following up on The Dark Flight from McMurdo...
Meg and JC live in the woods; together they have built a home and family that is wood heated, wind cooled, and mostly solar powered. There is a long brown snake with yellow racing stripes between the rows of lettuce and chives in the garden and a fat black cat with a field mouse between her paws lays in the sun on a log straying from the woodpile. Two young children play in the yard.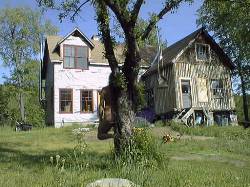 The weather has been hot and dry for the past few days, great for splitting wood, walking in the hills and playing in the cold streams. And picnics too. But today we have a backdoor coldfront trying to insinuate its instability; there are showers and humidity and hardly any sun so I am staying in to write.
I've been remembering what its like to split wood and swat mosquitos- -spending almost as much on Off as for B&J's. My aim is a little off to the right, which is strange I think cos my politics seem to lean to the left; maybe this is a way of keeping some balance on my perspective. This little corner of the Northeast Kingdom is about as far as one can get from the hub-bub of Washington D.C., traffic moves slowly, cars mostly stay on their own side of the road, there are no jets roaring overhead every five minutes. Granted its about fifteen miles to the nearest sizeable metropolitan center however the local corner store has a small selection of most everything. Sometimes I would like each idyllic moment to last forever and a moment later I cannot wait to get on with the next happening.
Glenn Grant writes from McMurdo:
"chuck gallagher was in charge of the housing and recreation for all of mcmurdo. he decided where you would live for the next year. he scheduled the outings for the community, and would serve you drinks from behind the bar. everybody knew chuck. physically, he was also the most distinctive person on station. he was 50, well over 6 foot and bald, with an athletic build. he had a long graying zztop beard, and his arms were covered with a collage of interlocking tattoos. if he had ridden up to your house on a harley and you didn't know who he was, you would probably be afraid of him. but underneath the rough exterior was caring guy who was determined to make sure everybody here lived happily. during countless staff meetings I would stare at his arms, wondering if there was a hidden gestalt to the jigsaw puzzle of his tattoos. why did the octopus at the elbow intertwine with the american flag? i never got up the nerve to ask him, but i'm sure he would have been delighted to explain them all.
"it was a long two weeks. chuck became sick, and then sicker. medical ordered a medevac -- an evacuation of a patient due to medical reasons. this is no small task: the entire station was mobilized to reconstruct a fully functional airfield on the ice shelf, suitable for landing a C-141 in the middle of an antarctic winter. the big bureaucratic wheel was goosed, and a flight was arranged with the air force. the soonest it could arrive was four days later, using the most experienced ice-landing crew in the world. by that time the airfield would be completed. too late.
"i watched the plane land in the noon twilight. strobe lights and barrels of burning fuel lighted the runway like a pyre in the distance. the C-141 touched down gracefully, and chuck's body was put on board; the essential part of him had left a week earlier. after his death there had been some debate about whether to go ahead with the flight, but finally approval was given. it was the best decision: the station needed to close this chapter if it was to carry on through the winter. after a brief refueling and an exchange of mail, the plane lifted off and headed north into the light.
"steve, the station manager, had made it known that if anyone felt unable to continue with the winter, they could go home on the flight. in a another twist in a strange winter, there was only one taker... quietly, for reasons of his own and without good-byes, steve boarded the plane and left mcmurdo.
"the main bar on station, formerly the Erebus, has been renamed to Gallagher's. no discussion about the name change took place, nor was it necessary. it was just the right thing to do. there are still some folks who are concerned, even angry, about the limited medical facilities here, and the inability to get a flight down within a few hours or days. it seems that our standards have become so high that we now expect the Mayo clinic to be outside our front door no matter where we go. but many of us who have traveled a lot know that what we have at mcmurdo is better than what much of the world survives with every day.
"there was one more unexpected post-script to chuck's death: a month later, when an autopsy was performed, it was determined that he had terminal cancer and would probably not have survived much longer regardless of where he had been. if you want safety you can stay home, but life will still carry an expiration date.
"carpe diem."
And Steven writes from Saint Thomas: "The Earth is Restless...
"The Soufrierre Hill volcano in Montserrat is getting very active, the entire eastern caribbean is covered with ash, our skies are hazy and our windshields are pitted. People with allergies are having a hard time of it ... especially Cindy, who is here in the islands partly to escape airborne particles. It is pretty awful/awesome however you look at it, there is no compelling reason why it can't continue to spout ash and magma for hundreds, thousands of years.
"We just put that photo on the full colour cover of the local Montserrat Association booklet, not surprising that the volcano is the hottest topic."
June 18, 1997, Bird Watching the Traffic Jam With Jasper
The Cat Drag'd Inn has most of her mechanical work accomplished. The engine transplant operation was a success and she is now in post- operative care. This is like all the storeys I listen to from my friends who are keeping house, or all the storeys I hear about how a sailboat is like a hole in the ocean that you throw money into. It was my hope to jump in and drive away but I despair of that now. This is the bad time of year to get any attention from service businesses; they are all busy with the tourists. A three hour job takes three weeks just to get in line and then another three weeks between waiting on parts and waiting for the guy to return from road service calls. He's like the little Ruby-throated Hummingbird, Archilochus colubris, who spends most of her time flying from feeder to flower, sucking up sugar-water and nectar so she'll have the energy to fly around and look pretty. But when do they, both bird and man, find the time to get anything done with all that flying around?

Jasper has the right idea. "In the Winter of 1980-81," he writes in his all too short (for a cat of seventeen years) autobiography in the Summer 1996 edition of Wind Swept, "when I was a very small kitten, John Howe brought me to the summit of Mount Washington to live at the Observatory."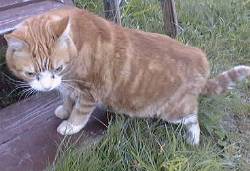 Jasper met Inga, who had been living there already for a few years since replacing DFC, and Pushka, who shared stardom of the Channel ei8ht TV weather show with Marty Engstrom. Jasper says he could never understand why Inga got so excited about the little furry animals like the flying squirrels she worked so hard with; he preferred to watch the frost cracked blocks of mica shist the summit was made of and make sure none of them were moving around in the wind.
But one night late in 1995, after Inga had died and gone to the Great Catbox-In-The-Sky, the flying squirrel population was getting out of hand and Jasper caught and ate fourteen of those critters and they made him sick. He ended up with a kidney infection and diabetes and spent a week in hospital. Now he lives with Jane and Ken on a hill in Conway, watching the finches and grosbeaks and woodpeckers. "There's so much more variety to the birds on this hill; not just big black Ravens, like on the Mountain, here the colours are dazzling and their music is soothing. I can just lay in the sun and watch them for hours."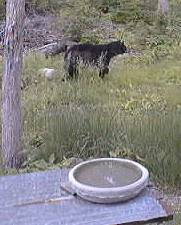 A young bear comes to call and all the birds scatter from the feeders as it walks around under them on hind legs, waving forepaws in the air. Jane remarks that they have progressively raised the feeders every time the bear scores a hit. Last week one of the hummingbird feeders was found broken open on the ground and now we watch as the bear known as "Y" from the white mark on "her" chest proceeds to climb a tree up to the yellow polypro lines that support the feeders. Sometimes the occupants of this house on a hill in the middle of the woods make a loud noise to scare away the bear but this time is an experiment Jane says--To see just how she does it.
Soon Y has her teeth on the polypro, one arm with claws firmly grasping the tree while the other swings with measured strokes at the feeder. She must be able to smell the sweet water the hummers like but her claws are falling short of their mark. There's the stretch, windup--swing-and-a-miss. She pulls her hind legs up for a greater reach and tries again and misses. Y shakes the line, batting with her paw, shaking her head, and the feeder bounces from its hook and crashes down spilling its syrup on the grass. The bear is down there in a trice, lapping the plastic parts. When that treat is exhausted she repeats the performance on the sunflower seed feeder while Jane makes notes of what her next escalation will be.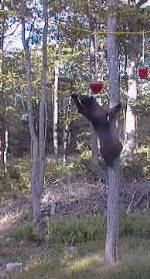 July 1, 1997
The past couple of weeks have been hot muggy days of working on the bus alternating with other days in the cool musty storage shed trying to sort through thirty years of collected artifacts that have been in storage for the ten years I've "been on ice" so to speak. I have to keep reminding my Self that I came here to throw it all away but so far all I've managed to get rid of is a bunch of letters whomever writes my biography is gonna wish they had. Two thirty gallon trash bags of cloths that don't fit went to GoodWill; two boxes of books to my sister; a three cube box of mailers and packing material to the tip. Not much of a dent.

Next week I'll take a load to a flea market and see if I can at least make gas money for the trip. Several noteworthy items have come to light during this archeological expedition: The original slide of the world famous "Krumcrusher", the twelve lug nuts from the rear wheels of my old yellow van that carried me 330,000 miles through all the lower fourty-eight states, a box of rocks collected during the above indicated mileage but from where or why God only knows. Then there is the dried snake skin, a plaster cast of some animal footprint made during a long ago summer camp sponsored by the Loyal Order of The Dukes of Siam (Ohhwaa-Tahnah-Siam), ten years of unread National Geographic magazines...

The Cat Dragged Inn--so far I have achieved registration and insurance and the gross cleaning. Testing of various systems is proceeding, and restocking the fridge and larder after making sure propane and water and waste have got all their guzinters and guzouters functional.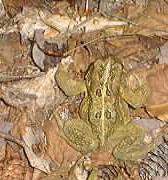 Weather is hot, as to be expected at this time of year. Hot and Humid--Hot and Dusty--made all the worse by the long lines of tourists that comprise the economic mainstay of this community. The hot I really like but the humid part is debiliting to put up with or very expensive and confining to deal with. Air conditioning is more expensive than driving.
July 9, 1997, Wednesday, Composing Online Without An UPS
Yesterday there was a thunderstorm in Conway. I was at the garage just closing up my tools when the big crash and boom came and then the sirens went off at the firebarn. A few minutes later I was motoring along from 302 towards Conway Lake and dinner with Jane when I could see blinking blue lights ahead just before the town beach and behind me were blinking red lights. A tree had been hit by lightning; the first time I have seen a tree so soon after the strike. A tall pine, perhaps fifty feet tall and about twenty feet away from the power line, had exploded at the level of the phone lines on the poles. The crown had fallen across the power lines and dragged them down into a tangle with the cableTV and phone lines and the bole of the tree looked like a torch dimly lighting a musty tunnel in a medieval castle.
July 18, 1997 The Great CatBox In The Sky.
Last week Jasper went on his last journey to the great catbox in the sky and last night my mother finally arrived at the head of the queue in heaven's waiting room and commenced her journey to the great solitaire game in the sky. I was moved to consider again the relative ways we treat our parents and our pets. Both had suffered their respective terminal illnesses for far longer than I would want to. Jasper had diabetes and had gone beyond where two insulin injections a day would control his problem; my mother, at 79, had Alzheimer's for the past twelve or so years, was finally beyond the point where she could even suck up her milkshakes. It is stubborn, that reptilian part of our brain, and so are we.
July 20, 1997, Sunday, The Flea Market That Never Was
I went on a serious shakedown cruise yesterday and was seriously shaken. The cruise commenced at 05h00, after a short sleep following loading a literal bus load of old ham radio junk and then a short breky, to a ham radio flea market the better part of three hours away in Clinton Maine. An hour later, just beyond Naples I was looking out the window through my nice new big wide angle mirrors to see how many impatient autos were nipping at my tail only to see they were all way back in the smoke. Smoke!? Pull over quickly! There's not supposed to be any smoke, leastwise not that much. There was a veritable sheet of oil dripping from the engine, smoke all over, but no fire. What a mess.

Eventually, after three visits by two mechanics and one by the sheriff, who just happens to own a motor coach and got out of his sheriff car to have a look around my smoking engine (he really just wanted to see what it was smoking, eh) we found that the rigid steel oil line from the engine block of the compressor had fractured at the flare nut on the compressor--shooting several gallons of heavy hot sticky diesel grade motor oil all over the inside of the compartment and raining it down on the pulleys and belts and muffler. Two gallons of oil, five hours and a bag of kitty-litter later I was under way again but events conspired against much forward progress, I had lost the initiative and was mired in traffic to the point where I would not get to the flea market much before it closed; I figured I wouldn't have time to unload the good stuff that was packed behind all the junk before all my prospective customers would have left. So I asked the tollhouse keeper at the penultimate tollgate how much further I'd have to go before I could turn this ship around and she gave me a red flag and said I could make a U-turn at the No-U-Turn sign ahead and give the red flag to the toll collector on the other side.

So I did. And I'm back having learned a lot and all but made up my mind that driving to Florida against the deadline of school and medical and deployment would be foolish with all the things, mechanical and cosmetic, yet undone and incomplete.

Stay Gold, bcnu, Love, ajo

The best way to avoid paying for an analyst is to write a book.


Back to ajo
Copyright © 2003, A.J.Oxton, The Cat Drag'd Inn