Travels With Oso con Migo
Odyssey In America
OAE On The Road Again, Sojourning in the South
Greetings Cohort:


Friday Night, the Last of November
Started out about 23h00 from Franklin MAss, town of the "First Public Library", from back in the days of Ben Franklin I guess. Past the Horace Mann Meeting House (open daily) and on southward towards Rhode Island.
Earlier in the day I'd done some shopping for pen fillers and vacuum cleaner bags. Eureka Type "B" sacks are getting positively hard to find. Last year I shopped around for more than a month before stumbling on some. This time, after Star Market, Aimes, Wal-Mart, Stop&Shop and two hardware stores turned up empty I resolved to call Eureka. All the stores had extensive displays and supplies for Hoover but few, if any, Eureka bags. I asked one manager how much Hoover was paying the store not to stock Eureka. He smiled a sly smile.
After I waded through the usual "If you want blah-blah press one..." twice and managed to get disconnected in transfer I learned from the Eureka Help Desk that my vacuum is "so old Eureka might not make bags for that model any more." --But it still works just fine, I pleaded.
We eventually located some at Marion's Vacuum Repair in South Bellingham (234 Pulaski, five zero triple eight, three four, triple seven in case you need any) and bought a five years supply.
All that was just so I could tell you that vacuuming the floor was one of the things I was doing at the last minute before leaving Franklin. That and bringing my bookkeeping and backups up to date.
Multiple good-byes at supper with Dick and Manjula Cook who are leaving for India Saturday to visit the Church of South India boarding school at Erode where we sponsor several children.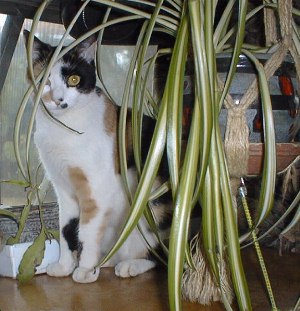 At some point after supper one of the other dinner guests came out to the bus to see if I needed any help getting started. Finally all hooked up and ready to go. Last hugs with Dick and I made a joke about my newest guest, Sarah La Gata conMigo, having already gone into hiding. She has yet to get comfortable with the noise and vibration of the engine and usually climbs up on the cereal boxes in the rain locker or crawls in under the forward galley seat. If she's not aboard, I said, if he should find her in the morning, perhaps he could take her to India, or keep her for my return next year.
The road south was sometimes wet from intermittent drizzle and the traffic was light. Midnight came and went. Rhode Island is a new state for The Cat Drag'd Inn. She celebrates by starting a little fireworks display in the control panel. The rheostat for one of the defroster fans went out in a blaze of glory and acrid smoke. I pulled over into the Connecticut Welcome Center Rest Area to assess repairs.
Usually La Gata comes out of hiding soon after I stop the engine. This time she didn't. I'd found a new rheostat in the electrical spares locker, one I've had for some time for some other purpose never used, and laid out tools and tea, and still she hadn't appeared. About half way through the install I had this epiphany: --The cat is not aboard; she is back in the yard at Franklin.
The feeling was profound and I made a quick search but found naught of cat; neither hide nor hair. So I finished the fan control replacement and then did as thorough a search as my increasing impatience would allow--all the while playing out scenarios of response:
--Turn the bus around at the next "For Emergency Use Only" crossover...
--Leave the bus here and return with the little truck...
--Continue on to the Ferry Terminal in New London and rethink...
--Leave the cat... she doesn't want to live here anyhow...
I called 911 to say I was leaving a bus in the rest area to return to Franklin in order to retrieve something very important that had been inadvertently left behind.
The little truck got quite a workout--seventy-five miles per hour, over the river and through the night, all the way back to Franklin town. It was about 01h30 when I started from the rest area in Connecticut, about 03h00 when I pulled up in Cook's front yard.
--Here kitty-kitty-kitty...
--Meow, meow, from the undergrowth back by the grotto, and she came struggling out from the bushes dragging a mouse by the tail.
--Oh good kitty. --purr-purr-meow...
--Leave the mouse. Let's go. We have a long drive back and a boat to catch by morning.
1st December 2001, Comack Long Island, New York
The bus just fit into the converted, refurbished LST from WW2. Cape Henlopen is the largest vessel in the Cross Sound Ferry Services fleet. She first saw service as USS LST 510 that landed on Omaha Beach during the Battle of Normandy. The loading and landing ramps were pretty steep and the overhead was barely over head enough. I dismounted the HF aerial and went on slowly. My main concern was that the CB aerial might trip one of the sprinklers.
Met Esther Tallamy, SKP 2757 (my number is 57888) at the lunch she organises once a month for Escapees in Comack Long Island. Good time, good storeys, my first such gathering.
La Gata is home. Time for a nap.
2nd December, Bryant Street, Brooklyn, New York
It is just past dawn on Sunday morning. The Cat has Drag'd Inn to Brooklyn and is presently QTH'd in a vacant lot between a tugboat and a fuel depot on Bryant Street between Clinton and Court. Not too many broken windows hereabouts so it may be a fairly safe location. One NYPD patrol car has past by since I arrived and not chased me away, that's another good sign.
The roads from Comack to here deteriorate steadily the closer you get. More and more construction, lower and lower bridges, narrower traffic lanes. My speed dropped as I went onward and the cars flying by passed me faster. I'm going to take an hour or so off to clean up all the things rattled from their shelves.
Monday, 3rd December, Columbia Wharf, Red Hook, Brooklyn
Nice day visiting Robin, a Ham Radio and travelling friend from Vermont I've not seen for some twenty years. I think it has been nearly that long since I was last in this city.
New York City has some rather complex traffic and parking laws. Alternate side parking days change sides between eleven in the morning and two in the afternoon. Industrial areas have no on-street parking during business hours. Right Turn on Red is not permitted anywhere in the city however going straight through on red is. Providing you go fast.
This park is much nicer than the one I was in last night. A concrete spit stretching into the harbour near the Verrazano Narrows Bridge, it is flat, paved, and looks reasonably secure. There is a fence around the sea wall should I do any sleep walking.
6th December, Annapolis Maryland
All well so far. I'm in Annapolis now. Thursday evening. Just arrived in time to be too late for the Maryland genealogy archives today but I was planning on tomorrow there anyhow.
I think I ran through a meteor shower or an asteroid storm back in New York. There is a big dent in the lower middle of the little truck's windscreen with cracks radiating outwards in three directions. There are also several new pits and chips in the windscreen of the bus.
My fancy new plastic storm windows are working well in the bus, even the engine is running hot. Maybe that is why there are so many record high temperatures along the East Coast, eh?
Fuel mileage on the bus seems to be down a bit but then I have been doing a lot of inner city driving so far and a lot of idling. I hope that is all it is; I'm too far gone to turn around now.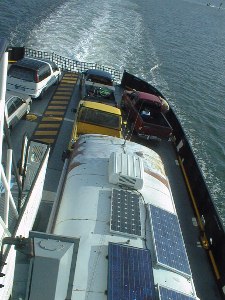 I guess the only not so good thing is that the new fridge draws a lot more energy than the old one. Three times more. Runs the battery down faster than the photovoltaic panels can charge them. Presuming the house battery is really ok that is. Despite the warm days they have mostly been cloudy and the sun is at such a low angle that there is not much of a charge.
Got any snow yet?
12th December, Aberdeen North Carolina
Had a good time on the ferry between Ocracoke and Cedar Island, two and a half hours or so. Time enough to do the dishes, and have lunch and a nap. Also got an opportunity to inspect the roof of the bus from a seagulls view. The Cat Drag'd Inn took up most of the starboard side of the open deck, snuggled right up against the centrally positioned bridge and lounge island, as she was. The GPS continued to record a breadcrumb trail across the empty space between the ferry landings indicated on the road map.
For a while we were headed off in a totally wrong direction for where I wanted to be going and I made careful inspection of my reservation to see that I was ticketed for Cedar Island and not Swan Quarter. In a museum back on Ocracoke I had been reading about shipwrecks, pirates, and other mysteries of the sea. Now this business of going north instead of west was getting to be a mite disconcerting. We were half way across Pamlico Sound and I was seriously considering taking my ticket in hand going off to see if the captain was Blackbeard reincarnate when the ferry finally turned to a more reasonable heading.
With that concern out of the way I went back to lunch, dishes, and nap. Covered a lot of miles that day without having to drive.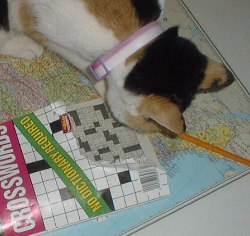 La Gata has taken up crosswords. So far she is only trying to re-do the ones I have already filled in. Mostly I think she is trying to absorb some of the language. Really trying. I may have to work hard to keep ahead of her but at least there won't be much left to throw away when the last puzzle is complete.
16 December
I'm on Jekyll Island. Off the coast of Georgia at Brunswick. Quaint historic place with great beaches and a pretty nice state run campground. Lots of classy eateries, and golf too, but I am going to avoid the high priced end of the island and see if I can find a place on the beach to play in the sand and sun.
Driftwood Beach at the north end of Jekyll Island is a great place to play. As the sea erodes the edge of the forest large trees fall prey to the waves. Dozens of them create an eerie forest. At this time of year there are few people and I was able to lounge in this tree for several hours as the tide went out. The sand is hard enough to bike on. And it is superb for castle building.
19 December, Combing Apollo Beach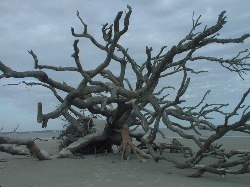 I spent most of today on Apollo Beach. Some of the time I was rolling around in the sand or reading or making fobs. Another part of the day I spent picking up trash. Two large bags full and that was only from a small part of the beach. Its not really all that messy but is was something to do since I didn't have anyone to play with and I was getting tired of just laying around.
Apollo Beach is north of Cape Canaveral and part of it is for nude use. It was great being able to take off all my clothes and not have to keep a watchful eye that someone might see me. Everyone else here was nude too. This beach is very different to Driftwood Beach on Jekyll Island. Driftwood is a sand beach, very shallow, small waves, little current. The sand is very excellent for making castles and midway between the water and the verge it packs hard enough to ride a bike on. Apollo is a shell beach, not the least bit good for castles and everywhere is too soft to ride on. The slope of the beach is steep, moderate waves and currents. Good wind for kites and no trees to catch them.
To the south along the beach you can see the buildings of the NASA launch pads but there were no launches.
It was a great day. Except for the bugs. There were some biting flies that bothered me until I went back to the bus for bug repellent. But that only made the sand stick more. Such fun. After a while I looked like a sand man. Good thing I have that nice sunshower. It came in handy washing off in the carpark.
Now I am parked behind some dark shopping center in New Smyrna Beach and Sarah La Gata conMigo is out for a walk. I hope she comes back before morning. I want to leave here early and go back to the beach for another day of being the nude trash collector.
Words on a billboard the other day: Why do they Lock gas station bathrooms? Are they Afraid someone will clean them?
21 December
Time to move on. Three days on the beach, six large bags of trash and two empty 20# propane bottles. The beach is noticeably cleaner.
22 December
Lots of going around in slow circles today. I departed Apollo Beach at oh-dark-thirty, south along the outermost road with the idea in mind of staying as close to the water as I could be all the way to Vero Beach.
First turn-around was at the NASA gate on state route 3 where the Seashore Park gives way to the Kennedy Space Center just south of the cross road town of Wilson. Had to turn around at the gate and detour through Titusville to come in the west gate.
That gate did not open to the public until 09h00 and I was two hours early. Turned around there and backtracked a little to the Astronaut Hall of Fame & Space Camp to have a second breky. Space Camp is a cool place. Mostly for kids. For adults there are a number of interactive exhibits e.g. a three G centrifuge (any idea what that will do for your overweight condition?) but the admission costs twelve dollars and should take several hours to a day for a proper visit. There is even a viewing area where one can watch the kids doing the space camp activities. I did not go in; I'll save it for when I have companions to share the fun with.
At 09h00 the west gate opened and I went on to the Space Center Visitor Center. Been there before years ago but I thought I'd have a look around. At I remember it was pretty exciting but now there is a 25$ entry fee. Save that for later as well.
Onward east and south to the next barricade. A1A is closed south of Cocoa Beach at Patrick AFB, another relic of 9-11... So again a turn around and backtrack-detour along U.S.1. Finally back on A1A at Satellite Beach and it was smooth going, albeit slow, all the way to Vero. There are some nice beaches at Sebastian Inlet State Recreation Area--I've been on this part of the road before. This time I didn't stop. I guess I've had enough beach for a few days and besides it is so crowded there is no place to sunbathe. Sebastian Inlet is the last beach southbound where there is reasonable access and room to run around before one gets caught up in all the private property, no-access, no parking problems further south that I wrote of the last time.
At this point I want to emend something I wrote a year or so ago about the state of visitor parking in the state of Florida. After the past few days of hanging out at Apollo Beach and visiting with other travellers it would seem appropriate to write that perhaps the parking problem I wrote of before is either limited to the southern part of the state--Orlando and south maybe--or a matter of county by county enforcement. As an aside, the state sales tax is administered by the counties so maybe the parking rules are also. I have to pay enough attention to see if the percentage of the sales tax varies from one county to the next.
I and the other travellers I spoke with had no problems parking overnight in any of the places we chose north of Orlando so I take back some of the bad things I previously wrote about Florida.
23 December, The Eve of Christmas Eve
Another day of driving around in circles. The Delorme map/navigation programme I am using here has lots of roads that don't in fact actually exist on the ground. In addition to those roads (notroads?), there are other roads which are there, albeit closed to the public, or are sand and gravel roads which the map indicates to be paved. So, when the navigation routine lays out a route it makes no nevermind about the notroads, the closed roads, or the sand roads. As a result I went several miles more than once today into places where it became a big deal to get turned around at a gate or at the end of the pavement. Not to say the route was in the least uninteresting.
Out near the end of one road that is not even on the AAA chart, cr/sr64 on the way to the Avon Park Bombing Range, there is a very nice little piece of state forest on the west side of Lake Arbuckle. Lake Wales Ridge State Forest, the Arbuckle Tract, where School Bus Road runs north to connect with sr60. There are more than twenty miles of walking trails in acres and acres of palmetto and pine forest.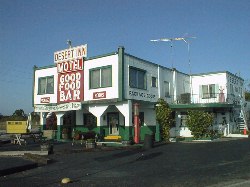 On the way from Vero to Avon, where sr60 intersects with us441 and "Florida's Turnpike", is a place named on the chart Yeehaw Junction. Also known locally as Jackass Crossing.
The Desert Inn at Yeehaw Junction dates from the late 1880's when it was founded as a trading post for the cattle drovers and lumber men and a watering hole along the railway that was hauling logs north from Okeechobee. I had a second breky, of ham, home fries, and eggs over easy in circlets of green bell pepper, and listened as the barman and cook took turns telling the history of this unique place in the history of south Florida.
The present building dates from circa 1898 and in the 1930's over night cabins were added to accommodate tourists travelling on the newly constructed roads. The current owner is quoted in a more recent newspaper article saying that the Desert Inn is the only former whorehouse on the National Register of Historic Places.
Fast food it ain't, but good grub served on real plates with real flatware. And there is plenty to read on the walls and in the toilets whilst you wait. Be careful in the toilets tho: In each of them there is a life-sized manikin (womanikin?)--Barbie in the Men's Room, Ken in the Lady's Room--that over the years have become clothed in graffiti. You're welcome to add your comments. But beware. When you caress "certain parts" of the dummys' anatomy a bell rings in the dining room...
Once a year a four day Bluegrass Festival is held at the Desert Inn during late January. For information email Steve Dittman.
24th December through the end of this Odyssey, Christmas With Cousins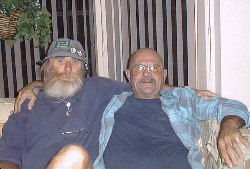 David is my mother's sister's oldest son. He's a year older than me. We share Grandfather Newton as the ancestor in common that makes us cousins.
Joan and Roger are both my ninth cousins. Joan through Andrew Newcomb and Roger through Samuel Elwell. We are also good friends. Neat!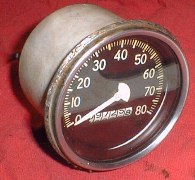 Besides all the swop'g of familial news and storeys, this week has also been a period of little projects and routine maintenance. Lube, oil, filters, rewired the cooling fans, fixed (but not properly repaired) the loose and leaking filler neck of the domestic water tank. The earlier noted concern of a reduction in fuel mileage may be due to a slippage in the odometer. During the last day of getting here I noted that some incremented miles on the odo took as much as three miles of travel over the road to accomplish. I took the speedometer all apart and found the first worm gear of the odo to be worn to the point of slipping. Now it is all back together with some added shims that move the gear to a place where the remaining tooth material is engaged. The search is on to find a new speedometer head.
Planted some catnip for La Gata--if she leaves any for me I'll make a tea of it. Twenty-eight state tags counted in thirteen states traversed. Rhode Island and Delaware were new states for The Cat Drag'd Inn; forty-five done.
For the New Year I am going to reduce my use of water by one half. And I am going to get out and walk more. I'm already a day behind on that item but then its not the new year yet.
Book of the Month recommendation: Tom Robbins Fierce Invalids Home From Hot Climates.
Gardyloo, ajo
I do not know what I may appear to the world; but to myself I seem to have been only like a boy playing on the seashore, and diverting myself in now and then finding a smoother pebble or a prettier shell than ordinary, whilst the great ocean of truth lay all undiscovered before me. --Sir Isaac Newton



Back to ajo
Copyright © 2003, A.J.Oxton, The Cat Drag'd Inn , 03813-0144.