---
Travels With Oso con Migo
Around The World In Sixty Days
OAE On The Road Again, Somewhere Summertime 95-96
---

December 5, 1995, last letter November 27, 1995
I am at a loss for a salutation: Dear Friends, Greetings Cohort, Gentle Readers ... Armchair Travelers, Virtual Vicarians ... All of the above? Let's try it this way:
November 28, 1995, London SW,
Dear Pauline and Dave,

Since this is where I am... Congradulations to you Dave and to Keith in Austin for being the first to let me know that my letter 4-96 was not where it was supposed to be. Once upon a long ago when I was a wee lad learning to ride a bicycle two friends ran along side holding me up until suddenly I found I was going too fast for them. Later, when I was a wee man, learning to ride a motorcycle, my dear friend Jon admonished me never to become to confident, always to maintain a respectful fear of the machine. That's the advice I could have used last night getting 4-96 to bed. There were two mistakes actually, one obscured the other; the first I was able to fix on the fly as it were, while the upload was in process, but the second went un-noticed until the 404 error showed up later. Sorry about that, I will endevour to pay greater attention to detail with this attempt.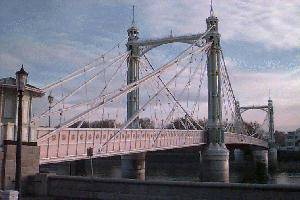 Wednesday, November 29, 1995, Chestnuts roasting on an open fire...
Jack Frost on holiday in *New* England and I'm re-learning my way around London on the tube. It takes a few days just to figure out the colour code of the route map and which stations to change at to get to other lines. Two trips to downtown looking for a modem cable and one out to the Public Records Office at Kew Gardens to get acquainted with the process of looking for ancient records. The gardens at Kew are more interesting but the records office draws my attention since there is data there germain to my research into the history of the Oxton family. But I really need a month here, there is so much to do. I'll just have to come back again later and stay longer.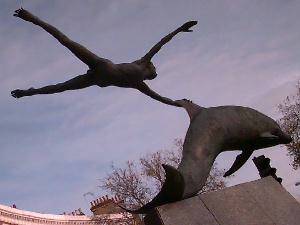 The ticket vending machine at the tube station snatches a five pound note from my fingers and returns an All Day Everywhere Pass for three pound thirty and a fist full of change. The pass is a ticket slightly larger than a credit card with a magnetic strip on the back. You feed it to the gate and the gate spits back the card after writing some secret code in the ferrous stratum and then the gate opens and closes behind you. The trains are frequent, fast, clean, sort of quiet, and the stations are well placed. Some of them, where several lines intersect, are quite large and on two or three levels. On the surface the classic red London double deck busses spread the web of public transportation and the ubiquitous taxis take you everywhere in between if you may not want to walk. Yesterday I walked from the Scout Shop at Buckingham Palace to the Albert Bridge and thence to South Kensington Tube. London is a city of sculpture and statues; many of the oldest buildings have been sculpted from stone and there are statues everywhere in parks and street corners. Some are very old and others are very new.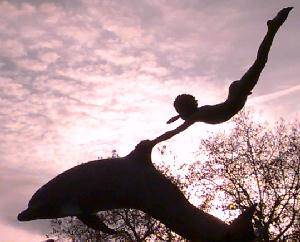 London, and all of Britian, is in the throes of changing from the Imperial measurements of the Empire to the Metric measurements of the European Community. In the tube there is an advert touting education in transport engineering. Using the construction of a new tube tunnel to tell its story and built around a photo of the machine that does the digging the copy starts off "Transport Engineering - Now that's really boring!" and goes on to explain how the borer works its way through the gravel and clay under the city. [...] of you'd like to know more about the cutting edge of [...] watch BBC's Grand Designs programme... "At something like 100 metres a week the 10 mile mission through dark unexplored territory will take another year."
Today was partly sunny and a little cooler. In an effort to move a little faster I took a taxi from place to place between tube stops. Sometimes the traffic is such that I would have been better off walking. The exercise is good though, with all the hiking around the city and visiting little shops I am loosing about ten pounds a day despite the grand meals Pauline lays on at tea.
Thursday, November 30, 1995, Queuing up at Kew.
Picadilly Circus; this mornings first stop was the French Railway offices to validate a Eurail Pass and arrange for billets and reservations from Buuxelles to Zuerich where I will meet Christoph and Sandra. There is one of those Take-A-Ticket and wait til your number is up machines inside. The clerks were helping person number 23 and my number was 25 but by the time I got out they were working over customer number 52. I drew the rooky. And on top of that the French railway workers are on strike or will be during my journey so there is a problem with certain trains and connexions. In addition to which their reservations computer will not accept the reservation of my choice connecting Basel to Zuerich. The schedule indicates eighteen minutes between trains, certainly enough to walk across the platform but if the strike action causes any delay... So we go around again and come up with 1st dec at 10h27 depart London Waterloo on Eurostar 9124, the Chunnel Train to arrive Brussels Midi 14h38. And that includes loosing one hour to the dreaded *Time Zone*. Then I have time for dinner in Bruxelles (local spelling) before conecting at 22 o'clock with an overnight train straight through to Zuerich. So finally with tickets in hand it off to the Public Records office at Kew and a quick look for my thieving felonious ancestor William.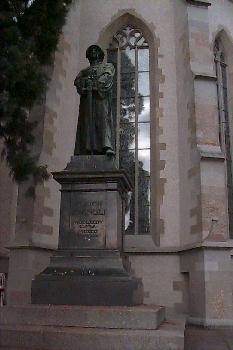 The Public Records Office is in the process of opening in7 a new building. Sixty miles of record storage corridor. Robot delivery service. User operated computer record request data entry. Very posh; your tax pounds at work. Getting into the place is like checking in for an international flight. One is permitted to take one's computer into the records area, and lots of researchers do--so much so that a separate area in the reading room is set aside, glass walled off from the rest of the area, where the reading desks (much better than smoking tables) are equiped with power outlets--but not the case to carry it in nor any other bag. They should have some of those shopping market grocery baskets available. The stiles are controlled by your I.D. card, there is a barcode. But the metal detectors arn't for detecting metal on you going in but for sniffing out hidden documents coming out.
Upstairs there are layers and walls and shelves of records, indexed and cross indexed, of bound and loose records accumulated since way back in the old days. I was looking for items in two periods: mid 1600's and mid 1700's. Partly am really looking for things, partly I am learning how to look for things. Once you get through the indexes and have a document number to request you go to the computer and type it in. These are computers even my sister Susan would like. There is a Green key for Go, a Red key for Return (as in return to the previous and do over) and a Yellow key for I Didn't Really Mean Any Of That And I Want To Start Over. The Yellow key is also used for Let's Get Out Of Here and go have a cup of tea. First you have to run your I.D. card through the scanner and enter your seat number. The thing knows who you are now and can tell when ever get near. So you type in the document number you want and go back to your reading desk or wander about looking for more stuff to request. Finally, right in the middle of some quiet research--bLeep-bLeep ... bLeep-bLeep!
Oh yes, I forgot to tell you about the bLeeper you got at the Help and Reading Desk Assignment Desk. It bLeeps (it really does bLeep, I think it the British accent...) and the display tells you to which pick-up point you need go to fetch your requested documents. The Treasury Bond papers I want were at the Counter. Inside the box a hundred or so pages (A2 size I think they're called, 31p to copy) numbered lightly in pencil in the upper right corner. The page I was interested in was number 345 from the sessions of April 1766. Middlesex County. Felons for Hire. Prisoner number 60 is one William Oxen to be Transported to the Colonies on the ship Ann captained by one Christopher Reed. This is one link. We would still like to nail down how Mr. Oxen got from the Ann to Gloucester and where he was before this ignominious incarceration. That's for next time. The main thing learnt today is that the best way to persue this matter further is to rent a flat locally and dig in for a month.
Or two.
The page was written (with quill perhaps?) on ?? April 1766. There is something exciting, emotional, about holding that paper in your hand that goes beyond the mere fact that it mentions your ancestor; it is almost as though the very paper were a part of him, and so a part of me too. The search goes on.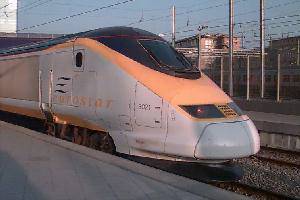 Friday, December 1, 1995, Lille, France, Europe at 300 kph.
Cloudy-gloomy morning to depart but everything seems in order except my hat. Despite that I am destined for the mountains of Switzerland in December it is too warm here for a wool toque. I pocket it and return to the house for my crusher and even with that change feel over dressed. The Eurostar is a unique train. For something so full of comprimise it is all the more wonder that it works. Checkin and boarding is not unlike that for a journey by international airline. Except there are no seatbelts. Cabin attendents speak three languages and the beverage service calculator speaks at least four. One can use British Pounds or Swiss, French or Belgian Francs or German Marks for your tomato and cheese on wheat (with Reisling please) sandwich.

From South London's Waterloo station to the British side of the Chunnel Eurostar, like her ilk, runs on standard BritRail roadbed and draws power from the third rail; but through the Chunnel and on to Brussels, or Paris, power comes from the overhead catenary and this is where she really gets up to speed. Eurostar runs the Chunnel portal to portal in twenty minutes, something on the order of a mile a minute. We came out under a sunny sky, rocketing up from under the sea and out on a banked curve around the yards the of the Auto-Train and on toward Brussels. The mostly flat and gently rolling landscape of small villages, church spires, kids and cows visible from the raised dike of the roadbed was a blur; the whine of the motors climbed in pitch; presently a bell rang and train manager announced that we had topped out at 300 kph. I leave my Reisling and walk a car-length forward to the W.C. for a quick pee.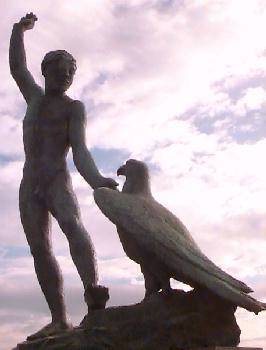 Everything changes at Brussels. Midi and its population is like a chapter out Paul Theroux's _Riding The Iron Rooster_. The new end of the terminal, where Eurostar docks, is done in early Captain Kirk; the far end is finished in late James Watt. But still, the trains move very much faster than anything running on Amtrak and they generally run on schedule to the minute, except when there is a strike. During my wait at Brussels Midi for the connecting service to Zuerich I had plenty of opportunity to walk around the block and try out a few side streets as well but it was not easy to find a place to nap.
In one waiting room there were benches of metal chairs fixed to the floor just far enough from the wall as to make it so one could not rest against it and too short to be able to slouch down. They were cleverly the wrong shape to be comfortable as well but I was tired enough so non of that mattered in the short term. With my pack for a pillow I could nap. This room was one of only two places I found in the station that appeared to be heated, indeed all of the shops were either wide open affairs or such tiny boxes that only a proprietor could enjoy what warmth there might be. The station was a vast chamber at ground level under the length and breadth of the train platforms (twenty of them) which were all above the city streets. And below this main concourse were two more levels of underground station and tube platforms. The police came to the waiting room and rousted out two old men who were unable to produce tickets or passports. One of them was shaking and wheezing so that he was nearly unable to gather his bags and shuffle away. I felt sorry for that old man.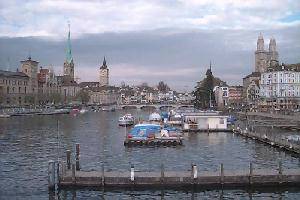 Something that reminded me of Quito Ecuador was the pay toilets here. A toilets attendent sits just inside the entry way to keep an eye on the place and dispense paper towels. There is a small tray with a hand written sign: 10 bf Merci.
And then there came by a patrol of real Brussels Sprouts, right out of the pages of Baden Powel's Scouting for Boys, looking like they were going camping for the weekend.
Finally my sleeping couchette was ready to depart. Because of the strike in France the train could not traverse the French section of the route between Brussels and Basle and would be obliged to detour through Germany which would add three hours to my expected arrival in Zuerich. Unlike the Amtrak sleepers I have been on, even the smaller ones that sleep one or two, these trains have compartments that sleep six in not much more space. And just as Theroux wrote the car attendent warns that she will wake you at seven to collect the bedding for she gets off in Basle and must have the bedding ready to get off with her. The train was very fast and smooth and made only a few stops in the night. There are two tracks most everywhere, usually three or four, so there is no need to stop on a passing siding for opposing traffic like on most of the routes in America. Of course it was dark so there was little to see but lights and they went past at a dizzying rate. I slept in pieces, deeply now then lightly; wakend by changes in the sounds of the train or calls to the W.C. at the end of my coach.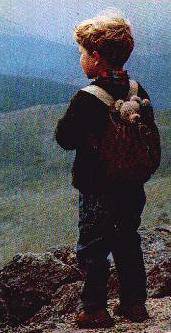 My excitement to meet friends in Zuerich that I'd not seen since 1970 was mounting and I wondered if we would know each other. In July of that year I had taken a photo (with a film camera) of a small boy with a bear in his rucksack. His parents told me when we exchanged addresses they were on their way home from Seattle to Switzerland. The picture turned out to be one of my all-time best and when it was published as a postcard I sent some to the boy who gave away many to his school mates. At first Susi wrote for Christoph but then he took over the correspondence as he learned English and I have followed him all through school and into his marriage to Sandy. My last letter explained what I would be wearing.

I thought as I walked along the platform, this meeting marks not only a new continent and two new countries on my Been-There list (I won't count France and Germany since I didn't set foot on them) but it means seeing this person as a new friend, real and separate from the little boy in the picture. Suddenly the crowd was not there any more and in its place stood this strange yet familiar face asking in English --Are you Al Oxton?

Klaus and Susi and Sandy were waiting a little further along and we went for coffee and to discuss how to best make use of what remained of a mostly cloudy sort of warm day. First stop was to get rid of my baggage in their car. Then we wandered around away from the railway station through a dizzying maze of the old city, up and down small hills, one was called Belle Vue, and generally toward Lake Zuerich.

At one church we stopped to see some stained glass windows by Marc Chagall. There was a headstone in the foyer dated April 1489. In a small park on the shore of Lake Zuerich I found a statue of Ganymede which was particularly interesting because he is the subject of a few books I am reading. Next to the statue was tied up a ship that in the summer plies the lake carring tourists but now housed a book fair. Just the thing I need whilst my trunk is already overloaded; take me away quickly. Lunch was in an old armory and more walking included a corner of the banking district, a chestnut vendor, and stops in several shops for cheese and bread for fondue.
Sunday, December 3, 1995, Niederweningen, near Zuerich. Oso con Migo meets Smokey, the Bear of Christoph.
Klaus builds model railroads, Susi fits out dollhouses, both work as well and keep a fine home on the side of a hill. Christoph and Sandra photograph from differing perspectives and combine their work to build slideshows. The small boy who was Christoph has grown into a man named Chris and the bear named Smokey seems to be smaller after hibernating in the attic all this long. Even as we visited other bears appeared as if out of the woodwork, ten at last count, spanning the childhoods of half a century.

Upstairs, over Susi's Kueche is Klaus's Railroad. Five HO scale miles of track (it seems like a hundred) weave through tunnels and on bridges over rivers between the big city and the seaport. Along the way are a mining community and a logging operation and at the top is the Summit House and Cog Railroad. Each structure and community is modeled after some thing and place Klaus has been to.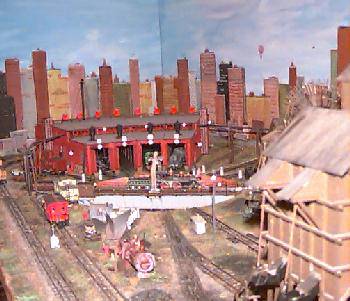 "The boiler ... was ... sixteen feet long and seven feet in diameter. The smoke-stack was still on it and its fire-door, two feet wide and eighteen inches high, still swung on rusty pins. ... Many people had used the boiler for temporary shelter ... Suzy's choice of the boiler as a home ... " (--Steinbeck) And it too is here in the switch yard down by the round-house not far from the yellow Union Pacific caboose. Far around the bend and across the drawbridge, through the mountains and beyond the logging of the northwest forest, is the Heceta Head Lighthouse in Oregon. All in HO scale and all working. Most fascinating I found that the electric engines actually draw their power from the catenary, and on the far wall, beyond the plains, a thunder storm rages in the night.

But then, tearing ourselves away from that small quiet world, we find the French rail strike has disrupted Chunnel train service in the full scale world and my reservations for tomorrow cannot be confirmed. Time to put Plan W! into action.

Then in the evening we went to Abendmusik, Musik zum Advent at Reformierte Kirche Niederweningen. The church is a small wood and stone building with a real pipe organ. Egon Schwarb played the organ and his sons Gregor and David played oboe and cello in a concert of Pachelbel, Telemann, Krebs and Bach. It is always rather strange listening to music in a church; one does not know if applause is appropriate and a waiting game ensues--who will precipitate the avalanche. Niederweningen is a long ways to go for a condert but it was well worth the ride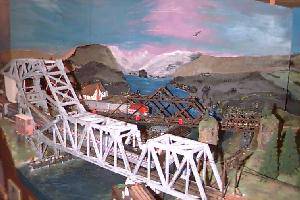 Monday night, December 4, 1995, between London and Sheffield.
Right now I am on the train from Saint Pancras station to Sheffield, my table is bouncing around and my cup of tea is wriggling toward certain destruction. SwissAir has it all over United (and probly all other American carriers as well) with the quality of their Economy Class service. I think it is a reflection of other aspects of their culture more than simply the economics but it would take more time to study. Lan Chile was the same way when I flew them in Chile in 88-93. China, glass and stainless flatware grace the tray-table of the economy class, wine is included as are soft drinks. Much nicer than the plastic offering and the wine you pay for of American carriers.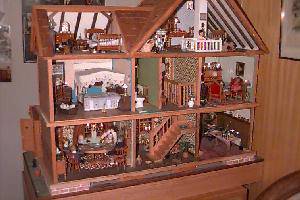 On the whole the strike was a good thing. I did the train thing one way but now I am back earlier than I would have been by some six hours, not counting the possibility of being stuck in Brussels for an extra day or so. So I have an unused ticket for the Eurostar chunnel train Brussels to London and an unused airfare London to Zuerich. You could fly to Zuerich and bike to Brussels, it would be all down hill, and then take the train back to London. But prolly a bit cool seeing as it is winter here. But that is not as bad as winter in New Hampshire. I was amazed to see that the grass is green in Zuerich (and not just in the other fellow's yard) and there are new flowers on the lawn despite the frost on the trees of the hilltops. Klaus said his lawn will often stay green all winter.
Tuesday, December 5, 1995, Oso con Migo meets Shakespear.
Ben (OAE) and Cathy live in a typical draughty English semi-detached. Tho the place has central heating they keep the rooms isolated with closed doors in order to heat only the living space. The house really is beautiful, and not all *that* draughty; it is the characteristic of the Brits to like it cold.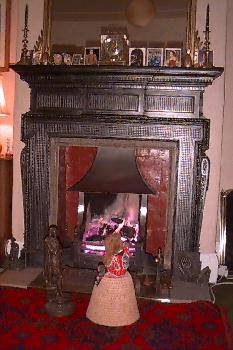 I offered to do the dishes so I could get my hands into the hot water but Ben said --No-No, I'm on gash today. How about tomorrow, I said, can I do the dishes tomorrow then? --No-No, he said, I'm on gash tomorrow too.

Cathy came in from work (it had been snowing on and off since late morning, the first snow of the season, and the streets were slippery so lots of folks were let off early) and said she was cold. --You won't get any warmer in here, said I, tho Ben's told me he has the heat turned on for the occasion of my visit. He's mean said she, been on the ice too long.

During the preparation of supper the kitchen was getting smokey, you could smell it but the smoke detector which normally screams loudly with the slightest scorch of the toast was silent. It wasn't the dinner, that was being steamed. Ben had lit the fireplace earlier, with great protest, and it had been doing ok but he went to look and found in the space between the steel free-standing firebox and the stone fireplace a small foxtail brush lay smoldering. Shakespear said it was nothing unusual, the fireplace smoking and all, certainly made a lot more sense than smoking tables; Oso thought that was rather brassy of him but still pretty funny despite his usually close relationship with foxes in general.

Cheerio, ajo


Back to ajo
Copyright © 2003, A.J.Oxton, The Cat Drag'd Inn , 03813-0144.