Travels With Oso con Migo
Odyssey In America
OAE On The Road Again, Sojourning in the South
Greetings Cohort:


2002 January 1st, Zephyrhills FLorida, Happy New Year
The main street south to north through town is also known as u.s.301 and north of the intersection with s.r.54, going up Wal-Mart Hill, the East Pasco Medical Center is on the right. Wal-Mart is just beyond, on the left, a good place to spend a few nights. On the front lawn of the Medical Center a Christmas display consists of a circle of fifty brown trees, each one backed up by one of fifty state flags and decorated with items peculiar to that state. The decorations are weathering better than the trees, which want badly for water, or removal.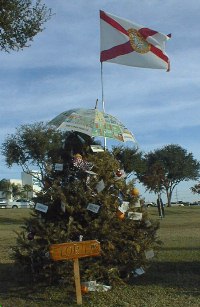 The decorations are mostly made of plastic: Potatoes for MainE, Oranges for FLorida, Poker chips and playing cards for NeVada, Apples for WAshington, Peaches for ALabama. There are two one-gallon jugs of Vermont Maple Syrup under the VermonT tree. All the trees have a sign identifying the state they represent and some trees have another sign proclaiming what group sponsored that tree.
Except for UTah, VirginiA, MAssachusetts, and New Hampshire. Those trees stand in their alphabetical place in the circle, brown like the others, bereft of decor.
But lest you jump to the same conclusion as me, let me hasten to assure you that in a subsequent interview of one of the Medical Center administrators I was assured that at the decoration day ceremony and evening concert all the trees were in fact fully outfitted appropriate with seasonal trappings. The hospital provides the trees and disposes of them after the season. A local individual or a group sponsors the decoration of each tree. By the time I found the trees browning in the bright New Year's sun the ornaments of the four trees I was concerned about had already been removed by their sponsors.
4th January, Slidell Louisiana, Ice on the Duck Pond KOA.
This KOA is a one shot deal, a one-night stand. Twenty-eight dollars! Not to mention sixteen cents! Phew! I'm here only to visit some special friends who are work-camping the place for the winter.
Twenty-seven dollars is the base rate. Then because I'm a good guy and all that I get a 10% discount. But there is a three percent sales tax, a four percent parish tax, a seven percent tax for this part of the parish, and a one percent bed tax. And it is MY BED they're taxing!
At least the showers are not optional at extra cost... However if'n they were then maybe they'd be *HOT*! More of that damnable protecting the stupid from their own stupidity. Management has the "scald protector" set at Tepid. My urine is hotter!
All that aside I have a great time visiting Chuck and Janet, from down Maine, who are camp-hosting here this winter. They take me out for a fine Cajun blackened fish in a local comestiblearium. The next day it rained, heavy at times, all day. Sarah was out, hopping from one grassy islet to the next, trying to catch minnows that were taking a short cut across the lawn. My one night stand became two. That night we had a delightful USDA beast meat pie at The Cat Drag'd Inn. Smashed up my little toe really bad whilst chasing down that USDA beast. Feels like it is broken. The third night was a smorgasbord (or is that a smokingbord) of leftovers blackened in the Cajun spirit along with leftover-leftovers at their Maine woods cabin on wheels.
So my one night stand became three. The good visit was well worth the cold showers.
8th January, Livingston TeXas, Escapees Park HQ
Two short driving-days of mostly good weather. Cold enough for the heat to be on all the time. On the other hand the engine ran nice and cool.
Interstate 10 across Louisiana has been greatly improved since I was through here last. There is still an hour of ka-thump ka-thump ka-thump just east of the border with TeXas but I think I should elevate Louisiana to a notch above Arkansas in my list of who has the worst roads in America.
15th January, Pecos TeXas, TraPark SKP Camp
This road, from Keith's in Austin, past the Albertson's near Oak Hill, and on west through Dripping Springs, Johnson City, Junction, the Overland-Butterfield Stage Stop, to Pecos, is called The Pecos Trail. The route is calculated to be 393 miles on my map. My twice-repaired odometer measures 385, a two percent difference. Mostly the good quality surface of U.S.290 and Interstate 10, the drive should take eight hours at a speed of fifty mph, eh? In point of fact, or at least observation, maintaining a speed of fifty results in an average of more like forty-five: the loss going up a hill is not matched by the gain coming down. However, when one includes shopping and lunch and other sundry stops the average then drops to more like thirty-five. Give or take a cup of tea, yesterday amounted to eleven hours on the road.
I had one rider for part of the way. From Dripping Springs to Fredericksburg, James told me storeys of his odyssey from South Carolina to here over the past month. Everything he had was rolled up in a small thin sleeping bag or carried in the pockets of his greatcoat. Sometimes he would work odd jobs for a few days, other days he would walk forty or fifty miles if his feet felt good and there were no rides. James has a grizzled reddish beard (maybe that's why I picked him up in the first place) and a friend looks after his Social Security check and other affairs. He says he can't stay too long in one place; he gets antsy after a week or so and has to get on the road to elsewhere.
We had coffee and muffins in the rest area near the Johnson Ranch and chatted for a while with some other SKP's who are following the same road as me to Quartzsite. James lives on the road and sleeps under bridges or in the woods. The most I've ever walked in a day is twenty miles and I wonder if I could carry everything…
This road is getting to be too much like a commute. I've been around this route, to and fro, at least three times in five years. And that is not counting the first time from TeXas to New Hampster driving the little truck and camping in the bed. I'm getting familiar with the potholes in the roads and stopping at the same rest areas.
Granted, there have been a few different side trips here and there, and on occasion I have a different guest or friend to travel with or visit along the way, but by and by it is beginning to take on some of the aspects of what Playboy defines as a SITCOM: Single Income, Two Children, Oppressive Mortgage.
I'd change some of the terms. Semiarid income. Twelve children: including Oso ConMigo (dirty laundry), Sarah La Gata ConMigo (catbox and feeding), two spider plants (one named Jane, the other Tarzan, an aloe, and a Wandering Jew (not to mention Sarah's catnip), and several human kids that I mentor or sponsor or both. And lastly, Ontological mileage.
My life as a sitcom. Could be the title of a best seller, eh?
If my insurance company finds out I'm commuting they will raise my rates.
Wenzday, 16th January, Pine Spring Camp
This just wouldn't be an adventure without something breaking. This time it was the core in the engine glycol heater that is located under the bed. From the looks of it there has been some slow weeping in the core for a while now. Today it got bad enough to piss glycol out so fast that it was running out above the propane tanks and puddling behind the rear axle. There would be no hiking in the hills for me this time.
The first stop, morning, coming in from Guadalupe, was at a junkyard to look for a heater core. They suggested a particular radiator shop; same as the advice I received from a local ham radio operator on 2m. So the second stop, more downtown, on the north side of i-10, was Emmet's Radiator Shop. Great guys to do business with. They did a very excellent job. Whilst they worked on the core I walked to a parts store for glycol and a length of hose and had lunch and took apart the bedroom again to be ready to replace the core.
After that Emmet's helped me locate a fabric and foam store where I went next. Since I had the bed all apart it seemed like a good idea to take the opportunity to replace the foam pads. The shop they found was a little further along towards downtown, on the south side of i-10 and involved negotiating a long and arduous detour around overpass construction. The folks at TeXas Fabric and Foam were very great as well. They let me bring the old sleeping pads into their shop and helped me move the covers onto the new pads.
Then I set out north along i-10, bound for the Dream Catcher SKP camp at Deming, but got only as far as the Petro truck stop just north of the city where I decided that it would be way late by the time I got to Deming. I was hungry and tired and in need of a shower after all the mucking about under the sleeping area. So that was the end of the day, and a fine day it was.
Monday, 21st January, El Dorado Hot Springs, Tonopah
El Dorado is on the Tonopah Desert between Phoenix and Quartzsite. The water of the subterranean hot spring is odourless, tasteless, pure mineral water with a pH of 8.3. Soaking in it makes you feel really smooth and slippery. Yum! Nearby are trails for hiking and biking. All in all, getting into hot water at El Dorado is a great way to spend a few days. Especially with a grand-son in tow.
Ground Hawg Daze in Quartzsite
First stop after El Dorado was the gathering of Amateur Radio operators at "Mile99" south of Quartzsite. Mostly these are full time living on the road types who travel in rigs of diverse descriptions with one thing in common: There are likely more radios and aerials on board than there are pots and pans; their land yachts have sails of solar panels.


There were more than 73 rigs in attendance and truckloads of local hams came out for the tailgate swop-fest that is a staple of any such gathering. I finally found the microphone I've been wanting for a spare dangling from its coilcord over the edge of one tailgate. However the other end of the cord was attached to an old radio. They were not priced to sell separately. Needless to say I now have an extra radio for sale: One Icom IC-720a that I will try to unload at the next tailgate. Anybody interested in this item write me.
The Magic Circle is a space in the desert of the South La Posa BLM camping area, a few miles south of Quartzsite AridZona, where folks from TNS and SKP's gather for a week of potlucks and fellowship at the end of January. The Magic Circle has been recognised by TNS as more than a place and has some of the status of an informal club of sorts.
After a week at Mile99 I relocated The Cat Drag'd Inn across the street and three miles into the desert to The Magic Circle for the flocking of the SKP's special interest group known as Buff-Bw/oF. Several other hams also moved over during the next few days. Many Escapees belong to more than one SIG and many of them spend the winter moving between Boomers and Singles, Boondockers and Bus Nuts, for a few days or weeks of fellowship in each community.


Last year at the Eastern Naturist Festival in Moravia New York I was introduced to the idea of a meditation circle and out behind where I finally chose to park The Cat Drag'd Inn there was the beginnings of one. Over the next few days, interspersed between discussion groups and happy hours, Sarah La Gata ConMigo helped me add several layers to the circle.
7th Febter, Hot and Dusty in the Desert
Today I went for a nice bike ride in the desert. Across U.S.95 from South La Posa is another campground called Tyson Wash. I'm camping somewhat southeast of the South La Posa gatehouse and due west from here is the place in Tyson Wash with petroglyphs on the cliffs and corn grinding holes in the rocks above the dry river bed. I went there. Cross-country. More or less in a straight line a little north of west from where I am parked. Made it all the way to the highway wearing naught but my bicycle and then found a large culvert under the roadway so I hadn't need to don a pareu until I was quite a bit closer to the petroglyph wash and could hear the approaching trucks of other visitors. Standing on these cliffs now one can only wonder what life must have been like in that earlier time when water flowed year-round.
12th febter, Didn't this use to be Boy Scout Day/Week?
After a fortnight at the Magic Circle it is time to move on. It was hard to get started. That is such a fun place to be and I have not explored everywhere yet. Next year maybe I will go back for the whole winter and find work in town. The solar panels have to be put down and the propane tank put up. The bilge wants dumping and the potable water wants filling. All this running about confuses Sarah La Gata; she knows by now that when I sit in the captain's chair we are about to move and so she hides under the table.
One more coffee with the local hams at the donut shop, a visit to the library to check mail, shopping at hardware and grocery, and a half hour queue at the post office for general delivery mail. Stop and go, stop and go... It was a long morning and near lunch by the time The Cat Drag'd down the east bound on-ramp. And then, just out of town, there, to the right, way back, against the palo verde, the distinctive roofline of an early Superior coach.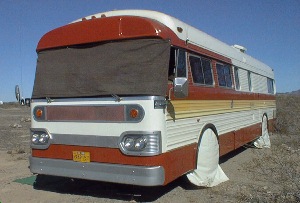 Talk about U-turns on the interstate. At least there was no sign nearby proscribing such a manoeuvre. I've been driving around here for three weeks altogether, looking at thousands of coaches, watching for that roofline. Seen lots of old buses, some older, but no Superiors, (except for the one that I first saw last year, which is still in the back of one of the flea market/junk shops in town. But that one does not count cos it is not being lived in.) So I just had to get close to this one.
Jim, out of Talent Oregon, (I have old friends in Talent who I visited in '98 on my way north to Seattle) owns this bus. It is a 1964 Superior coach, quite like mine but not exactly, on a GM chassis with the original Detroit engine and five speed standard transmission. He has owned it for twenty years and said that before him it was used by a Navy band for concert tours. It is in lovely condition, nicely painted, and he likes to keep it clean and polished. We sat for an hour in the shade between the two buses comparing details and histories, exchanging eddresses, and wishing each other many more happy miles.
22nd Febter, Washington & Elva Share this B'day
Now I am back at El Dorado for a few days of puttering and soaking before continuing east towards ABQ and Spence Hot Springs in the hills to the north.
Sarah La Gata conMigo is out terrorizing the native species. Every afternoon I am obliged walk about and pick up her leftovers. I'm thinking of changing her name to Mesquite, short for messy kitty.
My little toe seems fine now. The swelling has mostly gone and the pain too. If it was broken maybe it has healed, or maybe it will always be broken and the rough edges are just getting smoothed over. I had placed a milk crate full of canned foods, normally stored under the galley table, out in the companionway so's to have more room under the table for guests at dinner that evening back in Loosyanna. Then, during a fit of preparations, forgot the crate was there when I made some move within the confines of couch and heater and sewing machine. That little toe was at the outside of the sweeping arc of a maintaining-balance pirouette whilst carrying a platter and bottle of wine and fetched up between the ribs of the crate under the edge of the couch. OUCH!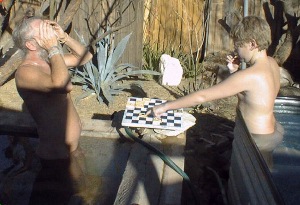 Perhaps had I not been carrying that bottle of wine...
Playing chess with a boy in a hot tub. We float the board between us and use Pepperidge Farm's "Chessmen" for pieces. At each confrontation the winner gets to eat the piece he takes. The kid is learning how to win. Here, at the end game of the El Dorado Cookie Chess Playoffs it is Black's move; Queen to mate. However, perhaps you can tell by the waistlines who is the cookie chess champion.
On another day we went off to explore some old mines and another collection of petroglyphs. The mines are back near Saddle Mountain and invite us to bring flashlights into their cool depths and imagine we are gold miners of old. The rock art comprises several hundred feet of a broken lava cliff face over looking the Enterprise Canal and Gila River below Gillespie Dam. Circles and arrows, human figures with three legs and four-legged critters with large curly antlers turn the black rock into a storey board of a culture long gone from these parts. We sit and contemplate this storey and share an apple before heading back to the hot springs and tubs.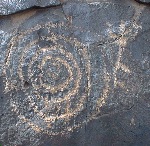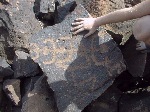 Sarah La Gata conMigo now has an addition to her name. Booger-Mesquite. Her name is going to become a sort of storey. Booger is for the spot of dark colour at her nose and Mesquite is short for Messy Kitty cos she leaves scraps of bird and lizard all around the bus after a day of ravaging the local fauna. As with Ian, I canna get her to clean up after herself.
And The Cat Drag'd Inn has a new addition to her description: "The Calico Bus". Like Sarah La Gata, they both have coats of many colours. I'm going to try putting "calico" as the colour on the bus's registration form at next renewal.


Gardyloo, ajo
I do not know what I may appear to the world; but to myself I seem to have been only like a boy playing on the seashore, and diverting myself in now and then finding a smoother pebble or a prettier shell than ordinary, whilst the great ocean of truth lay all undiscovered before me. --Sir Isaac Newton



Back to ajo
Copyright © 2003, A.J.Oxton, The Cat Drag'd Inn , 03813-0144.