Travels With Oso con Migo
Odyssey In America
OAE On The Road Again, Disaster In The Spring
Greetings Cohort:


2002 April Dust Storms bring May Fevers Reprise
Mid April...Some folks wrote asking about...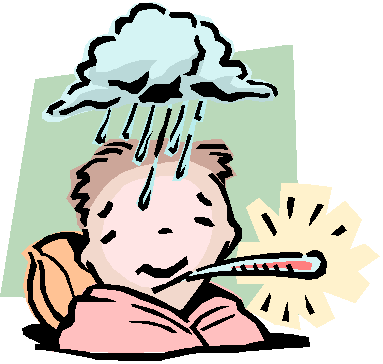 Valley Fever is a bacterial infection, not a virus. It lives as a spoor in the soil and is activated byspring rain and disturbed and stirred up by the wind. The airborne dust carries it to the nostrils of unprotected fingies whereupon the spoor takes root. The resulting infection manifests in a debilitating fever that lasts several days. The infection may be combated with bacteriostats but if one is of generally good health it is just as well to let the fever run its course then you are immunised against any further incursion.
There may be lingering after-effects such as changes in sensitivity to external stimuli, allergic reaction, and different tastes, coughs, itches, &c.
Valley Fever is prevalent in open desert areas in the southwest and of course the new people in the area are most susceptible; once you have had VF you won't get it again. And it's a great way to loose weight.

Late April... Ian is out of school early
Except for the beginning this whole week has been one of off days; there is no sleeping in. And no sleeping in the Inn. We're presently squatting at friends Char and Fred in Alamosa Colorado and doing not so good. Blew the engine climbing the west side of Wolf Creek Pass. The Cat was Drag'd Inn to Alamosa behind a tandem axle wrecker. Her engine is shot. And I suppose, my reputation too. Not to mention my retirement... My options are to fix this thing here--rebuild or replace the engine--at what ever is the going rate for stranded travellers, or flatbed her back to Conway and do the work my self at Conway Truck where I can quid pro quo a lot of the costs.

I'm leaning heavily towards the latter choice.

Fred is helping me prepare the lifeboat truck for a long journey--finding tent and cook set amongst the clutter in the bellybox, figuring out a portable catbox for Sarah La Gata conMigo.

The Cat Drag'd Inn has been characterised as a 1964 Superior coach with room for improvement. In all the years we've been travelling together, poking about the back roads and boondocks, I've seen only one other old bus, being lived in and on the road, even close to being like her. She is indeed a unique old bus. Now "The Cat" is in need of an engine transplant. (Not to mention a new coat of calico paint; however without an engine the paint is of little consequence.)

The Detroit 8.2, a ReMan installed before we went full time in 1997, and out of warranty of course, failed whilst dragging The Cat up the west side of Wolf Creek Pass (U.S. 160 between Pagosa Springs and Alamosa Colorado).

The Wolf eats up lots of big trucks; we had to wait overnight for our turn to get towed out. Cat-astophic! To say the least. We spent that night sleeping on a slant.

Now we will see how well La Gata adapts to life in the cab of a little pickup. I suspect it is going to take me'n'Ian a fortnight at least to drive across this vast country whilst the bus is hauled elsewise on a trailer. We will perhaps arrive a week after the bus. There is no point in driving cross-country with a young boy if I cannot take my time and show him as much as we can stand to see. My plants may starve for lack of water.

Major upset in the plans of mice and men but nothing happens by chance, there is a reason for all this; I will sort it all out eventually. It will cost three thousand to five thousand to haul her across country and another three to five to replace the motor. But it will cost on the order of $12,000 to R&R the engine here and I will not even get to watch. In Conway I will be able to do most of the work and have the opportunity to upgrade to something with more power. Not to mention being on "home turf" and perhaps among friends. There are emotional issues involved that I am only beginning to comprehend let alone appreciate the dollar value of. The opportunity to make a host of other changes while the motor is out cannot be passed up. The engine compartment needs to be stripped of all the old insulation and painted and the insulation replaced with something better. The domestic water system needs rebuilding. And still there is the matter of painting the roof and getting the sunbathing mural done there. And all the while I want to be living inside...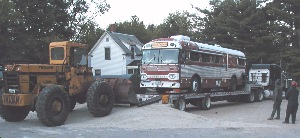 Anyhow, the mentor-mechanic I have now, Paul, is really good. The problem is that we are both working with the bad choices of the mechanic who previously started this repower. When Paul took over the project the money for the engine had already been spent and I was in Antarctica. No matter. The saving grace is that Paul is interested in the bus for its intrinsic value more so than as a job to do that will make him a profit. I can work with him, and for him, and so a great part of the labour costs are quid pro quo. I can't do that in Alamosa.
Early withdrawal can get you in trouble in a lot of things... Especially when it comes to retirement funds. There is barely enough in the account to pay for this haul back to Conway and repair--or replacement--of the engine. The only trouble I will get into is that there will be nothing left to enhance my Social Security next year. I will have to declare the withdrawal as income but that will likely be the only income I will have for this year.
I need to get some sort of Save The Cat Drag'd Inn Fund going.
The Cat Drag'd Inn mightn't qualify for a grant from the National Endowment for The Arts but perhaps aid from the National Register of Historic Places? I don't know how to go about that. Does anyone out there know how to write grant applications? In the meantime if one hundred readers of The Travels of Oso con Migo would each send one hundred dollars we could get this show back on the road. Any amount would help.
If you like I will cause your name to be engraved on a plaque for the engine compartment doors. Send what amount you will, payable to "Conway Truck Service", directly to the account of The Cat Drag'd Inn at
Paul McKinley
Conway Truck
U.S.Route 302
Center Conway NH 03813-0719
I have sent this appeal to several lists and include it here as it is a letter to everyone so feel free to pass it around if you know anybody else who might have a means to help or ways with grant proposals.
Thanks be to all who have helped out so far. Your kindness in rescuing me is greatly appreciated and leaves me hoping I will live so long as to repay you each or at least pass on to others such help as I may.

24th May, Snowing on Cripple Creek ColoradO
Arrived here last night in a snowstorm. Three inches accumulated in the time it took to drive the last few miles from Florissant. Cold, Raw, Blustery, Foggy. Reminds me of Mount Washington. Ian has never before seen snow fall. It was a treat for him, a road hazard for me. Sarah has been out a few times here but seems to prefer sleeping inside.

I miss the bus. But I am happy that if the engine had to burn out it did it in Alamosa and not here. And if it hadn't burned out back there is surely would have on the hills climbing up to this location. Cripple Creek is where we were going to work for the summer. Now we're just passing through to say hello and help out a little for the holiday weekend. It is still winter here and the weather is quite a shock to the system after coming up from Phoenix AridZona.

1st June, Along the Road Between Hither and Yon
Golden ColoradO, Dodge City KansaS, Saint Louis MissOuri, Mammoth Cave KentuckY. Seeing all these places where I have been before over again through the eyes of a boy is for me like seeing them anew. This must be why the engine blew up.

12th June, Raining on Jefferson OHio
Ohio is my least favourite state, after California. But, that said, there are still friends here to visit. There are three communities named Jefferson in this state but fortunately only one has a Jackson Street.

Myers Bus Parts, truck and bus grave yard in Canfield use to have a sister bus to my 1964 Superior; the driver side windscreen in The Cat Drag'd Inn is from that old bus as well as one of the wiper motors and some rear end parts. Last year when I visited here the old bus was missing and this year I finally learn that the carcass was sent to the crusher. Now I have to look elsewhere for parts. If anybody knows the whereabouts of a 1964 Superior coach, especially one on an International chassis, please let me know.

15th June, Best Western Inn of Cobleskill
It has been raining since OhiO. All across PennsylvaniA and into New York we have been driving in the rain. Through Titusville, where the first oil well was drilled, to Corning, where flood water was once four feet deep in the museum and the Stuben Glass factory. Partly on the secondary roads and partly on the interstate, steadily eastward on the last leg of this drive to catch up to the bus.

The Best Western Inn of Cobleskill reminded of the 1st Baptist Church. There is one in nearly every community. Did you ever see a 2nd Baptist Church? Did you ever see a 2nd anything? Perhaps it was Ohio I saw a bank sporting the logo 5/3. The Fifth Third Bank was spelled out on the marquee of one. Seems to me I remember once long ago there was a line of inns calling itself the Best Eastern but now there is only Best Western. No 2nd Best, second rate, or less expensive. Even the so-called Econo-lodge is right up there with the same exorbitant rate. I miss my bus.

Yesterday we visited with Mike Patterson in Oval. He is an artist who sculpts in stainless steel and paints with a blowtorch. He's making a living being an artist.

After that visit me'n'Ian had a good day at the Corning Museum Of Glass in the rain whilst Sarah La Gata stood guard at the little truck and kept the frogs at bay. Then a long drive east after. It was no day to be setting camp in the soggy grass and motel prices rose steadily the easterly we got. Finally throwing reason to the wind I paid twice what it cost a few days back west for bed and a bath. Not even a bed and a breky.

Mike's couch was more comfy and I woke better refreshed at the call of the robins in his yard than I did here in the soundproof sterile "comfort" of this inn.

1st July, Removing the Motor in Conway New Hampster
There is no money in my bank now and by the time I get through with this project I will be in debt for the first time since I bought my first car forty years ago. Not happy thoughts but I suppose this is The American Way.

We have started the process. The radiator is out and the muffler too, and most of the wiring and plumbing is disconnected. The rear bumper is off. The old engine should be out soon. But we still have not chosen a replacement despite lots of looking around.

4th July, On The Esplanade, Charles River, Boston
In the late 60's I use to go to Boston to picnic on the Esplanade and listen to Arthur Fiedler conduct the orchestra at the Hatch Memorial Shell. The 4th was a special time for me then; I wondered if it would still be that way.

Me'n'Ian spent the 4th wandering round downtown Boston. First adventure of the day was coming in from Medford on the subway. We spent the morning at the Aquarium and then Ian wanted to go to a mall so I took him to Washington Street where for several brick paved blocks there is no traffic, only people and stores. But a mall, he said, is where the stores are inside! All under one roof! I told him the stores are all inside Boston, under the sky. Washington Street is where "mall" (or is it maul) was invented. It was hot enough.

Later we got separated but then later still we found each other. That was pretty neat. The crowd on the Esplanade was larger than I remember. Police, military, and vendors of all sorts that didn't use to be there. Storrow Drive was closed. Sound towers stretched a quarter of a mile west from the Shell. The tradition was there tho. The 1812 Overture and the brass cannon, the fireworks over the river, the smell of the warm city: everything worked.

Now we are back in homeport Center Conway. I am well. Still somewhat depressed over this engine problem especially each time my mechanic comes out to wag his head at my progress in taking out the old motor. We discuss the options and each option leads to another. It is like Pandora's Box.
14th July, Nude Recreation Week
Friday we accomplished a grand hike to the summit of Mount Tremont. Off to an early start, with a sheen comprised of equal parts of "Deep Woods Off" and youthful élan, our skysuits glistened in the morning sun. The first mile and a half went by quickly. At the last sure water we soaked our feet in the cold pool at the last crossing of Stony Brook. From there the trail climbed steeply, zigging and zagging through the virgin forest to the open summit at 3,384 feet. "This is my first real mountain, that I have climbed all the way, bottom to top," Ian smiled and said as he left his secret mark on the summit, "and I claim it for my own." Then he added: "But I'll let other people walk here cos I'm a nice guy." I was delighted to be his guide, to have shown him the Way. We had the entire mountain to our selfs for the day and did our walk "wild" all the way from the trail sign on the road near the Third Iron Bridge to the summit and return to the pavement.

It was a great day for a nap on the summit, just a gentle warm zephyr to caress us whilst we took in the good views close and distant. Below the steep westerly shoulder of Mount Tremont Sawyer Pond and its shelter beckoned and we talked about what it would take to backpack in there someday. By the time we'd returned to the road our skysuits were streaked with spruce dust and sweat, muddied with skid marks and bloodied with smeared mosquitoes from nearly six miles of nude hiking. Nothing a good soak in the Saco River would not wash right away but this time we carried our trophies back to town for a hot shower at The Cat Drag'd Inn.
It is a tonic to my soul to guide a boy on such an adventure.

19th July, Up-Up and Away
Thursday I took Ian to BOS so he could fly back to family at LAX. Last I heard non-ticketed persons were not allowed past security so we were more or less prepared to part company at that point. But when the kid checked in--a twelve year-old flying on his own for the first time--the ticket agent wrote out a pass for me to accompany him through to the gate. I was not prepared for that and had my knitting and silverware (never get off the bus without my spoon, fork, and knife--you never know where you'll have your next meal) in my daypack, along with my venerable Swiss Army knife.

The boy had his tickets and his bag of morphing action figures; they never asked for his carefully contrived I.D. I had my string and chopsticks and a passport full of possibility. Security took me apart. It didn't help much when Ian allowed as how he was the one travelling but that I was the weird one going only to see him off. What for do you need a butter knife in your daypack? And a pair of scissors? That's my knitting, I said of the sack of strings.

We worked it out. They held the sack full of strings and utensils, and the Swiss knife, at the checkpoint for me to retrieve on my Way Out. They passed the chopsticks.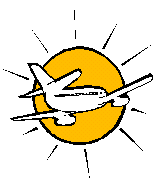 We spent the next two hours in sleepless seats hard by Gate 10 in Terminal B, playing Cat's Cradle, telling storeys, wandering about watching other planes and other travellers come and go. Later, as we sat close, sharing some snack and watching the Airport Network CNN horror-news, he leant his head on my shoulder and whispered his fear that he hoped his plane doesn't get hijacked.
Meanwhile, at the nearby newsstand, all the magazines about beautiful people were high up behind smoky glass barricades on the top shelves where no grandson can see or reach them--I even had to stand on tiptoe--whilst all the ones about guns and violence were right out front, at our eye level.
What values are Americans passing on to their children?
It's that sort of thing that really frightens me.


Gardyloo, ajo
I do not know what I may appear to the world; but to myself I seem to have been only like a boy playing on the seashore, and diverting myself in now and then finding a smoother pebble or a prettier shell than ordinary, whilst the great ocean of truth lay all undiscovered before me. --Sir Isaac Newton



Back to ajo
Copyright © 2003, A.J.Oxton, The Cat Drag'd Inn , 03813-0144.