</P>
---
Travels With Oso con Migo
Winter In The Ross Island Dependency
OAE At The Bleak Island Monastic Brotherhood Of Seers
---

March 18, 1996, last letter February 27, 1996
Greetings from the bakery of Gulag Isla Negra,
Friday, March 1, 1996, Oso con Migo meets The Daily Breads.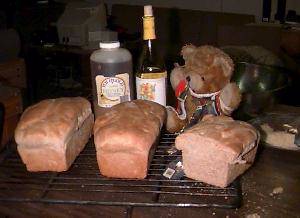 Jeff was successful in his debut as a bread maker last night, except that the duration of the project caught him a wee bit off guard. The rising and kneading went on and on into the wee hours but the results were spectacular--fresh warm bread and chilled chardonnay for a bed- time snack. Yum! And then in the morning his bread toasted and went well with my kiwi fruit and ginger jam. Here are the recipes.
Kiwi Fruit and Ginger Jam a la Gulag del Isla Negra
Get a bunch of kiwi fruit, a couple-three dozen, and let them sit around in a box in a cool place until the first few begin to get oozy. You want them about ready to slip out of their skins. Peel, chop, crush, the best of the lot so you have two quarts of kiwi pulp.
Set that to simmering in a large steel pot or iron kettle.
Add two to three cups of peel'd and chop'd ginger root. It is useful to run the ginger root through a blender, maybe with some of the kiwi fruit thrown in to get a good slurry.
Add seven cups of sugar and a quarter cup of lemon juice.
Bring slowly to a boil, stirring occasionally until the sugar dissolves. Then cook rapidly until thick--at least 30 minutes, may take as long as an hour. As the mixture thickens test often by dropping a teaspoon full on a saucer and wiping your finger through it. See how thick, taste how yummy, cook some more. Yum!
If there is any left by the time its thick enough let it cool until the pot can be held bare handed. Ladle into 6x6 Ziplock(c) bags and put them out in the front yard to cool. No ants to worry about here.
Three Loaves of Daily Bread for the Bleak Island Brotherhood Of Seers
Three cups water from the lake out back (filter out the algae)
Two tablespoons active dry yeast
One half cup sugar or honey
Two scoops dry whole milk
Six scoops of flour (to start with--you'll need several more later)
could be one half white and one half whole wheat
Four eggs (or an equal amount of egg powder or egg "product"--use the shells you saved from the last time you had real eggs for accurate measure and for effect)
One half cup oil (less one tablespoon for white bread)
Nuts, oats, floor sweepings as desired
Combine water, yeast, and sugar/honey in mixer bowl, mix slightly using plastic paddle. Let set until foamy.
With mixer running, add dry milk, flour, eggs, oil, extras. When dough begins to climb paddle (add flour as necessary to achieve dough), switch to dough hook. Mix until dough ball no longer sticks to bowl. Turn out on flour'd board and knead until your stress level drops noticeably.
Place in slightly oil'd bowl, let rise to double twice, pressing down each time. Shape into three loaves (four if you're on a diet) and bake at 325f until brown'd.
Sunday, March 3, 1996,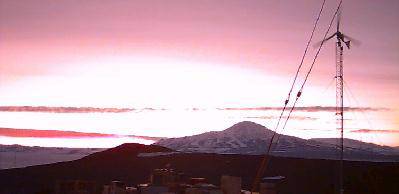 Email has got Americans writing again. Tho the phenomena has yet to make any difference with many of my *old* friends. Rather, it has changed my friends. I used to be a verbal person, coming from a background of CB and HAM radio, and a visual person, as a photographer; my move to email changed my mode of expression from talking to writing, from carrying a camera to carrying a computer. Now I am to a point of carrying both as the digital camera has made possible the melding of image and text.
We went after water again today. Sunday is shower-laundry and get water day here. It is kind of risky conducting our ablutions in that order, one of these days we are going to find the lake frozen to the bottom--this time the ice was fourteen inches thick. We used an ice auger and brought back 200 gallons.
There was a halo around the sun this afternoon and then the wind commenced to blow, ending nearly a week of mostly calm. Last week there was a green flash at sunset and then another a few minutes later at sunrise; now there are a few hours of deepening twilight. Soon we will be able to see stars.
Sooner than I thought!!! Two stars. I think one is Sirius. Star light, star bright; first star I see this winter...
Each night now is darker, longer, and in the day the sun never gets as high or as warm. Time to move inside to my portable beach. In this steep part of the sine curve between the summer and winter solstices, the downslope as it were, we are loosing something on the order of twenty minutes of sunlight a day. See Ethan's Suncharts for a good graphic representation of this phenomena. Compare the charts for McMurdo, South Pole, Columbus Ohio.
Monday, March 4, 1996, Airdrop Propwash...
Sounds like the canceling of air drop has caused quite a ruckus stateside. Antarctic Support Associates (the company) in Denver has informed us to pass the buck on this matter to National Science Foundation. After all it is their budget and politicking screw-ups that has brought about this pretty pass. But I hasten to add a bit of philosophy here--keep in mind that "they" are "us", we, taxpayers of America--where the poor on food stamps constitute the largest voting bloc--and so it is we who have cancelled airdrop. In any case don't send any airdrop snailmail, it will only languish in Port Whooneedsme until WinFly August. But stay tuned for further developments... Please refer any requests for information to Mickey Finn, NSF Representative in McMurdo <nsfstmgr.mcmurdo@mcmurdo.gov or Lyn Simarski <lsimarsk@nsf.gov (703)306-1070, at the National Science Foundation in Washington DC.
And this just in from an appreciative correspondent in Switzerland:
I would like to thank you for your effort and patience to type in the
diary, compile the digital photographs and download the files for
distribution. You have made a marker in Travel reporting on the
Internet. Me, and I'm sure all the readers greatly appreciate your
effort! Thank-you!
Thank You Chris. I certainly like to think "all the readers greatly appreciate" my writing--I don't read from all that many of them. Maybe it is time to start a subscription fee so they will have something to complain about...
Wednesday, March 6, 1996, Invasion of the Penguins from Hell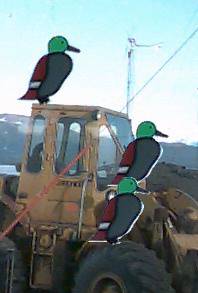 Right now it is early on a snowy overcast grey morning at the Bleak Island Monastic Brotherhood Of Seers. I am serving oatmeal to a crop of novitiates before sending them off to flag their way back to town. Last night they arrived unannounced. Six flaggers from the Search And Rescue team in two Thiokol Sprytes, thundering up the hill like a herd of orange turtles, arrived to take us by surprise just after we'd finished eating one of Little Jeff's surprising suppers. Not a problem for Jeff, he is more of a people person than I and in the blink of an eye he'd laid out a hasty pasta for six flaggers that Six Flags Over Anywhere would have been proud to serve. Little Jeff, it turns out, had some early experience in the restaurant business, he says presentation is half of what the customer pays for.
. o O (Around here it's half of what they put up with...)
The SAR team is made up of several folks who like winter camping-- you think my stories of the Sack&Save are of a brave and foolish existence--the SAR team does not even enjoy the benefit of four walls and a, relatively, warm seat... In return for volunteering for this effort SAR members get recreational opportunities not available to the greater population. Of flaggers, it might be said they have the crème de la crème. They get a few days off their regular jobs to go out and play in the snow, no body snatching deadline to meet, and while they might get caught by changes in the weather they can pick the best days to start out their adventures.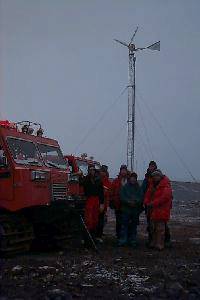 Flagging the seventy miles of ice road--between the intersection at the Pegasus - Willy crossroad and the transition of ice to earth at the coast of Black Island--starts with surveying last year's route for crevasses, and in some cases going down into them to see just how big they are--whether they can be safely bridged or will they swallow a Spryte--or should the road detour round by a safer path. Then the route is flagged, drilled with an ice auger--sometimes gas powered, sometimes by hand with a kind of [ice]carpenters brace and bit--every fifty feet. The team, usually two teams leapfrogging, consists of a driller and a flagger--a metre hole is drilled and a twelve foot bamboo pole with an orange cotton/poly flag is set into it. Two more members drive the Sprytes dragging trailers piled high with survival bags and flags, jerry cans of extra fuel and spare bits for the augers. Around six thousand flags are set. Mostly orange to mark the way, a few black ones mark crevasses. By June or July, along some sections of the road around Discovery Point (like Goofer Point on Mount Washington this is where everyone stops to point at Mount Discovery) drifts of new snow will have all but covered over the nine feet of exposed bamboo. Many of the orange flags will have been reduced to tatters, shred'd by the wind til only the hems remain, and we will be out there again flagging in the Antarctic night, the sky bright with Aurora Australis.
Anyhow... *they* showed up quite unannounced, clomping in with dirty boots all over my nice clean floor. I gratingly received their peace offering of a bottle of Cabernet Sauvignon (Woodbridge 1993) and promptly chased them back to the mudroom. Now had it been *two* bottles, of Jackman Ridge Chardonnay, I might have been a bit more decent right off.
Thursday, March 7, 1996, The First Traverse Turns Back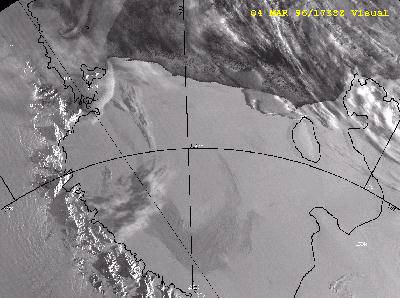 Yesterday, as the flaggers were departing Black Island to flag their way back to town, the first official traverse of the season got underway, with all due fanfare, to resupply us with essential substances like wine, eggs, flour, sugar... &c. And then, where the going gets tough, about half way through the *Dead Zone*, closer to here than to town, one of their vehicles broke down, dead in the snow. Details are lacking as to the nature of the breakdown and even the precise location but their on-the-spot command decision was to turn back. The down vehicle was a "Challenger", some sort of rubber tread tractor machine designed for making low impact traverses of Iowa cornfields and specially adapted to the rigors of Ross Ice Shelf operations by the addition Anti-Freeze headlights and low temperature paint. It has cab space for one lightly clad skinny farmer type and little else. There isn't even a luggage rack. About all the Challenger can do is pull a trailer and that not very well. (In past winters, when they do get as far as Black Island, you would hook on a D-9 to help them up the hill from the transition.) The other vehicle on this First Traverse Of The Season was a Nodwell known as T-Rex.
I've driven T-Rex. During my first winter, back in eighty and ei8ht; before I knew better, I drove T-Rex on my first traverse. That was before the BLIMP, when we lived in a Jamesway, ate at a picnic table, slept on folding cots--the only thing that hasn't changed since those days is the Sack&Save--and T-Rex. The Nodwell is like a Thiokol except bigger, diesel powered, noisier (if that were possible) and this Nodwell has a four place cab and a flat deck for cargo. The middle of the back seat was taken up by a hugemongous heater that burns JP-8, screams in your ear like a 747, and gets hot enough to heat all outdoors--which is a good thing since neither front door would stay closed without tying them together with a long bungee cord. (Carl tells me T-Rex has been fixed somewhat since my remembrances: the doors stay closed and the heater screams not. He also tells me this was the maiden voyage of a *new* Challenger; this one has room for two skinny farmers.)
On this traverse the fourth place in T-Rex was taken up by the "Do Not Freeze" stuff but now that place was needed by the driver of the Challenger, since they had given up on it. Again, the details are lacking, perhaps those smidgens will come out after we all have shared a bottle of Chardonnay (if the Chardonnay was not among the jetsam) but detail tends to get lost when decisions are second- guessed by the dispossessed. Its not that I was looking all that much towards having guests mind you, but that we were running low on certain essential insanities. So they tossed out the eggs, picked up the driver of the disabled Challenger, and headed back to hot showers and cold beer in town.
Next attempt might be Monday, 11th March. But there is a medivac evolving and ...
What is it with this place that we canna run a traverse and a medivac at the same time?
And the eggs... probly *the* most precious item they were carrying. Do you have any idea what eggs will be worth around the end of June?
And they were closer to here than they were to town when they turned around. And the SAR team was probly within spitting distance.
The eggs could have been rescued.
Sunday, March 10, 1996, Oso con Migo meets "The Wind"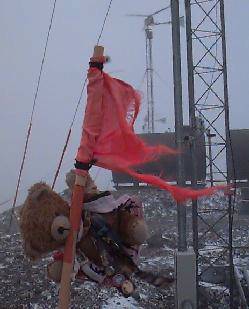 Stupid Bear... The wind has been averaging fifty for the past twenty- four hours with a peak gust of seventy last night. It does not bode well for a reprise of the first traverse of the season tomorrow. There is some snow too--that in itself is good, it will help fill in the huge iceholes in the road, if there were enough of it (snow that is, there's plenty of iceholes). But in the meantime, and this time is mean, no doubt about that, the Bear needs to go for a walk, in The Woods. Suddenly the Sack&Save is not good enough? There are no Woods here, I said, there are not even any *woods* here. He wanted to sharpen his claws. The best we can do is the pile of assorted lumber lashed to the south end of the welder van, around the corner from the pipe rack. Stupid Bear. Waiting until you've got no traction is too late to put on chains. Or sharpen claws.
Two steps beyond the door and he was airborne! His squeals, of fright, or delight, were torn from my ear as his Tai Chi tunic opened like a kite. For a moment he was able to hang two on a bamboo flagpole marking the path between windmill towers but that didn't last, dull claws are not much help on hard frozen bamboo. Next stop was down wind when a plaited cord necklace he received at the Beach's Peaches Teddy Bear's Picnic in Hollis reached out and grab'd hold of a passing bolt protruding from the tower leg--good thing that 'cause the *next* stop would have been greywater evaporation pond, frozen now but yucky nonetheless.
Friday, March 15, 1996, Been a Busy Week...
The wayward traversnicks have been and gone. We are resupplied with eggs and bread and wine and other essentials. They recovered the eggs left behind last week--frozen solid, all cracked; some began to leak as they thawed in their flat on the kitchen table. I broke two into a bowl to see what freezing had done to them. The whites were ok but something was strange about the yolks; they had discombobulated sort of like cream cheese does when it freezes, they had the appearance of the yolk of an egg that had been hard boiled and even a thorough beating did not restore their composure to the lemony yellow one might expect of a beaten egg--the white was still white, albeit a mite frothy, and the yolk was ... well ... yolk.
Then the next day two drovers and their big cats arrived at dark after a long and arduous day of smoothing the iceholes of the back road. The Bleak Island Monastic Brotherhood Of Seers have been busy preparing extra meals and fueling around with the cats. Big news from the front is that the Medivac has been cancelled! Seems the ill person has recovered. So that means no mail and no freshies. All the mail that was collected to be sent north is being returned to sender.
Sunday, March 17, 1996, And the Good News Is...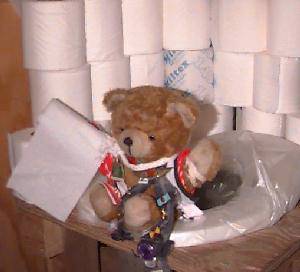 Mitch found six cases of plastic bags for the Sack&Save. You all have missed out on this issue. I have mentioned the Sack&Save in previous letters, a plastic bag wrap'd round a toilet seat--you bag your waste and deposit said sack in a drum to be returned to a proper sanitary disposal facility. The problem was we'd run out of sacks. The replacements offered were of a thinner plastic and worse, they did not fit over the seat of the commode so holes and tears were a problem and wayward waste an issue of contention. Despite several reorders specifying the proper part number all we could get from resupply was the wrong size. Mitch is one of my fellow Humans here who manages to see beyond the computer inventory and is also one of my cohort who shares the duty at this remote site. Toilet facilities and their functionality, which, to much of the population are a mundane subject, are a major issue at a remote site where all waste must be packaged for shipping, in some cases all the way back to CONUS. So! Mitch is the hero of the day and, for his diligence and perseverance, is awarded a signed copy of my Ode To The Sack&Save.
Where oh where has my Sac&Save gone?
Oh where oh where can it be?
It was here by shower,
Just an hour
Ago;
Now I can't for the life of me pee.
Monday, March 18, 1996, Oso con Migo meets Bubba and Hubba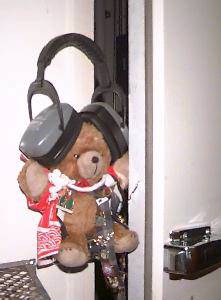 Time to take a shower. I may have mentioned this drill before--how we go to the lake to get water and then run like hell up the hill to get it up to the tank in the BLIMP before it becomes kin to the glacier. Then you can take a shower.
We neglected this visit to the lake last week since the traverse brought a hundred gallons and that was sufficient, but Jeff went down then just to try out the new brace and bit, and to see how thick the ice was. He stuck a blue flag in the hole and reported two feet of ice. This week it was like Jack and Jill.
After my morning coffee I started the heaters on the truck and fork and sometime around mid-day we commenced to caravan down the hill with pump, hose, and auger, but something there was I could not put my finger on that did not augur well. Jeff was forking ahead with JinnyMae listing to starboard and she was a mile down the road before I caught up and could see that her right front was near down on the rim. Jeff, I thought aloud whilst beating on the mute horn button, did you forget to check your tyres? There is no way to pass, he is not carrying a radio, couldn't hear it if he was, so I pulled up close behind, stopped my truck and then got out and ran up along side JinnyMae. She stopped.
--I guess we need the compressor, Jeff allowed.
--The compressor runs on e-lek-tris-katy Jeff and we're out of range of the extendable cord this time.
--Then we'll need the generator too.
Fortunately the generator was not too deeply buried in the green milvan but when we tried to start it all we got was Rrrr-Rrrr-Rrrrr- er -er -rr.....er...
--Ok. Now we need the charger.
--Let's fill the gas tank to be sure.
--There's no mogas left, I used it all starting the last barbie.
--Ok... then we need the hurdy-gurdy to get more mogas from the drum so we can start the generator to run the air compressor to fill up the tyre and get to the lake to drill the hole and use the pump to get the water so I can take a shower. You do that whilst I hook up the charger. He was back a few moments later. --I need the bung wrench to open the drum so I can use the hurdy-gurdy to get more mogas from the drum so we can start the generator to run the air compressor to fill up the tyre and get to the lake to drill the hole and use the pump to get the water so you can take a shower. I stood there waiting for the chorus.
. o O (Why does this remind me of a Boy Scout campfire song? Any moment now a spider is going to wriggle and jiggle across the scene.)
While we waited for the compressor to do its thing The Bear took a walk.
. o O (...in the woods?)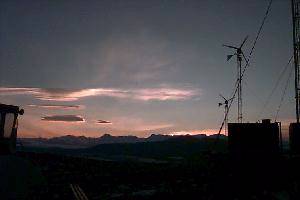 There was a little way going off to the side of the main path where someone had driven long ago. Around the ridge and out of sight of the truck the yammering of the generator was subdued, the air still.
A Skua happened by, gliding on the gelid air. --Hi Oso!
--Bubba?! What are you doing this far away from Palmer?
--It's a Harsh Continent.
--Tell me about it.
--No, I'll let my wife do that, Hubba is coming along right behind. Do you have anything to eat?
--How about some honey? I've got some here in an old toothpaste tube.
--Honey? Is that anything like offal?
--No! Its sticky and yummy and goes great on bread.
--No dead beast parts, eh?
--Its a Harsh Continent Bubba.
At the lake the ice is hubbly and three feet thick now but there is still about eight inches of water between the underside of the ice . o O (is there a name for that?) and the bottom. Now everything works ok, the auger, the hose, the pump, and soon I have my shower.


Inchoately yours, Friar Tech


A.J.Oxton, OA, OO, OAE, k1oIq

Back to ajo
Copyright © 2003, A.J.Oxton, The Cat Drag'd Inn , 03813-0144.