Travels With Oso con Migo
Odyssey In America
OAE On The Road Again, Pushing the Envelope...

Greetings Cohort:

These cold mornings are giving goosebumps to the sunbather on the roof.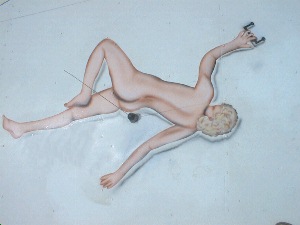 Typical northwest rainforest weather this weekend in Talent ORegon. Sara(h) just came in with mud up to her elbows and the batteries are not getting the charge needed to maintain the fridge. Oh well. Such are the tribulations of all this high tech living.

One thing this place and weather are good for: We are supposed to go morel hunting this afternoon.

Umpqua Hot Springs, a.k.a. Toketee, is north and east of Talent, where my Talent'd friend Kathy lives with her husband and dog and cat. According to the hot springs guide book the place "is so popular, especially on summer weekends, that it might be advisable to take a bathing suit with you. You might have to wait your turn to share a rather crowded pool." No such luck. I had it all to my self. The interpretive center at the carpark tells how the hot water, bubbling up from the magma dome dissolves the silica in the rock and then as the water flows out of the ground on the wooded bluff above the North Umpqua River the silica is left left behind. Over eons of time the spring has made itself a very fine tub, sort of like a hollow stalagmite, just the right size for several people to soak in. I can well see why it is such a popular place; the view is grand. Volunteers have built an open shelter and sunny benches and the place is at the far opposite end of the cleanliness scale to Ash Hot Spring.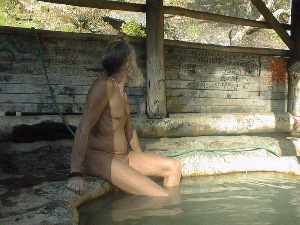 Graffitti found in Toketee hot spring shelter: These words for all to ponder: What makes the hunter honourable, and the farmer beastly?
Well... says who? I can see the hunter being romantic and the farmer pastoral, but not beastly. Hunting takes life and produces immediate results, farming takes land and patience and much more labour. Perhaps it is the land that is really at issue. The farmer clears the land and is at odds with the hunter. They are worlds apart. It is really like comparing apples and oranges... With apples one can make pie. With oranges one can make odouriferous decorations.

8 may, 45th parallel
Just a few minutes north of Salem ORegon is the intersection of west 123 and north 45, and a sign proclaiming "Halfway between the North Pole and the Equator". The last time I remember seeing a sign like that was somewhere in between Stewartstown and Colebrook New Hampshire and so it got me to thinking about where else is along that line of convention between here and there. Fossil, Cobolt, the boundary between MonTana and WYoming, Gettysburg, Madison, Minneapolis, Wausau, Lealand and Bellaire and Atlanta, the north corner between New York and VermonT, ... So much more of the west is north of the 45th. Except for Maine of course.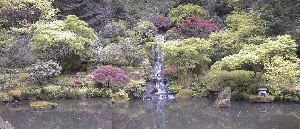 Doyle lives in the southwest quadrant of Portland, on the twelfth floor of a highrise condo with a view over the city. The morning sun blasts in through a glass wall so it is an apartment for an early riser. Twelve floors make it a little more difficult to outrun the elevator but I can make it up to the seventh before my heart rate goes up. On a clear day one can see Mount Hood on the horizon while closer to hand one can see, below in the river, the sub used in The Hunt for Red October tied up at the ORegon Museum of Science and Industry. Portland's Sister City in Japan is Sapporo so On Friday morning Doyle took me to the Japanese Garden. High above the city's tallest buildings on a hillside to the west the garden climbs in terraces of carefully tended lawns and grottos where the huge indigenous old trees stand over the plants manicured in the Nipponese style.
And thence to the Chinese Garden... Suzhou is Portland's Sister City in China. (Does that make Suzhou and Sapporo cousins of some sort?) The Chinese Garden comprises a city block downtown where the old historic Portland meets the traditional Chinatown. Truckloads of stone and plants--some full sized trees--were brought from Suzhou to create this classical Chinese Garden of Awakening Orchids. Winding walkways and open pavilions define this landscape of plants, water and stone, architecture and poetry, in the Ming style.
Tonya met me later in the day and we went to a Thai restaurant for dinner. Now I have enough leftovers for about three days on the road.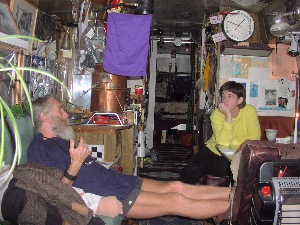 11may Astor Column
At the gift kiosk they sell little balsa wooden aeroplanes for you to fly from the top of the Column. Two hundred and some steps to the top and you lean into the wind to let your plane go. Some of them end up a quarter mile away in the two hundred year-old redwoods. Ours went straight down, despite the wind. My friend Little Jon, who lives nearby, gathers the planes he finds in the woods and uses them for kindling in his Jotul. After our little excursion he made a nice ham and scalloped potato dinner with only five of them and one extra empennage.
Sara(h) brought in a smallish member of the order Rodentia (although on second thought it might have been order Insectivor) this morning and then proceeded to let it go. The beastie promptly managed to get in under the rug and poor Sara(h) went bonkers running to and fro digging and scratching. After a while she gave up and went out for another. I locked her out when I saw her bounding across the lawn towards The Cat Drag'd Inn, little black legs and tail dangling from her mouth. The last thing I need in here is a breeding pair of anything on four legs.

2003may14, Chimacum, Kloshe Kawkwa
Good drive from Astoria to here. Twisty-hilly roads along the Hood Canal and a bit of a little walk in the woods where there use to be an old CCC camp in the forest. On Hamma Hamma Road, eight miles west of U.S.101, the CCC camp was in a clearing near the present Hamma Hamma campground. An interpretive walking path leads you around through the woods. It is a young forest here, compared to what grew before. One very giant of a tree stump is along the river near N47° 35.631' W123° 07.187'. Must have been twelve to fifteen feet across at grade. Very very old tree when it came down and now a very old stump as well. Big enough to stretch out inside of.

And the odo turned up 1,100,000 miles. Time to get the oil changed and the chassis lubed.

Norman met me at the Chimacum SKP camp and invited me to his Medicine Wheel Study Group meeting. Good, it was, and I learnt some new things. And Sara(h) now has an addition to her ever growing name: Tail-In-The-Way.

Roy led the Medicine Wheel group through a purification. Then there was an awakening of the spirits of some new drums and a lively discussion of a current topic of interest to all. At the end of the meeting I gave him one of my fobs and he spoke a benison by way of acceptance. Thank you Grandfather Roy, you honour me. Kloshe Kawkwa.

18may in the hills north of Wenatchee Lake.
Snow was falling on the road known as U.S.2 through Steven's Pass. The bus performed well, no problem with overheating in these ambient temperatures; I had to turn off the new auxiliary radiator in order to get up any cabin heat.

Hannah, Karen, Paul and Isaac hiked with me at the Indian's Eye near Tonopah when they came to visit the El Dorado hot spring so now I am hiking with them to the Dragon's Lair. Its great bones lie in rusty repose where men tried to build walls to keep it in and other men tore them down alas too late to let it out. Now at least we can go to see the sodden remains of this magnificant beast.

As a clew to finding the cache at the mouth of the cave Puck, Snorky & Zipper wrote: Be quick, be nimble, waste no time. The Dragons Lair is right behind. Twenty feet more to his black door. In your ears, hear his roar. Slip into the slot and reach to the right. Grab the box before you die of fright.

At dawn here on their hillside farm, where they raise horses, and each other, the temperature was 39f. The furnace of The Cat Drag'd Inn is working hard but at least there is no wind to wrap its icy tendrils around my extremities and make my nose run.

During our walk along the dragon track we watch colourful rock climbers inch their way up the face of The Castle towering above U.S.2 on the far side of the Wenatchee River. Isaac takes off his boots at the crossing of NoName Brook, now a raging torrent of frigid Spring meltwater. His bare feet offer better traction on the bridge of tree limbs than the smooth leather soles.

We played with dominos on the floor by the fire, building a long sinuous construct of branches and crossings, up stairs and down slides, and then watched a video titled The Way Things Go. I recommend it to you.

During the 50's and 60's in Leavenworth a popular winter activity was ski jumping. Another cache we went to find is right by the bottom of the ski jump where their grandfather Byron once practiced, and jumped on his way to a tri-state ski championship, perhaps with olympic hopes and dreams. Now the town in its entirety is a Bavarian Theme Shopping Park where tourists come by the busload to shop in theme shops and view the locals dressed in theme costume. Even the dogs are theme bred.

19may, Pine City, Sara(h) meets Greystoke and Rufus.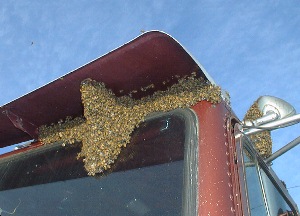 Left Wenatchee Lake and Leavenworth behind Sunday after a super supper and headed south to fuel at Ellensburg. Next morning noticed that the odo still says 1,100,000. Have I not just driven nearly three hundred miles? The land certainly looks different.

Coming across the Blewett Pass on U.S.97 the tall dark wet forest to the north gives way completely within a few miles to the rolling scrub and irrigated fields of the Columbia River valley. Along the highway, signs on the fences tell you which crop is growing in each field: Potatoes, Mint, Alfalfa, Potatoes... And there is a traffic information sign: Signs on Roadside Fence Indicate Crops - Next 14 Miles.

The Wildhorse Sculpture in Frenchman Hills overlooks Wanapum Dam (Is Bush going to rename those hills too?) and I-90 wends on past all of that, and four rest areas, towards Spokane. At least 300 miles.

The bus took on 92 gallons of diesel.

So I took apart the odometer--been in here several times before; the metal tabs you have to bend to and fro are going to fall off one of these days--and found the miles dial had split so each time the little gear came round to index it the split opened and the gear slipped past. There are six of these dials, miles to millions, so I traded the miles with the millions--it will be a long time before it has to index in that position--and put it all back together with the numbers indicating the supposed three hundred additional miles. Now I have to drive somewhere to see if it works.

2003may22 Kaniksu Reprise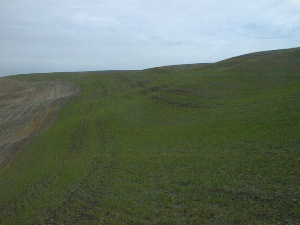 My travel has come to an end for the summer I think. In the woods north of Spokane there is a ranch/camp/resort by the name of Kaniksu. I cooked here the summer of '99 and just the day before yesterday when I was visiting some friends on my way through a small farming community south of the big city of Spokane my friends asked if I would like to stop for the Summer and use up the leftovers from then. Now here is a chance to work the kind of job I like most.

Only 3,000 feet MSL here give or take a hundred maybe, nestled in the southwest corner of Kaniksu National Forest. Surface water gurgles in the brooks, tall trees, cedar and fir mostly I think, stand all round, and some days are rainy and cool while most are usually warm and sunny. There are squirrils and other four-legs for Sara(h) La Gata to chase, or be chased by, and there are also a few of the rare and endangered spotted-owells to be seen lying about on the duff. Near my campsite there is a pond full of pet trout.

The only problems seem to be the bugs, as one might expect, and the people who delight in bickering among themselves about the way things should be done, and the people who complain about the cooking. The north woods moose turd pie storey seems to have no effect here. Already it has been relayed to me that "if he is going to [be] here then I am going to leave." Oh well. One less mouth for me to feed. There is a light intermittant rain now. I want to get started in the kitchen sorting and cleaning, the first meals are to be served this weekend, but first I think I will go look for some morels.

Some of the relatives of my sister Susan's husband must live along the road into Kaniksu. His name is Rice and a camp on the north shore of Deer Lake is named "The Rice Pad, eh".

2003may26, monday, Memorial Day (celebrated),
On The Road Again over night in Deadman Gulch on U.S.12 between Lolo and Missoula. Looks like an old weigh station. I am parked on the fine level concrete pad of the defunct truck scale.

That gig at Kaniksu didn't last through the opening weekend. I don't believe I'll ever know all the gory details and it really doesn't matter any more. The Board of Club met and decided that the president had acted without their direction, outside her authority (despite that--so the storey goes--they had advertised for a cook), and that the membership base did not warrant having a cook, and that, and now I am reading between the lines: they didn't like my cooking after all.

Oh well. At least they gave me a hundred dollars for cleaning their kitchen.

Two days to set up and two hours to pack. I have to admit I was pretty much depressed over the whole matter. Now it is back to "Plan A" and picking up on all the visiting hastily set aside on their behalf. Such are the vicisitudes of this life. I'm still happy I'm not living in some 8-5 commuting 'twix 'burbs and work place. I think I said this once before: there wouldn't be much to write about there. Which may be why so few of you have the time or inclination to write me.

Oh Well.

Wal-Mart Saturday night, and an escapist movie. I thought about going for a long walk but the weather was nasty for walking; even the upscale joggers were taking shelter from the thunder and rain. After much consternation and sorting through all the options: I'm an additional four days behind where I would have been had it not been for this side trip; another long lost friend from the past has surfaced not too far off to the other side of my route who would be nice to visit; it is Memorial Day Weekend and I would do well to sit still and wait for the tide of traffic to ebb; the old "I may pass this way but once" conundrum, so how do I make the best of it?

I finally decided I wanted a good soak, and then it occured to me that I'd already taken a good soaking, and not just in the rain. Plus I'd already collected some information on a couple of geocaches near the two nearby hot springs. Plus, they were somewhat on the way to where I wanted to visit friends next over between Missoula and Bozeman.

U.S.12 where it crosses IDaho is called The Lewis and Clark Highway and follows the Wild & Scenic River Corridor of the Lochsa River. Very wild and very scenic. One must drive slowly cos of all the twists and turns; it is not a fast road and much of it has no shoulder although there are numerous wide spots, paved and not--a few even designated as Official Vistas or Rest Areas. No fuel nor fast food for 110 miles; not even any slow food. I don't believe there is any other place like it in the Lower-48; even The Lonliest Highway in America has more pit stops. The three "emergency call box" phones are a new feature since I was last through here; they are ten miles apart in the wildest section. That was two day-hikes for a Second Class Scout.

From the west, coming in from Moscow, my first stop was the "Rivers Edge" geocache. Pretty easy find. I set Sara(h) La Gata out on a tether so she could enjoy the stop also. She's hunting whilst I'm searching. What's the difference? Warm rain and windy from the south, good weather for a skinwalker. The clew said to follow the middle trail but when there's four trails, which one is the middle? The one with the baby poopie diaper and the three beer cans was my choice and I found the cache right off. Thanks to Elkmilk for this little diversion along the road.

Next along my Way was Weir Creek Hot Spring. No room for The Cat Drag'd Inn in the trailhead widespot so I figured there would be no room in the spring either and went on. Next along was Gerry Johnson Hot Spring and Campground. They are actually two separate places near to one another. The campground was closed, the wide spot at the hot spring trailhead was full so I went on a bit to the next empty widespot. That was closer to where I wanted to be for the second geocache anyhow.

Not too much luck finding this cache. The GPS was having a hard time getting a satellite signal in under the trees, it was raining like all get out again, and just as I'm giving up on that a battered old pickup painted faded forest service green pulls up alongside The Cat Drag'd Inn. I slithered out from under the dripping trees and went to see.

This guy, Gerry, just likes old things but as the conversation develops he sees an opportunity to raise some money. His storey, like so many of those who live along the "Blue Highways", and like mine is getting to be, is one of despair, resignation, struggle with a system turned perverse. A year ago I would have bought his bike, it was a nice machine he had laying in the back of a near empty pickup, but this year I cannot afford the fifty dollars he wants for it. And, I tell him, it would be better he keep it, for a lifeboat for when he finally does run out of gas. I give him five dollars and hope he has enough gas to get beyond the wild part of this river.

We are still shaking hands when a hitchhiker walks up and asks if Gerry is going east. Nope, Gerry's pickup is pointed west and the guy looks at me. I'm headed east but it may be hours before I move from here. So he stands in the rain. He's been walking in the rain for a couple of miles at least since his last ride let him off back at the hot spring. After a bit more of poking about looking for this cache I'm about to give up on it when I discover that I have the coordinates entered incorrectly. It is back there, at that hot spring wide spot. I tell the hitcher that if he is still here in an hour or so when I come round again I'll pick him up and he begs to go along--it would be better than standing in the rain.

This wide spot is wide enough to U-turn The Cat Drag'd Inn and I am no sooner up to speed when a truck going the other way tosses a rock into my windscreen. SMACK! and there is a six inch ten pointed star burst just at the lower edge of the wiper area. Damn! to say the least. After all that three hundred and some miles on The Haul Road along the AlasKa Pipeline and young Master Ian hitting the sign post, now the windscreen breaks. I've replaced this not inexpensive piece of glass once before. This one came from a used up Superior in a bus graveyard in Canton OHio. The hardest part is not the paying for it, but rather the search for the glass.

Oh Well...

In any case we finally found the geocache. The clew here was a poem: windfall / rootball / rock wall / thats all. And there it was, tho it took me twice around the windfall to find it.

I left my rider off at Lolo. He's headed south and I'm going north. Now I want to sit and think about all that has gone down over the past week. Maybe month. What has Karma got to do with this. Which Way am I going? Or going wrong.

2003may27
Somewhere in MonTana this morning, eastbound on i90. A day to almost South Dakota, another day there and another day across and another two probly, or three... Maybe next week somewhen I might make it to wherever. The odo is working. 111111 miles turned up at milepost 365 on i90, about 60 miles east of Bozeman.

Nonetheless, I am moving again. I just dispair of ever getting anywhere.

2003may29, eastbound on i90... ups and downs on the road
From Confessions of a Taoist on Wall Street: The people of the world will not understand your passion, or if they do they will be frightened by its implications for their lives, and so despise you for it.

And: Water sets the example for the right conduct under such circumstances. It flows on and on, and merely fills up all the places through which it flows; it does not shrink from any dangerous spot nor from any plunge, and nothing can make it lose its own essential nature. It remains true to itself under all conditions.

And so it is that I follow my ups and downs across America, for that is my Way.

Yesterday wandered through the Black Hills. The last time there was back in the Sixties, in the Yellow Van, with a patrol of Scouts. This time it was me and La Gata, and Oso conMigo. I left them to guard the bus and went for a walk. Harney Peak is the High Point of South Dakota and so it has a special attraction: there is one in each state. I've done/climbed/bagged five of them now but Harney is the first with this quest in mind of climbing the High Point. The others are all from incidental side trips along the road to elsewhere. Except Mount Washington, in New Hampshire and I lived there for a while. Climbed and drove to that summit, flew once, to make up for several of the other state high points.

The Willow Creek trail is shared with equestrians from the northern trailhead to a horse-parking area just below the last flight of stairs to the tower on summit. Clouds of buzzing flies rose from piles of road apples at each rest stop and switchback and the piles seemed to get closer together as the trail grew steeper and the switchbacks became tighter. In some places, climbing over the water-bars was akin to ascending a flight of giant's stairs or like running low hurdles and I wondered how the horses managed; the long legs of a horse might be more the right size than mine. But it was the road apples and their attendent flies that piqued my interest at the moment. Not all these piles had a retinue in attendence and so I am moved to ask: How long, for how many days, does the essence of excrement maintain its attraction for the flies? After the road apples are dehydrated will a good rain reconstitute them?

Access to Mount Rushmore has changed a lot since I was last here. I don't remember much of the condition of the roads nor from which direction I approached in the 60's. The drive up from Keystone must ascend two thousand feet if it ascends an inch and I'll bet it is better than a seven percent grade. It was a bull-low climb. I've been here as I said so I was not planning to go again, nonetheless I was taken aback by the parking fee. Eight dollars! And the guards are confiscating nail clippers and other implements of the American Way of Life. Probly won't let you bring in your own water bottle either.

2003jun6 Unadilla New York Catching up with my journal...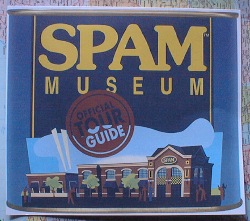 At first the signs were not as ubiquitous as those for Wall Drug South Dakota but they were a lot bigger. Billboards proclaiming SPAM! I must admit the first thing that came to mind was the unwelcome junk that shows up in my email--this despite having three tins of the pink pork in my cupboard next to the mac&cheese, between the chess biscuits and the basmati rice.

After the second such billboard I became intrigued but still hadn't made the connexion. Must not have been hungry enough. Or too busy with the traffic. Finally, after driving a few miles past the exit and seeing signs for Hormel, and Chili, the blues and yellows of the billboards made sense and I found a place to turn around and head back.

In the language of the disclaimers one finds on food packaging these days, in the SPAM Museum Tour Guide it says: This SPAM(TM) Museum contains no artificial stories or preservatives. Items within may be replicas or substitutions but the truth is there. Let's face it. You can't make this stuff up.

I recommend a serving for everyone. Single size or family, however the SPAM Museum "is most delicious in large groups." Its that kind of place.

Dave lives in a new house in a new development somewhat west of Chicago. We worked together for a year or so at Palmer Station and he has been very kind in remaining on my Dinner List since then; maintains a good wine cellar and a fine grill. But his new neighbors leave something to be desired. I wasn't there but a few hours and they were phoning up the local constabulary to complain about the Gypsy circus wagon taking up residence in the vacant lot. What about their property values and what about the safety of their children? Having a Hippie Van on the corner is not in keeping with their white picket fence and manicured lawn covenants. Fortunately the officer who came to investigate was more adventurous. They only asked me to cover the URL emblazoned across the stern of The Cat Drag'd Inn. Seems it was giving some of the kids ideas not in keeping with their parents' stuffy middle class values.

lima oh lima, what a fine tima, new window i finda? in lima so fina.
As it turns out, Lima was not where the window waited. I saw some there that were a close match but not any exact fits until in Canfield. Myers Bus Parts is a salvage yard that specialises in buses and I have visited and shopped there before. The windscreen I am now replacing came from Myers when I first put this bus on the road. Now I have found what quite likely is the last one they have for the left side. There are still three for the right side--I told them to take good care of them. The next puzzle is whether or not to replace. One can argue that I may as well leave in the broken one--it is only cracked really--and carry the new one for a while. Putting it in will only invite collision with another rock.

Somewhere, somewhen... Camptown, on s.r.706 in Bradford county, Pennsylvania, Stephen Foster wrote a song about the Camptown Racetrack. ...five miles long, doo-dah, doo-dah... Even at the village speed limit of 25mph there was not town enough to contain a five mile racetrack(Unless maybe it was pretzel shaped?), nor to finish singing the song.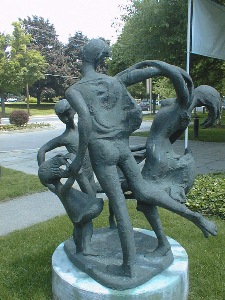 And then there is New York. Sometimes following the wiggly line on the map is fraught with problems--steep hills, sharp curves on narrow terciary roads, STOP signs in the strangest places--other times there are the most serendipitous surprises. Taking the truck route around the center of Glens Falls, past a great belching paper mill, over the most chuckholed road so far on the tour, brought me out right next to the Hyde Collection Art Museum. A museum a day keeps "driver's butt" at bay. Like shopping, park at the far end of the lot and walk. The Hydes made their fortune in paper during the last century and now this museum is in the family home. Besides the art collected there, the architecture and furnishing of the home is itself a museum and is so listed on the National Register of Historic Places. Another place well worth getting off the interstate for.

2003jun7-8, South Woodbury Vermont.
About a thousand feet MSL. Parked under a maple tree, but I don't know if it is a proper sugar maple. Sara(h) is out applying her special measures of attrition to the indiginous population of other four-legged critters. It was interesting to watch her as we got closer to this place on the road yesterday. Tho not at all "home" to Conway, this area of Vermont must smell a lot like her natal place. As we drove along she sat next to a window, ever alert to the new odors at each turn of the road, ever more tense and excited as we climbed past the quarries of Vermont marble and into the green hills.

At another maple tree, in a rest area back along the road apiece, she was out to the end of her thether and managed to get up in the tree. Cats are second only to Tenderfoots when it comes to getting tied up in their work. Fortunately I've not forgotton how to climb trees. My training as a Cellar Saver back in Dalton, and a few days with the Paramus Fire Extinguisher School were put to the test.

We are visiting the son of a long ago friend who now has a kid of his own and another on the way. Amazing isn't it? This generational progression... Does this make me a grandfriender to the little one?


Rain enough to give Noah something to think about over the past few days. I seem to have been moving east at about the same rate as this storm system. The Conway Truck Service garage is still here, still in business, still the same as I left it. Even to the pile of dirty dishes in the sink. Phew!

A bushel of mail at the post office to answer and a long list of projects to work on over the next few weeks whilst I cogitate upon which way next. For now I think I will take a nap and then see about unpacking the little truck.

Here a gap there a gap... This tale is related in starts and stops, mostly written in rest areas and mailed from truck stops. Now the bus is berthed at home port for some odds and ends of maintenance. Probly the worst that happend in the past few thousand miles was the broken windscreen. Next maybe was a flat on the toad which I found upon returning from a visit to the Hyde Collection Art Museum in Glens Falls. Hard to say what the best was. Knowing that Kathy is so far surviving her bout with C A N C E R?; the two silver spoons gifted me by Doyle?; breaking bread along the road with old friends and new? All and more were special times and good memories.

Thank you for all your good wishes and help. And especially, from some of you, for your continued correspondence.



Love, ajo



I do not know what I may appear to the world; but to myself I seem to have been only like a boy playing on the seashore, and diverting myself in now and then finding a smoother pebble or a prettier shell than ordinary, whilst the great ocean of truth lay all undiscovered before me. --Sir Isaac Newton



Back to Oso
Back to ajo
Copyright © 2003, A.J.Oxton, The Cat Drag'd Inn , 03813-0144.