---
Travels With Oso con Migo
Around The World In Sixty Days
OAE On The Road Again, Somewhere Summertime 95-96
---

January 7, 1996, last letter December 23, 1995
Sunday, December 24, 1995, Little Sisters Of The Poor at Thindal
Vanakkam!

The Gipsy colony got lost in the aftermath of Thangadurai's sixtieth birthday party so we went to visit the home for the poor elderly run by the Little Sisters Of The Poor in Thindal. Sister Ancilla gave us the quick tour. It was supper time on Christmas Eve and they had yet to complete the decorations. Lights for their tree could not be connected, the electrician's do not work on Sunday. Sister Ancilla told me it costs 600 Rs per month to keep each of the 150 residents fed and housed. Mother Superior Chandal added that other monies are necessary for further construction; they are part way towards their goal of having an auxiliary generator installed to help them maintain their kitchen when the power goes out.

The home is built in two wings, male and female, on either side of the kitchen and dining areas. A large chapel is attached to one side and there are small gardens, open to the sky, throughout the interior of the main living area. The kitchen is very well equip'd and I was especially impressed with how clean and quiet the home was. Except for the mosquitoes this could be a great place to retire.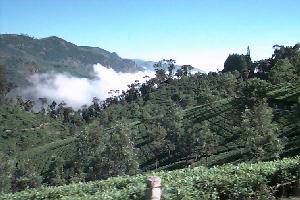 December 25, 1995, Ooty YWCA, The Christmas Footprint Mystery
It was Mr. Cook who finally solved this riddle. I'd noticed the water on the toilet seat occasionally at the Siva Ranjani hotel, especially after we'd been entertaining guests, nearly every day, mostly children from the school, but not thought much about it; water on the seat is a cultural affliction.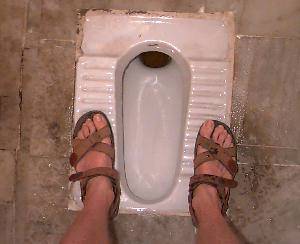 Most of the village communal toilets consist of a cement or brick walled enclosure--at some schools the children's toilet was of simple palm leaf thatch building panel construction over a section of ditch. Inside, set into the cement floor, which slopes all round into it, is a somewhat longish oval porcelain bowl (of ratio 2:1 maybe) slightly pinched on the long side and with a drain hole in the middle of the far end. There are on either side of the pinch raised, corrugated, rectangular blocks, about foot sized, at the "at ease" position. To make use of this contrivance one brings along a bucket of water and after suitable adjustments to one's apparel merely squats. Ablution is customarily performed with the left hand.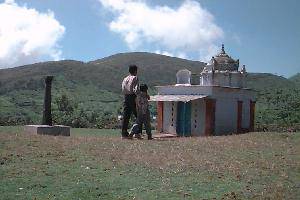 In our hotels the toilets were always "Western style" and of a singularly simple design. In addition to the commode there was washstand with one tap and over head, somewhere between the two, was a shower head. No shower enclosure, no curtain to fight with. Under the shower there would be a large pot about the size of a twenty gallon trash container and a couple more spigots on the wall. If there was any hot water to be had it would be sometimes found in one of these taps. Next to the commode, where one might expect to find a dispenser containing a roll of lightly scented, facial quality, two- ply, floral embossed, with the loose end coming out over the top and carefully folded to a point (personally I am an under person as opposed to an over person--I have been known to change the way the roll rolls just to see if it is changed back) there is another spigot and a small bowl or cup. Between leaky pipes and showers and the ablutions of this paperless society the bathroom is always wet; muddy foot prints on the floor were inevitable--but on the seat? I remember once looking up the walls above the commode to see what someone might have been looking for. And I must admit at this point, as I sit waiting to board my plane to Oz, that I brought a private stash of bumf in my trunk and still have a roll for the road.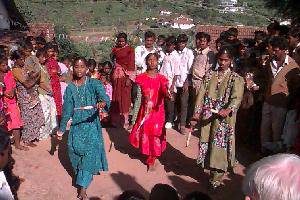 At Ooty our party of thirteen, several children and the rest adults, stayed at the YWCA hostel where Mr. Cook announced he had cracked the case. It was his background in investigative reporting that came to the rescue in this matter. Adding up the facts of the case and knowing the modus operandi of the suspects he made an intuitive leap to the solution and admonished the children to at least wipe the seat clean if they were not going to learn how to use it.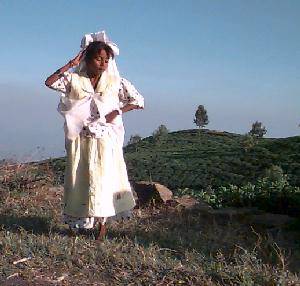 In the end it has been as hard for me to conceive of the actual mechanical process involved in utilising the squat toilet as it was for the kids to appreciate the use of the sit toilet. Perhaps next time I will be able to organise a cultural exchange programme.
The five hour ride to Ibex Lodge, where Issac's family lives on one of the 120 tea estates in Nilgris District, was in a 12 passenger van. With driver this cost us 1200 Rs per day plus fuel and oil. (An interesting aside: Diesel is sold by the litre and when your tank tops up at a fraction you are charged for the next whole so drivers all have an empty litre container handy to carry away every drop they are paying for.) In total we ended up paying 2800 Rs for the two day trip. Breakfast was in Mettupalayam, at another Hotel Annapoornum, in the foot hills of the eastern ghats. Ibex Lodge was "up there" some where in the clouds.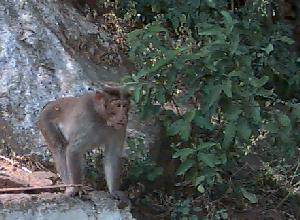 The road began to climb steeply up through the monkey forest in a series of switchbacks and hairpin turns that would put the Mount Washington Carriage road to shame. (As another aside: There is a narrow gauge rack and pinion railway that runs from Erode to Ooty, two trains a day. Something else for next year.) Neither the steepness of the grade nor the one lane bridges stay'd the busses and trucks from making their usual and customary speed. Signs prompting use of the horn precede the hairpin turns and other signs in the narrow places remind downhill drivers to give way to the oncoming traffic. Somewhere in the middle of the monkey forest there is a small settlement, a slightly wide space in the road with pay toilet, numerous shops selling local teas and fragrant oils as well as a complete line of soft drinks and fruits, and water from a brook for your car's radiator. It reminded me of Halfway at Four Mile on Mount Washington. The children were involved in a highly spirited game of monkey spotting brought on when Mr. Cook offered a bounty of one rupee per monkey. Gopu's count was fifty-one by the time we came out of the jungle above the clouds more than two thousand meters MSL.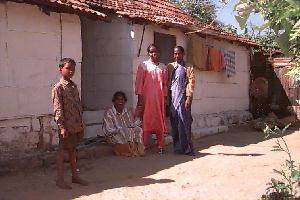 We arrived at Issac's sister's home in Nonesuch Tea Estate in time for a cup of coffee(?!) before attending the Christmas Day church service. Nonesuch comprises 386 hectares and 800 workers pick from ten thousand to thirty thousand kilograms of tiny little tea leaves per day with the greatest daily amounts taken in March through May. Each field is manually picked on a cycle of 13-19 days by the workers wading through a sea of plants on the terraced hillsides. Jayakumar, Issac's sister-son took Gopu and me on a short tour of the estate after which we met with the rest of our party and Issac's family for dinner of vegetable fried rice, chicken fry, chicken gravy, and two Christmas cakes. One of these was the remains of the Vanakkam Cake that is served to guests upon arrival, the other was a dark fruit cake with rich frosting that helped ameliorate the spicy sauces of the main course.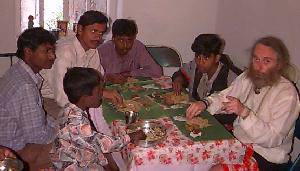 Three hundred people make up the population of Ibex Lodge village and nearly all of them turned out after dinner to watch traditional Indian dances performed by four of the girls in our party. As usual the sound system was set at full volume and the screeching distorted music was as unbearable as the dancing was beautiful. My head was in the middle of a tug-o-war with my ears commanding "Leave-Leave!" and my eyes imploring "Stay-Stay!" Kavitha and two of her friends did the Stick Dance and Kamala did a solo of Avakka Estate. The air was clear and cool compared to the hot smog of Erode. Some of the tea plants in the hollows are covered with mats of straw to protect them from frost and we had to dig out all the extra shirts and jumpers we could find to keep warm the kids who are use to a climate where they sleep on coconut fibre mats with no blankets.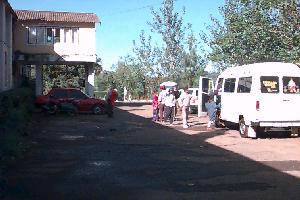 The YWCA at Ooty was over the hill and under the hill and almost stuck in the mud of road construction beyond Nonesuch; by the time we arrived and found Father John Jayabalan of the local CSI church, who had made arrangements for us, it was so late in the evening our rooms had been given away. But the Y was very accommodating and when we returned from an even later supper they had made up some other beds and we all went to sleep very quickly.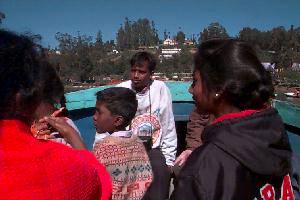 Tuesday, December 26, 1995, Last night at Erode
With all the moving around we were doing Christmas Tata had a hard time keeping up with us and finding the children so it was not until breakfast of the day after that some gifts were found. Ooty is a tourist community of hillside villas, tea and coffee estates left over from the days of colonial rule and the YWCA still has that elegance and British flavour. Some of these kids who had never been faced with more than a spoon were now looking at knives and forks (silver even mind you) and china plates in place of steel pans. More learning for all of us. We even had a break from iddly and samba with cheese omelettes and toast and jam. But time was running out on this holiday; the elephant rides and tiger hunt went the way of the Gipsy colony--put on hold for next year, instead we went boating in a downtown park and did a little more shopping before heading back down through the monkey forest and eastward to the hot dusty plains of Erode.
Wednesday, December 27, 1995, On The Road Again... Madras & Bangalore
For Issac, Manjula and Kavitha flying was a new experience. Issac was returning to Madras to go to work, the others came along to see us off. The flight was only forty minutes in an airbus from Coimbatore to Madras and the weather was great for their initiation. Issac was like a little boy in his excitement, it was great, everyone had a good time. At Madras we drove around for a while, first to the New Woodlands Hotel where if Manjula and Kavitha were able to get a room we might have walked to the beach for a while but a room was not to be had there nor at any of the several other places. This was the penultimate day of the South Asian Federation games, India has taken more than 100 gold medals, perhaps that has something to do with the scarcity of rooms. Eventually we found a place almost back to the airport and between writing and trying to fly a small kite one more time the few remaining hours quickly passed and after one last supper together I took leave of Mr. Cook and my new friends.

Bangalore is a monster city compared to Erode; what I saw of it in the dark looked even bigger than Madras except the airport looked smaller. Despite that my big aluminium trunk managed to get lost for a few minutes--somehow shunted off to "cargo" rather than checked baggage. Since I had almost nine hours between planes I took a hotel room in order to nap. The Harsha Hotel is downtown, seven storeys, with toilet paper! And they take AMEX!! But the coffee is wretched. And the prices are higher. Room service chicken biryani is 75 Rs; four could eat for that price at Siva Ranjani.
Thursday, December 28, 1995, Oso con Migo meets Shiva
Changi Airport, Singapore is culture shock all over again after Madras, Coimbatore, Bangalore. After a very welcome nap and shower at Harsha (hot water even, tho it didn't last long enough) I met my taxi and returned to the Bangalore airport for another study queue dynamics. I had allowed an hour and a half to work through security, check-in, excess baggage, check-in, airport departure tax, bank, immigration, customs, security (did I say that before?) waiting, luggage identification, waiting, boarding. But I did not count on over-booking. I had a confirmed reservation.

On the way to the airport we stopped a colossal statue of Shiva but the lights were off and the gate locked so there was no close up visit. The meeting was cordial but remote. Another thing for next time. First queue at the terminal was for hold baggage security. My big aluminium trunk has been through this twice already today as I flew from Coimbatore to Madras and then from Madras to Banglore; sometimes they put the trunk on its bottom, other times on its side, this end first or the other. I have never before had the opportunity to see what shows up on the view-screen of the x-ray scanner until now. After a few moments of standing at the exit ramp watching the operator and inspector call another inspector and the both of them pointing at the screen they indicated my presence was required for consultation. There are two screens, one in black and white, the other in colour, both show the same perspective but the colours tell them something. Near the top of my trunk, in profile, was a silhouette of several shades of green and black that looked quite like that of the AK-47 assault rifle on their spotter card.

I know there was not an AK-47 in there when I packed the trunk at the Ranjani hotel back in Madras twenty-four hours ago but since then it has sat around in two "Left Luggage" rooms for several hours each. So we opened the trunk and found a purple kite, two brooms, two boots, one Icom handheld 2m radio which they ran through the x-ray on its own, a lapdesk. And two Indian Welcome garlands. That was all on the top layer, we didn't get down any deeper, into the floppy disks and the dirty cloths. No AK-47 so on to the next queue.

Check-in. Cattle class. I stood on this one for at least a half an hour, inching along, reading from Ghandi's autobiography, when it occurred to me that the people at the counter were still the same ones there half an hour ago. The line wasn't really going anywhere, it was just bunching up at the counter. Then there was a boarding announcement but not much changed, there was still half an hour to takeoff. I stood and inched a little more before finally going up to the Executive class counter and climbing across the scale to see what was going on--or not going on as the case may be. There was nobody at either place; they were all in a little office chattering and waving arms. Someone came to the office marked manager to make a phone call and I accosted him. --Is there something wrong with my flight? It was overbooked he said and they were trying to figure out who would stay and when the next plane would be. I told him I had a confirmed reservation through to Perth and expected to be on the flight and went back to my luggage trolley. A few minutes later the queue lurched and groaned and two uniformed attendants ushered me over to the Executive window to process through.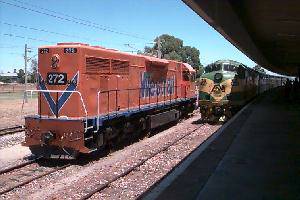 So now with boarding pass in hand its off to the bank. That's in the domestic terminal, next building to the left, a guide takes me there and explains along the way when I asked about departure tax that American dollars would be ok there. So I converted all 1386 Rs I had left to 38 US$ and pushed my trolley back to the international terminal only to find that rupees were required after all. I should have paid this item first but its one of those things... The sign above the window in the international terminal where one pays the departure tax says "Bank" but this bank does not change money, that's next door, where I went to change US$ 10 back to Rs 36. At least this time the attendant and the guide said they would watch my trolley.
Immigration went smoothly! Customs was not a problem. Personal security was a breeze this time; I have left off my steel shank boots in favour of sandals. Now the only thing left is identifying luggage and waiting in the departure lounge. By now departure has been delayed an hour, not on my account I hasten to add, there are still several seats being fought over. One family of seven objects to being split up, another family of three has onward connexions... One must go out to the ramp and personally claim each piece of checked baggage, compare claim checks and watch whilst the selected items are loaded into the cargo containers. Then its back inside to pace up and down some more.
So to make a long storey short flight 434 took off an hour late and made it up along the way to Changi Airport, Singapore where upon landing after a very nice sleep in an Executive class recliner. During the post touchdown announcements it was pointed out that visitors who overstay their tourist visas in Singapore are subject to three lashes with "the cane" and imprisonment for between two months and one year.
Changi Airport is big. The secure area alone appears larger than the international terminals of Madras and Bangalore together and there are credit card phones and AMEX is honoured at the gift shops. It was hard to exercise restraint; good thing the layover lasted only one hour. Now the only obstacle may be quarantine in Oz--one of the questions on their immigration form is --Have you been anywhere where there are farm animals in the past 30 days?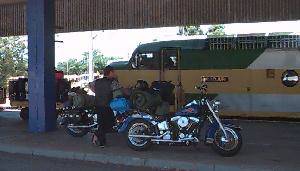 Friday, December 29, 1995, Merredin, Oz
First I must write about getting here before I write about being here. Air India 434 landed in Perth right on time, jolted me out of a sound sleep. The cabin attendants came through the cabin dispensing a "non-toxic" bug spray and we were let out to claim baggage and pass immigration and customs. Perth is a big airport; the domestic and international terminals have separate exits off the highway. The farm animals question was not the only one I'd answered yes, I had food and I had wood so I went to the "Red" lane at customs and bar'd my bags to the inspector. Dried apricots and Cadbury Mint chocolate passed Ok. The wood was my Lapdesk; the inspector inspected it carefully for termites and worm rot. He consulted with the inspector in the next lane about the welcome garland I was carrying from when Sampoornam hung it around my neck on that first day in Madras. Then he asked me what farm I'd been on and what animals were there. Erode, I said, and Madras; there were cows in the streets and goats and pigs and kids, and asses too. He took away my Limmers and sterilised them.

Remember, there was no email out of India. (Maybe next time I will have better preparations. It will require a dedicated circuit to my abode.) Most folks who have telephone at all have no long distance service, even the hotel I stayed at and the schools I visited had no long distance service. There were some vendors of long distance calls in kiosks on the street and some FAX services available but they all have weird hardware and none of them could understand the concept of modem and computer. So I spent three weeks isolated. It was good for me.

No beef, no beer, no email.
I thought I might be able to easily get out from Perth to the network and was looking forward to a good email fix only to find that the telephone system at the Bel Eyere Motel is bent upon competing with AT&T and will not permit the use of any of the U.S. long distance carriers. When I finally did log in, after eighteen days since last connect, there were 90 messages. After downloading all that and uploading one LOTRA (6-96 and all its images) I found my bill for the use of their system for 39 minutes to be 110 AU$. Merry Christmas!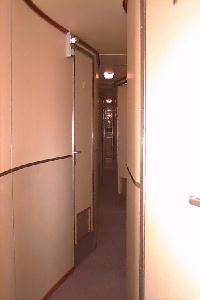 The Indian Pacific is a train divided into three sections: sitters, layers, first class; or to put it more politely: coach, holiday, first class. The physical divisions happen at the diners; First class is right aft of the engine and the layer's sleepers come after that. There is a sign on the forward door of my car that says "First Class Only". Aft from here is another holiday class sleeper car; these are cars with sixteen roomettes of two berths each (I have an upper, Doug, from a cattle station up north, has the lower) and showers and toilets at either end. Next aft is the lounge car with a lounge within the lounge for smokers, and last in this section is the Matilda car which contains the Matilda Restaurant and Bar. Matilda divides the layers from the sitters; there is a locked door halfway along the bar. Waltzing Matilda is described in the Glossary of Australian Terms on the back cover of the menu as: "The act of carrying the 'swag'", and swag is the swagman's chaff bag containing his billy, provisions and blankets. Swagman = An Australian tramp. Billy = an open tin with a wire bail for boiling tea. The original poem was written by Banjo Patterson in about 1895 after a visit to Dagworth Station in Central Queensland; today Waltzing Matilda is considered a classic Australian folk song.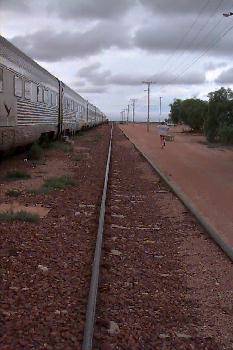 Doug's cattle station, called Noonkanbah, comprises 1.25 million acres and 15,000 head (I reckon that to be 83 acres for each animal). It is 73 km from the house to the front gate--You don't drive down for milk every day, he said.
At dinner of pan fried barramundi (a Northern Territory popular fish) with lemon butter and a fine Australian Chablis Mr. Brian O'Connor sat at our table and together we shared storeys of our travels. Mr. O'Connor use to be a reporter for a small sheet called The Southern Argus and as such had done quite a bit of travelling. His English is a mix of Irish and Australian and he slips into a Hindi accent at the mix of a metaphor. One time his editor sent him out for a Human Interest storey. He wandered around for quite a while before coming across a pig with a wooden leg...
--A pig with a wooden laig, now there's got to be a storey here I thought so I went up to the farmer, Wiekert 'is name was. Could you tell me please about the pig with the wooden laig, I asked 'im.
--Yair I could you see.
--Well, what about the pig with the wooden laig?
--Yair, best pig in all of Australia! It was last winter now we 'ad that chimney fire. That pig raised the alarum with 'is squealing then 'e went round and got up on the shed there and lifted the winder with 'is snout and got in the bedroom there and pulled out my three children, all by 'imself 'e did. Saved their lives 'e did.
--Yes! Wonderful pig. But what about the wood...
--And then just this last summer young Billy here, 'e's my youngest, 'e fell in the pond and was like to drown. That pig jumped in after the boy and dragged 'im to shore, just in the nick of time.
--Absolutely amazing! But why does the pig have a wooden laig?
Wiekert looked at me like it was a silly question I was asking. --Why? 'e repeated...
--Yes, why does the pig have a wooden laig?
--Why you wouldn't want to eat a pig like that all at once now would ye?
Doug then told about some fool kid at Noonkanbah went off with his motorbike for a ride in the outback on a sunny day with the temperature at 50c, didn't come back when he should have. When they finally found him his motorbike was parked up in the shade of a nice thick tree, out of petrol, and the kid was laying dead at the edge of a pond soaking his feet in the water.

My turn again and I told about coming in to Perth the day before and Custom's sterilising my boots and then it was back to Mr. O'Connor...
This one was from when I was working the police beat. A certain Murphy was feelin poorly and he said to his wife: --Wife! I'm not feeling well, what should I do? And she said: --There now, I'll ring up Dr. Brady and we'll hear what he has to say. So she rings up Dr. Brady and says her husband is not feelin well and hands the phone to Murphy when the doctor asked what's wrong.
--I don't know what's wrong doctor, that's why I called you.
--All right, come in tomorrow and bring a specimen with you.
Murphy rung off with Dr. Brady and then turned to his wife...
--Wife! What's a specimen?
--I don't know what a specimen is.
--I'll go ask O'Shaughnessy, he's educated and will know what a specimen is.
--Oh no you won't! Every time you meet O'Shaughnessy there's a fight and you end up the worse for it.
--There now, I'll be careful, I'm just gonna ask him what a specimen is that I need to take to Dr. Brady.
Murphy's wife pouted and stood at the door with her hands on her hips. --All right, all right, just be sure you come back sober or you'll be in no shape to go to Dr. Brady in the morning.
Murphy returned in an hour with a broken nose, a black eye and missing two front teeth. --I knew it! I told you so! cried his Wife. What did you do this time? What did you fight about?
I don't understand, Murphy said, I went and asked him what a specimen is and he said piss in yer bottle and I said shit in yer hat and that's where it started.
Saturday, December 30, 1995, Breaky on the Nullarbor Plain
Car N has a flat spot on one wheel of the forward truck. Its only a tiny flat spot but the tap-tap-tap-tap-tap-tap-tap echoes up through the wash basin drain in my roomette.

Nullarbor is a translation of an Aboriginal word meaning treeless plain and when the Trans Australian rail bridged it in 1917 a vast area of hitherto unexplored (by the white man at to be sure) country became reachable. At 05h30 we entered the west end of the longest stretch of straight railway in the world: 477.114 km from Loongana to Ooldea the track lays straight and flat across the Nullarbor. I sat in the lounge with several other early risers and counted roos and wedge tailed eagles whilst waiting for Matilda to open. We were making 116 km per hour, scattering roos like the bow wave of a ship but the eagles mostly sat unperturbed on rocks watching this big tin snake slide past. At km post 1239 we passed an open pit gold mine and talked about the problem of feral cats. The southwest tradewinds bring moisture up from the Great Australian Bight and a layer of drizzle and fog envelope the Indian Pacific. Breakfast was over by the time we glided through the small town of Forrest but we will still be in this straight til lunch.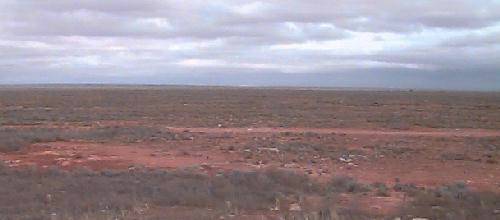 At the border between West Australia and South Australia lies the town of Deakin, population: 1 loop-around track and 1 dingo. We wait five minutes on the loop for a west-bound freight to pass.
Dave sent an ecard of his house in the good old State of Maine. Thanks for that. I must say it is the first ecard I have received. Nice small size, good picture, but I have not seen it in colour yet.
January 2, 1996, Canberra, ACT
Best wishes to you one and all! Now I am visiting Jim and Penny and Melanie in Weetangera. Over the past three days I have been able to wade through most of the mail accumulated during my hiatus but now there seems to be a hiatus in the functionality of my Calling Card such that it has been rendered inoperative (perhaps from lack of use) and I have no convenient way of effecting transfer of all the mail ready to send. Oh Well. Such are the wiles of hi tech living.

I managed to sleep through New Years Eve on the rain, the clack-clack of that flat spot on the wheel over-shadowed the revelry, evidenced by the confetti, poppers, streamers, and fuzzies they left behind, of my traveling companions in the lounge car. The first day of the new year was grey and lowery but the real rain held off until late morning when it came in sheets and thunders. Gullies ran thick with brown water along side the track as the train ploughed through areas of new construction on the outskirts of Sydney. By now I have left the Indian Pacific getting itself turned around for the return to Perth and taken the County Xplorer, a little three car inter-city train, south towards Canberra.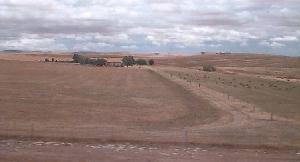 Lunch was available at the snack bar in car A on this train, I chose to sample their lasagna. Although it has been long since I last sampled Susan's lasagna and my taste may be a little out of tune, relying more on wishful remembering than actual fact, I think it is safe to say in all my travels I have yet to find a lasagna as good, in my judgement, as that made by my oldest sister. One of these days I will have to go back there to her place and find out if I remember right. This concoction on the train was hardly worthy of the name. As is usual with airline food (and too much of what passes for restaurant food these days)--prepared, frozen, reheated, served in and perforce eaten from, an aluminium shipping container--the pasta has sat far too long in the sauce and the whole mass has taken on the glutinous consistency of peanut butter. Not that I dislike peanut butter mind you, in its place peanut butter is a most marvelous repast; I my Self make a delightful peanut butter soup. Just ask my surfing friend Bob TallWave @ aol.com. This lasagna was also bland and tasted of being warmed over; even the cheese had melded with the pasta and there was none of that fresh baked crispnicity to the top layer. Yuck!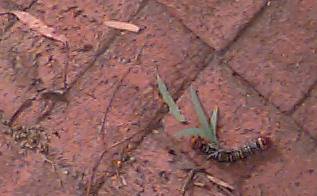 January 3, 1996, Weetangera, Canberra
Time to pay the fiddler, or the piper. All these long distance calls to upload letters and images have caught up to me. Over US$400 worth in December and Ma Bell shut off my card cos it was over limit. For all this hi tech living it is still essential to have a Human at the controls and so I am thankful to Roger for helping me get the matter straightened out and for his admonition that I have to stop trying to live like a Rockefeller and remember how to pinch pennies. Pretty soon it is going to be my turn to look for a handout.

Still raining here in Canberra so there is not much happening beyond trips to bookstores and foodstores and reminiscing about Erode.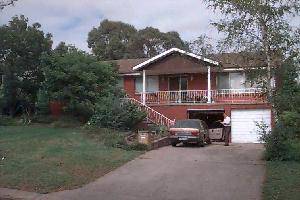 Thursday, January 4, 1996, The Dungeon under Weetangera
Spent most of today helping Jim install an additional fixed disk on his computer. There were all sorts of glitches and hassles to work around not the least of which was a boot sector virus that kept reinfecting the system. This new disk, sent by a friend, appeared to be the original carrier of AntiCMOS.B and Jim had tried to disinfect it with McCafee, which seemed to have worked; at least McAfee no longer reported the virus present. But there were enough anomalies to make both of us suspicious, especially me, I have had the Monkey on my disk. So we looked with F-Prot and found most all of his floppies had a suspicious abnormal boot sector but only when looking at the fixed disk did AntiCMOS.B show up.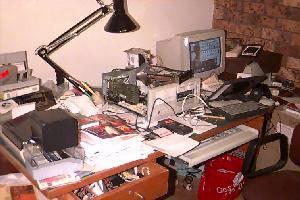 Jim is a firm believer in the laws of entropy so after sufficient effort was exhausted on the computer to get the new drive clean and functional, and the old one still working, we entertained a motion for a change of venue and left the computer to put itself back together preferring to retire upstairs to observe, and assist, the effects of entropy on C2H5OH.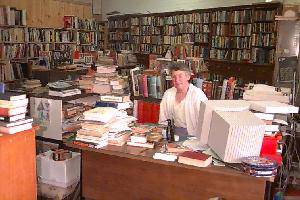 Friday, January 5, 1996, Fishwicke Internet Bookshop
My reading list is not getting any shorter and my trunk that much heavier after a visit to Miriam Brown Bookseller in Fishwicke. mabrown @ pcug.org.au can be found at http://www.pcug.org.au/~mbb/

Great place to browse and shop, lots of old books, interesting folks to have a chat with. I'm going to send them the rest of my list of hard to find books after I buy a bigger trunk.
Oso con Migo Meets Seamus and the Girl Guides. Heather and Dave are Scout and Guide leaders, Seamus, Teddums and Edward are The Three Bears. Heather operates with the screen name Possum and that is how I met her last winter through the IRC Scouting channel on the net. When I walked into their home through the front door I was met by a small frisky sheep with the behaviour of a dog. --Are you a sheep, dog? I asked it. --Would you believe a poodle? said Possum.
On the right just inside was one of those wooden thingies you put stuff on; a low shelf from which the telephone will have not too far to fall when you pace the hall, hooks to hang things, a mirror, lots of stuff. Ahead was a door to the left into their kitchen and a hall to the right into the rest of the house. But immediately to my left was another door, open, to the living room, and I could simply smell the computer. Yum! There were two of them, right opposite the Christmas Tree, and they were all lit up! The computer on the right had a Happy New Year! banner message going past and was log'd in to spirit.com.au that very minute. Across by the hutch, on a chair next to the tea set, were Teddums and Edward bear but for the name tags they were wearing. Seamus (He's a Scottush bear you know) being the shy bruin he is did not make an appearance until much later in the evening. Oso went to visit with ET (he told me later that's what they call themselves) while I turned my attention to the computers. Dave was still building the computer on the left, it was not fully functional and --Every man and his dog has been into the one on the right, he went on, it's bearly functional.

Sunday, January 7, 1996, Playing In The Outback
The past two days have been delightful. Mostly sunny and warm with enough breeze to keep away the flies. I have been taking every opportunity to catch some sun and stalk roos. The sun is hot, the grass is tall, the roos hide in the thickets and the shade of the eucalyptus melliodora (this species grows to fifty feet and has a splendid thick crown). Early in the morning the roos are out grazing on shrubs and tender new leaves but I was still sitting on the front porch at Mayo Drive watching the sunrise backlight a sulfur crested cockatoo whilst my second cup of coffee engaged in its practice of entropy.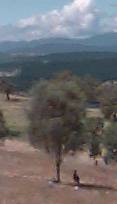 By the time I bicycled across the subdivision and arrived in the park the roos had retired to nap in the shade. Grey roos are hard to spot in the shade; you walk around long enough though and you'll spook a few. Then I had to work around downwind and crawl through the tall grass to get close enough to capture an image. It would have been nice had I a telephoto lens. Along the way I came across one of several kinds of giant ant hills; no telephoto lens necessary for them. Nearby the ant hill there was another sulphur crested cockatoo, on a rock, who let me get close enough for a good snap. Eventually I got to within twenty or so meters of the roos before they moved away.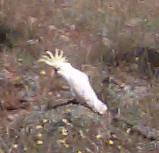 Ok, I'm gonna send this. I have had a few reports that the last letter was too long and this one may already be over the limit whatever it is.
Cheerio, ajo

A.J.Oxton, OA, OO, OAE, k1oIq

Back to ajo
Copyright © 2003, A.J.Oxton, The Cat Drag'd Inn , 03813-0144.