Travels With Oso con Migo
Odyssey In America
OAE Off The Road Again, Summer in The Sandy... .

Greetings Cohort:

From the last letter: "The present plan--to depart El Doardo, Tonopah about 6th April and return five weeks later (mid May 2004) is" ...cancelled. Nobody showed up. Not even me. Just as well. I had other fun things going on and went for a couple of short, round the block, road trips of a week or so each.
April Aphorisms beget May Monologues
Posted on two drive boards: Are you still looking for a ride east? I am planning to leave Tonopah AridZona about 6th april and am looking for Humans to share the expense. See http://www.TheCatDragdInn.org/tour_index.htm for itinerary detail. This will not be a quick drive through but rather a meandering amble.

Total replies: two. Total riders: zero. Everyone is either in so much of a hurry or they all want to go in some other direction. Just as well. As it ended up I was a week late starting and at that point no longer expected to make the published itinerary. But all that is near the middle of this chapter, let's not get too far ahead of the beginning.

29th March, Walking in Circles
Walked nine miles sunday, in five hours, around the south peak of Saddle Mountain. Mostly on a gravel road, partly in dry river bed and in and out of other gullies and washes. Tired towards the end; I've not done such a distance in a long while. Mostly walking, very little looking around. I did see a snake but it had no rattle. Probly a Thamnophis cyrtopsis. Amazingly, some of the pot holes in the stream bed coming down the east side of the saddle had water in them; it was like a thick algae soup of wriggly things with bees and flies hovering at the edges. A bit of a short cut across a loop in the road southeast of the peak revealed a most incredible field of chalcedony, made me feel like I was the first rockhound ever to walk there.

Millions of years ago maybe the hot quartz, hot enough to be viscous but not really like a runny fluid, exudes through cracks in the substrate. If the temperature is hot enough to for the quartz to be a liquid then sometimes crystals form in the cavities as it cools, sort of like making rock candy. Have you ever seen frost flowers? Typical in certain soils in New England anyhow, where the water, just near freezing is very slowly forced out of the ground and forms the most stunning feathers and flowery shapes as it freezes overnight. Next morning these flowers of frost/ice are like the fields of chalcedony we are seeing here. Same process, different medium.

April tooth, biting cold rain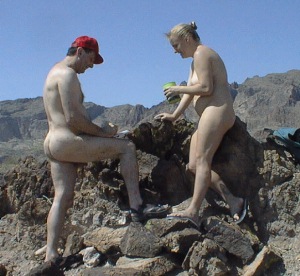 Today we are having rain. At first I thought it was going to be an April Fool's Joke however two inches of downpour later it was no laughing matter as the ground softened and the puddles became deep enough to loose a cat. So much rain fell that the dry desert has turned to adobe mud. 0.64 inches has accumulated since local midnight to 06h00; that will make the flowers very happy but Sara(h) La Gata conMigo is dismayed as she does not like to get her feet wet. From 06h00 to 12h00 we had an additional 1.10 inches.

So I say to her too: Gardyloo!

I am beating my Self with a birch branch after the past week of book buying. Still have a pile across the head of my bed that I have not finished and now there are more. Some of the unfinished are dull tomes about exciting subjects. Too scholarly. Put me to sleep early every night. Unlike _The Prince of Central Park_ and that ilk which keep me awake. Have you read _Sophie's World_? "...Sophie becomes embroiled in a discussion of philosophy with a faceless correspondent. At the same time, she must unravel a mystery involving another young girl, Hilde, by using everything she's learning. The truth is far more complicated than she could ever have imagined."

Then there is _The Solitaire Mystery_ by the same author: Jostein Gaarder. "...It tells of a Norwegian boy traveling across Europe with his calm and reflective father in search of his long lost mother. The boy finds a tiny manuscript that reveals the secret of a magic deck of cards that can tell the future."

And my latest is _The Stranger at the Palazzo D'Oro and other storeys_ by Paul Theroux. His new (2004) book, hard cover price. From the dust jacket: "This is my only storey. Now that I am sixty I can tell it." My storey is like that but I think I will wait a while longer.

And speaking of "Bowling for Columbine" and policy and consumerism... "It's a simple but deadly dilemma. Automation is addictive; unless you run a command economy that is tuned to provide people with jobs, rather than to produce goods efficiently, you need to automate to compete once automation becomes available. [We've passed that point decades ago.] At the same time, once you automate your businesses, you find yourself on a one-way path. You can't go back to manual methods; either the workload has grown past the point of no return, or the knowledge of how things were done [like answering the telephone and giving answers based on knowledge rather than data...] has been lost, sucked into the internal structure of the software that has replaced the human worker." --Antibodies, Charles Stross (2000)

April 3rd, Is This Today?
April is much maligned due to its proximity to Tax Day so I thought I would give the month a boost. Also, Saint George has been much maligned: Between the Animal Rights Activists (Save the Dragons) and the Equal Rights for Women (the Fair Maidens can fight their own battles--they don't need any Knights in Shining Armour) his Feast Day is not even on the calendar anymore.

Rain continued from yesterday afternoon: Another 0.15 in the afternoon and then 0.25 last night. Wow! Off to a cloudy start for this day. The ground has softened enough that the bus sank about half an inch. The power cord storage box I left under the generator bay was stuck, jammed between the frame and the ground.

4 april, Spring Flowers...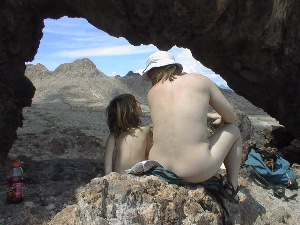 Had another neat hike with Tamara and Denali. Out to Indian Eye, the Purple Rock, and Kevin Alan Cleveland's monument. Who is Kevin Alan Cleveland? Where is the Indian's Other Eye? And what about Denali?

Along the trail she spotted a turtle. Last week, on a hike to the Windmill Caves, it was a sheep dog among the cows and later a dish of chocolate ice cream on a rock off the side of the trail. But this time the turtle turned out to be slow enough that it was still there by the time Denali's adults followed her insistant pointing.

Gopherus agassizi usually feeds at dawn and dusk and rests in the shade during the day. But here it was, out in the sun, big as life, big as Denali's head, right out where we could see it. Like a brown rock with legs, and blinking eyes.

It's alive! She squeeled and stepped back from almost petting it. After a bit of coaching and prodding she sat on a nearby brown lump that really was a rock and talked with Desert Tortise and offered a piece of her apple.

5 april I'm supposed to be on the road tomorrow...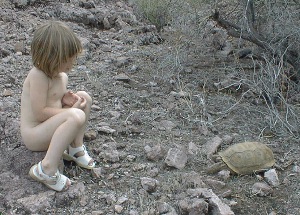 The guests rearrange the lounges in Desert Pete. I do most openings and have spent much time putting stuff back. Then one day I noticed a new arrangement, different, illogical, not the logical move a guest would do. Guests move the lounges to follow the sun, I move them back to accomodate my sweeping. Sun-sweeping, sun-sweeping, so the openings and the days go. Then this new, totally illogical arrangement. And the brooms had moved too, from over by the light switches to way in the back corner of the so-called undressing room.

So I went through most of a fortnight of putting things back each morning and finding this same illogical arrangement the next morning. Guests don't do that I surmised, one of us is the culprit, especially the broom part. I mean, have we suddenly become ashamed of our brooms? God forbid a guest should see our brooms, should know we use brooms, should even know where one is had they the need of a broom to clean up the mess they make. And this particular arrangement of the lounges: One of them was always being placed in the shade, on a tilt, with the end sticking out into a treadway.

Speaking of rules: According to Chart A on page 15, or page 10 depending upon which rule book you are following, I have reached a new milestone in Life as we Know It and am not required to file a 1040 form this year. I guess that amounts to my share of the much touted "tax break".

April 7th, Saint-Exupery's Plane Found
A French underwater salvage team has discovered the remains of the P-38 piloted by Antoine de Saint-Exupery, 60 years after he disappeared. Saint-Exupery was a writer, as well as a pilot:

"What ought we to do? This. That. The contrary of this or that. There is no determination that governs the future. What ought we to be? That is the essential question. The question that concerns spirit and intelligence." --Saint Exupery, _Flight to Arras_

"Goodby, said the fox, and now here is my secret, a very simple secret: It is only with the heart that one can see rightly; what is essential is invisible to the eye." --Saint Exupery, _The Little Prince_

11 Easter of April, Eagle Tail Wilderness--Another Walk, Another Three Bags of Trash
Ba-Ba Big Horn Sheep have you any trash? Yes SIR, YES sir, Three BAGS full. Carry in water, carry out trash...

The 3rd day of April was my birthday (And also that of my b'day buddy Gloria of CHCH) gone past already, and special thank you's to those who wrote. Last year was more than just another year older and deeper in debt. I took my "retirement", such as was left after Mr.Bush finished decimating it, and commenced to embark upon a new Path. This year is another milestone in my travels (some would say a millstone in my travails): Not only are there no taxes to pay--it has been like that for a while now--but I am not even required to file. Characterised as Indigent and Homeless, and qualifying for W.I.C. programmes, I am about to launch a new career.

> Indigent and Homeless??? isn't The Cat Drag'd Inn your home?
> Maybe the government doesn't think buses count!

You hit the nail on the head! Their rational is that anyone who can afford a "R"ecreational "V"ehicle cannot possibly be Indigent and Homeless. Despite the numbers of people who live full-time on the road in everything from old bread trucks and school buses to ten year old motor homes doing itinerant labour about the countryside, the issue is overshadowed by the part-timers in the million dollar coaches; it is not within the reality of government to consider "RV" as meaning Residence Vehicle. There is no neat category into which to place folks who live on the road; this society cannot accomodate the concept of a family not tied to a community of commuters bound by an eight to five school/work week and circumscribed by lease agreements that go so far as telling you what colour to paint the house you think you "own".

Other than that I continue being well and doing good. Biggest trouble is that not too many people anymore want to have good done. They are either satisfied with mediocre--after all, that is all they mostly ever get--or they are suspicious as all get out, fearful, over-protective, scared... But then, that is what the great American Way of Life has become. Fear and Suspicion rule the day.

April 23rd is the Feast Day of Saint George. Take a dragon to lunch.
"A brief life burns brightly. Longevity makes you conservative, fearful, selfish. Live fast and furiously, for you are not important--all that matters is what you can do for the species." --Stephen Baxter, On The Orion Line.

Try telling the species that. But for now it doesn't really matter; I am on the road for a little holiday. No guests, only me and Sara(h) La Gata conMigo Booger Mesquite La Rubia Frankencat Sinte Ikusheya.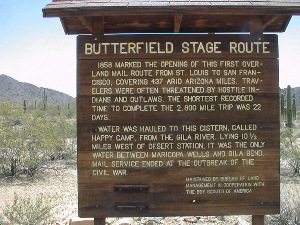 Tax Due Day on the Butterfield Overland Stage Route. Today I am "camping" in the desert along a section of the Juan Bautista de Anza National Historic Trail between Casa Grande and Gila Bend, AridZona. There is a placename indicated on my chart that once may have been a whistle stop town: Estrella. A lot of ancient history in these parts. There are petroglyphs and pottery shards and mission churches and forts. And it goes without saying that the place is hot at this time of year tho with the rain of the past month the hills are unusually green. Flowers everywhere.
Juan Bautista walked through these parts during the Winter of 1775-1776 leading a party of families, cowboys, muleteers, and soldiers from Tubac Presido to San Francisco. When they started out on 23 October 1775 they had six tons of food supplies for a party numbering more than 240 people. Nearly "half were children twelve years old and under." Every evening all that tonnage was unloaded from the mules and every morning almost all of it was reloaded.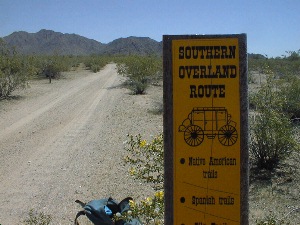 My ears are still ringing from testing my .38 at the Buttery Nude Shooters Range. Picked up three bags of others' targets. Mostly beer cans but a pair of neat bookends too. I have to wonder how it was in the days of the wild west. Did the cowboys stop to put in ear plugs?
Now I am a writing a short day beyond that. Fuel and shower somewhat south of Casa Grande. Two dollars a gallon for diesel. Driving slow to conserve fuel uses more miles on the back roads. But scenic. I've obtained one of those large reflective orange slow-vehicle triangles and afixed it to the rear of The Cat Drag'd Inn. Next I am going to add an orange strobe light.

18 April, Sunday in Safford
Some of this is old news, or, if not, then it will be later when I send it again.

Shortly before commencing this road trip I sent The...Inn's venerable car radio/CD player out for repair. For a while now it had been loading and starting only about half the CD's I would feed to it and of that half it would typically skip half the tracks. It's only seven years old! Thanks to Bill for suggesting BestBuy as a place to look for a new radio. Found one of the same brand and size as my old one. New models have an AUX input and more memories. Best of all, they have a volume KNOB. Hooray! Hooray! Progress IS a step backwards. And Thanks to Camilla now for the use of her "Rocket Boys" tapes and a player which I can plug into that AUX Input. The storey runs the miles together in a way that listening to radio does not.

Not too many miles yesterday. According to the odo I travelled 120 miles from Juan Bautista, at Estrella, via sr238, through Maricopa--Jillian and John did not answer any of their several phones (one number is not even theirs any more). Any of you familiar with Tonopah AridZona should take a few hours and go have a look at Maricopa; houses in walled compounds have the downtown feed lot under seige and from the looks of the shape of things under construction a new Wal-Mart is going up at the intersection of highways 238 and 347. There is a new library and a new railroad station--Amtrak stops at Maricopa now. Probly what all Tonopah is going to look like in a few years.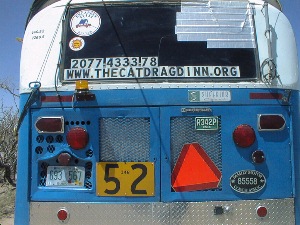 Maricopa to Casa Grande has not changed much since I was here last except for a new four lane bridge under construction beside the two lane road. It is not clear what the bridge bridges. Maybe four lane roads are not allowed to have dips as does this two lane road. Shopping in Casa Grande for a strobe light to go alongside the orange slow-vehicle triangle and then south on i10 for fuel and shower at Eloy where I planned to turn north to Florence. Diesel was two dollars. Mileage still has not returned to its normal 8mpg. It was better than the fillup last in october and there was lots of idling at Eldo and the slow driving in the washes of Juan Bautista to account for. We'll see how the mileage is when I next fill in El Paso.
Sign in front of a hacienda about 3.2 miles west of Superior on us60 proclaims "La Paloma". Over the hill and along the way I found a neat old stuff store and a neat old lady enconsed within. Good stuff found in that store. A bosun's chair for painting the tower. A macrame plant hanger for that spider I left on the west desk. An old fashioned food grinder good for grinding horseraddish. And two more books on tape, an Agatha Christie and a Patrick F. McManus. I've read some of McManus but not this title: Nude With Other Wildlife. All told: Nineteen dollars.
The bus is doing ok. Mostly. There are two serious leaks. One, glycol is coming from some place between the water pump base distribution casting and the engine block. Leaks about a cup of glycol in a hundred miles if the engine is hot enough--like yesterday. I have a coffee can tied up under the leak and am recovering most all the fluid. The other leak could be fuel from the plumbing to one of the injectors or it might be oil from under the rocker arm cover. Either way it will keep me busy enough later.
Target today is Deming New Mexico.

Twenty-once't of April, Red Hat Day in Deming New Mexico
Been here two-three nights now. Several little projects out of the way. Having a good visit. The sun gets up earlier here and she seems brighter earlier as well. There is no bamboo wall filtering the early light; the horizon to the east is low trees in an otherwise open field where I have already been picking trash. And we are further east, closer to the sun, as it were, by six degrees, nearly half a time zone. Sara(h) La Gata conMigo Booger Mesquite La Rubia Frankincat Sinte Ikusheya seems more put out than me about this earlier sunrise. Or perhaps she is on holiday as well and feels no need to get up early and minister to the local mouse population. Mid-day she is indolent, there are no lizards to play with and she has explored to the limit of her tether. In and out, in and out, wrapping her tether around the monitor and Jane the Spider Plant and then jumping to the floor. At times she is akin to a rain in the pass.

I on the other hand have been busy with this and that. Remodeling, rebuilding, rewiring, reinventing. Repairing. I backed into a saguaro during a twelve point U-turn in a desert cul-de-sac. Its thorny hide readjusted the wavelength of the 20 meter whip that slopes away from the port side near the bilge vent. The shunt for the dis-charge meter of the house battery has long needed replacement in order to multiply the scale and make the dis and charge easier to discern. A length of bronze flashing stock I have been carrying around for twenty-thirty years finally proved its worth and some serendipitous tailoring made it just so on the first cut.

The things I want most to do--the mileage and the two leaks--elude me still.

22nd April, Earth Day at Dream Catcher in Deming
I finally stumbled across a pair of Teva sandals in my price range.

My "Faded Glory" brand pair from only last year have about faded out. The soles are cracked and the heels have holes but maybe some good dose of Shoe Goo will get another Summer out of them at Eldo. So I went shopping at one of those Outlet Mauls and in a name brand place found this Teva "Shoc Pad", originally priced at an hundred dollars, marked down to seventy, and finally clearanced at thirty. They have rounds and ovals in a flowing pattern instead of the blocky waffle lugs of the Faded pair. Do you think this new pattern will make my walkabouts any easier? Made in China...

The Faded Glory were also made in China. We'll see if these Teva things last any longer.

Shopping for other things: Sun Shower from REI--the old one is about worn out--made in China. Eddie Bauer water bottle--a gift--constructed of General Electric "Lexan"; made in China. Super Glue--I seem to remember this product was invented in America--you have a choice of brands; made in Ireland, India, or China.

That new car radio/CD player? Where else but... Made in Japan.

My venerable dishpan has given up the ghost. Ian will be happy about that. One new dishpan; made in U.S.A.

What does America make anymore besides war and dishpans?

A recent eletter to long time correspondent Liz, a school teacher in North Carolina, was returned to me by her school's email host. Refused. Rejected. The covering error message said my mail was refused delivery because I had used the word "debt" in the text of the letter.

Planted some flowers at the Escapees Dream Catcher Park for Earth Day. Now it is time to hit the road again.

Earth Day Reprise
I almost got away after lunch. Made it as far as dump and water and noticed that the bilge tank was loose. Not about to fall out or anything but certainly there was trouble in its hangers. Back to camp and get out the tools. Thanks to the guys on the Dream Catcher Construction Crew for their tools and lumber scraps the hangers are fixed enough to carry on but the tank will need to be replaced some time soon.

After putting away tools and taking a shower there was little chance to leave anyhow as some of the roads were closed due to blowing dust. The wind among the trees at Dream Catcher has been averaging 25mph and I have observed a peak wind of 44. Happy Hour sounds like a much more sensible idea.

27 April, El Paso, There and Back Again.
Saint George's Day relocation ended up back where I started. Got as far as El Paso. Along the way I fancied I could "see" the fuel gauge dropping. I stopped once to look under the bus and see if she was pissing fuel onto the road. In El Paso took on 50 gallons for mileage of 4.6. Well, I suppose that is better than the last time when it was 4.2 but I was having bad feelings as I continued east through town. By the time I'd just about cleared the eastern suburbs I had convinced my Self that this was all a bad idea and I should turn around. So I did--the last time I ignored such feelings cost me a lot--and drove all the way back to Deming.

Sunday continued on to Phoenix and on Monday went to the Clatterpillar shop where we examined the engine carefully. The troubleshooting chart pointed to several things. The turbo was ok. The timing was off: retarded instead of advanced. That's enough to slow anybody down. And some gadget called the Fuel Ratio Control failed the test. And what surprised me most sort of was that the air cleaner was clogged after less than a thousand miles since it was last replaced. Must have been all that driving in the dust blowing desert of i-10 last week.

Four hundred ten dollars later (maybe five hours of labour) I was underway again. The...Inn has more pickup and does not smoke as much so maybe we have it fixed. There are still the leaks to contend with but the most distressing thing is that I will probly not be able to make those repairs my Self. Too many specialised tools are required.

Now I have to drive another few hundred miles to see if the mileage shows any improvement. Here we go again. At least I feel better.

29 April, Let's Check The Mail
Tuesday was a Hot Day on the road, both thermometers agree the temperature is 100f. Since I'm so close to Eldo I'll go there to check my post office box and take a soak, and fill the water tank and soak, and dump and shower and soak some more. I miss the water.

Wenzday spent some time looking for a new bilge tank. Did I write about how it is falling apart again? I've replaced this tank before, probly in '97 or '98; it is a 30 gallon steel tank with welded fittings and is rusting out where the commode down-pipe connects to the top of the tank. May not be a serious issue yet but that rust means the tank is getting weak. All I need is to have it fall apart on some frost heave and drop a load of effluent. Have to call the hazmat team to clean up a mess like that.

Now it is Thursday morning. After a comforting couple of days at Eldo I'm in Flagstaff to visit Laura and meet Lyle. The sky is clear, temp 48f, windy, dust storms in the wx forecast for today. The drive up from PHX was good. Bus did well on the long climb, a little hot but not overly so.

May Day! Sara(h) La Gata Meets Frosty The SnowCat...
The road from Flagstaff to Alamosa is long and windy. (That's a nice word that: Windy. Lots of turn and twists, or lots of blowing? Which way did you read it first?) For this visit to Char and Fred I will avoid the high passes, still there is no way to get from here to there without climbing some hills. East of Flagstaff one climbs to 6,000 feet across the Continental Divide. There is a side trip to Walnut Canyon that is well worth taking. Sinagua peoples built their homes here over 900 years ago under limestone overhangs in the strata of the canyon walls. Your Golden Age Passport gets you and your guests in for no additional cost. Camping nearby.

North of Albuquerque U.S.285 climbs steadily to about 8,000 feet across a broad flat table of mixed forest and high desert-like scrub. The straggling cold front that I first met at Walnut Canyon with thunder storms and snow pellet showers continued to bring unsettled weather to this area on Friday. Bands of precipitation made for alternating wet and dry roads and while the temperature on the road was never much below 40f the precip leaned towards snow as The Cat climbed the hill.

At Tres Piedras there was at least an inch of heavy wet snow on the road for several miles and at one wide spot I was obliged to dress in warm winter woolies to get out and brush the snow off my bicycle seat and the bus mirrors. At least the bus was running quite cool on this hill-climb.

Saturday morning at Alamosa it was 32f and an inch of overnight snow had again accumulated on my bicycle seat and the lawns. Fred has developed a solar collector that heats their home and dumps the excess into plumbing under the driveway and walkway. I have a related but different process in effect to keep the snow from accumulating on the roof of The Cat Drag'd Inn.

Cinco de Mayo, Leaks be Gone and Mileage Returned!
Finally found where half my fuel mileage has been going for the past few fillups. After 410$ of engine tuneup and farting around with several other riddles I discovered that the odometer has been recording only half the miles travelled. All the other motor projects have not been wasted, all have effected improvements in one way or another. Fixed a couple of leaks, added another instrument. Now I have to go another few hundred miles to see if I have the odometer fixed.

Remember, I departed Eldo eastward towards Deming with every intent, and some misgivings, to go on a loop: Deming, El Paso, Amarillo, Alamosa, Albuquerque, Phoenix, Eldo. Take about three weeks. In Deming I spent three or four days working on little fix up projects, even helping other guests plant flowers for Earth Day, and then got underway towards El Paso.

On the first leg, on the way to Deming I'd spent a few days playing in the desert and then I fueled at Eloy just south of Phoenix so I would have a full tank for a mileage test when I fueled at El Paso. The results in El Paso were not good. Still only a little over 4mpg. The misgivings began to overwhelm the intents and the last time I went with my intents it cost me an engine so I turned around and headed "home".

At Phoenix I spent five hours and 410$ at the Caterpillar shop to have the motor inspected and tuned. They did find the timing off and the air/fuel mixture controller not working properly. We also found the air filter very dirty so that was replaced too. Being as I was so close I continued on to Eldo for a day of soaking and other tasks before heading out again. This time I went north and figured I would at least pick up the other end of the original loop if I could get as far as Alamosa.

Fred is quite a mechanic, but more so he is astute, insightful, clever, all that good stuff-knowledge that comes from years of thinking "outside the box" and not following the rules. On top of that he is my friend from when we worked together in Antarctica. We have all that in common.

So I made it to Alamosa Ok and we commenced to look at the several problems. This guy could run circles around those mechanics at the Caterpillar dealer and I don't have to pay him 80$ an hour. We rebuilt the glycol plumbing to get rid of that leak--took twice to do it but the area is dry now, and we added a boost gauge to the turbo to see if that was working Ok--it is.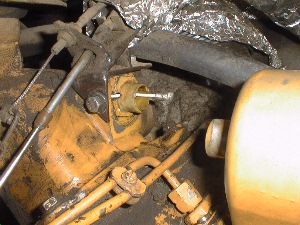 We searched high and low for reasons beyond what was found at the Caterpillar dealer for why the fuel mileage was so low and where the fuel or oil leak on the top of the motor was coming from. Fred got out his stethoscope and found a serious leak in the intake manifold caused by a hole in a nylon fitting which connects the manifold to the PCV valve. This will likely prove to be what I thought was a fuel/oil leak in the vicinity of the injectors and valve cover. But none of that would account for a loss of mileage from 8mpg to 4mpg.
Then, in a nightmare of tossing and turning it came to me. What if the mileage being reported by the odometer was wrong? What if it was only reporting half the miles actually travelled?
The next morning I figured out mileage from the map for the past three fillups and compared the numbers with the mileage reported by the odo. In each case the odo was low by about 50%. The figures even showed that the tune-up actually gained one mile per gallon but that could easily get lost in the averages. Then we went on a test drive using the GPS to compare against the odo. Bingo! No question about it now. The odo was slipping somehow. Then it came to me. This has happened before.
Several years ago, 2001, December, my logbook shows a similar drop in fuel mileage and a note that I fixed the odo. So I took it all apart again and sure enough, same problem! The "one mile" number wheel had split and the plastic gear teeth were worn. I moved the one's mile wheel to the 100,000's mile slot and slid all the others down so there is fresh plastic for the gears to grind on. Well now, that is fixed again. I will have to drive a hundred miles or so to see but it should be good for at least another few years. Maybe next time I will remember. Maybe next time I will have a new speedo/odo head.
Now I am about to depart Alamosa and head south and west back to Eldo.

Friday in Payson
Bosque del Apache NM to Payson AridZona, 330 miles today. Three hundred and some the day before and a nice visit to Spence Hot Spring. Had an interesting rider for much of the drive. Alvin is hitchhiking from WisconsIn. Two and a half weeks on the road so far on his way to Bisbee of all places. Somebody told him it was warm there. He's tired of the cold.

I started the day with a nice walk in el Bosque. Bosque del Apache is a National Wildlife Refuge; thousands of ducks live here and not a few deer and lizards. Lots of flowers too. I saw several of each on my little walk through the canyon.

Next along the road was a stop at the Very Large Array Radio Telescope. Twenty-seven dish antennae arranged in a giant Y with arms 13 miles long stretch across the Plains of San Agustin between Magdalena and Datil. The circumference at the outer ends of the Y describe an area greater than what is inside the Beltway around Washington D.C.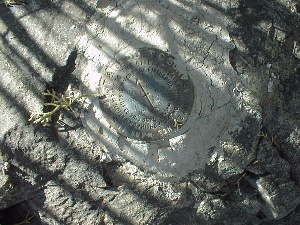 On to Pie Town for a lunch of apple/cranberry pie and coffee at the Daily Pie Cafe. I kept an eye on the radiator at several stops. It was not leaking all morning, and well into the afternoon, but now, at Payson, there are a few drips falling from the lower radiator frame support. Also of good note is that the upper radiator overflow collected a couple of quarts of glycol today while the overflow for the lower radiator is still dry.

Red Hat Day at Eldo.
The drive from Payson to Eldo was all downhill so to speak. Highlight of the drive was a short walk to the summit of Oxbow Hill. Found a benchmark there, primary and secondary, and went back to the bus to retreive camera to document find and damage. Almost as much fun as finding a cache.

Now it is Time to Pay the Piper. Lots of mail to catch up with. Lots of cleaning and fixing to do. My first project will be to remove the main radiator and get it off to a shop to repair the leak. But first there is a problem with the hot spring water storage tank, and the door bell, and the line 1 phone. A flock of honey bees has taken up residence in the boom of the backhoe and three new volunteers have taken up residence in the campground.


Love, ajo--Grandfather for Rent, Tutor for Hire, Mentor for Keeps. And Tripless Leader Looking for a Tripper to Lead.

Still Looking Ahead...
Another upcoming event is Amateur Radio Field Day. So here is another invitation:
Amateur Radio Field Day 2004 June 25-26-27, Tonopah AridZona.
Hosted by k1oIq, ka1fiy, and El Dorado Hot Springs.

Set up your station in this desert oasis: with or without shore power; with or without clothes--experience the ultimate in "running barefoot". Operate on solar power for the extra points; soak in the refreshing mineral spring tubs between sessions on the air. Other details on request. Write ajo-at-TheCatDragdInn.org



Love, ajo



I do not know what I may appear to the world; but to myself I seem to have been only like a boy playing on the seashore, and diverting myself in now and then finding a smoother pebble or a prettier shell than ordinary, whilst the great ocean of truth lay all undiscovered before me. --Sir Isaac Newton



Back to Oso
Back to ajo
Copyright © 2004, A.J.Oxton, The Cat Drag'd Inn , Center Conway NH 03813-0144.