Travels With Oso con Migo
Odyssey In America
OAE On The Road Again -- Summer's End?

Greetings Virtual Travellers:

10/6 Mad Hatter's Tea Party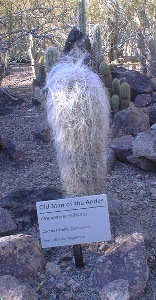 I'm kind of surprised the number of people who wrote asking what a Mad Hatter's Tea Party was. It was, well, a tea party. There was a table set out under the Ironwood Tree in front of The Cat Drag'd Inn and the Gerryman and the Deelady were having tea at it. Other guests were present as well including Sara(h) La Gata feasting on a Boredmouse. Some guests were wearing red hats and others nothing at all. The table was really a desk set at a precarious tilt so the cups were only half full and the sugar cubes slid down to the ants but there were lots of chairs set about. No Room! No Room! they cried when they saw me coming but I had the crumpets and so they made room.

20041101, Chasing the Thanksgiving Turkey
First day off to a late start. Finally arrived Ian's in time to visit for a few minutes before bed. Bus performed well but she hardly had miles enough to warm up. (47 miles)

Second day off to an early start.
Breky with Ian and then drove him to school just for old times sake. He's getting good grades and playing with the marching band. He's also now two inches taller than me. Not easy to look up to a teenangler. Next stop was the Botanical Garden for an early morning walk and then on up the hill to Payson. Five-thousand foot elevation gain and The Cat Drag'd Inn did well. At the top of the hill I found one fan not working even tho it was being called for. Bad push-on connector so I stopped for lunch and repairs. Another weird little problem miles later proved to be another loose connexion. Now stopped for the night at the first New Mexico Rest Area, about fifty miles west of Pie Town. (254 miles)

Third day. 17f at dawn...
...in the 8-Mile Rest Area on the hill west of Pie Town. Elevation 7,500 feet MSL. Frost, ice even, on the windscreen; on the INSIDE! I was anxious about cranking the Cat. It was the coldest start ever but she turned right over and fired up just as if it were a warm sunny day. Must be her New England upbringing. Only 49 miles today, to Pie Town and breky at the Daily Pie Cafe. <MMM.DailyPie.cow> Peggy and Mike and son Andy make the finest apple-cranberry-crumb pie anywhere except for mine and they make an even better peanut-butter chocolate-graham pie. Not to mention yummy omelettes.

Just east of The Daily Pie is the Center of Town. Post office on the north side of the street and camping in the park on the south side. The Continental Divide crosses Main Street (U.S.60) nearby. I spent the day in the park looking for an air leak and sewing a split in the seat cover of the captain's chair. Never a dull moment. Plenty of sun to charge batteries and finally warm enough to work outside without hat and gloves. There is a man living in a tent nearby.

Fourth Day. Quite a bit warmer here
33f--in the carpark behind the Daily Pie. Might be the rays from the big orange light lurking above Andy's basket ball hoop. Mike had invited me to supper with them after the restaurant closed. --What would you like to eat?, he asked when I arrived from my day in the park. --This is a restaurant... We had chicken and chile pepper noodle soup and then a braut and noodle entree followed by pie for desert of course.

On the road after breky; --It's all Down Hill from Here-- it says on the sign and the Tee-shirt. The Cat will Drag Inn again after Christmas I told them.

We have met the enemy... and elected him.

Side trip to Bosque del Apache. This is one of my favourite hiking spots. A little on the cool side this morning but a good day to take my Limmers out for a walk.

Another side trip to Abó Pueblo (ahBOO). The rough cut red sandstone "bricks" that comprise these ruins are all that remain of the pottery communities that thrived here up until three centuries ago. Changing climate and the incursion of other peoples eventually caused the native population to leave. www.nps.gov/sapu

End of the road at dark today is in the town of Vaughn, a wide spot at the junction of U.S. routes 60 & 54. The speedo cable is making noises so that is the next to fix. (253 miles)

Fifth Day. On the road at dawn.
My way goes northeast so the sun just coming over the horizon is off the starboard forequarter. Not in my eye. I am reminded of "The road goes ever on and on..." Long, straight as an arrow, if only my center-line-follower was reliably functional. In a rest area beyond mile marker 300 I add two quarts of oil and note that the rear main seal is probly leaking. That repair may have to wait until next Summer at Conway. Also found another glycol leak. At least it is a different fitting than the last time. But then this would not be The Cat Drag'd Inn if everything were working well. Just as well too: If all I had to do was drive I'd miss reading about a lot of neat history on the the markers and plaques in the wide spots and rest areas along my Way.

For instance: Twenty some odd miles east of Abó Pueblo on U.S.60, east also of the town of Willard (wasn't there a scary movie by that title?), there is a geographical feature called Laguna Del Perro. A wide expanse of whitish-grey flatness with footsteps in the softness around the edge below the nearby rest area. The historical plaque is a bit hard to decipher being as it is riddled with bullet holes and faded from the sun but it has something to say about this salt lake having been very important to the natives and the traders of a certain long time ago. But why "Lake of the Dog"? Do you suppose this is where the term "Salty Dog" originates?

Now at Hartley, with the Webers. Time for some visiting. (203 miles)

Sixth Day: Still at Hartley.
Enjoying this temperate interlude between Winter storms. Visiting. Breaking bread. Fixing things. I've known this family since back in the old days; there is always something in need of repair. This time it is the woodpile and the skirting around the south module of their modular home.

Nan and Ed are in the business, if you can call it that, of ministering. They make Tee-shirts to spread the message of their church and then travel to rallies and conferences to sell them. The major project at this moment is the construction of a care center in between the guest house and the ministry building. Between telling storeys for my supper and helping with the skirt project I worked at The Cat Drag'd Inn cleaning, checking, and looking for an air leak buried in the intermittentcy of uncounted variables. And writing this long letter.

Seventh Day: Rested.
Nan twisted my arm to stay and play Scrabble so I did that and told my Self I would get away early in the morning.

Ei8th Day: Monday again. Amazing how that happens.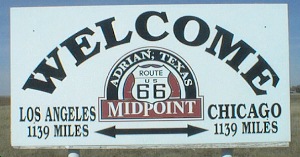 Good start and a short drive. First stop at Cal Farley's Boys Ranch to look for the "Shirttail to Hang Onto" cache and check out the historic Oldham County court house. The Julian Bivins Museum, housed in the old courthouse, is a great place to visit and I recommend it to all. On U.S.385, northwest of Amarillo, between Vega and Channing, this is a working cattle ranch comprising a small community in itself, with its own independent school district. Boys Ranch hosts a rodeo in September and a Cowboy Poetry show in early Summer. I spoke for a while with Mike at the Aministration Building: Since about 1994 I have been spending two hundred dollars a year to support a boy (food, books, housing, and uniforms) at the CSI school in Erode, Tamil Nadu, India. From Mike I learned that it costs Cal Farley Boys Ranch sponsors about $1200.00 a year just for food and clothing. No comments, just facts.

"It's where you're going that counts", Cal Farley said. Ya... So... Where am I going?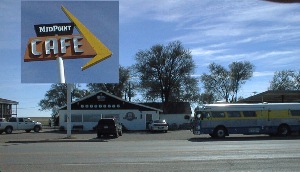 Down the road to Adrian. This town is on Route 66, half way between Chicago and Los Angeles. "When you're here you're halfway there." The "Meet Ya Halfway" cache is nearby to the MidPoint Diner where they have some very excellent meatloaf.
Out east through Amarillo to take on 113 gallons of fuel and think once again what else I could be doing with the US$216.00 that cost me--another year for the boy at the boarding school in Erode.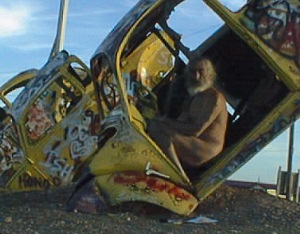 More east along I-40 and the next stop is to find a cache at the Bug Ranch. Sort of like the Cadillac Ranch to the west of Amarillo but I hadn't stop'd there. I used to own a Bug--my first car. Looked like one of these for that matter. I didn't find the cache here but I had fun sitting behind the wheel and remembering those days.
Last stop before dark was the Cross at Groom TeXas. Ed said that this is the tallest cross in the world. You can see it looming above the horizon from about eight miles away.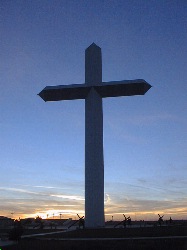 This day's end is at the Donley County Rest Area a few miles southeast of Hedley. 206 miles today.

Ninth Day: Tuesday
Partly cloudy as the day went on but at dawn it was quite foggy. I was hesitant to get started but climbing up the first hill got me out of the worst of it and visibility improved as the morning went on.

Amazing what one finds along the road. 76367 is the ZIP code for Iowa Park but that didn't occur to me until I looked up the addy of one of my pen-friends after the sign that said "Allred" went past on U.S.287 at the junction with Fm369. All red I said? By that time I was another exit further east and made a U-turn to go and look closer. Getting any closer than the end of their drive gave me creepy feelings and brought into question matters of my sanity so I took a picture and beat a hasty retreat. Maybe another time Matt.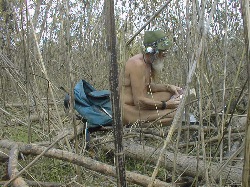 The cache in Lucy Park was my next find. Good place for lunch. Good place for a walk. One of these days I will learn to do this right so I don't spend so much time bushwacking. Three other caches today I did not find but they were still nice walks and Sara(h) enjoyed the chance to get out and explore too.
Most of the day's driving was on secondary roads: U.S.287 and U.S.380.
This day's end is at the Wal-Mart of McKinney TeXas. 287 miles travelled and several hours of goofing off.

Day Ten: 433 miles to Jackson Mississippi
Lots of driving, one hike, one shower and some rain. This day started out wherever yesterday left off at Oh Dark Thirty when the alarum cat woke me. Sara(h) has no snooze button. Just as well. I wanted to cover a lot of miles and I had a hike in mind to the Louisana High Point.


State Highpoints, like geocaching, is something to do besides play golf. I have climbed to eight highpoints now. Louisana's Driskill Mountain is all of 535 feet. I suppose it is all right that they call it a mountain, after all it is the highest point in the state. Now I have been to the lowest and the highest parts of Louisiana.

Everything else performed well. Fuel mileage for the past 800 miles is at 9.3 mpg.

Veteran's Day and the Eleventh Day of this Voyage of Discovery
Started twice today. The first time was before second breky and I got only a mile or so down the road when the rain started "in earnest" as they say. "serious in intention, purpose, or effort" my dictionary says of earnest; and "seriously important; grave" it adds for good measure. Neither my intent nor my effort were very earnest and the thought of grave turned me around. Back to the fuel stop and second breky, and all the mail and a nap. By late morning the rain had stopped.

Second start got somewhere. Secondary road driving all the way to Mobile. All the more reason to not drive in the rain. All I did was drive today, and tell storeys to Sara(h). She's not much of a conversationalist; a good listener except that she tends to go to sleep just when I get to the good parts.

Between Jackson Mississippi and Mobile Alabama along U.S. routes 49 for the first half and 98 for the second . . . o O (hmmm... There's a relationship I didn't notice when I was driving it...) there are a lot of small towns with strange names. "D'Lo"; "Bryan", my sister-son; "Neely", from _A Tree Grows in Brooklyn"? Hattiesburg is right in the middle. I had a Great Aunt Hattie on the Newton side.

Along the Way somewhen later, about 18h30 GMT, I chanced to hear an Amateur Radio Station calling CQ-CQ. His call was K1USN. Mine is K1OIQ. So I called him back. --Ahh! A K1, he said, you must be very close. Not really, I replied, not likely anyhow; I'm near Hattiesburg Mississippi, where are you? --Quincy Massachusetts, aboard the USS Salem, operating in commeration of this Veteran's Day.

It turned out to be a neat conversation. He went on to tell me about the shipyard there and I replied that my father was a welder there during WWII. --Really, he said. My father was a welder here too, at that same time. Perhaps they knew each other.

Jackson Mississippi to Almost Pensacola, 236 miles and a lot of rain. Beulah is the nearby strange named town.

Twelfth Day: The Lowest Highpoint
The best part of all the hurricane damage along the roads in Florida this morning is all the billboards that have been blown down. Clean-up crews are busy everywhere.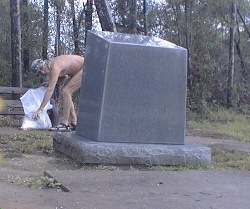 At 345 feet MSL, Britton Hill, Lakewood, Walton County, FLorida is the lowest highpoint. Probly has to be the second easiest to get to being only a cat leash away from the carpark at the end of the drive in from S.R.285 (or C.R.1087 depending upon whose map you read). Lakewood used to be a milltown--the hill is named after Will Britton who owned the sawmill in the early 1900's. Lakewood timber was among the finest in the world according to a local historian; the floor of New York's Grand Central Station is made of rift-sawn longleaf yellow pine from here. The mill burned and was rebuilt several times but by the 1940's the timber industry had all but gone and Lakewood faded into obscurity until 1956 when a geodetic survey team exposed the plateau and declared it the highest point in the state.

I had a nice walk around the nature trail, naturally, and did some of my own hurricane clean-up. The two biggest trees I was not able to move but at least it is now easier to climb over them and get past all the branches and clutter. Also picked up about seven gallons of trash.

Strange named towns today: Gordon, my brother; Quincy, my natal town's name; Izagora, what, I don't know.

FLorida has a Natural Bridge too. It is still under construction.

To Tallahassee: 219 miles

Thirteenth Day: One Thing After Another
Good thing today was not a friday as well. Friends to visit not home, things breaking or not working, fuel prices back up again. At least the weather is nice and the roads are in good condition. Oh Well...

To Z'hills: 263 miles

Fourteenth Day: In Zephyrhills FLorida now.
Across town and around town. Fix, shop, visit, bake, post. I'm not sure I actually fixed anything but I did make a few changes and observe different results. About the same with regard to the shopping. I'm looking at yard sales for a honey pot, a proper honey pot. Sort of like a sugar bowl, I am obliged to say by way of discription to those folks who ask --What's that? With a notch in the cover for the honey stick. So far no dice. I'm also looking for a MID KN18530; the one afixed to the air compressor is misbehaving. The banana bread ran out a couple of days ago and the muffins are gone; that makes today a baking day. I should make a bread pudding too; that way I can dirty all the bowls and pans and tomorrow can be a dishwashing day. And there are these postcards I picked up back the other side of TeXas that have yet to be mailed. So much to do, so little time.

Still looking for the Thanksgiving Turkey. I should have looked in the mirror before I left Tonopah, probly could have saved my self a lot of driving.

Fifteenth Day: Helping to Keep the Local Economy Afloat
Shopping in other words. It is getting to be time for a regular service for the bus. I can spend three hundred to have it done or one hundred and do it my self. As long as the weather is nice I don't mind getting my hands dirty. I can change the oil and do the lube in a Wal-Mart lot and they will take the used oil from me. Getting a shower afterwards might present a challange.

Visiting with Joan and Roger and chasing after a few caches took up the rest of the day.

Sixteenth Day: Of Balls and Beer Cans
Along the Way 'twix Hither and Yon I have finally found a litter critter worse than people.

Lee County FLorida has a place called Dog Beach. "This Place is Going to the Dogs" has come to pass. From the "Sooda Scoop" we learn that out on Hickory Boulevard, just north of the New Pass bridge, Dog Beach has been reopened. Besides being a place were doggies and dog-ers can recreate leashless, the dogs have every opportunity to learn from their peoples the fine art of littering. Let me go on record at the top by saying: No more than all people litter do all dogs litter. But dogs start out as litterers.

As is my wont when I walk a beach I often bring a trashbag as well as my chair and book. After a chapter of _The Kite Runner_ and a short nap in the sun I went along the sandy trail to see what I might find. Balls! Dogs loose their balls in more ways than one. Dogs loose their balls more than people loose their beer cans. It was a close margin to be sure but in the short section of trail gleaned I collected 17 balls, mostly of the tennis variety, and only 15 beer cans. I put the balls in the Lost & Found box and the cans in the recycle bin.

Further south is Naples. I don't much like Collier County FLorida and Naples has the unfortunate distinction to be its County Seat. Too bad some of my friends live there. Three of Nan and Ed Weber's ten girls live in North Naples with their husbands and kids. South even more, the southern most point of this tour, nearly to Marco Island, lives Nancy.

I had supper with Beth & Rosendo, Rachel & Jorge and 6, 7, rugrats. Michelle & Trent were out to her b'day dinner. Then, after coffee and pie, on down the road to a risky night at the Wal-Mart camp-NOT. In this county the rules are different. No camping at Wal-Marts, no resting in Rest Areas. It is risky to linger too long at a traffic light. At oh-dark-thirty the process of waking me started by the alarum cat and exacerbated by the increasing noise of commuter traffic was brought to fruition by a thud-thud-thud on my door. Time to move along.

Seventeenth Day: Dinner With Nancy
Nancy and I go back even further than with Nan & Ed. Nancy wrote me one time when I was at Palmer Station about 1989. A card that proclaimed "Happy Anniversary" on the cover. Inside she had written "... if we had married that first time then this would be our 25th..." Oh Well, eh? We had dinner at a place too busy with tourists and I found a wide spot in the road behind some bushes where I could hide The...Inn for the night.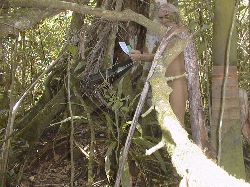 Ei8hteenth Day: Giving Blood
Furthest point south for this trip is Collier-Seminole State Park. There are a pair of caches nearby that are guarded by Strangler-Fig trees, Razor-Back Palms, and blood-thirsty mosquitos. I found them both and escaped with most of my skin so now it is time to turn about and head for AridZona.

Besides the mosquitos in this park there is an historic Walking Dredge. On the National Register of Engineering Things the machine has six legs and a big shovel and was used to dig the Tamiami Canal.

Nineteenth and Twentieth Days: Lube and Oil and WebLetter
Breky with Michelle--another of the Weber Girls--and Trent. Then on up the road. North. At the bottom of the get-on ramp there was a man with a suitcase. I've never had a hitchhiker with a suitcase so I pulled over and invited him aboard. Naples to Tampa, two hours swopping storeys. Dallas has been around for longer than me so he has a lot of storeys. Lately he's been hitching around the country, riding trains, and trucks, and is now on his way home to Kentucky.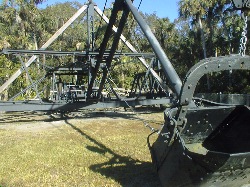 At the Wally-Camp in Z'hills, where overnight parking is not proscribed by insipid laws invoked to make "legitimate" campground owners excessively rich, I took care of several maintenance matters. One was to change a light bulb in the front roof marker lights. That turned into a two hour job of rewiring in-under-behind the destination sign--which also had two bulbs out. The oil change was another good example of time dilation. Just about everything to be done required something else be done first. Four hours later I was finally able to take a shower between the bus and the hedgerow. The chassis lube will wait until later today. Or tomorrow. And then it will be time to turn the helm of The Cat Drag'd Inn westward and continue my pursuit of the Thanksgiving Turkey.


Love, ajo

I do not know what I may appear to the world; but to myself I seem to have been only like a boy playing on the seashore, and diverting myself in now and then finding a smoother pebble or a prettier shell than ordinary, whilst the great ocean of truth lay all undiscovered before me. --Sir Isaac Newton



Back to Oso
Back to ajo
Copyright © 2004, A.J.Oxton, The Cat Drag'd Inn , Center Conway NH 03813-0144.