---
Travels With Oso con Migo
Around The World In Sixty Days
OAE On The Road Again, Somewhere Summertime 95-96
---

November 14, 1995, last letter October 27, 1995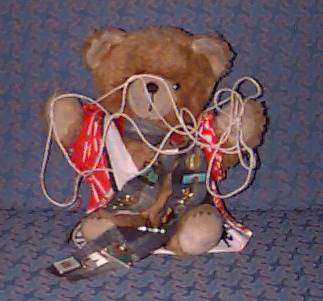 A GentleReader writes: "Thank you ten thousand times for the "On The Road" letter. It is your best, I think. Your travels sound marvelous--a sensory potpouri after a long Antarctic winter, I am sure." WELL! *Thank you!* I hope you like this one as much.
Sunday, October 29, 1995, Croyden House
Some late breaking events that deserve mention. This morning, just after breky, a skirling rolled through the hall from the garden to mix with the clatter of clutter clearing from the tables. --That couple from Gore are warming up!

The Macdonalds, Hec and Thistle (same spelling as the weed she said) from Gore, South Island (in between Dunedin and Invercargill) then play'd a short gig in the garden. Hec on the bagpipes, Thistle on her accordion. I was remind'd of Alex and the Scottish Games. They have been at it together for fourty years; he was in a pipe band for seventeen years.
Monday, October 30, 1995, Bishopdale School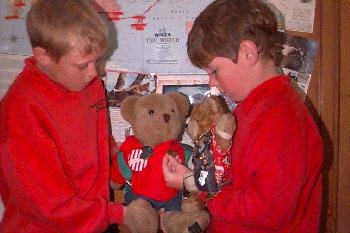 Oso con Migo meets Bishopdale Bear. Simon McMenamin of the Standard 3 class and Nick Henderson of Standard 4 assisted the bears in their meeting. Oso gave Bishopdale a pin from the 75th anniversary of the San Diego Zoo and Bishopdale gave Oso a lot of good advice about bunji jumping and hitch-hiking around the world. He went off last April with a passport and a diary towards Chicago and in June was in London. Most of August he spent in various parts of Africa where Bishopdale wrote in his diary for the 5th: "While moving on we saw a group of 50 baboons by the side of the road--they were really playful! Our next camping ground was a snake farm and I held a baby python! Drove to Malawi and camped by Lake Malawi where I spent some time with children singing and playing drums."
And then this entry from 29th September: "GUESS WHAT!!! I have now Bunji jumped off the bridge at Victoria Falls. It is the highest Bunji jump in the world (111m) and I must say I am the first bear to do so. At first I was a bit nervous so Kim said she would come with me--standing on the edge looking down was an amazing feeling--but I DID IT!" Well... you can be sure that Oso con Migo will NOT take *me* Bunji jumping (I'll change his name to Oso con Yougo), I have enough trouble getting him to climb a tree.
Tuesday, October 31, 1995, Sunset Limited east of Ontario California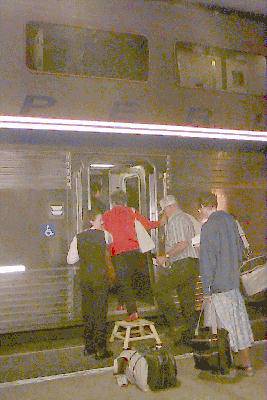 Amtrak's scenic 3,030 mile Southern Transcontinental Route between Los Angeles and Miami. ... travels along America's Sunbelt ... supurb scenery, style, Superliner comfort. These trains really are the way to travel, its too bad Amtrak does not run them on the east coast and northeast routes.
Right now I am somewhat east of Ontario California on the Sunset Limited eastbound. Had a day of mix'd emotions in LAX. Without a doubt not one of my favourite cities. I canna imagine angels wanting to live there but then that place needs all the help from angels it can get.
After depositing all the junk I could leave behind at the CDC and a hasty visit to the NSF office in CHCH I was finally farewelled by Sue over coffee at the airport. On The Road Again! I am eager to go and reluctant to depart. Christchurch is truly the fairest city of all I have visited. I think I might place Quito next.
And what a contrast is LAX. Los Angeles greeted me with drizzle and smog and more hassles than you can stake a sheep at. One "improvement" is the rapid return lane for incoming citizens. A brief look at one's face and passport picture and you are through Immigration. Customs is the same way. --Anything to declare? No. Then there is some sort of bottleneck right at the exit where everyone hands over some form we have been carrying for the past hour. It seems to matter not that my passport does not get a stamp saying I am IN the country now. I asked about that and the officer said if I wanted a stamp I could go stand in the "other" line, the one that stretched halfway back to the 747- 400 still off-loading baggage out on the tarmac.
I wonder what my readership would be if I expound'd upon the seamier side of this adventure. A man in the next lane over at this bottleneck place drop'd his passport. The next two people walked over it as he moved away. I left my trolly, jumped lanes and picked it up to hand to an officer and got into a pissing match with a wasp.
--Time out lady... but by that time the guy who's passport it was is long gone. Oh Well. And when I turned back to my luggage trolly there were already two guards preparing to cordon off this "suspicious" and "abandon'd" stuff. What a place.
At the CDC my trunk weigh'd 52 pounds and duffle was 20 pounds. Ok for a U.S. carrier but by the time I get to India I may be in a bind with an over weight condition. It didn't take that long. At Amtrak's Union Station the weight limit for one item of check'd baggage is fifty pounds. The wasp behind this counter said --We'll have to charge you ten dollars for the extra weight.
--On the airlines the weight limit is seventy pounds. How come you guys have a limit of only fifty pounds?
--We're not strong enough to handle seventy pounds. Its a rule.
--Is that ten dollars per pound?
--No. It doesn't matter if its two pounds or eight pounds, still ten dollars if its over fifty.
--So what is this ten dollars for? Do you call in extra help to lift the extra two pounds?
--Look, do you want to check this trunk or carry it yourself.
--Give it back and I'll take two pounds out of it.
Probly if I just took off the padlocks it would be under the limit. I pull'd out a box of floppy disks and my book about String Figures and How To Make Them and push'd the trunk back. It still took two of them to lift it onto the scale. It weigh'd forty-nine and a half.
With that out of the way its off to the DOSpital. The Carrot's floppy drive is acting up again but true to form, by the time we got to the computer fixit place where Nome could have a crack at it everything was fine and dandy. My frustration was mounting but I could see he was wisely applying the second psycological technique of machine intimidation: The technician should always approach a machine with dull glazed eyes, a slight drool, and a screwdriver poised as if it were a weapon.
Oh well...its still under warranty.
Back to Union Station to find that somewhere since landing I have misplaced my AT&T Calling Card. I had been using it at LAX to locate the Compaq computer dealer and forgot to retrieve it from the card phone. Do you have any idea how many layers of "If you want this press one--If you want that press two" menus you have to go through to get to a Human these days? The irony of it all is that all the folks I complain to about this insipid automated "service" don't like it either but they all work for the companies that use it. Finally I was able to find some help there and after a short quiz to verify my identity Ben was able to put a stop on the card and issue me a new number.
So far the score for LAX is two and two. Kris, the Sleeping Car Attendent for this Superliner, car number 231 incidently, has my berth turned down so I think I will make use of it. I am in room seven. 231/7=33 and I have just tallied up fifteen take-offs and landings scheduled in the next seventy days. Numerologists?
Wednesday, November 1, 1995, an hour west of Phoenix.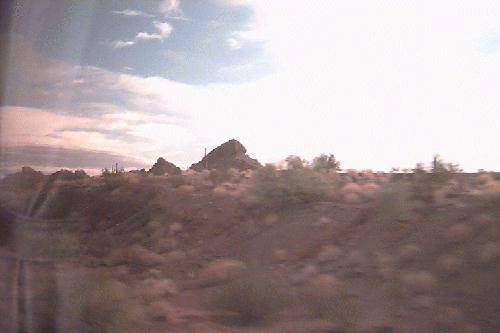 We have been setting here long enough to watch the sun rise and have two breakfasts. Something about a freight train up ahead. Last night whilst my ears were popping with the climb in altitude the Sunset Limited went through the wind farm in the vicinity of Indio recently shown in _Terminal Velocity_. The mills were turning in the dark.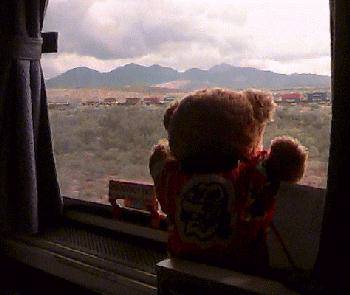 This morning at breky the sweatshirt of the man across my table proclaimed "Cum Dignitate Otium" and the girl next to me had her right arm in a cast and sling. There was a woman who's head spent much of its time laying on her shoulder. And a man who did not speak but wrote notes to the waiter. The service was excellent and the maitre d' looks familiar. This is one of the china, flatware and linen trains of the line.
The highlight of this days travel was the Continental Divide (4,587f) between Lordsburg and Demming New Mexico. The rain that follow'd us out of California ended before morning and today has been partly cloudy and warm. Nice day for a motorcycle.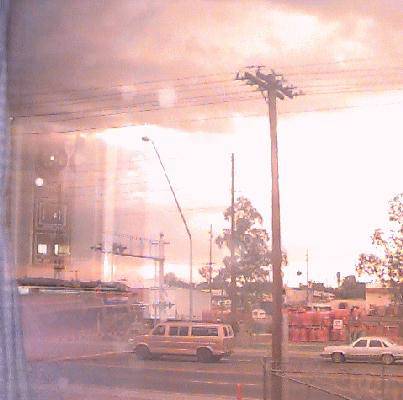 Space and time are relative one of my relatives once said. Motion is relative. When one stands still at a grade crossing and listens to the bell of the crossing guard and the whistle of the locomotive one perceives the bell to ding-ding-ding-ding-ding whilst the sound from the train moving past is whooo whooooo whhhooooo whhhhhoooooo lowering in pitch and seemingly stretching back along the track to one's ear. Pulling at the ear as if to drag it along. When one sits in the train and listens one hears the whistle whooo whooo whooo whooo and then the bell of the crossing guard ding-diing-diinng- diinnng-diiinnngs away into the darkness. But it has no hold on one's ear. The observer at the crossing perceives the train moving away, onward, going somewhere, whilst the observer in the train perceives the crossing to be moving back, passing by, fading. Somehow the same is not entirely true with respect to aircraft. Perhaps it is cos the aircraft are never so close to the observer at take-off as is the train at the grade crossing. Or perhaps it is a cultural affect more related to an inate longing sound of the whistle than the proximity of the source.
Thursday November 2, 1995, San Antonio
Breky with a couple from up near the Lakes District of the UK. They have been on a five week 17,000 mile, tour around the U.S., by train. We are both impressed with how long it takes to traverse Texas. And how diverse Texas is. I've been here before and I'm still impressed. The whistle is getting a good workout through all these small towns; Columbus is probly the point of closest approach to Austin and we are passing through there now. Hi Keith!

Just west of Richmond Texas there is a few miles of track where the old railroad telegraph lines have been abandon'd and there are still many glass insulators on the cross-arms of the kudzu covered poles. Every shade of green from clear to dark green-blue, I remember scavenging such collectibles from abandond'd right-of-ways in New England back in the old days. Most of what are along the way here have been broken but a few still look good.

U.S.90 parallels the rails on the south side, I have driven this section and recognise the crossing of the Brazos River and the rest area just beyond Richmond. The roadbed is rough through here and there are lots of grade crossings in one small town after another; we are going pretty slow. I'm waiting for Houston for lunch as we will be setting still long enough then.

There is quite a freight yard here. Seems to go on for miles of points and sidings; rows of tank cars, box cars, semi-trailers and engines breathing quietly, waiting for the Sunset Limited to get out of the way so they all can get back to their business of shunting and pulling.

About three hours late into Nawlens but Bill was still waiting. Thanks Bill! Unfortunately, in order to make up as much time as we could the Sunset Limited would stay only about thirty minutes rather than the two hours anticipated. Good thing I had that salad and desert, there would be no time for a proper Cajun feed. The Huey P. (4.4 miles) Long Bridge carry'd the train across the Mississippi River. If it were not for the clickity-clack of the wheels and how slow we were going one would think we were crossing over and landing in a plane the bridge is so high. A barge going up stream play'd her spotlight across the train for a moment and then we touch down beside The Superdome at Union Passenger Terminal. According to NOAA weather radio there has been five inches of rain today with another four inches expected by morning; a flood watch is in effect. The rain has knocked out some of the signals which is part of the reason we are so late getting in this evening.

Only in America? Bill invited me to have a beer. --What's available? he asked the snack bar attendent. At Washington D.C. Union Station there's a full blown restaurant; in New Orleans, with its reputation for Cajun Creole cuisine, I was expecting at least as much but this place was little better than McDonalds, maybe worse depending on your point of view. Tacky tables, slots, Budweiser. Bill had spent his time waiting for the train casing the station and neighborhood; there was nothing else but this snack bar.

--Miller Lite, Bud Lite, Genuine Draft... the attendent replied.

--But what about *beer* I asked, Do you have DB or CD or Dos Equis?

--Do you want alphabet soup or beer?

Bill said two Buds. I was not sure which was worse: The Bud in an aluminium can or the foam plastic cup that came with it. But we had fun talking about OAE stuff and looking at my ecamera. The visit was all too short, the Sunset Limited is trying to make up three hours. I will have to come this way again and stay over a few days to see if I can find the oft touted cuisine.
November 3, 1995, Tallahassee
Wet red clay and kudzu morning. Still raining. At breky a woman with a face lift is on her way home to get married. The train has a different atmosphere, there was a crew change last night. The team that brings the train from LAX to Nawlens will stay over there a couple of days and then crew the returning westbound rig. Likewise, this crew works the trains between Miami and New Orleans. We are still two hours late and now have lost another hour to the Time Zone.

Madison Florida, population 39 (maybe 3900), pit stop for the Sunset Limited. We were half way over the grade--full stop--reverse--right in the middle of lunch; the tide my peppery vegie soup sort of went down one side of the bowl and up the other. --Wait a minute! are we really backing up? Not enough that we are late, eh, now we are going to be *really* late. What is it? that last switch we crossed should have been a right turn? No, it was a fuel stop. A tank truck came up along side the engine to fill'erup. Check the oil? Being as late as we are they didn't take the time to wash all the windows.

Vince is from Alaska. He's ridden trains there too. --That's where they still burn wood in the steamers, eh Vince? "If you walk out of the woods there and flag the train it would stop for you in the middle of no-where. My wife and I were riding along between Fairbanks down to Anchorage one day when we decided to have a drink in the lounge car. There was this guy--how shall I describe him--flitting, that's what he was doing, flitting from one person to another, trying to find out what they were worth...

"The train stopped and this man dressed for the woods got on. When he showed up in the lounge he smelled like he had been in the woods for a while but the flit was right on him.

--Where're you from? What do you do?

The man waved lazily toward the forest, --Out there; in the woods.

--So your in the woods? In wood?

--Ya, you could say that; in wood.

The flit was getting excited... --The train just stop to pick you up? You must be some important. What kind of wood are you in?

--Pulp wood, for paper.

--Paper!? Wow, what kind of paper?

--Food stamps."
Saturday, November 4, 1995, Lakeland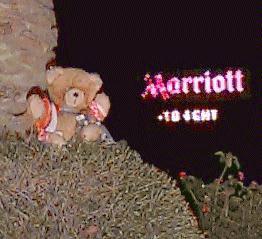 Right now I am muggy hot in Florida enjoying the Happy Motoring between the Friendly Skies; now if can just fine a good draught of proper ale... Last night Oso enjoyed playing in palms and shrubs whilst I took a nice long soak in a tub. Not a real hot tub but adequate all things considered.
For all of Orlando's night life the transportation part of it closes up shop pretty early. Not withstanding the fact that the Susset Limited was two and a half hours late there were no busses, no shuttle, one taxi. The Marriot was about half an hour away--that equates to US$18.50 in Eastern Tourist Taxi Time. At least this driver knew his way around. I was obliged to navigate for the foreign exchange student cum chauffeur in LAX or we would still be in a smog.
One parting shot from Vince... The next stop after Orlando is Kissimmee. At dinner, which I would not have had aboard were the train not so late--I hope this story is worth the lateness cos the dinner wasn't--at dinner was this British girl getting off at Kissimmee to stay at some time-share vacation place; she was having trouble with the pronounciation of her destination. Vince explained: --Tell your parents its Ki-ssim'-mee by day and Kiss'-i-mmee at night.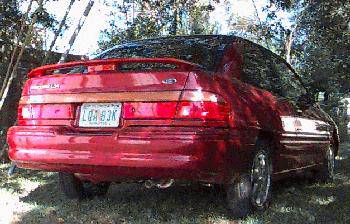 My Hertz first for this tour is a small red Ford with three doors and auto-choker seatbelts. It is not as nice as the car I had last year. That one was white with cruise control and A/C that worked; this one has no cruise control and the A/C is luke warm; but the car has only twenty-two miles, its new, maybe the A/C will improve when it has been out in the weather for a while.
Sunday November 5, 1995, Lakeland Birthday Girl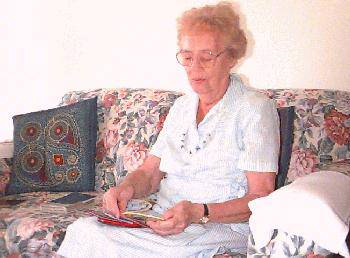 Cousin Ethel is 87 Tuesday, today was her Birthday Dinner, genuine rock lobster tail; not quite the same as Maine lobster but then this ain't Maine. Ethel is the daughter of my father's half-sister. Perhaps that should be my father's third-sister since his father had three wives over such a period of time that Ethel and me are nearly of different generations. She always use to be Aunt Ethel to me and I long thought she was my father's half sister until I started to have a serious look at the genealogy of the OXTON clan. Now I know we are cousins decended from a certain thief deported to the colonies from the Old Bailey in 1766. Ethel recently moved from a mobil home in a jungley back yard on the north side of Lakeland to a bustling high rise with lots of parking on the south side.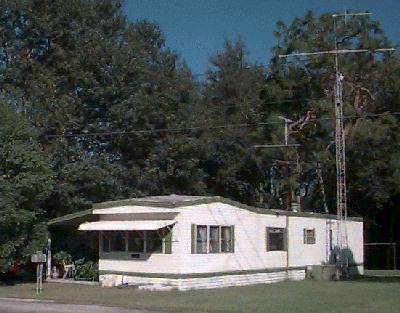 Visiting with Roger and Joan in Zephyrhills; except that Joan is off to Daytona visiting with someone else so I am really visiting with only Roger. Coffee with the wb4umt Ham Radio repeater group. I asked Roger where the hills are that Z'hills is named for. Its all pretty flat here'bouts; the geography has a few undulations but nothing anyone in his right mind would call a hill; certainly nothing one could sled upon--if one were to find any snow. The neighbors of Roger and Joan comprise South Pretty Pond Park and the pond is in between a couple of the hills to the north.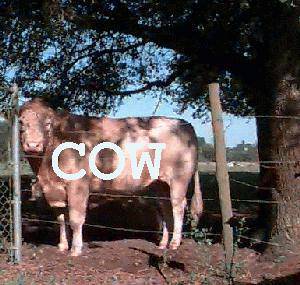 Another visit to the DOSpital. The floppy drive El Carrot has been having problems with finally toss'd its cookies enough to convince all concerned it needed replacement. Sure is nice that this machine is still under warranty. So I have to spend another night pacing the floor; fortunately there is enough to do helping Roger learn how to surf the WWWeb with Prodigy and print bitmaps that I am not suffering too much from DWI (digital withdrawal invalidism). The folks at the DOSpital were an understanding lot and offered cookies and warm milk.
The State of Humanity... MAN AT COPY CENTRE USES CALCULATOR TO MULTIPLY 10 TIMES 99 CENTS. Roger and me have been playing with his colour printer and my ecamera. Bears, houses, cows, cousins. No offense Ethel but you were right, the picture of Oso con Migo did turn out better than the picture of you. I think it was the light. Roger made a stationary letterhead out of the Oso picture and I added some words; looked so great that I thought we could make a few pages that I might write a few real paper letters with. It seemed it was a lot of work for his printer to do, painting all those colours, page after page, so we went downtown to find a shop with a colour copier.
At Staples, in Lakeland, the fifth shop we went to, we found one that worked and asked for one copy to see how it looked. The sign over the copier said "As Low As 79 cents per copy." I asked the man --What does that mean: As Low As?
--That's per 100 copies.
--What if I only want three or ten?
--Then they're 99 cents each.
I asked for one please so I can see what it looks like. The copier has to make four passes over the original to pick up the three compliments of the primary colours plus black and then it lays down the ink for each on the output paper and it has to do this routine for each page. It takes about a minute a page. The copy in some ways looks better than the original. I ordered ten copies and went off to look for a calendar. About $39.95 (of Roger's money) later I returned to the copy desk where the man was just removing my job from the machine. He brought the stack to the desk and riffled through them, placing the original on top, and then he turned to his calculator and typed in 10 X .99 = and read to me --nine dollars and ninety cents please. . o O (at least he remember the decimal point...) Plus Tax.
And as usual, it occurs to me...
Why does the sign say "As Low As ..."? Why not tell it like it is: "Copies ninety-nine cents each--ask about quantity discounts."
Why does the waitress say "Do you want a smoking or non-smoking table?" I can't imagine a smoking table in a restaurant. Its like a telephone that answers "Hello, this is the desk of..." Wow! I never spoke with a talking desk before. I can see there might be smoking food in a restaurant but if the tables were smoking we might all want to get out and call the fire brigade.
At the new Z'hills Post Office, serving between 8,000 (summer) and 75,000 (winter) patrons in the greater Dade City area I mailed a couple of parcels to friends in CHCH. When I finished with my wrapping and taping I had a handful of rubble and no place to put it so I left it on the counter. There were no trash receptacles. When I suggested to the clerk waiting on me that there should be places for customers to put trash besides on the floor or the tables she waved in the general direction of the lobby and said --they're there. Another clerk said they were under the tables--look, she said, see the little doors where it says trash. I looked. Oh yes... cleverly disguised to look quite like the rest of the totally boxed in table, camouflaged in the same speckled grey with with an anemic modern font spelling TRASH. --We did it that way, she went on, to make it look pretty for you.
Did you ever consider making it simple and practical like maybe just putting a waste basket where one can find it?
Back at the house we spent the next few hours indulging in two different flavours of B&J's coffee ice cream and installing AOL right next to Prodigy so we could watch them duke it out. So far AOL is winning three to one.
Friday, November 10, 1995, Naples to Palm Bay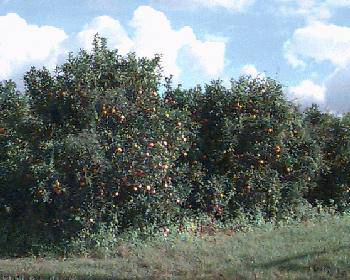 Yesterday I drove from Z'hills to Naples, fast, south on the Interstate, to have dinner with Nancy at Tin City. Today was a wildlife and walking day during my drive around Lake Okeechobee. During a walk along the top of a levee I saw an alligator, a vulture, an eagle, an egret, a crane, and a backhoe. The Alligator was big, very big; sunning on the far side of the canal below where I was walking. When I turned to go back for my ecamera there was a great splash; I watched for a while as the ripples dissipated and eventually found his nose and eyes drifting down stream. In another place where I went for a walk last year on dry ground there was now mud and water. There has been seventy inches of rain this summer; the water table is very high. Row after row of orange trees pass by on both sides and Love For Three Oranges plays on PBS as I drive. Most of the oranges are still green, some are yellow on top. This is Indian River Orange Country. I remember that from the lables on orange crates.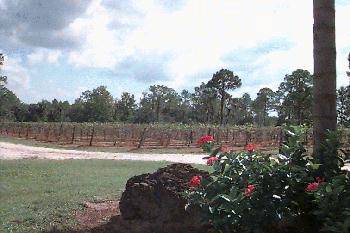 In the past two days I have counted twenty different state tags on the cars that pass me. One I have not been able to read is blue on top becoming white on bottom with a red bird profiled on the left; the bird has a crested head; what state is that?
At the Eden Winery you can taste seven wines in seven minutes--no really Mr. Kiser gives you longer than that and explains about the qualities of each of his wines as you imbibe your way from dry to sweet. Eden is the southernmost vineyards in the United States. Lake Emerald is a very dry white (13%) Yum! I'll take two.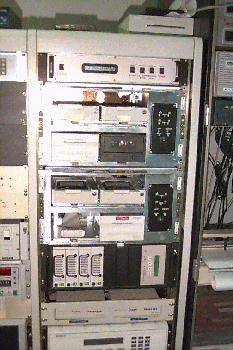 At Palm Bay I am visiting the home of my email host ATSVAX.rsmas and the ATS-3 (Applications Technology Satellite 3) earth station. Paul says ATSVAX handles about a gigabyte a day of message and data traffic (not all mine ;-> but mostly from South Pole and Palmer) including all the command and control information.
Saturday, November 11, 1995, Playing with crabs.
Today was a day for the beach. The shuttle launch was postponed due to bad wx at the overseas emergency landing fields but the wx here was great. I went to Vero where Dave took me last year and had the wind and the ocean mostly all to my self. The tide was full and the strip of sand between the water and the vegetation fairly narrow but good gor castles and playing with the crabs. Some of the burrows were an inch or so in diameter and eighteen to twenty inches long, slanting down at a steep angle. I poked a long blade of beach grass in one hole after another looking to see if anyone was home. In a few burrows I found a resident who would grab at the grass and we would tug it in and out. Then something in the foam at the water's edge caught my eye; there was a small shark on the sand, swimming along the shore line, sometimes he looked like he was walking. Where's my ecamera this time?! I also did not get an ephoto of the great pelican. Just as well--some of the other pictures I might have taken would be likely to get me in trouble on the internet.
Sunday, November 12, 1995, 3-2-1-Liftoff...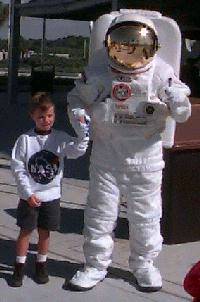 07h30 was a wee bit too early for me to attempt to be at the public viewing stand, especially after a long night of writing about yesterday and trying to figure out why the umn web server was not responding to my plea. Finally a message from Dr. Brady--Its broke, crashed, and he is trying to put it back together. Bummer.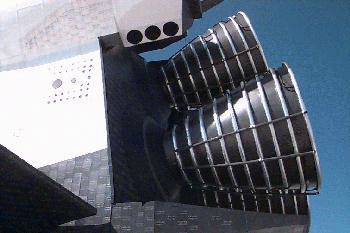 The launch from Paul's place at Palm Bay was mostly on the telly but you see from his north kitchen window the fire in the sky rising on a pillar of smoke. You don't get to feel the blast of sound that I experienced last time around. Everyone should feel that sound at least once. So I went to the Spaceport instead, to purchase pins, patches and postcards. Last time was in the middle of the night so this part was a new adventure to see the displays of rockets and the shuttle Explorer. Next time I want to spend a whole day here.
After that a quick late lunch visit with Joan at Daytona Beach and a second so long to Roger and it was time to turn in the little red wagon and get back to the train at Orlando. The present Orlando Station was constructed by the Seaboard Coast Line in 1926 according to Gene. His great grandfather came from Naples Italy to the railroad shops in Altoona Pennsylvania and his father was a sales agent at the original Orlando station and city ticket office which was built in the 1880's. During its heyday there were 100 trains a day through this station. In 1990 the station was renovated, mostly restored, to preserve its Spanish mission style and the character of the original waiting room. No problem with my trunk here and it is at least ten pounds over weight this time.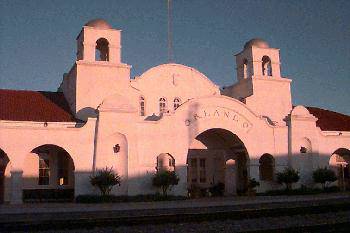 The Silver Star is one of the plastic Amtrak trains. It is made up of the older cars, in two parts starting at Miami and Tampa. At Jacksonville the two parts are coupled and go on towards Washington. The sleeping compartment in this car number 8200 is one of those where the bunk pulls down from the wall and rests atop the commode; I wrote about the hazards of nocturnal sorties last year, no need to repeat those gory details; I have learned a few things since then.
The dining car service this evening is all plastic and the meals are clearly worse than airline fare except that you have a proper table and that courses are delivered in sequence rather than all at once. This is where hauling around one's own cup and spoon becomes worth while.
Sunday, November 13, 1995, Raleigh North Carolina
Somewhere between Southern Pines (Pinehurst) and Raleigh at about 06h30 local time the sun bounded over the horizon and swept into my sleeping compartment on the east side of the north bound Silver Star. The photons pry'd open my lid'd eyes and triggered a breky reaction in my stolid brain. I'd not slept all that well--my berth felt like a hammock slung inside a tumbling cloths dryer--as the train rock'd and roll'd through the night. There is frost on the grass and cars and those few people one can see at this hour are warmly dress'd. Time to pack away my beach togs and rummage about for clothing more suited to this climate.


A.J.Oxton, OA, OO, OAE, k1oIq

Back to ajo
Copyright © 2003, A.J.Oxton, The Cat Drag'd Inn , 03813-0144.