---
Travels With Oso con Migo
Around The World In Sixty Days
OAE On The Road Again, Somewhere Summertime 95-96
---

December 23, 1995, last letter December 12, 1995
Wednesday, December 13, 1995, Boys' Boarding Home, Erode.
Erode is a manufacturing city in south central India, in the state of Tamil Nadu. Cotton and turmeric are major exports, the population numbers 15 lakhs.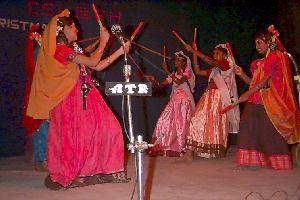 Fort School (Elementary), Primary School (LKG & UKG), and separate girls and boys Upper Secondary, as a set are one of numerous school complexes in the city. The boarding home attached to this place use to be one of many projects run by Christian Children's Fund. After a twenty year project lifetime they turn their operations over to some other institution, in this instance Compassion International. This gets really complicated... The Church of South India owns the property. They operate a school, sort of a public school in that it is open to all kids but at the same time even the poorest have to pay something. For some of the kids who have no home there is a boarding home. There are 140 boys and 140 girls living in their respective hostels. There is also a section for handicapped children. Over a five thousand students attend this school. In Tamil Nadu 65% of the children are in school.
Children who live at the CSI home have to be sponsored by some means to pay for living expenses and tuition. Compassion International funnels money from contributors around the world to Church of South India on behalf of the individual sponsor-child relationships. Some children are directly sponsored by individuals. This is where my friend Mr. Cook gets involved. By bypassing Compassion International and working directly with the boarding home he is essentially able to sponsor two children for the price of one.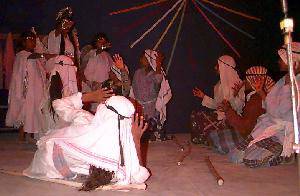 My part in this is a matter of a long term friendship and of being in the right place at the right time to be a major contributor (one time?). From there it went to --Why not come along with me and see what the place is like?
Well, I'd never been to India, could be a new place to fly a kite. What the heck, by the time I get to London its about as far back via LAX to New Zealand as it is to continue onward to New Zealand via Erode! So here we are at the Girls Boarding Home Christmas Programme.
The train let us off Tuesday morning. New words for the night before are Annan (ah-nun) and Tambi, meaning elder brother and younger brother. Tuesday evening was what might be called a Christmas pageant back in the states; here it was only partly of Christmas. There were three or four speeches, several other dances and skits, and then the Christian Christmas story rendered in Tamil with some very well done singing and dancing.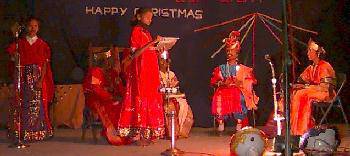 One of the performances, the Stick Dance, a rhythmic ballet that uses two sticks in the hands of each dancer, is a Gujarati dance, from Gujarat, that describes a folk story about life in the village. The colourful silken costumes the girls wore flowed and rippled like water over pebbles in a brook as other voices and music told the tale. It was hard for me to follow the story, even with the help of an interpreter trying to shout in my ear, but the sense of rhythm and the flow of the ballet told its own tale.
Electric Power--Off and On... Power goes out several times a day for a few minutes to several tens of minutes. Sometimes it looks like only one phase is out. The building behind the hotel has an autostart genset that waits a couple of minutes to be sure the outage is not some minor hiccup and then it starts. The noise it makes is more of an annoyance than the loss of power in the first place. Noise seems to be de regueur: horns blare constantly in the street--ding-ding from the bicycles, mmbeep-mmbeep from the scooters, waaa-waaa, hooonk-hooonk, blaaat, woooo-wooooo from the train floats over all, waaank-waaank from the big bus; and then the music from the sound system at the school functions is a shrill screech that penetrates even the best approved OSHA ear plugs.
This is the end of the school term, Christmas break starts Saturday, so the kids are doing their examinations. This morning while some of them were sitting exams I addressed boys from the secondary school on the subject of kites and string figures. They know what kites are but there is seldom wind enough at this time of year so all we could do was talk about them, run to and fro across the stage to see how they fly and then hang them on the wall. February has the wind in storage.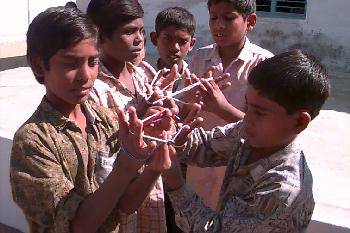 The cat's cradle game was something they could get their fingers into and I could have used another umpteen yards of cord to satisfy all the eager hands. In the end there was more a shortage of time than string when the headmaster said it was time for this group to return to their studies and prepare for their exams. D.Jayaprakash, J.Daniel, M.Edwin Prabhu, V.Nithiya Saalan, and Sudhakaran are five of the boys who helped me with the string figures; they were very quick to pick up on the movements.
In the evening I went along with Project Director Mr. Henry and Boys' Headmaster Mr. Moses as Guest Inspector to have a look at room decorations and programmes of the several living rooms of the Boys' Boarding House. There are three rooms in each of the upper and lower sections housing from four to forty boys. Each boarder has a sleeping mat, and a shelf on which to keep belongings, usually in a small trunk. The rooms had a festive atmosphere with paintings the boys had done on the walls, paper decorations, lights and Christmas trees. Each group had prepared a song or dance, some had speeches to read or recite or special presentations. After all that the entire population of the boys' home gathered in one hall where I told some stories about Antarctica and attempted to answer questions put to me through the interpretive efforts of Mr. Moses. At the end I presented a copy of the Christchurch Wizard's New World Map to the head-boy of senior boys' hostel B who impressed me the most with their presentation.
All these people have a disconcerting affectation of slightly wagging their heads side to side at times whilst you are talking to them; they're not saying no-no, there is a wee bit of a yes-yes bounce to the wagging, especially when you get use to the look in their eyes. But often they don't really understand and there are lots of opportunities for boundless confusion.
Thursday, December 14, 1995, Erode
New word for today: Koliekundu. Like marbles, it is both the item and the game. The object is the same but some of the shots are very different. Dr. M.Nagarajan showed me how to get the kolie kundu way back under the couch where even the poonai couldn't find it.

Petrol costs 20 Rs per litre and a short loaf (as opposed to a long loaf) of familiar white thin-sliced sandwich bread costs 5 Rs; it might give you an idea what the cost of living here is like when you compare those prices with what the same items cost you.

Ask me sometime to show you the mouse Mr.Edward gave me. If there is anything left of it after I show it to El Gato I am sure she will be happy to share.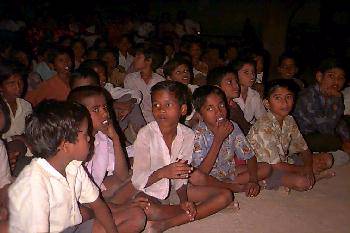 Saturday, December 16, 1995, Erode
Friday seems to have gone past without my getting a hold of it, or its still lying out in the open sewer that runs along the street. Actually the smell is not all that bad; I think the exhaust from the traffic and the general level of dust are what mask the musk from the muck in the trench. There were several luncheons, school programmes, and a shopping trip Friday. The shopping was first, that was the new word for the day: kadii. Looking for something to wear that might be more appropriate and comfortable than a black T-shirt. No one but a tourist wears T-shirts here. Mens' and boys' shirts are all long sleeved, buttoned and collared of various light colours. Trousers are most always not denim but pleated, cuffed, or shorts with the same kind of shirts. Some men wear a dhoti over their shorts.

In one shop we went to purchase Elephant Glue (super glue) and Goat Breath (mouthwash). At the toiletries counter a young man waited and helped with the selections while Issac translated; when the item was decided he filled out a sales slip in duplicate (using c-a-r-b-o-n paper) handing one copy to Issac and the other and the merchandise to a small boy wearing a laminated photo-I.D. who would carry the mouthwash to a cashier. The entire skit was carried out again at the glue counter, different salesman, different small boy. When Issac and I arrived at the cashier and handed over the two sales slips they were matched up with slips on the shelf and we paid the cashier for the merchandise and it was bagged by another boy. Altogether, six people were employed in this purchase of two items. In America, not to mention several other countries where child labour has been exchanged by society for child welfare, these same purchases would be self-service and handled by an indifferent clerk at a super-duper- money-saver. The Elephant (brand, imported from Japan) superglue cost 36 Rs; actually pretty expensive considering that iddly and sambah with coffee for breakfast costs 8 Rs. Personally, all things considered, I'd vote for child labour over idle children anytime.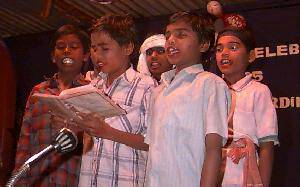 I was also looking for some string and a travel agent. And a post office. And a FAX. The FAX is pretty easy but email is unheard of; some people know what a computer is but few have seen one up close. At the government telecommunications office sending a FAX a few towns away cost 15 Rs. Next door at the post office Issac helped me wade through the process of mailing a postcard. The first window to get the card weighed and determine postage, the second window to purchase stamps; 8.75 Rs to post a card but it was not clear to me if that was by surface or air. But then one takes card and stamps outside to the paste table to get them affixed. Apparently stamps are not pre-glued; they sort of looked like there was glue on them, maybe it is considered unsanitary to lick them, but on a table outside is a pile of grey, gooey, stuff that one spreads with ones fingers on the stamp to affix them on the letter or card.
Another hour or so went to exploring the bus system. There is a fairly extensive government run intercity network of buses leaving hourly and there is a private system of so called "super-bus" that ply some of the same routes less often, some only once a day, but with better equipment. The super-bus generally requires reservations and costs more, the government bus costs less, takes the same time but will be more crowded. It is my plan to take an overnight trip to Maduri, five hours south, Tuesday and Wednesday; more on that later.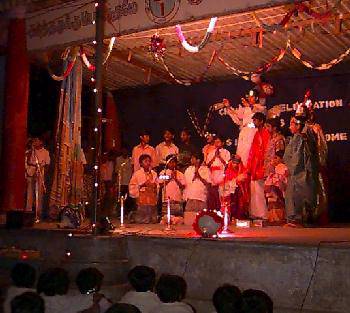 More shopping and walking and beeping and honking around on auto- rickshaws later and Issac delivered me back at the CSI school complex for the Fort Elementary School Christmas function. Like the secondary schools of the previous days except that this one has boys and girls together and there is more parental involvement and more kids. Quite a crowd; fortunately the speeches were not as long for the programme made up for it. Then in the evening I had dinner with the family of the headmaster. This community of Erode, at the level of the CSI schools, has little real contact with the outside world. Despite all the letters that go between the sponsored children and their patrons, Manjula translates 200 required quarterly letters and on average fifty optional letters per month, there are few visitors of the sort who might come to a school in America for instance and do a Show&Tell so when some one does show up they are instantly mobbed by the children and deluged with invitations to functions and meals. The children are mostly content to just touch, to shake hands, they walk past and wave a salute, --Good morning sir! Sometimes they will sit and stare, they can maintain eye contact like a cat. The adults want to have you to lunch or dinner, to meet their sons and wives, in that order, to know what you do, to look at postcards and pictures from everywhere else.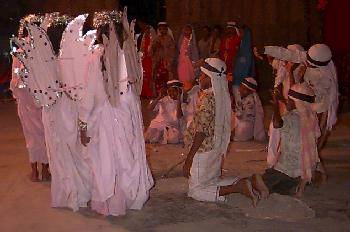 So that was all for yesterday; now let's see if I can stay awake long enough to write about today, which is still Saturday.
Mostly more of the same. Three more school functions; its that time of year, functions, examinations and then a holiday until the first week of the new year when the final quarter of the academic year begins; and a luncheon that I took a rain-check for so I could catch up on some of this letter, I will redeem it next rainy season maybe.
Mr. Cook interviewed a new applicant for sponsored admission to the Boys' Boarding Home and CSI school. Navinkumar is in 7th standard (grade) at his present school in Ooty which is 7 km from his home in Kalhatty, Nilgiris District. He heard about the CSI school from an announcement made in his parish. This boy, who is third in his class of forty students, has both parents and lives at home but finds it difficult to get to school regularly during the rainy season and for this reason has made application. In order to be accepted at the school Navinkumar would be required to move to the boarding home and that will cost more than half the monthly income of his family and there are two other children to support at home. There will be twenty openings at the boarding home for the coming year when the present twelfth standard moves on and more than two hundred applicants, many from homes less well off, from children who do not have both parents.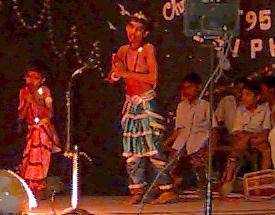 Sunday, December 17, 1995, Erode
The last Christmas Programme was at the Handicapped Section of the CSI school. Most of the children here are victims of polio however there are some Muscular Dystrophy children and some accident victims. India has recently started a programme to eradicate polio by the year 2000 but in the meantime provides some support for the efforts of this kind of school. Vocational training as well as academic subjects are taught and there is some physical therapy. Some children benefit from corrective surgery, others are fitted with braces and crutches; for some there are tricycles that they pedal with their hands through an arrangement that permits power and steering through the same mechanism. There are a lot of strong upper bodies in this school, some with wasted legs that look as they have no bones in them at all.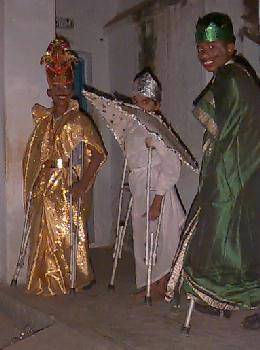 Backstage at the pageant there was aluminium to frame up a 747 as parents and teachers dressed angels and wise men while on stage an orchestra consisting of keyboard and percussion instruments as well as six or eight boys' voices rendered support for dancers in braces. In our capacity as prominent visitors Mr. Cook and I were pressed into service for keynote address and distributor of gifts when the chief guest on the programme did not show up. My part was to take the new brightly painted metal trunks from an administrator as he called the student's name and then as each student hobbled or was carried to the stage I would present the trunk, shake hands, hold still for a picture, and think about how brave these children are and wonder what goes on in their minds.
Inside their compound after the programme the traditional meal of chicken briani with rice and red onion with curd was served by the staff to all guests and children. As they went through several sittings I had time to wander and wonder. Though these kids were always smiling and as eager as they were to shake my hand and pose I found it difficult to take pictures; perhaps it was my sadness reflected in their eyes that I saw. It was hard for me to view them through the lens. I felt helpless and wanted to leave but at the same time fascinated with a sense of morbid curiosity to learn how they cope, not just the kids, but the staff as well; this is my first time in a place where the "Parents' Night" dinner is served on banana leaves and eaten with one's fingers (right hand only please), where children have no Teddy bears. (For regular meals at the boarding homes the children eat from steel plates, a plate and a spoon being part of their personal possessions, tho fingers are still the preferred utensil.)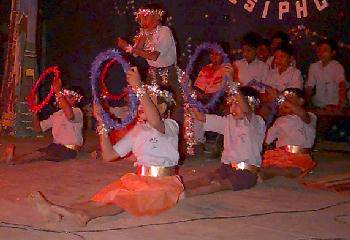 But that may present a distorted view of the matter.
Actually I have not had so much fun playing with my food in a long while. Separate piles of brown and white rice on a banana leaf are an excellent medium for the creation of graphic designs in the leftovers although I don't see anyone else indulging in this pastime. And there are no dishes to wash; you fold your banana leaf in half to indicate that you are finished eating, otherwise the servers will continue to heap on seconds and thirds, and later toss the whole leaf and scraps in a pile where it becomes forage for another layer in the food chain. Cows, goats, beggars. There is little remaining for the Untouchables to cart away.
The children have no need of bears, they have each other; and what they do have seems to be freely shared but even this opinion may be the result of a distorted view; I have not been here long enough to understand it all.
One must spend sufficient time living in another culture to understand it; ask to be tolerated as a guest, long enough to learn the language, appreciate the customs. Understanding may come but it will be wordless. When you understand what is foreign then it is no longer foreign and you loose the urge to explain it.
Monday, December 18, 1995, Its a long way to Tiruppur, eh?
First stop was breakfast in an upper class neighborhood of Erode. This family has several children, servants (live in helpers who work for bed and board), cable television and their own car at a private home with inside plumbing. The husband is a land owner and accountant, fairly well to do, his oldest son is third ranked junior tennis player in the state.

Tiruppur is on the railway about halfway between Erode and Coimbatore just over the line in Coimbatore district. We went by car. Car and driver for the day. Having someone else do the driving is the only sensible way of travel by car on these roads; I may have mentioned that once but it bears repeating, if you are coming to India keep it in mind. Tiruppur is about 50 km west on India Highway 47, sixty if count the extra distance going through or around potholes, avoiding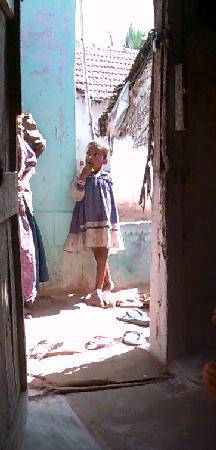 ox carts and the zig-zag of the police checkpoint at the district border between Coimbatore and Periyar near Perumanallur. Tiruppur is the home of one of the sponsored children and this sort of house call is part of the qualification process, a periodic visit just to see how they are getting on at home and to maintain ties with the family.
The house we visited has seven families living in an area I judge to be thirty feet across the front by about sixty feet deep. Each family had one room maybe eight by twelve feet, except the property owner had two rooms, and they shared the courtyard and toilets and well. I estimate 12-15 people were there, from carried children up to grandmotherly types, mostly women. This was a middle class home; the construction was cement with tiled roofs, electricity was available and the owner's apartment had a television.
As you come in through the front gate the well is immediately on the left, the communal toilet is just beyond and there is a bit of a common area there also. Drainage from the toilet runs out through the front wall to the trench of the open sewer along the street. Straight ahead is the open courtyard and the six one room apartments are along both sides with the owner's apartment across the back. All the tile roofs pitch in over the courtyard. The apartment we visited held one bed shared by mother and daughter, no father in this family, table, chairs, a cupboard for cooking utensils and a small stove. Everything was very clean, which seems to be the case in every home I have seen; even the thatched roofed mud huts look pretty clean on the inside compared to the squalor surrounding them.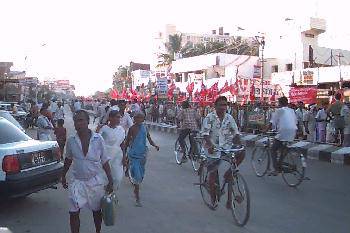 Lunch was laid on in the owner's apartment with several of the other women helping the mother and daughter we had come to see. Our party consisted of Mr. Cook and me and three people from the CSI school. Lunch was the usual rice and sauce but with the addition of small boiled potatoes, sliced apples and tangerine sections. Yum. Finger licking good. No chicken briani.
On the return trip, at the first intersection marking more or less the edge of downtown Erode, the traffic came to a halt. Fortunately our driver was able to extricate us from the pile and for half an hour we snaked through back streets and alleys along the south side of Brough Road and eventually came out at our hotel to find a Communist Party rally parading in the east bound lanes. There are four major political parties in Tamil Nadu, the Communists are a near fifth in strength. At present India is the largest democracy in the world and by the early 21st century could surpass China in total population.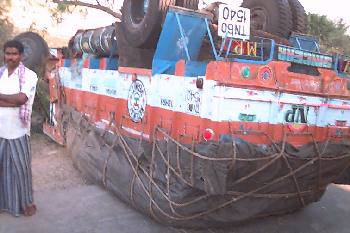 Tuesday, December 19, 1995, The Long Dusty Road to Madurai
Riding in a big bus in this country is an adventure within the adventure. Mothu Krishnan, a warden at the boarding home here, was assigned as my guide and we set off before dawn to take the government bus to Madurai. Situated in southern Tamil Nadu on the banks of the Vaigai River, Madurai is this state's second largest city and headquarters of Madurai District. The city is more than 2500 years old and was an important cultural and commercial centre even as early as 550 A.D. when the Pandyas made it their capital. Modern Madurai is a burgeoning industrial centre even though the vast stretches of lush rice paddy fields, dusty roads and crowded bazaars make it seem almost like an overgrown village.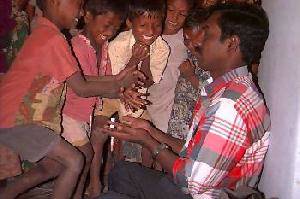 White lines in the road, where there are any to be seen at all, mean just the opposite of anywhere else--once you cross the broken centre line on a straight-away there is no crossing back on the curve. Drivers honk and wave in a code similar to what I have observed in use by American truckers--this wave means Pass me if you dare, that one means I would if I were you. The rule that pedestrians have the right of way is unheard of; the biggest vehicles and loudest horns generally command the traffic lanes and if you don't move over you will be hit. Few traffic lights exist, fewer still work; there are no speed limits, none posted anyhow and in a conversation with one of our drivers he said there were none, and there are no stop signs anywhere in Erode that I have been. From an American or New Zealand perspective it is amazing that the carnage on the highways and in the cities is not greater. Many times in the past few days and especially in Madurai I have been pulled aside by my companion from the path of some vehicle and it matters not whether one walks facing the traffic, the rickshaws, bicycles, and, occasionally, even a motorcar will come along behind you on the wrong side of the way.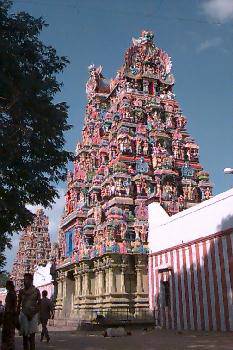 On the road to Madurai, about 200 km, our bus made three pit stops; two were at terminals at Karur and Dindigul and one was at a way station. Vendors hawking tangerines and fried dough would surround the bus before the driver had berthed it at the terminals and white skin seems to attract beggars like flies to feces. I have always been pretty good about finding toilets in strange places but here the Indians have disguised them so well--sometimes as piles of split coconut shells, or graffiti'd walls. Upon disembarking one has only to follow the crowd and be surprised. In some places there are walled enclosures where the women go; the men line up along the verge or wall or gutter.
After getting settled in the Annapoorna Hotel and delivering a package of rare Bic pens carried all the way from London to the Aravind Eye Hospital, Krishnan led the way to Madurai's major tourist and cultural landmark.
The Sri Meenakshi Temple was originally built by Kulasekara Pandya. "However, the entire credit for making the temple as splendid as it is today goes to the Nayaks who ruled Madurai from the 16th to 18th century. It is a twin temple, one of which is dedicated to Meenakshi (Parvathi) and the other to Lord Sundareswarar (Shiva). Twelve gopurams (towers) grace the temple which is rectangular in shape.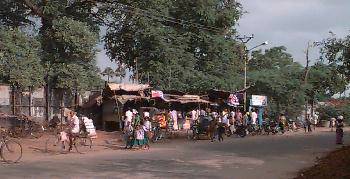 Of these the southern gopuram is the tallest (49m) and the only one that may be climbed. [Ed note: The south tower was closed when we visited; no explanation given.] This temple is one of the best examples of Dravidian architecture and sculpture. The hall of a thousand pillars is a museum of icons, photographs and illustrations. Apart from being a very sacred spot for the Hindus, the Meenakshi temple is one of the country's most important tourist landmarks." [Road Guide to Tamil Nadu]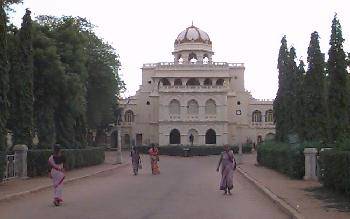 One could wander around in the temple for a few days and not see it all even with parts of it being closed to the public. The hall of a thousand pillars has almost as many panels and displays to read and hundreds of different stone carvings and sculptures. Admission was only a few Rupees and an extra fee is charged for photography. Beggars and street urchins compete for your money and vendors jump from their stalls when a white face appears in the crowd. --Postcards postcards! they cry, Ten postcards, all different. They know there is no email, they know I am suffering withdrawal... Postcards are not the only item--holy towels, brass bells, brass lamps, jewellery sufficient to rival the Tower of London. But there are also plastic toys of all sorts, enough to open a Toys-R-Us. I was especially annoyed to see the toy weapons of childhood offered for sale along side the holy towels in the temple of this land of Gandhi.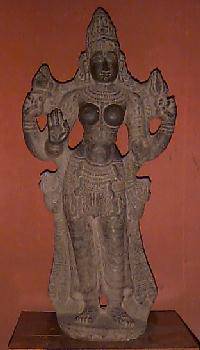 Wednesday, December 20, 1995, An American In Madurai
Nothing much opens, including some of the restaurants, before ten in the morning. Even the restaurant in Annapoorna had no offering so we went to an eatery across the street for the usual rice and spicy gravy combinations. Even the childrens' park across from the Gandhi museum did not open until 10h00 but Krishnan paid an "admission fee" to the gate attendant and we were able to wander around inside for an hour and watch the cleaning crew at work. There is a menagerie of fiberglass animals around a narrow gauge railway and included in the set are a family of Emperor penguins in a small pool. Running above the tracks of the narrow gauge is an aerial cable car, perhaps as a way out from the train ride. Lots of plaster and cement models of animals and gods, many missing trunks or arms, line the pathways; the paint is peeling on some, fresh on others. Workers were raking the grounds and trimming hedges and all around there was grass and bushes and trees to climb, and cows and donkeys of the street looking in from beyond the fence drooling and smacking their lips.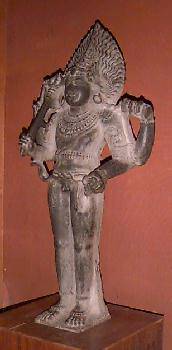 The contrasts of this place are what is most important I think. Cell phone antennae share the skyline with ancient temples; India's second communications satellite has just reached stable orbit above a countryside where the scourge of polio has yet to be eradicated. The range between poor and rich is really not all that greater than what I have observed in America but the contrast is sharper, the gradient steeper.
The Gandhi Museum, dedicated to Gandhiji's life and work, is housed in the 300-year old Mangammal Palace. It has a collection of his books and letters, a fine exhibition of South Indian village industries and in a adjacent building is a State of India cultural and natural history museum.
"He stopped at the thresholds of the huts of the ... dispossessed, dressed like one of their own. He spoke to them in their own language ... Who else has felt like him that all Indians are his own flesh and blood?" --Rabindranath Tagore, National Poet. Thus opens this museum celebrating the life of the man who led India to self government after 200 years of British rule. The history I read of Gandhi's leading the Salt March gave me to understand why salt is served with such ceremony at some meals.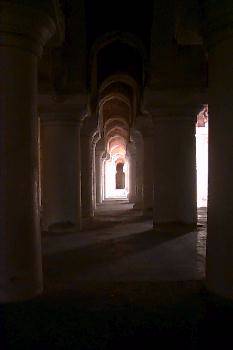 The Palace of Tirumalai Naik--1623-1659 is next on the list. Also known as Tirumalai Nayakkar Mahal (mahal means palace), and located near the Meenakshi Temple, the remains again illustrate the architectural mastery of the Nayaks. There must be more than a thousand columns in this structure; great soaring domes, carved moldings, icons, statues, all attest to an effort I can scarce imagine being accomplished today never mind in the mid sixteen hundreds. The paint is peeling, at the base of many columns stucco is cracked and fallen away exposing the brick and rubble interior, parts of the palace are closed for lack of maintenance, yet the mahal still speaks loudly of the grandure of a harsh king.
Beggars--to give or not to give, that is the question. I asked Krishnan how he determined which beggars he would grace with his coins and which he would refuse. There had been several occasions when he would give one rupee to a beggar or tap me for a coin if he had none and just as many times he would refuse them and even threaten to call a policeman if they were persistent. Why some and not others? Even when I would give a coin on my own Krishnan would sometimes sign that I should not.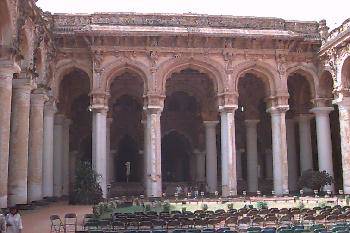 Eventually I managed to learn from him that he looked at each person and tried to form an opinion about them--old men, especially disabled or of a religious bent he always gave to, generally we found this sort at the entrance of temples and occasionally on the street; young mothers, always with babe in arms, he would study and sometimes give sometimes not (maybe he was asking them questions) depending if he felt they were supporting elderly parents as well as their children; young children, mostly boys, rarely girls, too young to work, he would always chase away, if you give something to one there will be a herd of them come out of the walls; older children, who should be working, he would always refuse.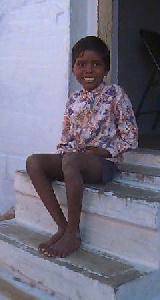 Thursday, December 21, 1995, Bavani, an interview with Gopu.
Gopu is a small boy who's application to the CSI boarding home for admittance to the programme has been accepted providing a sponsor can be found for him. His application says he is nine years old and an above average student in the third standard at the CSI primary school in a Christian community of fifty families in the village of Bavani, not far from downtown Erode. Presently he lives with his mother's sister and her husband; his mother is a cook at the girls boarding home and he has an older sister already enrolled there. This is a case where Compassion will not provide tuition since they are already supporting one child for the family. Gopu's father died several years ago.

The interview was conducted in the single room home the boy shares with his aunt and uncle; he was brought from school by his sister who is also living there presently since boarding school is closed for the holiday. Gopu's mother was also present. I asked most of the questions with Manjula translating and filling in what she already knew from the record. Nine years and third standard don't quite match up; the age-grade relationship should have him more at seven years. I noted in the first few moments of getting acquainted that he did not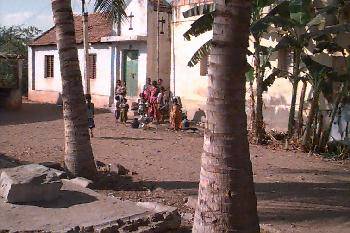 have his second teeth, had not yet lost his first, and pointed that out to Manjula. Gopu's mother had put nine years on the boy's application because she felt it would increase his chances of acceptance at the boarding home. In order to start the third quarter, two days after New Years, at boarding school a direct sponsor must be found before the end of December. For less than the cost of a business class flight from LAX to CHC this boy could be sponsored at the boarding school for ten years.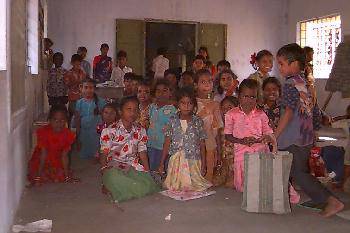 Friday, December 22, 1995, Anna Nagar, Surampatti
Odai is a small water course usually of sufficient flow to wash cloths, wade, bathe; the one that flows through the lower class village where Sivakami lives has no proper name of its own, perhaps the folks who live there have no idea there might be a need to differentiate between the odai in their village and another on the far side of Erode. Water from cooking, runoff from wells, drainage from toilets, all flow through a system of open ditches along side the homes. Each dwelling adds to the flow. Some drainage spreads out into open spaces, some flows into the odai.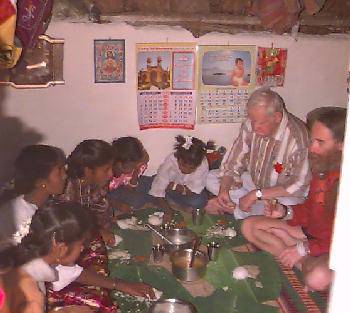 Sivakami, one of the sponsored children who lives at the Girls Boarding Home during the school year, is visiting her mother and father and two sisters for the Christian holiday. Today we had breakfast at the home of Sivakami. Mr. Cook, several other boarding girls, Issac, me, Sivakami--her mother and sisters served the meal, walking between the two small rooms in which they lived. Electric wires pass above the thatched roof but there is no drop here; cooking is usually on a small wood or eruvamutty (sun dried cow dung patty) fire tho a single burner pressure gas stove is available. Some of the ways between homes are hard packed earth, swept clean, some are cement--everything is clean and we all leave our sandals at the door and sit on their sleeping mats for the meal. Iddly and sambah have been supplemented on this special occasion with vadai (a spicy baked grain puff) and payasam (thin tapioca like flavour with "noodles") and then Sivakami leads me on a tour round her village and back.
Child labour vs juvenile delinquency has come round again as a subject of discussion. It is unquestionably a simplistic viewpoint on my part to maintain that child labour is better for the child and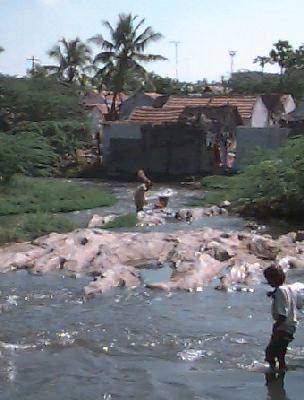 more productive for the community than the juvenile delinquency I see as the trade off but the fact remains: There are no idle youths standing around the street corners in Erode; I feel very much safer on these crowded streets than I do on those of Miami or Los Angeles. And yet India is trying to outlaw child labour without considering the consequences nor the alternatives. We have had some interesting discussions, it is a complex issue.
Its kind of neat the way my T-shirts come back from the laundry ironed, and folded just so with a piece of crinkly paper inside.
Saturday, December 23, 1995, Oso con Migo Meets Ganesh
Sampoornam's for brunch this morning as the Erode section of this adventure draws to a close. And a good thing too cos it seems that every day breakfast gets to be a little later and lunch a little longer. Today's driver was the worst of the lot so far--asleep it seemed part of the time. At one point he was weaving to and fro across the centre line and spending altogether too much time on the wrong side of it when a bus came round the curve on his wrong side and our driver just did not react fast enough to suit me. I grabbed at the wheel and pulled it hard over, Issac spoke to the driver and told me not to worry. The rest of the trip was completed without incident, we went a little slower and kept left a little better.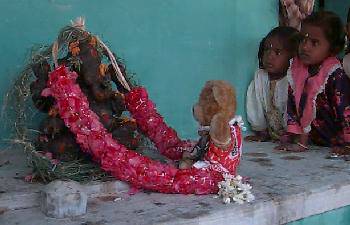 Vannankattuvalasu is west of Erode by a half an hour and then a little south of the main road. The village well has a tap rather than the manual pump I have seen in all the other places I have been in the past few days. Sampoornam lives with her mother, father, and two sisters right across the street. After the usual sitting around long enough for all the neighbors to have good look and after breakfast and photos all round we commenced a parade to the temple where Ganesh holds court. Ganesh works for Brahma as Lord of Good Things; there is a shrine for Ganesh right out in front of the Sivranjani Hotel here and every time we have returned with garlands from another meeting I have left them off with Ganesh, as much a plea for protection on the next trip as atonement for all the bad things I have been thinking about the driver of that one. So far its working.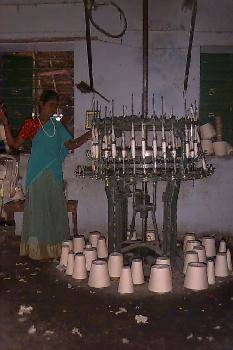 Between brunch and lunch, the former being mid morning and the latter being mid afternoon, we visited a textile mill. A little like Lowell Massachusetts in the late 1800's complete with the children loading bobbins into the shuttle. Fourteen looms and a bobbin winder were running, powered from a system of overhead belts and pulleys, in each of two buildings. There were not all that many workers around, half a dozen or so, the youngest was said to be fifteen but there was one ten-year old girl who had just been taken on as apprentice floor sweeper and bobbin winder. The mill was producing bolts of cotton cloth which would later have designs printed on and then be made into lungis (a kind of one piece wrap used my men to sleep in).
Tomorrow we begin to move again. The visits are over; the school's on holiday, time to get on the road. We will visit a Gipsy colony near Erode, a tea plantation near where Issac's family lives in Nilgris, a wildlife sanctuary in Mudumalai, all over the next four days on the way to the airport in Mardas.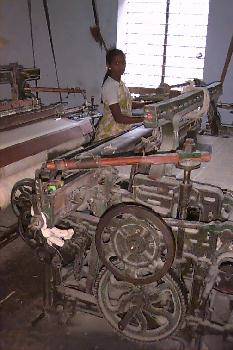 A last word from the Gandhi Museum--
"Where the mind is without fear and the head is held high;
Where knowledge is free;
Where the world has not been broken up into fragments by narrow
domestic walls;
Where words come out from the depth of truth;
Where tireless striving stretches its arms towards perfection;
Where the clear stream of reason has not lost its way into the dreary
desert sand of dead habit;
Where the mind is lead forward by thee into ever-widening thought and
action--
Into that heaven of freedom, my father, let my country awake."
--Rabindranath Tagore
I would offer that thought, paraphrased slightly perhaps, as a prayer for the future of the Internet.
Vanakkam, Poondu

A.J.Oxton, OA, OO, OAE, k1oIq

Back to ajo
Copyright © 2003, A.J.Oxton, The Cat Drag'd Inn , 03813-0144.