2011v18 Farthest Point West
On the way here from Sutherlin the road is downhill, following the bed of the Umpqua River. Several switchbacks this way and that give me a chance to see in the rear view mirror that TinyTruck is still following along, in one place to even see that the brake lights are working. Driving in the rain just west of Sutherlin I pick up a hitchhiker. They are a rare breed these days and I have to grab every chance I can get. This was only the second one I've seen this trip; the first one was going the other way. This was a local guy, going home to Reedsport, had all sorts of storeys and comments. Good entertainment.

Parked on a bluff above the beach (above the reach of any incipient tsunami I hope) in the Forest Service Tillicum Campground somewhere in the vicinity of Waldport ORegon. The tide is out this morning, sky overcast with low clouds, there was a little rain overnight. Arrived here yesterday afternoon and spent the first hour just getting parked. The loop road is nicely paved as are all the spurs into the camp sites however they are all too small for The Cat to be Drag'd Inn to and most of the spurs are not near level.

Rules again. One must park between the lines. All wheels must be on the pavement. Bad enough the fee is eleven dollars a night here (and that includes the Geezer Discount), for nothing but the pavement it seems--no water, no dump, no showers, no electric, pit toilets--and if you're tow'd won't fit inside the line you are obliged to park it in the Day Use Area; if you do that then you get charged for an Extra Vehicle. Perhaps I am paying for the view: Forever to the west over the ocean. I manage to stand the truck on end and lean her against the bus; everything fits now. Just in time for a double green flash sunset. Quite spectacular. Thanks and a tip of my Red Hat to Betty!

Shopping in Reedsport on the way here I am reminded by the line item "DEP BEER 6 PK...30" that ORegon is a Deposit Bottle State and I have to wonder how much fuel is it going to cost me to haul around all those empties and why is there no deposit on wine bottles and pickle jars. Someone has to do all this wondering and complaining. As with picking up trash along the trails and roads, there is not nearly enough of it going on.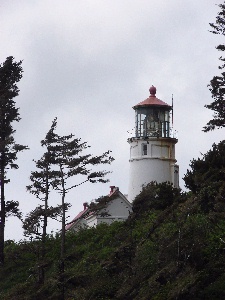 Next north on the coastal route was Heceta Head Lighthouse. Betty worked here once upon a while ago and usually her recommendations are good. I wouldn't have stopped here on my own but now wanted to see if the picture postcard views match up. They don't. The place is in a sad state of repair. Heceta Light is still functional as a navigation aid, unlike some of those along the ORegon coast which have been turned off, however it has been demoted to Secondary Nav Aid Status, replaced by GPS. GPS devices do not require as much knowledge and training to use, only a box of extra batteries. And they expect you to pay for Day Use of restrooms that are out of service, gift shop that is closed, Lighthouse Keeper's Cottage that is off limits, carpark littered with pot holes and tree limbs, water bubblers that don't... Even the 5$ parking fee collection station is a sore trial to make use of.

At least the Volunteer Docent knew his stuff. He said that plans are afoot to commence renovations this Summer. Painting, repairing and reopening windows, getting the structures back to picture postcard view. Along the trail I saw two kinds of cormorants he was able to identify for me: Brandt's nest in the tall trees, Pelagic nest on the ground of the rocky cliffs and islands. He said there were Murres at the top of the island a few days ago but eagles came and chased them away.

Seems like forever since I have seen the ocean, been this close to the sea. I want to put out in my little kayak and never come back but the wind is on shore now and paddling would be too much work. Need a sail and an outrigger. Last night, after a nice late supper of leftover Food Bank pork chops and beans the sun set over the ocean in a double Green Flash! There was a thin band of grey cloud way out there, making almost a false horizon a few degrees above the flat edge of the sea. The first green flash happened as the sun 'set' behind the cloud. Then the second brilliant flash, green tending toward blue, happened as the last sliver of sun slipped into the sea. Spectacular!


Astoria ORegon (Just remember: That's A Silent E.)
Mike and I have been chatting by ham radio almost continuously as I drive, as if he were a ride-along passenger assisting with comments about things to look for that I might not see.

As I drove north from Tillicum the first port was that of Wald- where I stopped for a visit to the postal office. Jim Lewman was sitting on his recumbent tricycle drooling over The Cat Drag'd Inn when I returned. I'd made his day he said. Always dreamed of setting out in something like this, he said. We chatted about the relative merits of house, bicycle--with and without trailer--and something like a big bus or other Residence Vehicle. In the end he offered to trade me: his trike for my bus. Sara(h) vetoed the deal. Said she'd leave before she'd ride on anything with no roof.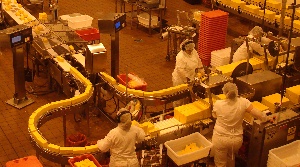 Later, after several surprisingly tall and steep hills for a coastal road, as another Tilli-town came into view, Mike told me to watch for the Tillimook cheese factory and there it was, with RV parking and controlled access. As long as Cabot Farms of Vermont is not looking--they make my favourite "Seriously Sharp Cheddar"--I'll stop for a tour. Forty pound blocks of cheese are cut into retail package size, weighed, trimmed, wrapped, and shipped right before my eyes. Of course one does not get out of the tour without traversing the gauntlet of gift shop. Eventually I had to ask a shelfstocker if they had any cheesy postcards. "I assume you mean nice postcards of our cheese factory", the woman replied, and showed me where to find the postcard rack. Cheese anyone?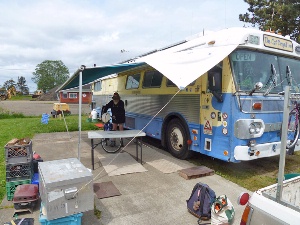 Now in Astoria at a funky little campground that used to be a mobile home park. Situated along the River Walk at the East Mooring Basin, an easy bike ride to Safeway and Post Office, and the big bicentennial party that happened downtown yesterday. A raft of barking seals outside my window makes me feel right at home here: Just like Palmer Station. Weather here, cloudy, damp, drizzle alternates with periods of intermittent light rain and overcast sky. Been that way for a month. I am fading away, rusting; soon I'll have to inject vitamin D supplements.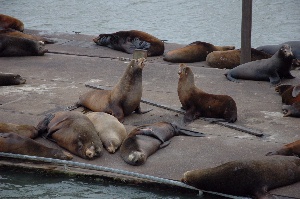 Jane and Jon took me for a walkabout between showers from Fort Clatsop to Sunset Beach. To gain admission to Lewis and Clark's Last Resort one has to get past a ticket taker with an impressive list of entry options: One Single, Family, Annual, Group, or the Forever A Geezer Pass. As we approached the counter Jon and I whipped out our Geezer Passes. Wait Jon, I said, You took care of the lunch sandwiches from Subway; I'll take care of this. (A Geezer Pass allows one entrance to all sorts of National Fee Areas and half price for camping fees. At some places the fee is assessed by the carload. Other places only the bearer and two or three companions.)

So then the Ticket Taker carded me. "I need to be sure this card is really yours", she said, "so I need to see some Photo ID". Well, I wasn't carrying any other ID. By the goddess! My wallet weighs more than my liter of water, my camera, and a ham radio with extra battery combined! I don't carry all that plastic when I'm on a hike.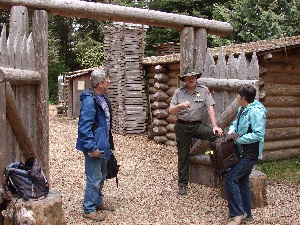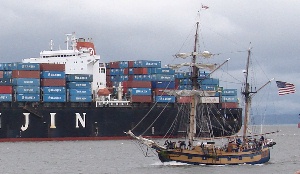 Jon stepped into the fray (just as he would later step into a cow-flop) with his Geezer Pass and the Ticket Taker asked him: "Are you old enough to have one of these?" Really now...

Along the way the trail followed a corridor between the outside edges of several cow pastures and where we crossed from one pasture to another there were mazes and gates that only people should be able to negotiate. Some cows may be smarter than some people. At one such maze a small calf was part way into the maze between her pasture and our corridor. Momma cow and several aunties were gathered round giving us the hairy eyeball and calling to the calf. Meanwhile, whilst the recalcitrant ruminant remained in the maze we three dodged dung piles and puddles of pee to run the gauntlet between the bovines. The little calf bolted into our corridor and kept ahead of us as momma and aunties, a flimsy fence away, trotted along mooing encouragement and entreaties. Eventually at one confusing corner the calf leapt between the barbed wire strands and we escaped through another maze. Phew!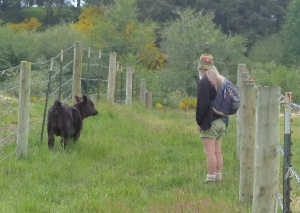 Just to get even we had hamburgers for supper.


Still/again raining here.

The official end of the rainy season was either yesterday or tomorrow however as with the monsoon in AridZona the weather gods have no respect for rules made by humans.

Rain-Rain-Go-Away
This is most the end of May
Yet more rain this day

What does it say about me when a book I'm reading determines the timing and content of my breky? My book at this morning's coffee is

Forget Me Not

by Jennifer Lowe-Anker. In some respects this memoir is similar to Laura Waterman's

Losing The Garden

: both women lost a husband to the mountains. I am up to that part where Jenni and Conrad are on their honeymoon trip to the Everest Base Camp and she writes of the smell of warm cinnamon rolls. Drool-drool! Had to stop and make some right quick.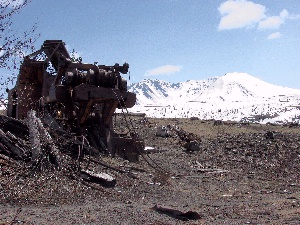 Side trip to Mount Saint Helens to see the devastation and regrowth. Both are rather awesome.


Decoration Day 2011

Relocated

The Cat Drag'd Inn

to Fort Stevens State Park. At first I thought I was going to get out from under the rain cloud that seems to be snagged on the top of the Astoria Column and indeed yesterday afternoon when I was parking and off loading Tiny Truck the sky was a delightful shade of blue between the giant trees surrounding my slip #260. Reminds me a lot of the place I parked when here last several years ago. Might even be the same one. Feels a lot like home and I did manage to finally change the 3208's 18 quarts of oil and three filters.

But then this morning the rain came on again, steady and steadfast. Not a good day to continue the maintenance but for sure a good day to take Little Jon the old oil and have a second breky with some of the local hams. Also some shopping in the rain.

Just as well. I have a pair of sox needing darning, my mail bag has a broken strap.


June Bugs In The Woods

Thinner - Smarter - Happier was the theme of an infomercial running on the ORegon Public Broadcasting begathon. "Amen Solutions" featured a charismatic speaker and what he described as Not A Crash Diet Weight Loss Programme but a way to live Thinner Smarter Happier for the rest of your life. I have to say, in part based on other things I've read and in part on my own experience and what I believe works for me, that this guy did say some interesting statements about a sensible approach to eating and health. Not weight loss mind you. Loosing pounds of ugly fat is a by product of his plan. I thought the best part of his pitch was a very graphic demonstration of what 40 pounds of fat looks like. At that point in the programme, as if he were unveiling a statue, he pulled the drape from a clear tub of FAT! Picking up the tub and walking around the stage with 2-3 cubic feet of FAT held close to his chest drove the point home.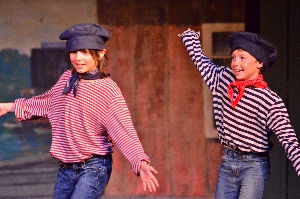 But this was not at all about a crash diet. His approach was about avoiding the Dinosaur Syndrome: Big Body, Small Brain, Go Extinct. That was the first point of his plan. The last point was Influence Others.

My diet of Small Bowl - No Seconds - Eat With Chopsticks works for me. Curry, garlic, red bell peppers, turmeric, are already important components; as are lots of Vitamin D, especially the real thing: Got Sun? Now I will add fish oil, or more oily fish, and more green tea. And another of his lines: "Walk as if you're late, 45 minutes, four times a week". I'll need to work at that.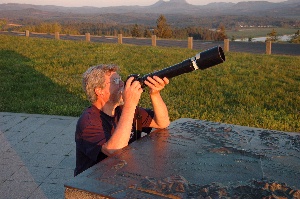 You should find this programme, even if only for the entertainment value--he was rather funny. Watch for it on your local PBS outlet. Look for it on the web. Google Thinner - Smarter - Happier and the call letters of your public television station.

Consider your Self influenced.

There are mosquitoes here. Thick, big, tall trees, wild flowers in profusion, birds and puddles, occasionally a shaft of sunlight breaks through. In between showers I've lubed the bus, found some geocaches, and met a few other campers. More of that to do today.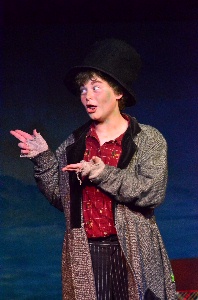 Weather Back To Normal
My extra day in the woods turned out to be a mistake. Checkout time at Fort Stevens is 13 o'clock and at half past that hour, just as I was returning from nine miles of geocaching, a pair of rangers came by to remind me. What day is today, I asked. Friday the third. But I have until the 4th... See on the tag there in my window.

Sure enough the tag said 6-4 but the ranger's resi form said 6-3. So we looked at my credit card receipt. Checkout was indicated as 6-3! So the clerk made an error and I never thought about it; that's the origin of my confusion! There was no way to stay, full house reserved for the weekend; since my confusion was their mistake the ranger gave me an extra couple of hours to pack. So now I am back at the Safeway for another few nights. And I have found an open wifi hotspot here!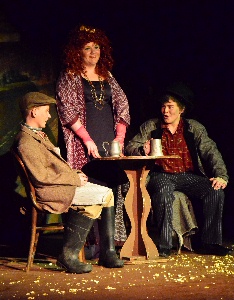 A musical melodrama set in 1904 Astoria during the Scandinavian Midsummer Festival; in this version all the actors are kids. The hero, Eric Olson must rescue his sweetheart Miss Virginia Sweet from her ward Max Krooke who is conspiring to have Eric shanghaied and shipped out. I helped Jon in the role of Photographer's Mate as we did the Official Photography at the Dress Rehearsal performance. Besides getting to go back stage we got a free beer at intermission. This show is worth driving to Astoria for.

Ever since that incredible Green Flash Sunset at Tillicum I've been watching for another opportunity so I might make up for not having a camera ready. The next best shot was June 5th and we all trooped up to the Astoria Column to get a good view of the horizon. And another cloudy orange sunset was the reward. Don't get me wrong. Cloudy orange sunsets are indeed beautiful in their own right; they last a lot longer than a green flash and come in an infinite variety of shapes and sizes. They're just not the same!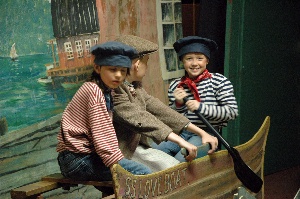 Bagby Hot Spring and Other Places
Milo McIver State Park is about the last of the campgrounds at the end of the more or less level flat roads southeast of Portland ORegon on the way to the Mount Hood National Forest. Beyond Estacada, Hwy 224 wriggles along for 26 miles of up-Up-UP! And then the several forest roads climb further into spectacular and awesome mountains. The road is well paved right to the Bagby Hot Spring carpark and there are dozens of rustic campgrounds which would accommodate a small trailer, but not The Cat Drag'd Inn. So the bus stayed at McIver, with Sara(h) the TacoCat faithfully on nap, whilst Tiny Truck, sans kayak, but with Limmers, made the climb.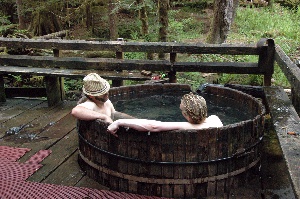 Bagby is rated as "one of the best..." in Gersh-Young's guide and I must admit, the site was well laid out and amazingly clean considering the number of people soaking there; the Friends of Bagby Hot Springs are doing a wonderful job. In one bathhouse--walls and a partial roof--there are several round tubs each large enough for a few people; in another bathhouse of little cubicles with doors there are tubs, one in each cube, each hewn from the bole of a tree. Hot water, coming from the source at 135f, did not lose much heat in the hundred feet of open trough and pipe; to cool the soak one carried buckets of cold water piped from the river. Discretely away from the two bathhouses and shielded by a wall (so as not to offend the clothed minded) there is a single tub on an open deck. A tub with a view of more than a graffiti covered wall! But it was occupied. My soak, in one of the tree trunk tubs, was short; I felt somehow uncomfortable there, just not my kind of place. Too much privacy. Too much enclosure. "Non recte recipit haec nos rerum natura nisi nudos." --Pliny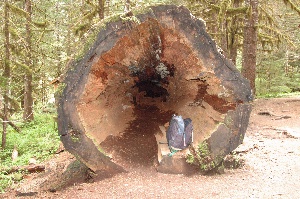 Austin Hot Spring, on the other hand, a few miles away on Forest Road 46, was a mess. A disaster area fouled by the detritus of the uncouth. Would have been a nice soak had the river been not so high and cold. Instead I collected trash enough to fill four garbage bags and then coasted down the hill to McIver,

The Cat Drag'd Inn,

and TacocaT.