2011-06-17, LoLo, Hi Hi
No, that doesn't mean on the beach in Hawaii. Would that I were. Where did I leave off the Last Logorrhea? No matter. If I skip a few daze nobody will notice.

Suffice it to say a lot of miles have gone under the wheels since Astoria. (786 to be precise.) The Cat has Drag'd herself across one entire Time Zone and it would seem has dragged the drizzle overcast drippy wet right along with us.

Well, Ok, the weather has not been

all

that bad but I must say that part of the reason for driving has been only to charge the battery so I can write about the intervals of not driving. No sun means no charge: one of the downsides of photovoltaic dependency, eh?

Along the way I learnt about McWiFi, gave rides to the same hitchhiker two days in a row, much to my dismay found two more Flying-J fuel stops that aren't anymore (may be time to switch loyalties...), and survived the Scenic Route 12 across Idaho. The details of all those twists and turns would fill a book.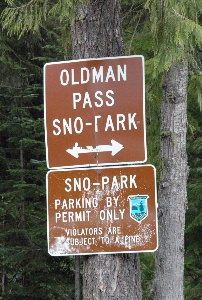 First stop after departing Astoria was to see Mike of Longview. Fortunately he lives on a hill way above the Tsunami Zone and also well above the flood level of the Columbia River. Next on my list was Collins Beach on Sauvie Island. The Columbia that day was "at 17 feet" what ever that means; while the bridge over to Sauvie was above the raging river the beach was well below. Not to worry, the sky was pretty much under water as well so there was little point in trying to play in the sun. I had better luck finding Doyle for dinner in downtown Portland.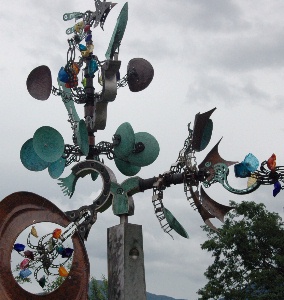 Hitchhikers are an endangered species so I try to help them when I can. Darcy was headed to the Rainbow Gathering. We went as far as Old Man Pass and then turned back to Stevenson; there was still snow in the pass and The Gathering wasn't going to start until the First of July so she had plenty of time to walk back as the snow melted. In the park at Stevenson is found

Galaxy

, a kinetic sculpture by Andrew Carson. With a slight breeze the contraption whirls and wriggles and oscillates; were the sun shining through I am sure there would be sparkles and rainbows. Next hitchhiker was Paul; he was looking to get all the way to Missoula so I carried him as far as Lewiston where I wanted to stop for groceries and try for some McWiFi. Next day, a few miles along Scenic Route 12 there was Paul again. US12 follows the Middle Fork of the Clearwater River and then the Lochsa River up towards Lolo Pass. Along the way are several of Idaho's many hot springs and my target for this day was Weir Creek where hot water bubbles from a rock face above the cold creek. The drive was long and arduous. Narrow, two lane, no shoulder, most of the time no guard rail between me and the Lochsa. Once it was so crowded: at one of those no-guard rail places there was a big black raft of screaming people coming down stream, a bicycle going up in my lane and a truck loaded with logs taking his half out of the middle coming down round the curve towards... Phew! Good thing the bicyclist was wearing a PFD.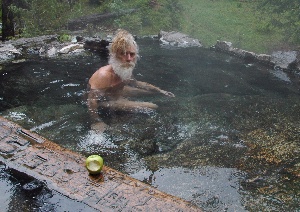 Soaking in the Weir Hot Spring next day felt really great.

Rain dampened my enthusiasm the next day so I bypassed Jerry Johnson and came on over the pass into Lolo to find Olga and sit still for a few days. Sort of sit still. At least not driving. Olga took care of the driving as we visited Farmer's Market, River Park, Lolo Hot Springs (swim togs required), and puttered in the garden and painted the sun deck. One of the features of the River Park is a fantastic carousel, quite like the one at the Smithsonian on The Mall in Washington DC. "A Carousel for Missoula" started as the dream of Chuck Kaparich carved the first four ponies and purchased the 16,066 pieces of and antique frame. Missoula was caught up in his dream and today 38 carved wooden ponies prance next to Dragon Hollow on the Clark Fork River.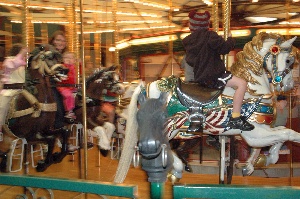 Summer Solstice - Time for Change
Reading in various magazines and clipping my finger nails and I've come to the conclusion that the time has come, tho it may be rather too late (what's the point now, eh) that I need to make some sort of political, philosophical statement. I am not proud to be American. I am ashamed. Of this country, the people, and the government, and most of all my Self. And I don't know what to do. Stand up and make waves--to what end other than being committed or jailed? Or leave town, cross some border, never come back.

First I need to learn if I can take my SSI with me. I worked long years for my retirement income and now I must depend upon that monthly stipend, like it or not.

Or stay here in this abominable prudish war-mongering profit-hungry country and continue to make waves. That is the hard part; staying here any longer may be more difficult than moving elsewhere.

Or just stay here and do nothing. Furl my sails, hide my colours, take up golf and shuffleboard...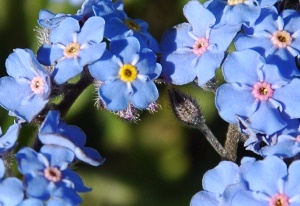 Two officers of the ORegon State Police came to my door whilst I was at Fort Stevens State Park in ORegon a fortnight back. Wanted to know if I had any naked children aboard. Seems someone complained that I was soliciting on my website for kids between the ages of 7 and 12 to travel naked. Not to travel America and see what a wonder filled country this is despite all that is wrong with our society, only that they might be naked.

Being naked seems to be illegal for children in ORegon; despite that state having two well established and recognised nude beaches--at least one of them at a state park--and any number of fine hot springs. I should like to debate such stupidity but have not the resources nor the patience.

So I've removed all the references I can find to 7 and 12, and Summer Camp as well, I think/hope. Just as well. More and more I find I no longer really want to share my space. And I really don't care any longer if all the kids in this country turn into obese, vapid, couch potatoes incapable of thinking beyond choice of chips to have for lunch. The admonition "Caution: Keep out of reach of children" is advice I should well heed.

Jonathan Katz writes about a sign that says "Caution, Small Children Playing." "I slow down," he continues, "and then it occurs to me: I'm not afraid of small children." You know, I believe now that I am afraid of children; that I didn't used to be, that I cared about them even, is what bothers me the most.

On the other hand, Dr. Seuss wrote: "Be who you are and say what you feel, because those who mind don't matter and those who matter don't mind." I see I'm painting my Self into another fit of depression.

Happy Summer Solstice! Yesterday I went into the great forested hills north of Lolo to be blessed with sage smoke and walk a stone labyrinth. An auspicious gathering of humans among tall pines and carpets of poppy under the first warm blue sky in weeks; sleek horses watched and a dog greeted. Leandra said that we give over to others the power to control our lives. How to take back that power, that is the question.


Field Day Weekend - Ramblings
Painting Olga's porch deck is the task at hand today. I've done the top of the railing--scraped the old paint, filled the cracks with wood putty, sanded, painted one coat. The deck is scraped; now for the painting. Two days ago the main computer internal CD-ROM drive got erratic enough to warrent replacement; that part went well; the new one, at least the same specs as the old, was half the cost. The old one might be repairable if I can find a drive belt. Cold enough, 37f, outside this morning to at least think seriously about oatmeal for breky; furnace on for a while. My new fifty dollar pillow works well for sleeping on. Taking comparison pictures with Sony and Nikon cameras reveals slight differences of colour quality; I like the colours from the Sony better but the Nikon is so much easier to use. Washed all the bus windows, outside and in, all those insides I can get to anyhow. Last night I watched the last of the 43 movies collected before this sojourn on the road began. Now I can get back to reading books.


Tilano's Jeans
Reading in

The Anthology of Turquoise

by Ellen Meloy: "We are still out there walking, limping, or crawling or, with a bounty of wild times already under our belts, we simply want our grandchildren to have the chance for similar experiences of solitude, peace, and quiet even if we have to stay home strapped to our sofas, sobbing with envy while they go. ... When age fixes me to a chair on the porch...I hope I will have the courage to wipe away the drool and pay attention."


Changing Of The Month
Arrived Lake YNP last night after a long and arduous climb up over a couple of 8000'MSL passes and several lesser hills along the way. My 200 miles a week budget is shot to hell and I really need to sit still for a month to let the money catch up to the miles but such is not likely to happen until I find another no-cost camp.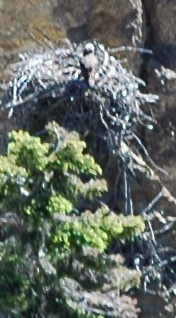 Not hardly unpacked and the Park Rangers stopped to visit. "We heard you were in town..." One said he wanted to learn about Naturists. I've turned off my website again and removed even more of the pictures. This is all very discouraging. But other than putting up with the harassment I am learning first hand why TNS is so overly cautious and all the more these events bolster my feeling that I need to leave this repressive country for a place where humans are not so afraid of their own bodies, some land where people can think and reason and separate nudity from sex.

Tour Guide friend Betty took me on tour to look for the other kind of bears. We saw a momma bear with two cubs, a sandhill crane, an osprey, bunches of bison, wide fields of wildflowers, and the usual clots of tourists. My week at YNP went by too fast. One would really have to spend a month there.


2011vii9, WallyWorld Caravanserai, Cody WYoming...
Out the East Gate and down the long grade towards Buffalo Bill Cody's town on the Shoshone River. Water running too high and too fast for my kayaking skill but still I was obliged to stop at an Invasive Species Check Point for inspection. My sea green kayak has not been right side up and wet on the bottom from anything but rain since when... Not sure I remember: A year ago at Watson Lake in Prescott AridZona? I've tried to sell her but the market is glutted.

Never have I seen so many Residence Vehicles parked at a Wal-Mart. And such camaraderie! Adults standing around after supper in small groups chatting, kids running to and fro yelling. There must be 23 rigs in residence in two rows along the west line of the carpark; most arrive late in the afternoon, some of them have been here for more than a week. A placard on a lamp post describes the way to the nearest RV Dump Station. I'm planning to sit here for a month to wait for my budget to catch up with expenses. Desperate times call for desperate measures--I've applied to Wal-Mart for a position as cart pusher and stock geezer.

The Wal-Mart employment application must be about 17 pages of touchscreen <Next> buttons and in addition to all the personal information collected there is a 65 question Personality Profile Questioneer which looks quite like the PPQs used in the Antarctic Programme. Seems as tho every third question is concerned with conflict resolution or theft. Also filled in all the blanks at two Temp Help agencies.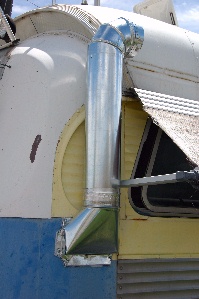 Half Past July
Found the problem resulting in excessive exhaust smoke! In the nylon tube which goes from the intake manifold to the Turbo Boost Gauge, where the tubing passes under the exhaust brake, I found a tiny leak. The tubing must have got really hot there and burst under pressure during the hill climb up to YNP. Now the leak is repaired and road tested. Just running across the WallyWorld carpark in Cody was enough to see that the smoke during shifting was greatly reduced and boost pressure was way up. Still I went a mile up the road and back to watch the shifting and acceleration. Boost pressure is up where it belongs! All is well again! Next project was to build an extension for the motor's air intake. As it was the original intake is right in the dust plume thrown up by the rear wheels, especially when driving on a gravel road. A few hours of such travel usually costs a $70 dollar air filter. So I built a stack of stove pipe parts to get the intake up nearer the roof-line. Works great!

Weather from day to day here has been sunny mornings, 45-55f, and then increasingly cloudy and warmer as the day progresses, usually with low 80s and thunderstorms by late afternoon. Yesterday there was 0.14 rain and a trace of small hail.

No work yet but the prospects still look good and the caravanserai at this WallyWorld is a friendly place. Some folks have been here for more weeks than I have been on the road this Summer. Also of note here: Instead of signs saying No Camping there is one telling of the locations of nearby Dump Stations. The nearest is a free dump operated by the city near the airport on the road south to Meeteetse.

All the cattle hereabouts reminds me of a long ago friend: Peter's uncle was a farmer who seemed to never be able to explain things. He used to have a herd of cows but as he got older had fewer and fewer. One day Peter met his uncle at the pub. The old man seemed a bit down and out and when greeted replied:

Well, you know, some things you just can't explain.

Like what? What's happened this time? Peter asked.

Well we've got only one cow left you know, Bessy she is, and this morning I went in the barn as usual to milk her. I set down the pail under her udder and sat on the stool and commenced to work her and, you know, some things you just can't explain: She picked up her hind foot and kicked over the bucket and the milk spilled out.

So I got a string and tied that foot to the stanchion. Then I set up the bucket and sat on the stool and commenced to continue and, you know, some things you just can't explain: She picked up her other hind foot and kicked over the bucket again.

So I got another piece of string and tied that foot to the other stanchion. Then I set up the bucket and sat on the stool and commenced to continue and, you know, some things you just can't explain: Bessy brought her tail round and almost tipped over the bucket. Well, I took off my belt and tied it to her tail and stood up on the stool to fix the buckle over a nail.

Well then my trousers fell down and, you know, some things you just can't explain: Right then, your aunt, my wife, walked in.


This Is Wyoming
Overheard in the checkout line: Can you tell me where I can find a good vegetarian restaurant in Cody? Ma'am, the Cowboy answered, this is Wyoming; in the local native dialect "vegetarian" means "Bad Hunter".

Seen on a T-Shirt: BAD GUYS? / There's an app for that. / iCarry


2011 August Double-D Ranch Rehab Project
Phew! It is quite clear now, five days into this project, that if I don't journal every day most of the detail is lost. But then again, what's to write about besides the thunder and the mosquitoes? In the past few days: Drove the bus through JoJo Creek to get into this construction camp. The water pump on Tiny Truck has failed. The altitude here is getting to me; the air is too thin at 8,300'MSL. Not enough insolation: between short days, high mountains, most always cloudy; the battery is insufficiently charged to spend much time on the computer journaling.

As has been said: Deaperate Times Call For Desperate Measures. In this case three weeks at WallyWorld was such a Desperate Measure. In part to await the deposit of my next SSI dole, in part to wait for the beginning of this next adventure. To make the best of the time I looked for work: signed on with two temp help agencies, looked in the local weekly newspaper for jobs, wandered around town looking for signs of Help Wanted. For all that I landed one day of a few hours only helping to clean a house and driving to and fro people who had no wheels of their own. Twenty dollars for my time and some coins for mileage. In the meanwhile I met lots of other neat travellers and picked up a few bags of trash around the caravanserai.

One traveller, a couple from Germany, two years ago loaded their small Mercedes coach onto a car-carrier ship in Germany and took a stateroom on the same vessel. They sailed south from Europe along the West coast of Africa, stopping at many ports to offload European cars and eventually crossed the South Atlantic to Brazil and then Argentina where their coach was finally set down on a road. Since then they have motored North through South America, Central America, and North America. Getting across the Panama Canal cost two thousand dollars and a week on a barge. When I met them in Cody they were returning from Alaska having driven North of the Arctic Circle and were headed east now.


The Double-D Ranch was in the 1930's a Dude Ranch where among other personages Amelia Earhart vacationed more than once. Today many of the cabins and the main lodge, being on the National Register of Historic Places, are in a state of disrepair and so HistoriCorps and the Forest Service are working to restore the buildings as time and money allow.

Getting

The Cat Drag'd Inn

here was an adventure in itself. A thousand foot climb along thirty miles of road, fifteen paved and ten of good washboard, at least with bridges. The last six or so miles are a one lane dirt track with two paved fords and then a river. That's where I stopped. Enough daylight remained to find my way to a wide spot for that night. In the morning I watched a few trucks and trailers drive through the river and figured there was about six inches of water in the ford and if they could get through so could

The Cat Drag'd Inn

.

8,300 feet MSL in a valley surrounded by 12,000 foot peaks is my camp now. Bright sun in the mornings, once the sun clears the mountains, usually cloudy afternoons with nearly everyday showers, and then cold nights. This morning was the lowest temperature so far at 37f. I'm having to wear clothes that have been packed away since last used on Mount Washington. Instead of wearing a handheld radio on my belt I have a canister of bear spray on one hip and bug spray on the other. So far no bears. Of either spelling. Most of the volunteers are living in tents. There are two camp trailers and a cook/dining tent; we aren't really taking turns cooking but everyone helps out with meals and cleaning up.

This is a hard hat construction site. And gloves and safety glasses too. Also hard work. The elevation doesn't help any. I suppose if one stays around long enough you get acclimatised. How long is enough?


This Would Be Pi Day In March
Instead this is August in Thermopolis. The rehab at Double-D goes on, and will likely continue next year, but my turn is over for this year; next year I would like to consider spending a month there. Now I am bound for Pie Town to enter my Pickle Upsidedown Pie in the Pie Phestival.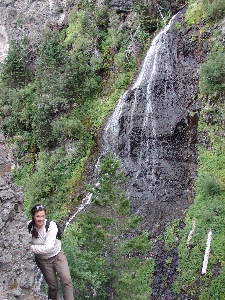 Acclimatisation to the altitude took me about ten days including at least a day of getting used to the water. Bad enough panting whilst only walking over to water a tree... But by my last day there I was able to keep up and even lead some of the time when we went for a walk up JoJo Crik to find the spring which the Dude Ranch used for a water source.

First night was spent outside the ranch, beyond the cattle guard, on the east side of JoJo Crik. Smoke from a 13,000 acre forest fire about 20 miles west was limiting visibility to less than two miles and there was some discussion that we might have to evacuate the camp. On monday morning I watched several other trucks and ATVs go through the JoJo Ford and eventually screwed up enough gumption to take Tiny Truck through. Made it and made it back and so I drove the bus in and found a nice flat spot to camp not too far from the cook tent. The wind had by then blown away all the smoke for for the rest of the week the air was thin and clear with afternoon showers and temperatures which ranged from 30f to 70f. It was an interesting experience to say the least to be so long with out connectivity. No cell service or TV, only one FM radio station--fortunately for me it was NPR out of Casper WYoming--only one mostly quiet Ham Radio repeater, even HF radio was of little use. One of the project managers had an Iridium Satellite Phone but even that was not 100% reliable. Needless to say there was no WiFi.

A typical day consisted of getting up with the Alarum Cat at her usual 05h00 o'clock time tho as the week progressed sunrise went from a few minutes before 06h00 to a few minutes after. I had my first coffee at

The Cat Drag'd Inn

, read and puttered for a while and then dressed in boots, jeans, shirt, jacket, hat, gloves, and bear spray and went out to join the crew for breky under the Big Top. Food stuffs and gear were stored in bins in a U-Haul trailer and had to be repacked after every meal. (There was a special rider on the trailer's rental agreement that included bear attack insurance but only if the trailer were actually hitched to a tow vehicle so were all cautioned, in event of a bear event, to be sure some truck was hitched before taking any pictures.) Cooking was done on a three burner camp stove fired by propane, the kit included all sorts of cowboy style enamelled cups, bowls, plates, and large kettles, and we mostly took turns with the chores tho not in any order or duty roster.

After breky, during the first few days at least, I would walk the half mile up from camp to work site; later, as the routine became more settled, I took rides as available. Most days I returned to The...Inn for lunch and a nap. We worked another few hours in the afternoon but typically put the tools away and stopped for supper between four and six. Some days there had been sufficient sun to warm my solar shower, other days were too windy and so a sponge bath was in order. Supper was followed by a few hours around the fire but I usually went off to read and bed about dark.

The ranch consists of a main lodge and garage backed up against a ridge along the north side of a long narrow east-west valley. One might want to call the space a canyon. Downhill to the south is the Wood River. Behind the ridge, to the north, is Jojo Creek, Jojo Lake, and Jojo Mountain. Seven miles up stream on the Wood River is the abandoned mining town of Kirwin, also the focus of some restoration efforts, and beyond that is the Continental Divide. See the HistoriCorps page for details about this Double-D project. East and west of the main lodge are several guest log cabins in various states of decay and a barn way at the west end of the row. One of these cabins, Number 4, was used by Emelia Earhart. Our project was to replace the sill logs and roofs of cabins Two and Five and replace much of the rear wall of the barn as well as the barn roof.

My specific tasks were mostly to salvage useable roof boards, pick up stray nails, move rocks, charge and change batteries for the portable tools, and bake pies. I also did a lot of supervising and knot-tying. One afternoon I accompanied a survey team to Kirwin to search for flat rocks we might use for foundation under the new sill logs and to retrieve some boxes of nails. The mining town of Kirwin is another storey.

We got the sill logs in place and the roof boards on but the roofing material will be for the next team. Now I am four thousand feet lower, the air is thick, but not with smoke, a hot spring here beckons and the open road calls to me.


Shy Anne, The Last of WY-oming
Getting here was three-quarters the fun. U.S 287 between Lamont and Rawlins crosses the eastern chord of the Great Divide Basin, an interesting area where the Continental Divide itself divides into a vast roundabout enclosing some 3900 square miles of mostly curious high desert space. One of the curiouser parts is the place name "Baroil" on hwy 73. After a quiet night at Rawlins The Cat Drag'd Out onto i80 headed for Sara's-toga to look for the Hobo's Hot Spring. I measured the water coming out of the ground there at 118f. The Lobster Pot was too hot for me and even the main pool where the temperature was 110f was a bit hotter than I find comfortable; but the conversation with other soakers was tolerable so I stayed until I was well done. Feeling quite invigorated after that soak I blew all the dust, accumulated from thirty miles of dusty dirt road to and from Double-D, out of the engine room and then changed the air filter on the compressor.

On the road again, east bound on U.S. 30, The Lincoln Highway, a.k.a. i80, over the 8,840 foot pass, the highest point on this coast to coast highway. When, in the 1860s, the Union Pacific Railroad built through here they found a tree, already old, growing from a crack in a large boulder; the surveyers rerouted the tracks to pass nearby and in so doing created a tourist mecca. Today on i80 one finds this tree still growing from its boulder in the median.


Fort Collins, Where Time Begins
Also the home of OAE friend Mitch and his family. NCAR is here , and radio station WWV .


7 or 6 Trombones In (The Middle of) The Big Parade
Had an interesting drive from Greeley--stayed there at Wal-Mart friday night--to Denver this afternoon. Started out just fine. At Platteville the bus stopped at their post office to send the latest batch of on the road post cards--giving them away the Lincoln Highway Visitor Centre was. At the counter customers and clerk were discussing a road closure and the starting time of a parade. After determining the parade would be worth waiting for I returned to The...Inn and noticed a serious glycol leak; red fluid was dripping off the rock shield and Tiny Truck was awash--and will need a wash now. Actually, any glycol leak is serious with the stuff costing 12-14 dollars a gallon. Well now at least I had something to do whilst waiting for the parade. Poking around with this and that but didn't really discover the source. Then the Platteville Harvest Daze Parade came along. High school band was pretty good; the Girl Scouts actually resembled Girl Scouts but the Boy Scouts were well disguised; only by virtue of the reviewing stand announcement could one tell what that ragtag float was all about.

Along the road later, stopping every few miles, still watching the leak, I figured unless it was a failure of the radiator cap then there was something

really

broken bad so in Brighton I replaced the caps on both radiators, just to be sure. And added two gallons of glycol. Seems better now. The last few miles to this Flying-Pilot Truck Stop showed no further leaks.


Monday at The Well
More recently known as Dakota Hot Spring, along side U.S.50 in the vicinity of Penrose COlorado. Parts of my self which have not seen sufficient insolation since hitting the road in April are now coloured a strange reddish hue. Visiting this delightful hot spring only once every three years is simply not enough; I should like to live here.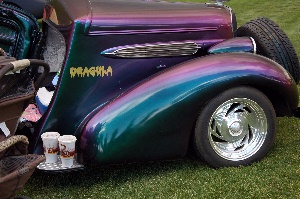 September at The ABQ Flying Pilot
The 31st Early Iron antique car and street rod festival at Alamosa COlorado is a great place to see piles of dollars in the form of paint, glass, and steel. Turning your parts car into a trailer was one of the common themes... This one, "

DRAGULA

" I especially liked. The only thing more colourful than the cars was some of the hairstyles. Purple seemed to be a popular choice, and green. Although naturally green hair is occasionally seen on Scandinavian boys, purple hair does not to my knowledge occur anywhere in humanity. (See the movies

My Life As A Dog

and

The Boy With Green Hair

.)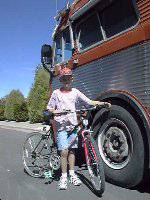 Fred is an OAE friend whom I met and worked with and for at Palmer back when Kevin still had training wheels on his bike. Years later Char and Fred welcomed me to Alamosa and every visit since then has been a grand combination of vehicle maintenance and shared meals. This visit featured a new water pump for Tiny Truck and a new wiring harness for Char's Nash Metropolitan; she is quite happy that now the taillights work as well as the right directional--we're saving the left directional for next year. Kevin, the kid across the street who used to visit Fred to get his bike fixed, is now driving a pickup and has two kids of his own.

Replacing Tiny Truck's water pump involved two days of tools I don't have; I am very thankful I had Fred's expertise to call upon; this is not a job I'd want to do by the side of the road. The water pump started making noise back in Cody and at first I could not tell from where the clanking rattling was emanating. At the Double-D Ranch the noise was apparent enough that one could see the pump shaft, and the fan, shake in step with the rattle. By Thermop I'd studied the shop manual enough to know that I should not be driving the truck and that I could not R&R the pump with my tools. To start with the book recommended removing the radiator. To get at the screws holding the radiator one had to remove the grill. The project went downhill from there. With the radiator and belts out of the way we had to pull the crankshaft pulley in order to remove the timing belt cover--one of the bolts holding the water pump was under that cover. Who ever designed this CF should have their fingernails pulled out one at a time whilst all their body hair is being shaved with a dry dull razor.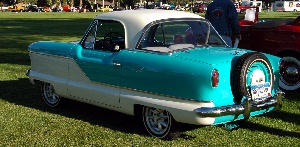 Replacing the Met's aft wiring harness was a picnic by comparison.

Pickle Upside-Down Pie was something I invented after reading

Roads to Quoz

by William Least Heat-Moon. I made a rightsideup pie at the Double-D and the effort was well received. The idea of turing the pie out on a platter, upside down, just happened and the "beta version", in a Graham Cracker shell, was made for Char's Sibling Brunch one sunday morning. When that worked and was well received I had the idea of doing it again for the Pie Town Pie Festival. Suddenly I couldn't wait to get going.

But first we had to do a bike ride. And before that I had to air up my bike's front tyre. Which proved to be a lost cause and ultimately replacing the inner tube was necessary. The area around the valve stem was perforated, no patching that. We pedaled out along the river to explore a "Flying Disk" Golf Course. Why are we not allowed to say "Frisbee"? Has that word not yet slipped into the vernacular as did "Kleenex"? At the trailhead is a poster warning of "Cougar Habitat". If you see a cougar, Don't Run. (I left my Bear Spray back at Double-D...)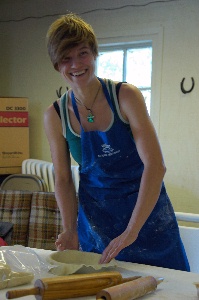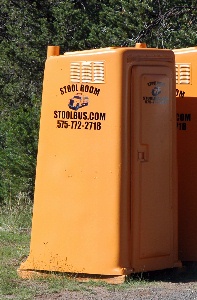 Half September Solitaire
Play

Makin' Pies

by Patti Griffin