I hope this finds you well. For the most part, for me, this has been a long dark Winter, just like the Winters at McMurdo and Palmer. Now we are a week beyond Spring Equinox, the sun is up for more than half each day and the temperature has hit an hundred more than once. There are lots of new toys to play with, new books to read, the larder is stocked with dents and dates from the food bank, time to head for the cooler hills. But nobody has written with travel plans. Nobody has answered my Grandfather For Rent adverts. Alone again, naturally.


Febter In Tonopah - RV There Yet
CBS News

interviews Jaimie Hall author of RV Traveling Tales: Women's Journeys on the Open Road: "A growing number of older women are driving motor homes and RVs thousands of miles to see friends and places they might never see otherwise. Lee Cowan reports on this hidden group of women who live on the country's roads."

Following all the fun and games in Ajo at Winter Solstice

The Cat Drag'd Inn

to Yuma and found berthing a little beyond, on the far side of Citrus Inspection Check Point, in the foreign land of CA. Olgilby Road. Nice place. Lots of room. And a short drive away from another foreign land where one can find a dentist for a cleaning without having to fill out reams of disclaimers and suffer a full-mouth set of X-Rays. So one fine day I left

The Cat Drag'd Inn

under guard of La Gata Sara(h) & drove TinyTruck south to Algodones very calmly to visit Betty's dentist. Not windy at all there.

Walking southbound across the border, U.S. to Mexico, is a quick jaunt; you can tell when you're across: the border is marked by a colourfully attired welcoming committee of locals. Algodones is known for the Dentists, Pharmacies, and Liquor Stores. Often all three in the same building. There are also shops selling rugs and sombreros. Lots of folks standing around ready to help you find the vendor you are looking for and a few others as well. The dentist I wanted had recently moved so my directions were of little use; eventually I found someone who recognised my English rendition of a Mexican translation of an Italian/Scandinavian/Gaelic name. After dentisterising for a while I walked over to the

Purple Store

and found a fine shapely bottle of Tequela for a special friend who likes the taste of fermented agave.

Walking north across the border is a different experience. First is the long queue snaking around the block before you even get to the barbed wire, wrought iron, and cinder block fence. Then you arrive at a one way turnstile into a holding pen festooned with video cameras. Once past the turnstile there is no going back; you are funneled into the welcoming committee which consists drably uniformed guards and inspectors who look you over with unsmiling eyes and barcode your passport. I had all I could do to behave as I managed to snuggle the fermented blue agave past the border patrol, INS, customs, and three aliens, all the way to Tonopah via Quartzsite.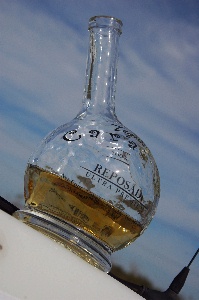 A few weeks later, in the course of preparations for a hike in the hills, I noted a strange yeasty smell in TinyTruck. Part kerosene? Made my mouth water a little. And only by accident did I hear the sloshing and gurgling of something wet. Somewhen along the bumpy roads betwix hither and yon, despite being wrapped in my third best wooly jumper and packed in a crate behind the driver's seat... need I say more? Too bad the bottle wasn't still full and in one piece by the time I'd arrived in Tonopah. Now my third best wooly jumper smells like a Mexican Jumping Bean on a binge. Melita Filters are good for more than just making coffee. Eventually I was able to wring out the jumper, filter out the shards, and successfully salvage most of the precious amber into one of my reclaimed Mrs Fanning's pickle jar tumblers.


Febteriddle
Greetings Fellow Word-mavens,

> It occurs to me to ask... What is the plural form of "your"? "youse" perhaps?

Y'all sent me many interesting replies. Thank you much.

> When people write "I" or "my" one can respond with "your" and be assured of the direction and
> application of the response, however when someone writes "we" or "our" how does one couch one's
> response to indicate perhaps a questioning of the collectiveness of the opinion being responded to?

My question is engendered mostly because I want to specify in my sentence that "your" means the person to whom I am writing and

not

the group of which that person is a member. However I can see that I am up against convention here in that English has lost that ability to differentiate and so today one must expound: "...I disagree with your (name) opinion..." in order to be explicit. Well, that may be getting into too much detail.

One of the most interesting replies is from Richard:

> In the US South, the plural of you is y'all, and the plural of your is
> y'all's. Elsewhere, there's no difference between singular and plural.
> The context determines plurality, and it's just too bad if the context
> fails to provide sufficient information.

Michael wrote:

> English (unlike many other languages) does not have separate singular
> and plural forms of the second person pronoun and possessive. "You" and
> "your" are correct whether addressing an individual or a group.

> If addressing an individual, you could do so by name or description. If
> a group, use a phrase such as "all of you" or "all of your." Otherwise
> it must be assumed from context and is subject to confusion and
> misinterpretation.

And then, clever boy that he is, he went searching elsewhere for a second opinion:

> decided to consult Google and found the following: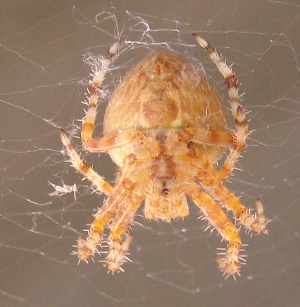 "The silliest thing is that English actually had this one sorted a millennium ago."

Anyone know what sort of orb weaver this is? The picture is from the under side. Back end up, head down.

Thanks again and I hope y'all's have a fine day.


Best Buy Bust
I've been to Best Buy twice in the past week. Both good experiences. My present DVD player, a SamSung, has been acting up of late and there are several of the newer format video files it will not play. So I went to BB to look around. Another friend had recently purchased a "Life's Good" (LG) player, had good things to say about that brand/model, and it had rave reviews in the press. So, what to my wandering eyes should appear on the DVD player shelf but this very same LG, "open box" as they say in the trade, half-off the retail price. I couldn't resist.

But it is, was, unsuitable overall. The LG player played some of the video formats my SS player won't but there were other formats the SS

does

play that the LG wouldn't, most notable in that category are AVI files with subtitles. Then there were a few inconsistant and irrational programming issues. On top of that was its physical layout--not fitting into the same space as the SS. So I called LG Customer Service and was served a courteous

that's-the-way-it-is reply

and then made the second trip to Best Buy armed with a thumbdrive of the several movies with which I was having problems.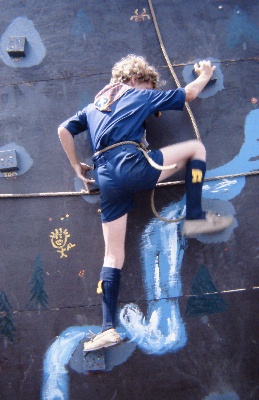 I wanted to give this machine every chance to prove good. Especially since the price was right. The Geek Squad was most helpful. First, based on my tale of woe they agreed with me that the machine was faulty and should be returned. (Prob'ly that is why this particular item was open box in the first place, eh?) Second, they were kind enough to get a another machine off the shelf and try it with my thumbdrive. We selected a Samsung 3D BlueRay DVD player but it had its own set of quirks and failures. Then we tried a Panasonic and that one wouldn't even recognise my thumbdrive! Now I'm back to square one with the original Samsung.

Seems there is no one player that plays all formats. The Geek agreed. But my computer plays all formats; why cannot a set-top player play all formats. Perhaps what I need is a small computer connected to my telly. There are some "little black boxes" that do just that. So I am still shopping and learning. They returned my money and in the meantime I'm back to reading books.


Boy Scout Week - Scout Sunday - Founder's Day
Got a call last week from Fred, another of those once-upon-a-long-ago Boy Scouts from Billerica, perhaps a year or two one side of the other of 1963. His grand nephew has just come of Scout age--can you imagine that? Two generations? And so Fred has signed on with the boy's troop as ASM and was looking to ask me for pictures and dates of some of his own experiences. Hearing his voice I was instantly transported back to 1964-65, as if I was chatting with him casually after a troop meeting or planning our next camp.


Starry Night Petroglyphs
Under the heading of Points of Interest that

Magellan

doesn't know about: Several clusters of petroglyphs are to be found in the vicinity of Saddle Mountain in Tonopah. There are also a few matate and trails and caves which evince to some a people living here long ago when water was obtainable without need of a 300 foot deep well or a canal stretching all the way to the confluence of the Colorado and Bill Williams Rivers. But what do all the figures mean? Unfortunately my

Berlitz

translator doesn't go back that far.

Pi Day, March 14

In the meanwhile I have found a nice fancy VW radio/CD/tape at the Food Bank Thrift Store. I had to hack a bigger hole into Tiny Truck's dashboard but the radio fits now and plays better than the old OEM radio. The VW radio was unsaleable at the Thrift Store since it would not work. One of those theft preventive systems where you have to enter a password and the radio communicates with the car's computer. Took about ten hours of research and a call to a sympathetic VW dealer to find the password and workaround. Now I have one of those little red blinking LEDs to attract thieves to my truck. Plus now I can play CDs which the OEM radio did not. So perhaps I will drive the truck more. Perhaps I can figure out how to have the truck tow the bus...


Springquinox Pas De Trois
Now comes the case of the missing bananas. Actually, not a case of, only several, in a sack, along with three apples. To complicate matters, the apples are listed as PLUMS BLACK on my Fry's receipt and the sack is of blue cloth. Next week I am afraid I will be occupied more at the Service Desk than with the shopping.

Once in a while a conjunction of events adds to the fiscal burden of living. As with the dance of Jupiter, Luna, and Venus in the evening sky, this week comes due L.O.F. on both vehicles and the APU. Ten filters all told and that does not include air and fuel for TinyTruck--they were done not too long ago as a matter of necessity rather than ritual. Seven gallons of various grades of oil. How many tubes of greese?

I have without a doubt ruined my fine black Turk's Head bracelet. The nylon cord has taken up diesel fuel spilt in some silly manoeuvre for lack of head room and proper tools under the bus and the smell is obnoxious to say the least. Washing thrice to no avail. Today I will leave it out in the sun and smell what happens. Meanwhile I must build a new.


Lincoln's Head Is On The Block
The country to the north joins several other of the world's more enlightened geopolitical subdivisions and makes the bold move to eliminate their penny from small change. About time. Especially since it was years ago that they got rid of paper dollars. Yes, and about time. Now if only the U.S. Mint would make such a bold move and eliminate the penny . I understand that the "cent" will still be a valid amount in transactions, only that the physical "penny" is being done away with. We will see if people learnt in school how to properly round off. More likely the price of everything will rise to the nearest nickle. Such is the cost of saving money.


Haiku Correspondence With Betty

> > Black cat in the sun
> > passive solar system.
> > Warm purrs as she sleeps.
>
> Supposed to be 5-7-5. Is it missing a word?
>
>
> mind as much as me
> Sara(h) seems not to. Purrhaps
> she canna count, eh?
>
>
> according to something I read on line, the 5-7-5 is not absolute, in part because of the
> differences in Japanese and English.

Well! That's a relief.
And opens a whole new world
of untapped possibility.


Remembering where one is... Remembering where one came from is the first place and a book I just read: _The World Is Flat_ talks about "living for the future"--planning, dreaming, and all that--v.s. "living in the past"--remembering, memories, and all that. Not sure on which side of the Great Divide my fantasies fall.

Well... just looked out the window... I'm still in Tonopah. Sometimes you can see where I am with these links to K1oIq and NU7DE. Usually the locators point at the same place but not always.

As far as "up to"? Annual lube-oil-filter change for bus, truck, and APU--the bus was early but better to do it now than later on the road, the truck was way late by two or three thousand miles and the generator was even later. My bad. Also reading

Do Cats Hear With Their Feet?

Very good so far. Soon time to migrate into the hills. Not quite oppressivily hot enough yet.


Ides of April
Each day of late I have been using a rubbing compound on another few square feet of bus. First time since I painted the bus in november 2002 has anything of this sort been done other than a few times washing the outside. One spot in particular on the starboard side under the Second Class Dining window there was a magnetic stick-on Canadian Flag which when removed exposed yellow paint of the original Sunoco-Yellow lustre. The rubbing compound and elbow grease required to remove oxidation and restore this colour to the rest of the yellow area is considerable. The blue colour seems to buff up ok with considerably less effort. Finally got ahold of A-Round-Twoit for long enough. Used it to paint the air intake stack that I added to the engine room during my fortnight and a half sojourn at the WallyWorld Caravanseri in Cody Wy-O-Ming. See Half Past July for the before picture.

Another each day of late activity here is to load Paul's dump trailer with palm fronds he cuts from the several trees which comprise the oasis in the northeast corner of his front yard. The oasis has been neglected for years of irrigated growth and is of sufficient remove from the street that I can work as I wont. Palm fronds, a tangled mass several feet deep, some still attached to trunks, require a great deal of tugging and dragging. Two days ago my efforts disturbed a diamondback. Peering and poking eventually opened a hole in the debris enough to see this viper was as thick as my wrist. Eventually the snake moved away from my work space. Yesterday I saw it again. Today I'll prepare a snake-catcher and a transport bucket.

Presently reading

Do Cats Hear With Their Feet?

wherein I have learnt that Sara(h) the Alarum Cat con Migo does indeed have a finely tuned internal diurnal clock--as opposed to an external one with LED display she might drag around such as Humans do. I have also learnt that cats do not "miaow" (as the author spells the word), they cannot put their lips together to make the mmm sound. Cats really say "iaow" but we, as the Rock Man of

The Point

says, we hear what we want to hear. Perhaps we really hear with our lips?


Feast Day of Saint George
Seems like only yesterday I wrote some words about George the Dragon Slayer. Last year maybe? Now, in some stretch of imagination, I have new thoughts about why Saint George is the Patron Saint of the Boy Scouts. The snake moved out as the underbrush was cleared.


\||/
| @___oo
/\ /\ / (__,,,,| * * * * Gardyloo
/\ ) /^\) ^\/ _)
< > ) /^\/ _)
|| ) _ / / _)
| \ )/\/ || | )_) Celebrate Saint George's Day
\_____ |(,,) )__) 23rd April
/ \)___)\
___( )___) )___
_(_______;;; __;;;


May the 4th Be With You
Curmudgeons get credit for wisdom for the high hit rate that comes with hostility to easy optimism; and being old, and thus not really counting, they, like children, have a privilege to say what would constitute an offense if said by a fully responsible adult. And like children, the curmudgeon is considered cute for it, but unlike the child, he is also considered wise for it. To the extent curmudgeonism suspends the rules of mandatory polite comments, and indeed substitutes a rule of mandatory harrumphs when these complements are given, the curmudgeon gets credit for seeing the truth, or for telling it the way it is, and that counts as wisdom, even though this wisdom lies in everyone's knowledge that the polite complements or obligatory upbeat statements are inane. --William Ian Miller,

Losing It

(2011)

If we are not ashamed to think it, we should not be ashamed to say it. --Cicero