On The Road Again...
End of the March

A busy week--triple whammy! Spring Equinox, New moon, a once in a lifetime comet.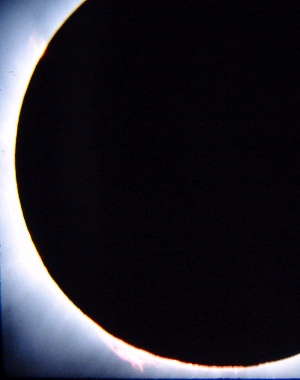 A few years off, but mark your calendar. Might be worth arranging your travel plans so as to place yourself in the path of totality. Reserve your space now aboard The Cat Drag'd Inn!


Dia Natalis?

Wore my kilt to the Food Bank this morning. Just because. Special day. Saturday next is National Tartan Day and I doubt I'll have any special place to go then. Most folks there were appreciative. One wench admonished: I hope you have underwear on! We have a lot of children around here.

I wanted to ask if

she

was wearing underwear. I tried to imagine the scene if she should like to get down on the floor to see for herself. I wanted to comment that if any kids just happened to be crawling about on the floor with a flashlight I was sure they would not see anything they didn't already know about. But I was nice. All I said was: I'll be sure to kick away any who get too close.

Do you suppose her first comment was an ethnic slur? To ask a Scotsman who is wearing his kilt if he is wearing underwear? Do you suppose her comment could be construed as sexual harrasment?


The Latest Fashion in TagLines
All these egotesticle 'phones' that take pictures, play games, deposit cheques, read barcodes... Do everything but make phone calls. And when you're not looking they tagline your email (as if anybody cares) with "Sent from my iPad" or "Sent from my AT&T 4G Droid..." I've developed a tagline in response:

Sent from my
Homemade Leaning Tower of Linux
via an old Bag-o-Phone wireless

So there.



Shopping for Pussy--Mutiny on The Bounty Day

No doubt you're familiar with the story of the mutiny on the

Bounty

. I've just rescued the

Bounty

's cat. I'll write more when we have become better acquainted, just now Miss Kitty is recovering from ...er... truck-lag and a bit of culture shock. The

Maricopa County Animal Shelter

(MASH Unit) is housed in the old 7th Street Gaol. Three-four-five cats to a 12x18 foot cell except for a few individuals in medical isolation cells. Not all the cats are adoptable; some are being held as 'live evidence' in 'hoarding' or animal abuse cases. Prob'ly the most interesting thing about the gaol is that the doors use the same locks and keys as I have on the front door of

The Cat Drag'd Inn

--Miss Kitty should feel right at home, eh?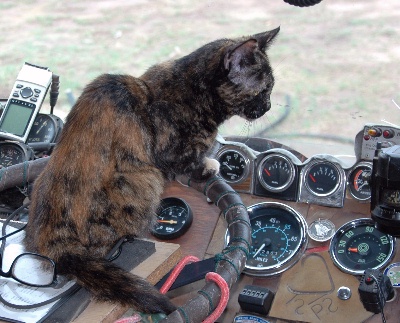 For now: She is about five-six year-old tortise-shell, a little smaller than Sara(h) (but that, I hope, will be the only comparison I will make...)


What Else Am I Doing This Summer of '13?

Well... I've been thinking about a lot of other new and different destinations and every time I write this out the itinerary is different. But for now... If there's no plan, there is no disappointment.


News Item: Walk Across America--This American Life

When we're young, days go by like power poles;
Later, in middle age, days go by like fence posts;
When we're old, days go by like railroad ties.



Prescott AridZona--On The Road Again--2013v13

From

Lila

by Robert Persig: [This part really should have the pp or two preceding however I will leave them in the book for later]:
"And beyond that is an even more compelling reason [not to execute a criminal]: societies and thoughts and principles themselves are no more than sets of static patterns. These patterns can't by themselves perceive or adjust to Dynamic Quality. Only a living being can do that. The strongest moral argument against capital punishment is that it weakens a society's Dynamic capability—its capability for change and evolution. It's not the "nice" guys who bring about real social change. "Nice" guys look nice because they're conforming. It's the "bad" guys, who only look nice a hundred years later, that are the real Dynamic force in social evolution."


2013v16 Perambulations In Prescott[1]

Arrived WallyWorld Caravanserai on 13th May, just in time for a well earned nap. The haul up Yarnell Hill was followed by postcard shopping and writing at Skull Valley whilst parked in front of the little Mexican restaurant next to the Volunteer Fire Department. The restaurant is closed for remodelling. One of the remodellers came out to chat and said I could stay as long as I wanted, they wouldn't be open for a few days yet.

Postcards bought at the

Skull Valley General Store

tell about the town got its name from all the skulls laying about. I didn't keep one of them so I canna recitate the salient information here.

After writing came mailing but the post office was already closed and I wanted to assure local postmarks so I dropped the bundle of cards, wrapped with an elastic and a note to the postmaster, into the mail slot. I hope they don't try to charge me postage due for that note. The office closes at eleven anti-meridan! Sign says "If it's after 11 and it really has to go out today drop it in the blue box outside. Mail is picked up there at 3:45." Then: "If it's after 3:45 and it /really/ has to go out today take a nice scenic drive 31 miles to the post office in Prescott."

On up the road and a half hour wait for the Follow Me truck through about five miles of Construction Zone was followed by the scenic route becoming residential and then business as

The Cat Drag'd Inn

to the Prescott Valley. I've camped at this particular Wal-Mart on previous visits and have a favourite slot to slip into. On the verge, shaded by a tall pole of mercury and sodium vapour lights that help keep my batteries charged.

On tuesday Jerry came by to take me to the QCWA (Quarter Century Wireless Association) luncheon held monthly at the Golden Corral. YUM! We arrived just in time for the end of the breky buffet. Right after firsts of breky the line changed and we indulged in firsts of lunch! Two meals for the price of one. But no seconds so I was able to eat within my diet.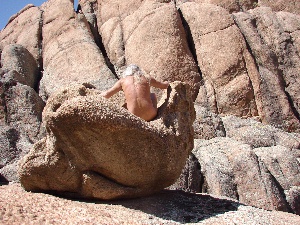 Two nights at WallyWorld, time to move along. Around the corner, between the boulders, to Granite Dells and a visit with Kate & Kevin. Trading the shady lamp post for a shadier tree--a cottonwood,

Populus fremontii

--and the noise of the car park for the dust of a dirt road. Lots of house finches here so I can make use of my bird feeder and Miss Kitty will have something to growl at besides me.


Perambulations In Prescott[2]

Donald writes: All drugs have a generic name: Tylenol is

acetamininophen

, Aleve is

naproxen

, Amotil is

amoticitin

, Advil is

ibuprofen

, and so on. The FDA has been looking for a generic name for Viagra and recently announced that it has settled on '

mycoxaflopin

'.

Four nights in the back yard? Three hikes in the bouldery dells. Two lunches with Gerry. One lunch with the QCWA. And an afternoon polishing

The Cat Drag'd Inn

. Nice weather the whole time. Time for the On The Road Again music.

North to Chino Valley. Once upon a long ago, when the earth was young and life was not so fraught with paranoia, a husband and wife and son lived in some small town in Vermont. I came, through one means or another, to know these people and one fine day asked the son if he wanted to partake of an adventure.

Yes

he said, and that settled that. Today Peter still lives at the old homestead, Robin has kids of his own, and Kay works at the library in Chino Valley. She's getting on to be about my age, has a small camper truck, and looks forward to getting on the road one of these days. We have this thing about dinner at

The Cat Drag'd Inn

once a year. Lamb (Irish) stew was the entree this time. With my famous Male Apple Pie for desert--baked in Tamara's famous Pi dish of course.

The stew solar simmered itself in my solar powered crock pot whilst I drove to Chino Vally's Safeway. The pie baked in the propane oven. Merlot in the wine cellar. My best silver on the galley table. Fine dinner. Lots of storeys to and fro.

More north to Ash Fork to deliver half a freshly baked famous Male Banana Bread to A.C. He suggested a portion of Old Route 66 from Ash Fork to Kingman: "You can even read the 'Burma Shave' signs along the way". And so I did. The scenic road is a bit lumpy but the strange little towns found along the way are certainly more interesting than the rest areas of i40. In Seligman I stopped to check on the tow'd and found the solar array not charging. Eventually repaired one bad connexion in the wiring between charge controller and battery. Seems ok now but only after I've put away all the tools and repacked the bellybox and driven another hundred miles will I know for sure.


Kingman AridZona - Hellovalongway to go for a shower.

But I needed fuel anyhow. What a bitch it is dealing with these places when the least little thing upsets their routine. This Flying-J has only one RV fuel island. There is no waiting queue area. No sign that says RVs Here or in my case NOT Here. So you turn in at the most obvious place and find an impossible S-turn into the fuel island that requires a loop all around the car fuel and parking area to get aligned with the RV area. Then the dual pumps are not dual but a duel when it comes to getting them started with faulty card readers and the sun on the burned out view screens.

Duelling with the drones at the fuel desk is just as bad or worse. They canna just swipe your card in there like you would do if the card readers on the pumps were working. They have to have a 'deposit amount' to charge and you have to sign the slip which you also don't have to do if the card readers on the pumps were to be working. And then have to do the entire process for the other pump so you can fuel from both sides without having to drive around to get to the other side. So by this time I have been on queue at the fuel desk long enough that I could have finished at the fuel island and I have yet to start fuelling.

Pumping the fuel is the least stressful part of this debauchery. Aside from watching the dollars pile up faster than the gallons. 3$92/gallon! Then return to the fuel desk queue to get properly amounted receipts and my hard earned shower credit. Did I mention that the bus is still on the fuel island? There is a sign on the pump admonishing one to pull away from the island to the parking area but there is no parking area that isn't tilted, dotted with cars or generally otherwise inaccessible.

On queue at the fuel desk, ahead of me stands a buxom woman waving a receipt in one hand and a wallet in the other trying vainly to get her point across to a harried FINGY deskie. There is some discrepancy in her receipt. The amount of change is wrong. Are the taxes included in the posted price. The clerks have changed since she came and left her cash deposit.... And about the taxes? The clerk: I don't know... I don't know... Finally I spoke up: Yes! The taxes

are

included in the posted price. That seemed to settle the confusion but then a manager and the original clerk were required to come and sort out the matter of the error in the change on the woman's receipt. All this while the adjacent register is closed with the usual sign: ...Closed - Use Next Register, and two other deskies are wandering around back there primping and sorting stock.

Finally I am at the head of the queue and this same 'I don't know' wench has to deal with redoing my deposit receipts and assuring that my shower credit is properly recorded. Prob'ly cos of the hell I raised whilst making the deposit in the first place or perhaps remaining from the hell raised by the woman with the wrong change problem, there is a big burly bouncer body behind the counter and a manager looking over my shoulder. They soon sorted out the matter and I was out of there to move

The Cat Drag'd Inn

to parking. The only place available was in the truck lot out back but that's ok. Quieter except for the trains and the idling diesels

Oh yes. My shower. Turned out to be the best shower I've had in a long while. And not just cos I wanted one so badly. The shower head was almost as large as the one at LCB. The water was plentiful and temperate and didn't fluctuate when other showers went on and off. I went back to the manager and told them my shower was easily one of the top five I've had in the past year and well worth all the hassle at the fuel desk.

"

If you don't know

/

Whose signs these are

/

You haven't driven

/

Very far

/…/! Mile Marker 124, Old Route 66.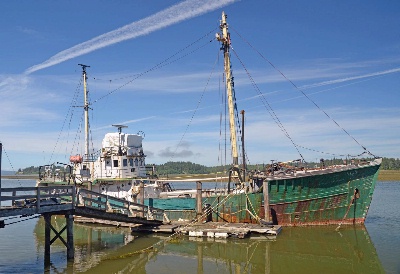 What did I go to Kingman For?
Besides a shower that is... Oh Yes! Several OAEs concerned with the fate of the

RV Hero

were meeting there to peruse the ship's logs, look at photos, and generally brainstorm ideas to get the ship out of the mud and perhaps restored to Museum Status.


June 7th

Yesterday spent a lot of time answering silly questions for a renewal of Food Stamps. 'Are you homeless?' No. 'Do you rent or own?' No. 'Well, what? You must be either homeless or rent/own.' I live in an RV. That means RESIDENCE vehicle, as in Motor Home. No, not a mobile home... They still cling to the anachronism of wireline phones when it comes to a utility bill as proof of residency: 'Why is your phone number in Maine/New Mexico/Arizona?' And the concept of living off the grid, solar powered, is utterly inconceivable despite that AridZona exempts purchases from Sales Tax the sale of PV related equipment.


Half Past June

From my atelier to yours. Been a quiet fortnight in Lake Juniper. Not a pine tree in sight. And even tho some afternoon zephyrs have pushed the Gust-O-Metre well over 25 miles/hour there has been no problem with drifting and blowing lawn furniture nor any dust devils. Not too many biting flies either. Temperatures on this 6700 foot lava cinder hill vary from 60f to 90f under a mostly sunny sky. At least each day has started out sunny and calm. Some days are cloudy and breezy by late afternoon. Despite the elevation here there is only one televison channel and that is NBC from Flagstaff. One "reality" debouchery after another.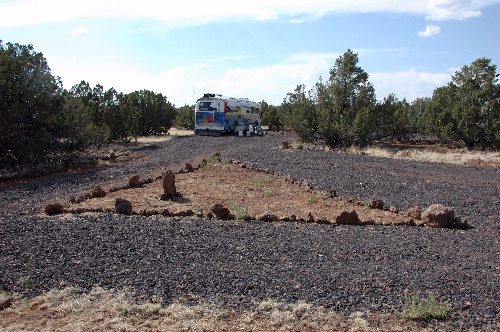 My seed feeder has attracted a variety of seed eaters. Took a few days for the word to get around that lunch was available at

The Cat Drag'd Inn

. Now I see a dozen house finches and sparrows all the time. Also observed a black headed grossbeak, several mountain bluebirds, and a white-crowned sparrow. And one pair of ringed turtle-doves.

Much of my time has been put into moving rocks to build stone edges as landscape devices to separate the driveway from the juniper islands. Other parts of my days have been devoted to upgrading the PhotoVoltaic Array on the bus's roof. Squeezing out a few more watts is one of those simple tasks that grows more complex at an exponential rate as one gets closer to completion. Complicated by the fine print which says "These Instructions are for Normal Installations; your results may vary". They certainly will. But I won't trouble you with the details lest someone berate me for being negative. At least the Technical Support people have been very helpful in guessing what I should try to do next.

On the sunny side: Several shopping excursions to Show Low found: the post office staffed by Human clerks who actually care and tho they don't know the answers any more than me they were able to help me find the least expensive way to post a certain carton; the Ace Hardware next door to the post office is well appointed and had all the parts for my PV upgrade; the vacant lot next to the WallyWorld Caravanserai which used to be for overflow camping is now occupied by some building under construction; there is an easily accessable office of AZDES office where I was finally able to muddle through the arcanum of Food Stamp Qualifications and get my EBT renewal out of the way for another year. My allowance from that programme doesn't amount to much but every dollar helps.

Considering the recent lurid headlines about the survival of the Postal Service let me expand upon my Post Office comment. The case in point here was the postage rates for different classes of mail. First Class v.s Media (not to mention just what constitutes Media Mail--CDs, DVDs (movies), and books can go as media but the unbound manuscript for a yet to be book cannot. (What about DVDs of computer programmes...) and Parcel Post v.s Priority Mail just for beginners.

Distance and weight and delivery time all have something to do with the rate. All well and good. I'd expect to pay more to send a heavier package more miles in less time, however all too often Media Mail costs more than First Class for the same package to go the same distance and take a week longer. How can this be?

And then there is the conflict between Parcel Post and Priority Mail. On this particular day I had a box that weighed eight pounds, measured about 11"x11"x8", addressed from Show Low AridZona to Mount Airy North Carolina. Twenty some dollars was the stated cost for postage for 6-10 day delivery. Plus an extra fee for Delivery Confirmation. At this point was when the Postal Clerk suggested to the almost 'postal' customer: If you put your box into one of those Priority Mail Flat Rate boxes it will go for 16$ and three day delivery. Tracking number included.

I was just about beside my Self with indignation. But no point in taking my frustration out on the kind and helpful clerk. She doesn't know the WHY any more than I or anyone else in the Postal Service. My 11x11x8 box was now a third again larger, the extra space filled with scrap paper from the lobby trash can, and prob'ly had to weigh at least two pounds more than when I started. How can this be?

No wonder the Postal Service needs saving!

Thank you very much to Trish for letting me roost on her juniper covered hilltop. Now on to Pie Town.

For your reading list:
Item...; Item...; Item...;

...and especially this Item... I wonder if the same relationship is found between testicular cancer and tighty-whities?


La Gata Nuevo
New and more proper moniker for La Gata: "Seratu". That is as pronounced with an /e/ as in 'bet', an /a/ as in 'baa', and a /u/ as in, or rhymes with, 'boo'. With syllabetic emphasis on the /ra/. Se-'ra-tu. What this word might mean I don't know for sure.

Lady Poopsalot
Was Miss Kitty, Jail House Cat
Now Seratu, eh?

Made up the word my Self initially. Out of the air and the letters floating around. Then searching found a few supporting ideas. Most interesting is that my made up word is already 'out there': Name of a resort, name of a rock group, several translations...

Other respondents have written:

"The phrase sera tu in French means "you will" in English".
and also means "it will be you" in Italian.

"Backwards, it is phonetically the place from whence mammalian offspring originate."

Anyone for seconds?


The Farce of July
Arrived Pie Town and familiar parking at Nita's Cabin in time for Ham Radio Field Day, Nude Rec Week, Nude Gardening Day, and of course The Monsoon. This week the grass is greener on both sides of the fence. Jeff visited on his way from Budapest to Burma. (Now I have to wonder... Is Burma the country the home of Burma the Shave?) The panorama picture here of the bridge of TCDI is from Jeff's camera phone. Settlling in to a Summer of projects and saving up for the next leg of this perdurable estivation.


News Item: Boy Scouts Bans Obese Kids From Jamboree.
Well, what can we expect. The Boy Scouts have been pressured into not throwing out the 'Gay' kids and the Athiests are close behind in their quest not to be rejected. The Scouts have got to pick on somebody.