---
Travels With Oso con Migo
Around The World In Sixty Days
OAE On The Road Again, Somewhere Summertime 95-96
---

January 29, 1996, last letter January 7, 1996
G'Day Mates!
Monday, January 8, 1996, Weetangera, at Jim's desk...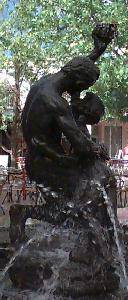 I have had a few reports that my letter number 7 was too long, that it was only partly delivered, that it was cut off at the letter "t" (as I pointed out to one reader there were approximately four- thousand, two-hundred, sixty-nine lower case letters "t" in the 39,000 some odd bytes of that letter) you have to tell me which letter "t" so I know where to commence a resend. Letter number 8 may also have been over the limit as well. I know some mailers are out to protect their subscribers, at what ever cost, from writers like me and other junk mail, and don't even have the decency to follow along with what they cut off; they just cut it. Truncate. And don't tell you they have done it. So you are left with looking at that last character, a "t" in this case, wondering what happened next. What went with the "t"? Crumpets? Sugar and cream? Lemon?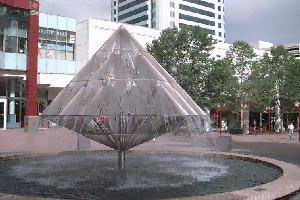 Those of you plagued with this problem be advised: You have to contact your own service providers to find out what limits they might impose upon your incoming mail. It would be useful to me to know what they are so I can always be sure to put the best gossip after that limit. ;-> Also know that all my letters end with my sigblock except those that end with my digital PGP signature. If you do not get that part of any letter from me then you did not receive it all.
Speaking of junk mail--I have been hit twice recently with foolish letters from listservers trying to sell cookbooks or solicit money. The worst of this sort of operation is that all those unknowing folks who reply to the junk are in point of fact replying to the listserver so every single eddress who received the original mailing now also gets copied all the flames from folks who do not want such obnoxious clutter and claptrap in their emailboxes. The rage vented at these stupid junkemailers is often profound and exacerbated by the fact that it is nearly impossible to "get back" at the people who stuff your snailmail box with junk but it is with immanent ease that in the case of junkemail one need only press the button.
Half a dozen times. At least.
And then again adding CC: to postmaster and root of the culprit's service provider. Email and the internet are no place for junkmail. The net has the capability of letting folks SEARCH for commercial messages and sign on to lists if they like but nobody should presume to send out unsolicited junk.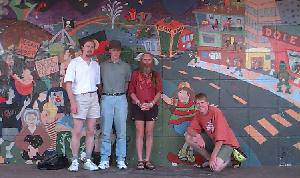 And speaking of the net... This afternoon I met with three local members of the 1st Internet Rover Crew; Rovers are a senior branch of the Scout Movement, everywhere else but the U.S., and this crew, with members in several countries, meets on the Internet.
Monday, January 14, 1996, Christchurch
It is all too easy to get behind in this writing once some sort of expectation has been established but then I am getting to a point now where it is business as usual, back to where I started from and my activities begin to take on a more mundane character. One just doesn't quite know when to say This Is The End and quit the project. But there are still a few events of note to relate and as far as the storey is concerned Oso is still out on a limb.

When it came time to depart Canberra on the last leg of this round the world adventure there were yet a few surprises in store.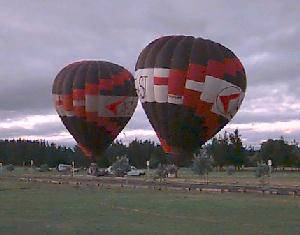 On Wednesday evening last, when I was supposed to fly to CHCH, Penny and Lizzy and Melanie took me to Canberra airport only to find my first flight delay'd beyond when I could expect to make the connexion at Sydney; Qantas rebooked everything for Thursday at early o'clock and we all went back for another Chinese dinner that couldn't be beat and got up at oh-dark thirty to meet the early o'clock flight. When I arrived in Christchurch I, and all the other passengers, were welcomed by the drug sniffing dog as we stood on queue at NZ Immigration. The dog made several passes up and down the rows and brought on titters of laughter as he, definite male dog, actually appeared to make passes at a couple of matronly women when his nose went under the hemline of their dresses.
At the luggage conveyor my big aluminium trunk, bestickered with decals from NASA and ANPWS, had already been removed and was sitting on the deck beside the moving belt laden with still unclaimed bags and parcels of other's on the rather full flight from Oz; my remaining black duffel was just swinging into view. Since the trunk contained a small quantity of a certain leather product unique to Australia (it is decidedly difficult to find anything unique to Australia these days, especially anything small enough that one might purchase and carry a quantity thereof) and since the traffic jam at the Nothing-To-Declare lane (The Green Lane) was stretched all the way back to Immigration, I decided to take the short-cut through The Red Lane. "They" were waiting for me.
--You have been selected by our drug sniffing dog for detailed search of your luggage. If you like you may stop the search at any time and request to have legal counsel. Please read this form and initial each of these seven paragraph where there is an X then sign and date at the bottom and note the time from that clock on the wall...
At first I thought the drug sniffing dog was seeking some misguided revenge on behalf of the late roo population which had contributed so heavily to my participation in the success of Jim's scrotal export business but then I remembered Jim was not making any profit on sales to me and it is unlikely the dog was feeling altruistic toward a roo.
Seems the dog was excited about something in my black bag. I had two black bags so we started with the smaller one and the Customs Man proceeded to look into all the little pockets and spaces, leaf through notes and floppies, sniff the cleaning fluid and squeeze the battery packs. Nothing untoward there so we went on to the larger one. This is the bag that was on the luggage conveyor and contained clothes, sewing kit, clothes, floppy disks, dirty clothes, kite and kite string (--What do you do with the kite? I fly it...), dirty floppy disks, and a Ziploc(r) brand heavy duty freezer bag labeled "When you need to smell a tree this is ever green." --This is probably what the dog was onto, he said. There's no trees where I'm going, I said. He called in an expert who examined several bits and pieces and finally pronounced it benign. --What's in the big aluminium trunk?
Well by the time I got out of there and found a Super Shuttle to the Croydon House, Tonya (WO-95), who all this time had been, unbeknownst to me, lounging in the park, had quite independently decided to walk back to the Devon to see if her flight on XD-04 had been delayed yet again. In this neighborhood it is not the last thing one expects to be hailed in an American accent whilst being help'd to off-load luggage from a Super Shuttle however I was quite surprised to find it hers and nearly drop'd my end of the big aluminium trunk on my sandal'd and sunburn'd toes.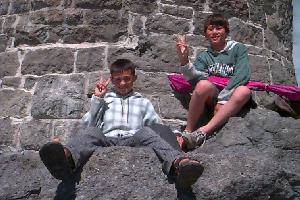 Between then and now it has been business as usual. Unpacking, reorganising, visiting the CDC, locating and retrieving mail, waiting for nice weather for flying kites at the beach (just in case the dog is still watching). My biggest problem now is a matter of thinking in terms of all that I learnt in India; four day's lodging for me at the Croydon House in Christchurch is worth one year's tuition for a boy at the CSI Boarding Home in Erode. I will probly be here two weeks. The CD player I am shopping for is good for another year; not to mention it being something else for me to carry around. I dealt with this philosophical crisis of concern for all the world's ills once upon a long ago but now seem determined to throw my Self into another cycle of despair as the images of India juxtapose with my present surroundings and desires.
22h30 and just getting dark here in chch. I have been to dinner at the Thai restaurant on Papanui Street with one of the photographers of the NSF Artist in Residence programme at McMurdo. He has recently returned from a summer of shooting several hundred rolls of film on the Erebus Glacier and in the Dry Valleys. After Thai'ing our stomachs in knots with Hot & Hotter Chicken Ginger Soup followed by Calamari Curritorchi we adjourned to Death By Chocolate for Chocolate Seduction and Cappuccino followed by a slow walk back to the B&B. A mournful, lone trombone playing Paul Simon drifts across Victoria Park, threading its notes between the fountains. Full dark now. Stars.
Thursday, January 18, 1996, Hanmer Springs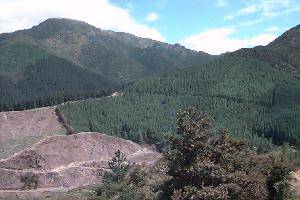 Two hours (135hm) north of Christchurch along route seven, in the foothills of the Southern Alps, Hanmer sits atop the same sort of mineral hot springs found in northwestern Colorado, same sort of hype and commercialism too tho it does not seem quite as crass. Most of the land hereabouts, approximately 13,000 hectares, is managed by an outfit named Carter Colt Harvey that cultivates trees, some for pulp, some for timber. The areas planted for timber have a twenty-five year cycle between planting and clear-cut; Radiata pine and Douglas fir are two species planted primarily for timber production while mountain beech on the steep country plays an important role in protecting against erosion.
At the hot springs there are three large hexagonal pools with water temperature ranging 38-40c and several smaller pools, connected by a concrete lined boulder strewn sluice with temperatures in the range of 30-35c. In the middle of all this there is one long conventional swimming pool at 26c. Facilities include rental of costumes (swim suits) and towels, restaurant, gym, physiotherapist and hydrotherapist. People watching at pools is one thing to keep the mind active whilst the body soaks. Most of the young males are covering up a greater amount than their female counterparts; some of it seems to be style, some a concern to avoid sunburn; trendy boys swim/bathe in "shorts" that come down to their knees, they have to stop as they run from pool to pool to hitch up the weighty waterlogged material, some soak in the same full body suits they use for surfing at Sumner Beach. One girl/woman startled the gentry when she appeared wearing little more than two bands of spiky blue hair across the top of her shaved head. One band went temple to temple across the front, the other ear to ear. It was clear after a moment that her headdress was a decoy to keep your eyes from spending too much time elsewhere, her smock just barely covered her bottom and certainly nothing else did.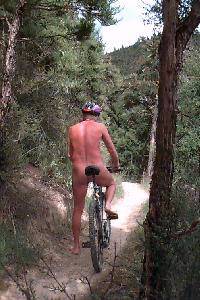 Mountain bicycle (New Zealand requires one to wear an approved bicycle helmet when riding.) and walking tracks crisscross the hills, helicopters drone overhead lifting clients to the jump-off point of their para-gliding adventure, bungee jumping and river running take place below the town, and then, suddenly, disaster strikes this quiet mountain resort community. A few days ago heavy rain caused a slip in the hillside above the Rogerson River, the disturbance sending clouds of silt into the otherwise clean water supply. The water department switched to Dillon Stream, its alternate source, a clear stream which requires chlorination, until the dust settled. Needless to say, given the choice between clean, cloudy water or clear, chlorinated water, either choice was the wrong one. The manager of the Alpine Village Inn said his business was being badly affected, his tavern could not mix drinks with that smelly water. The chef at one restaurant said he could not cook in the chlorinated water, it made his kitchen smell like a laundry. In a matter of hours all the bottled water in this small village that usually stocks only enough for the few tourists who demand it sold out and the market operator sent his wife to Christchurch for more. It is quite a shock to the system when one is use to a clear *and* clean water supply to have something come from the tap that smells like your water pipe has deviously re-routed itself into one of those two liter jugs with the measuring cup cap you keep under the kitchen sink. I know. When the McMurdo water department switched desalinators a couple of years ago from flash evaporators, which produce distilled water from brine, to reverse osmosis, which sort of take the salt out of the brine but leave most of the metals and all of the bacteria in, the water was instantly bitter with minerals, eau de bleach; it was right about then my beard began to turn white. But some people liked it that way, the water that is, not my beard, tasted more like the water at home they said.
Saturday, January 20, 1996, Christchurch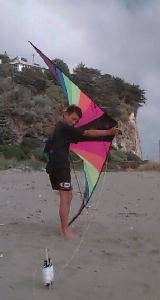 Candle light opera in Hagley Park. Arias from various operas. It is strange to be so alone in a crowd of 10,000. It must be time to go back to McMurdo, I have been on the road long enough.
Sunday, January 21, 1996, Sumner one more time
Word has arrived from "the boss", the first opportunity for me to fly is Wednesday, the way flights have been going that means I may get out of here by early next week. But now I really need to pack. Later. This is too nice a day to spend it packing, the beach calls. One of the boys from Bishopdale School has spent the day at Sumner with me giving the big kite one more workout. Laki is a small boy and the big wing takes him off his feet but he flies the kite well. We explore the cave and find enough wind there to fly the small kite inside it.

Back at Croydon I have stuff spread out all over the floor. The things in this small pile I can leave at the CDC until I come off the ice next Spring (October-November), the things in this big pile I want to have at McMurdo for the winter. Rumor still persists that there will be no airdrop this winter so one must needs be extra prepared with enough stuff and things to go all the way.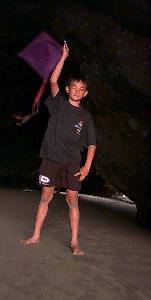 Monday, January 22, 1996, ...in the email
Larry writes: Got a post card from you from India, but... Well if that card just arrived it must have come by the slow boat past china! I had written him when I first realised there was no easy way for me to get email out of Erode, back before Christmas, thought perhaps I might send a card to him asking that he send a note to everyone on my Letters On The Road Again list just to say all was well with me in India. Then a note of urgency was added to my desire when a largish fire at a different school, in another city, from where I was, but in India none the less, claimed several hundred lives at a Christmas programme. In the end, only one of my readers wrote of her concern regarding me and the fire so maybe India news does not get read much, or, as I suspected all along, not too many people really knew, or believed, I was there in the first place. Either way, now I am back, and my front is here too, and I have sent on another LOTRA or two since.

Lots of shopping today. Against the likelihood of NO AIRDROP I stocked up on coffee, 5 kilos - 130NZ$, jam, vegimite, incense... Now the only problem is getting all these odoriferous products past the drug sniffing dog. I've sent the coffee off in the Kiwi Post in a number four box but will carry the rest in my trunk, packed way at the bottom, maybe then the dog will delay the plane enough so I can get an extra day at the beach.
Tuesday, January 23, 1996, CDC
Brunch with Christchurch Mayor Vickie Buck and baby along with one of Christchurch's leading candle artisans Sue Louise and her children at Le Cafe' in the Art Centre. We discussed issues related to children and candles and how they fit into the Antarctic lifestyle. There are no children in Antarctica (at least not at McMurdo tho there are at Marsh Base), not supposed to be any candles either.

All this while the mayor sat across the way at a different table... Presumably engaged in a different conversation...
Next was the Clothing Distribution Centre. This in the place out at the Christchurch airport where one is outfitted with all the necessary Extreme Cold Weather clothing necessary to carry out one's assigned tasks in Antarctica. Three big orange bags await me there and I need to sort through the collection and sort the stuff into three piles. What fits, what doesn't fit, what I don't want anyhow. Then there is a period of bartering and another trial of fitting and another cycle of that and finally pack it all back in the orange bags. There is also stuff of mine in storage that I want to sort through; some of that will go south with me, some of what I have been carrying all summer will go into storage. The issue clothing should take care of one's needs from the skin out. Should. But, as usual with this type of operation, the people doing the shopping are not necessarily the ones doing the wearing. Economic considerations carry more importance than comfort; things that work are constantly being replaced by things that cost less, require less maintenance, and often, more often than not, don't work as well. The fine rag wool socks of the old days have been replaced one-size-fits-all tube socks of a wool-nylon blend, they still shrink and they still wear out at the heel. Wool underwear has been replaced by polypro; God--that stuff stinks, but its cheaper. Leather mittens--there are a few left but the fancy nylon and goretex are making inroads; try changing a hot light bulb with a nylon mitten.
In the evening Laki accompanied me to Hagley Park to check out my favourite climbing tree and then to the Art Centre to see a superb production of "Wind In The Willows".
Saturday, January 27, 1996, Home again, home again, jigity-jig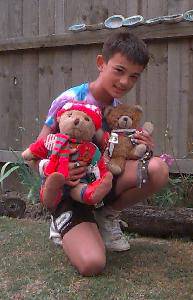 Things always get hectic around moving day. Wednesday was one wild frenetic day of last minute shopping and packing and then Thursday was the day to fly. Bishopdale Bear showed up Tuesday evening to take Oso con Migo up on an invitation to accompany him to Ross Island and maybe even go on to South Pole. Apparently they plotted this together during Oso con Migo's visit to Bishopdale's school back in October so now I am obliged to make space in my orange bag. Well I didn't really want to take all that polypro polarguard underwear anyhow.
My flight left just about on time a little after 22h00 Thursday evening for an eight hour trip to Willy Field on the Ross Ice Shelf. The weather enroute was fine, clear skies, not too cold, and the LC-130 known as X-ray Delta Zero Four was in good repair. Unlike one group a couple of weeks ago that took five attempts to get to McMurdo and another just a few days ago that met with unanticipated headwinds and had to turn back, they bearly had enough fuel to make it to Dunedin, we made it Ok except for the lack of sleep.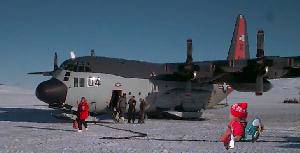 It will be a week or so before I can get into my winter quarters, in the meantime I will be at the Mammouth Mountain Inn or out to Black Island. Most of my unpacking will have to wait until winter quarters are ready but for most intents I will declare this holiday to be over and make this the last letter from On The Road Again. Until next time perhaps. Around the world in sixty days turned out to be more like seventy days but that's not such a good title so I guess I don't have to write that book after all.
Monday, January 29, 1996, Back to Black!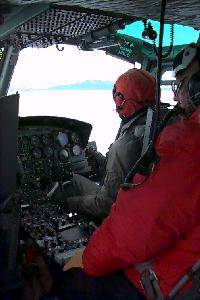 So now I am back in the land of penguins; at least so everyone here tells me: "Good to see your back!" I think my front is as well but so far nobody has said "Good to see your front!" The past three months, all those people, airports, trains, buses, meals, dollars and pounds, francs and rupees, trees and cats and kids, poof! all gone. Its just like I never left here. For sure I have several reminders: towels, Krishnas, copies of all the words I wrote, the images in my mind and those stored on disk, there is some sand in my kite bag from Sumner, some new words from Erode in my vocabulary, perhaps a new love in my heart. But it could all be a fantasy, a construct by some crazed author, a dream from which I have awakened (or maybe this here now is a recurring nightmare to which I have returned) for all I know.
Black Island has undergone considerable refit during the summer; there are two new gensets in a new building and a new satellite link for NASA. All the associated support hardware and software need to be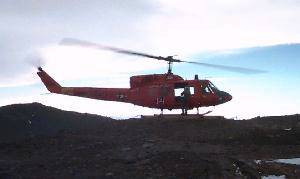 learned. Three of the four old gensets have been removed and just about all the spare parts for everything are in different places from where they were last October. Naturally all the people who did the moving are departing soon leaving the winterover crew to muddle through. Gossip is that since there has not been time to wring the bugs out of all the new equipment and processes we will likely have a crew of at least two out on the island all winter. That should give us plenty of time to shuffle all the spare parts around...
Let me try and describe the Black Island Remote (not very) Unmanned (not really) Earth Station. We'll start at the eighteen metre radome which covers the eleven metre antenna.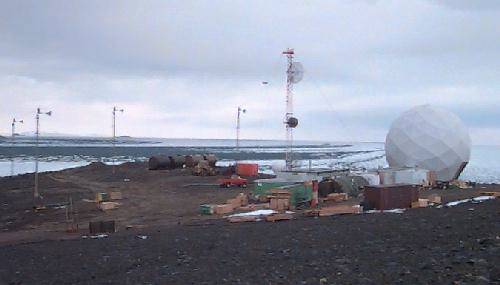 From the viewing point part way up the side of Mount Melania (213m) look more or less northwest and put the dome in the right side of your view then draw a line away from it down towards the left at about eight of the clock. Along this line, first is the equipment module where all the communications hardware resides. The new genshack is a module attached to the east side of the equipment module. Further along this line is the personnel module and to the east of that is a Jamesway tent for temporary summer housing. There is a large millvan east of that for storage and there are several other vans further along the line. On the roof of the personnel module is one of the photovoltaic arrays. Inside the personnel module is a galley/lounge at the north end and a bunkroom to sleep eight at the south end. Back at the dome, draw another line straight away to the left at nine of the clock. The first thing along this line is the microwave tower that links this remote station with the telephone office at McMurdo. From our vantage point on Mount Melania the base of this tower looks like it grows out of the bunkroom. Right next to it is a small white dome to house the backup single circuit satellite phone. Further to the left is the old genshack and the first of the wind turbine towers. Next are the four 5,000 gallon fuel tanks and then two more wind turbines. There is a fourth wind turbine more to the left but it is obscured by the fur ruff on your parka hood, you would have to turn your head to see it. McMurdo is to the right beyond the helo pad and likewise obscured.
There is every likelihood, with the budget the way it is and all, there will NOT be an airdrop this winter. NSF has not made a firm announcement as of this writing. Any of you who might consider sending snailmail IRL packages (hint hint) be advised that right now, the end of January, is not too late for snailmail to arrive on the last plane. By the end of the first week of February there will be little chance of mail arriving in Christchurch in time to make the last flight.
My McMurdo w/o address:
A.J.OXTON % ASA, BOX 700 PSC 469, FP0 AP 96599-5700.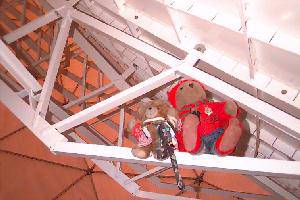 Mark the lower left corner of the envelope/box
WINTEROVER96/MCMURDO/OXTON.
and I will not open it until Midwinter eve.
Unless I get desperate.
Cheerio, ajo

A.J.Oxton, OA, OO, OAE, k1oIq

Back to ajo
Copyright © 2003, A.J.Oxton, The Cat Drag'd Inn , 03813-0144.