Where's Hazel? Pet Hazel. Scratch Hazel behind her ears.
The Ides of Janusuary. Did you find The Cat in The Corner yet?
TinyTruck survived her head transplant operation but my bank account is hemorrhaging as a result. After only a couple days of convalescence she suffered a relapse. Her starter failed to start. Back to Paul's Rent-A-Truck to tow TinyTruck to the ER and then go fetch a new starter. Phew!

I may need a lot of wine before all this is behind me. My cholesterol is up as well. Tuesday at the chiropractor the P.A. took my blood pressure with a fancy electronic wrist cuff device. 130/! What!? I mean I am a little wound up but not that much. I asked the doctor about the reading and he read the numbers again with a conventional pneumatic cuff and it was a more normal 117/. Phew! Perhaps the cholesterol number from last week's blood test is off for the same reasons.

All of that is part and parcel of why I want to keep TinyTruck on the road. These sophisticated drive-by-wire cars today are just not my cup of tea. At least with my truck I can myself most often fix what ever is wrong. Now if I could only fix up my self as easily...


Mile99
Off to the annual Ham Radio retreat at Quartzsite. This was the 20th Anniversary of the gathering, give or take a few opinions, and over the years the crowd has grown from the handful of Amateur Radio Operators at the beginning to over 500 participants this week. (Before PC I would have written OMs and XYLs instead of " participants" but today my Spell Checker even rejects OM and OL.)

Anyhow, the conditions thereabouts were not conducive to very much NU7DE operation. Cold and windy when usually a gathering of this clan produces a lot of hot air. Even with the heat on, gobbling copious BTUs, long trousers, a tuque and gloves were de rigueur. But even on short notice we managed a fair showing and NU7DE was on the air for a few hours of Winter Field Day. 100% solar powered, two HF transmitters, three operators (four counting me0w even tho her cat's whisker receiver was not of much use in the pile-ups).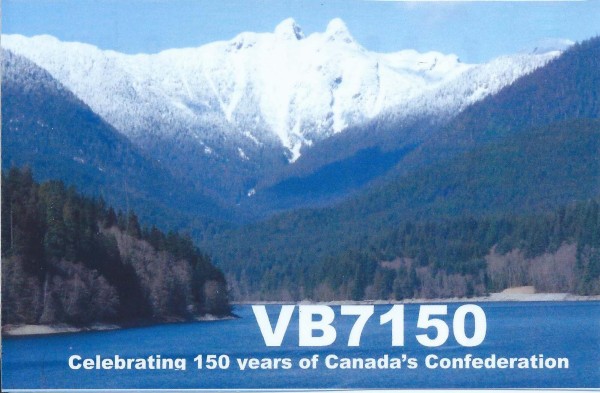 Of great interest were two stations calling in from Hawaii and one, VB7150, a special event station from Vancouver British Columbia. VB7150 is Canada's 150th B'day Special Event Station: a Special Event Station commemorating the 150th Anniversary of Canada's Confederation. NU7DE sent a QSL card to VB7150 and they replied:

We also heard stations from Argentina and Switzerland among the crowd but could not get through the pileups for them. In the RTTY sub-band there was at least one other contest going on so a few of the RTTY contacts were sort of cross pollinating. From the RTTY station log:

AD5XD AZ5XD CQ

de nu7de nu7de

NU7DE 257 NU7DE AD5XD

de nu7de 2h az 2h az

NU7DE NR? AGN? AGN? we must be playing different contests. NU7DE YES
YES MUST BE ALL I NEED IS SERIAL NUMBER DE AD5XD ok you are my
nr 1 what contest are you in? We are doing winter field day. QSL THIS IS
BRTG SPRINT IT STARTED AT 1100 AND GOES TIL 1200Z TOMORROW
DE AD5XD QSL

de nu7de nu7de qsl tu gl nu7de nifor

NU7DE TU DE AD5XD QRZ?

Good that this event happened coincident with the closing of Quartzfest as we were able to draw on NU7DE members who were present and turn the event into a proper club activity.

A copy of the log has been posted to the NU7DE Yahoo group files area.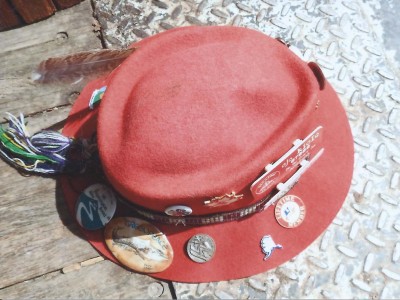 Lost Hat Day
Geezer Discount Shopping started out poorly. Same storey as last Spring when I lost my collection of fine tote bags. This time I lost my nice red wool crusher hat with all its bling. Stupid. Stupid. Stupid! I'd removed the hat and set it on the roof of TinyTruck whilst loading food at the food bank and then, that task complete, got in and drove away. Ten miles up the road at Fry's I noticed. I feel naked without my hat. Called Mark. Raced back. Too late. Red Hat nowhere to be seen. Now there are posters out along my route and a Lost & Found advert in the weekly rag. So far nobody claims the reward.


Ground Hawg Day
Hereabouts the prognosticating animal, of the four-legged variety that is, must be the javelina. However none that I know of have a reputation for being out at all in the daylight so that lets them off the hook. More useful perhaps are the Ajo Lily, of the plant kingdom. Right around The Cat Drag'd Inn there are nine plants this year. An hundred yards to the north, on Teddy Bear Hill, there are six and another hundred yards or so to the west of that community there are thirteen more. Leaves only so far. The Ajo Lily are very dependent upon the Winter rain. An inch or two of slow soaking rain is needed to get the bulbs to wake up; anything less and they remain dormant for another year.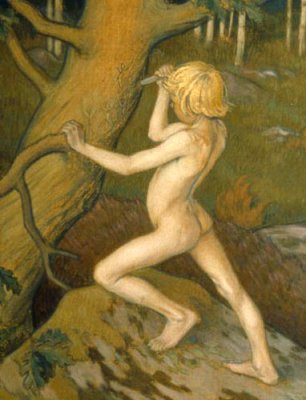 Boy Scout Day
Started Spring Cleaning. Purging cupboards and foodstuffs. Found only a few items to toss, most not yet sufficiently rotten. Perhaps next year.


Feast Day of Saint Valentine
Big yesterday here. Visit to bladderologist for ultrasound and flow test. Talk about pay toilets... 30$ co-pay just to U-rin-8 into someone else's funnel. Ordered a new red wool crusher and commenced to pick through my collection of pins. And then, just as I am writing that, my Valentine's Day present arrives. True called. She'd found my hat a week and a half ago and had adopted it to replace one she'd lost. Then a friend of her's sent her a picture of my Lost Hat poster which was on the front door of the food bank; we arranged to meet there later in the morning. I gave her another of my red hats and some fuel money; she gave me my red wool crusher only a little worse for its adventure. She'd found the hat at the intersection of Yuma and Watson, where I'd made a sharp left turn on my way to Fry's. Amazing that the hat stayed on the roof for all the miles from food bank to Fry's. Even more amazing that I missed it when I turned to go back and search.


Lilies of The West Valley
This year the largest colony of the Ajo Lily (Hesperocallis undulata) is along the Camel's Back—third hump from the off ramp. Seventy plants I counted there and of that five have buds. One of the plants near The Cat Drag'd Inn has a bud. I'll do another survey after this rain stops. 0.40" overnight, 0.88" since this event began 36 hours ago.


Penultimate Day of Febter
Read about the TURP proceedure my doctor wants to perform on me. Invasive. In-Patient. Catheter for a few days then diaper for a few months. Diaper is not my idea of a quality of life. Can you picture a geezer naturist wearing a diaper? Perhaps I could audition for the part of New Year... I'm thinking of VSED.

Another half inch of rain last night as we come to the last day of this month. The number of lily plants has about doubled and several more now have buds. Perhaps we will have flowers before Spring. Replacement red wool crusher arrived. I think I will bling this one out and see if anyone can tell the new from the old.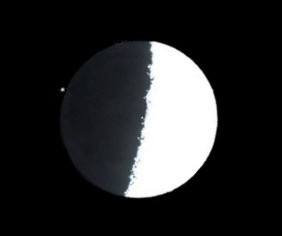 Aldebaran Occultation
I observed the happening here. Thin sometime cirrus came and went. Just like that time in Nova Scotia when the CU threatened to obscure the totality but dissipated just in time. Viewing through binoculars and positioning the bright half of the moon outside my field of view I was able to see the dark side and watch the limb's approach to the star. Fascinating! I'd never seen an occultation before. The edge got closer and closer and then wink! Aldebaran was gone! Fascinating! Now back inside for a hot cup of tea. Sorry you missed the show. Image borrowed from Gowrishankar-Lakshminarayanan-Harriman-State-Park-Stony-Point-NY and adjusted for my location.


π Day Eve
I'm having my ups and downs but nothing much comes of them. Living beyond my means is beginning to tell, to stretch the limits of my patience and sanity. I must consider the possibility that I will not go anywhere this Summer. Perhaps instead of fuel I will pay rent and move into Paul's dank basement.

Primary truck UHF/VHF radio failed. A second used one acquired. Broken one will cost nearly as much to repair as the used one but still about half what a new one would cost. All of which is eating into my new tyre fund. MasterCard may get some serious exercise soon.

Then there is this whole prostate roto-rooter procedure hanging over my head. And seasonal sneezing bouts.

And this morning spilling a cup of tea on the carpeted floor. Yuck!

The only bright spot at this point is that I might be gifted with a half-expense paid trip to Quito in Octvember except that such an adventure would get in the way of my bladderologist's designs.


π Day
New word for me in this morning's crossword puzzle: Hegira. Sort of equates to Exodus and to Emigration. Used in a sentence: Was my departure from New Hampster a hegira?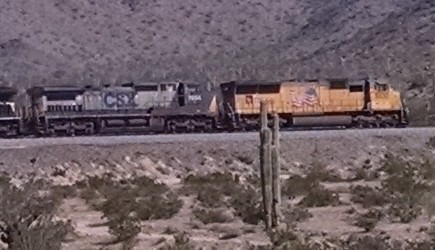 Ides of March+1—Train Spotter Hill
On the road to Tucson yesterday; the 57th Escapees Escapade will take place at the Pima County Fairgrounds. Mike and I went two years ago, following this same route. This year Mike is busy elsewhere, new members Nancy and Jack from Winnipeg are leap-frogging along with The Cat Drag'd Inn. Very hot, convoy driving—Breaker-breaker-one-nine; CatDrag'dInn this is SunRambler, are you still back there, which way do we turn next? Over. Well, over 90f and that well into the afternoon-early evening. Camped near Train Spotter Hill last night. Watching for trains. Watching for cat. Sun shower still hot long after dark. And now Saint Patrick's Day! I'll have to look around for some Emerald Green body paint... One train going up the grade at dusk tooted Shave-And-A-Haircut and The Cat Drag'd Inn tooted back Two-Bits!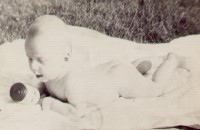 3 April 1941—2017 iv 3
To all my friends (mostly I hope), relatives (a few), other cohort members in general: Greetings.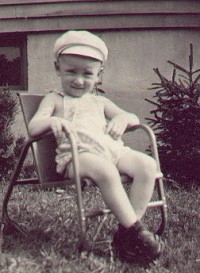 1 Prime

2 Even Prime. Now that's odd.

3 Another Prime.

4

5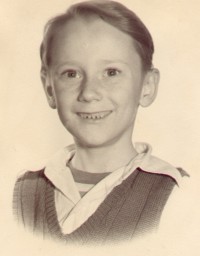 6

7 The last single digit Prime.

8 bits in a byte

9

10 a decade

11

12 a dozen

13 Bill's Dozen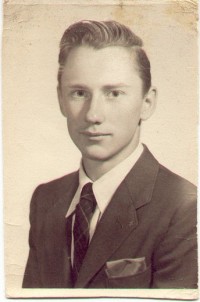 14

15

16 Boy Scout Jamboree at Valley Forge

17

18 old enough to vote

19

20

21 Stationed on Midway Island

22

23

24 a quire

25

26

27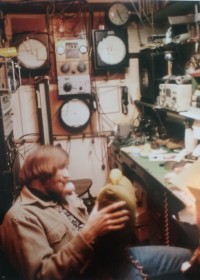 28 Moved to 6267 Carriage Road, Sargent's Purchase.

29

30

31

32

33

34

35

36

37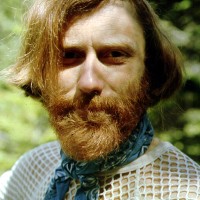 38

39 whole inches in a meter

40

41

42 the answer

43

44

45

46 Kids used to run away to join the circus, I ran away to Antarctica.

47

48 states when I set out to visit them all.

49 my father died and I became the Elder of the Tribe.

50 states when I visited the last one.

51

52

53

54

55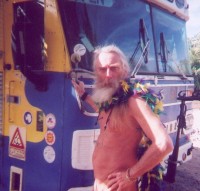 56 On the road in The Cat Drag'd Inn.

57

58 The Naked Chef.

59

60 Early Retirement.

61

62 Old Man of The Mountain Fell.

63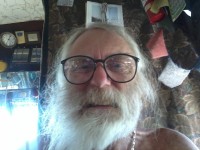 64

65

66

67


68

69

70

71

72

73

74

75

76 Trombones Led The Big Parade / and a hundred and ten invites went unsent / So I'm trying again to see / if there really really be / as many guests out there as I suppose...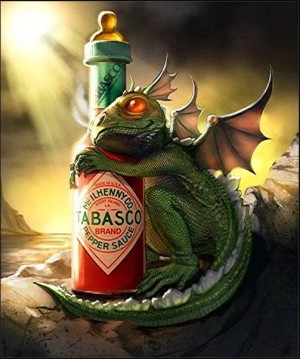 Greetings your most munificent self,
It has been said that sending one's Self a Birthday card is somewhat tacky. So also is waging a war of any sort against civilians, taking one's property without due process, poisoning the water supply, and being a cannibal like Columbus. Whilst it is ok to be a refugee it is not ok to admit it.

Since this is the season to be giving: Uncle Irs their cut, Easter their tithe, and dragons? Well... the 23'rd is The Feast Day of Saint George... In lieu of flowers, or a KickStarter fund raiser, (or commercial messages in these letters) please send money.

"Having a birthday is a lot like finding a warm spot in a swimming pool. It feels good as long as you don't think about it." --Scott Meyer

Google did a better job. I went there to look up some other question and you know how they sometimes have these bright colourful splashy start-up screens celebrating this and that from time to time... Today that screen was an animated GoogleCake with flaming candles. The subtext said Happy Birthday ajo! Scary and funny at the same time: Google saying Happy Birthday to me.

Friends took me to dinner last night at Red Lobster. Instead of singing Happy Birthday they had Robert Preston sing 76 Trombones. Do not regret growing older; it is a privilege denied to many. Yes. Most people don't know what to say when they look into that mirror, especially grownups. Grown-ups have forgotten. We have no choice but to age, and maturing is a nice thing to do, but never grow up; growing up is hazardous to my health. And yours too.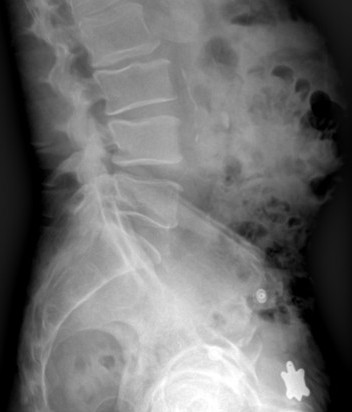 11 April, The Turtle is my Totem

Spring cleaning here too. Throwing out all sorts of stuff. So hard to get rid of some things I've been carting around for years and years. I think these things are important and am dismayed that they are no longer useful. That feeling makes me also feel no longer useful. My back has been bothering me of late. Decrepitude is creeping up on me faster than I can rejuvenate. Went twice this past week to visit my chiropractor to get twisted back into shape. He took an x-ray to look for spinal arthritis and we discovered a long lost turtle.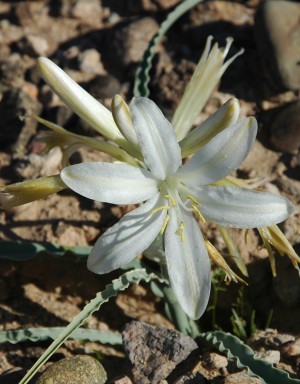 Ajo Lilies Gone to Seed
The first ones were just blooming when I left for the Escapade so I missed the peak flowering. Many plants were showing seed-pods when I returned. While the plant propagates by these grain-of-rice sized seeds they grow from a bulb that is usually a foot below the surface. A good long slow Winter rain has to soak down that far to turn on the growing process else the plant will hibernate for a year. Even with adequate rain, not all the plants put up leaves and of those that do not all flower; not all the flowers produce seed-pods. And then of course there are the critters who like to dine on the seeds or store them away (which may explain why many an Ajo Lily grow out of small burrows...). Each seed pod is about the size of a fat green grape and contains perhaps an hundred seeds. The Ajo Lily (Hesperocallis undulata) is protected by an Arizona Department of Agriculture listing as "Salvage restricted". But so far nobody seems to know just what that means. Best I can come up with so far has to do with the destruction, or removal and transporting, of the entire plant. No mention is made of simply collecting seeds. Or taking pictures.


Thank you for having me along for the ride.
Gardyloo, Hugs, Love, ajo (and Hazel who is tirelessly ministering to the indigenous alar natives. Except at the moment she is seriously involved in a sleep apnea study..)