Where's Hazel? Pet Hazel. Scratch Hazel behind her ears.
2017 April thru July. Does The Cat in The Corner have fleas?
One member of this cohort, Donald, has published his first novel: In Miracle at Silver Lake Ricky, Robbie, and Steven go to summer camp. Ricky and Robbie are twin brothers from a close loving family. Steven, living with his grandfather, is angry that his parents died in a car accident and doesn't want to be at camp but his grandfather thinks the experience will help him deal with the death of his parents.
Singular they is the use in English of the pronoun they or its inflected or derivative forms, them, their, theirs, and themselves (or themself), as an epicene (gender-neutral) singular pronoun. It typically occurs with an antecedent of indeterminate gender. (From the Wiki.)

April Aphorism
Your youth was no time to be sensible, but now might be. —LA Times, 170421.

May Day
I set out to build a Mince Pie and change the oil in the Clatterpillar 3208. My plan was to get an early start on the oil change whilst the morning was still cool and then later, when the day was hotter, work on the pie in the cool comfort of an air-conditioned galley. Breky got in the way. The morning mail further delayed the onset of meaningful productivity. Later, I thought I might do both jobs concurrently. Set the oil to draining, come in and roll the pie dough, go out and crawl under the engine again and change the filters, come in and fill the pie shell and put on the top crust and start the pie baking, go out and commence to filling the 3208 with 23 quarts of motor oil—that should take about as long as the pie needed to bake, eh? But then "Sensibility" got in the way. All that in and out, washing my hands of oil to roll the dough, washing my hands of flour to handle the filters, changing back and forth between aprons... Building a pie requires thinking in tablespoons, changing the oil requires thinking in quarts; in my present state of disarray one slip of the thought would be disastrous.

Vision Verification
Vision mostly ok. As with the other parts of my self, these eyes don't have it like they used to. Still 20/20 for middle and far but for reading and other close up looking I'm using +2. and +3. glasses. Incipient cataracts around the edges and nascent macular degeneration are the major issues. I need to make more use of eye drops and sunglasses and revisit next year.

Revenge of The Sixth & WNGD
Windy continues at Tonopah like a replay of an old song. Hot and dusty as well. Arid 111f was the high temperature Friday. But its a dry heat they tell me as if that were some sort of consolation. What's the difference between roasting and scalding? Still burns the fingers and cooks the goose.

Today I helped celebrate WNGD by eating some of Paul's cherry tomatoes and sweeping aside the oranges that the wind was blowing from the trees. Watering flowers, feeding birds, dumping the holding tank all added to the excitement. High temperature today only 98f. When a warm spell follows the first cold of Winter we call that period Indian Summer. What to call this cool spell? Revenge of the Sixth?

Taco Tuesday - What a rush was yesterday...
I've not done maintenance on this old bus for too long and so yesterday was partly a time of rediscovering ways and means, not to mention finding again the problem with the broken welds on the fuel filter bracket. I don't recall when that happened but I do remember tying it up with parachute cord. Had to be several years ago.

More of the stuff and things I've been carrying around all this time came in handy to effect further fixes. Hugemongus ty-raps garnered from the CATV company in Conway was one very handy item. Screws and bolts from my bottomless hell box. Tools...

Used to be, back in the old daze, that I did this sort of maintenance on the bus sometimes twice a year when the mileage warranted but of late I'm not driving all that much. Only 5,000 miles since June of 2014.

Breaking bread last night with OAE Dave who works communications in such far away places as Kandahar and Baghdad was an exciting reune. He works in secret places on secret projects and carries a pass which shortcuts customs and immigration at both ends of his journey. No problem finding parts and tools, his greatest on the job concern is coming under fire a few times a week.

This mornings best Crossword clew: "one man in a tub", five letters.

April Flowers Bring May Showers
In both my gauges this morning there was 0.11" from last night's rain.

Mother's Day
Ave all my Other Mothers, other friends and relatives included.

Over the years I have particularly counted on my Other Mothers to be recipients of my Mother's Day Greetings when I was away from my First Mother. (FMOTOC?) Mothers are very important even when disguised in wrappers of another gender or relationship. The FMOTOC has long since gone to the Great KaffeKlatch with the Cosmic Muffin so I must now rely even more on my Other Mothers. One never outgrows one's need for a Mum.

Once upon a long ago after-school when my brothers were out in the yard smoking, (smoke 'em if you got 'em but if you touch mine I'll break your fingers!) and imbibing their contraband beers, a neighbour-lady called our house to inquire if my mother had seen her son. My mother looked out the window and allowed as how this neighbour-lady's son "...as well as several others are out there smoking and drinking with my kids..."

"How can you let them do that"? neighbour-lady exclaimed! "How do you put up with that behaviour?"

And FMOTOC calmly replied: "At least I know where my kids are."

That lesson has been one of my guiding principles ever since. Happy Mother's Day to all my Other Mothers

I have managed to complete the periodic 5,000 mile chassis maintenance on The Cat Drag'd Inn. Last time was June of 2014. I guess I'm not travelling as much as I used to when such Lube-Oil-Filter days often happened twice or thrice in a year. I'll bare the heat of the desert another fortnight and then I head for cooler climes in the high country of the Continental Divide at Pie Town. I still don't know if I am going to pursue an eclipse expedition to IDaho. Such a long and expensive adventure to satisfy an esoteric craving. I was kind of hoping most of the money would come from sponsors but I fear the days of sponsorship of the quest of scientific knowledge is going the way of Public Broadcasting. Intrinsically, the trip is not worth my time or expense, I can watch the event on television (with instant replay and no need for the expense of special eye protection) unconcerned about clouds or crowds. However as a cultural experience there is little else which brings one to think about the synchronicity of celestial events. How is it that we are here and the sun and the moon are just so? Not to mention all the friends to visit and hot springs to soak in along the way.

Once upon a long ago I wrote: "Some folks need to stay at home cos if everyone travelled like me there would be no one around for me to visit." Now, perhaps I need to see this as my turn to stay at home?

Structured Procrastination?
When you do other less important tasks rather than the work you're supposed to be doing. Just so you are at least doing.

And the answer is:
Since about November 1997 The Cat Drag'd Inn has travelled 136,674 miles on 16,292.2 gallons of Diesel burned in three engines. and 705 quarts of motor oil. Average MPG, 8.3; Engine Hours, 1,598.0 (since mile 83572).

sexytuplets 22 May
Six new 11R22.5 Hankook tyres. Four of the Goodyears removed were installed fifteen years ago.

May 24 loose your inner towel... ...and your outer towel will foll-ow!

I am carrying my "Official 42 Towel" about my neck not unlike a papoose. Or perhaps a fropoose.

To be prepared or stave off the likelihood of initiation of commitment proceedings I have developed the following screemplay: "I know tomorrow [25th May] is officially Towel Day and one is supposed to bring one's towel to work so they can all hang out and dry together after a morning of keeping up with your arduous routine. "But I have a dentist appointment tomorrow, I won't be in to work, so I have special permission to bring my towel to work today."

Bring your towel to work (or school) tomorrow. I'll bring mine to the dentist.

25rd May Urgent Care
Left calf contusion swelling hurts. Swelling migrating towards foot. Urgent Care did X-ray, ultra sound, palpate... Nothing broken, no internal bleeding. I need to stay off my feet for a few days (fat chance of that...) and apply ice. Arnica Cream to help with the tenderness and pain.

In the news: umbraphiles prep for eclipse

Memorial For A Printer
My HP 6520 printer has been problematic since day one. Perhaps the reason why somebody donated it to the Food Bank is cos the touch screen control panel was erratic, intermittent, and otherwise flaky and unreliable. Mostly not a problem but for the button that printed a test page. That button was three layers deep in the touch screem menu: |Menu|Tools|Test Page| so I made use of the same access thru the computer's Printer Control Menu: |Apps|System|Printer|Print Test Page|. More steps but the mouse was faster.

Then yesterday the situation got drastically worse. K was intermittent. K is the name of one of the colours. Blue, Yellow, and Red are the others. blacK is K.

Some lines of text were streaked and faded. Some lines were entirely missing. I read up on troubleshooting and of course you have to run a test page. After printing Test Page from the computer control panel and seeing no K and faced with an ever rising level of frustration I approached the printer touch screen. All the buttons worked. Test Page commenced to print. What is this, I am thinking, is Printer trying to be nice for a change? Is they afraid of me? Is they crying for help in this problem? Leading me on? Can they see the one pound machinists hammer I have in my back pocket?

Test Page was emerging from the exit slot. There were big bold solid perfect black words across the top of the page. "Test Page blah blah blah". Two-three-four lines more lines of black text appeared. Then there were four black frames, little boxes as it were for the four colours to disport. B was there, with Y for a neighbour, R, at the far right, should have been balanced by K on the left. K was a streaked mess. Looked like they had been dragged through an eraser back end first.

Up to the next echelon of troubleshooting. Search-search-search... "HP6520 doesn't print black" found me beyond Hope so I went to YouTube. Search some more and found this guy with the news that my "HP 6520 is prone to this very problem and I have a fix for you."

The video went on to say that you do this, that, and the other thing and then you soak a paper towel in a 50/50 solution of alcohol and warm water and pack the paper towel into the space under the print head. Run the print head to and fro over the towel. Change towels as necessary until you pick up no more ink. Dry the printer and reassemble. Print a test page.

So I did. (Needless to say, at this point, Touch Screen had reverted to his Hyde personality.)

Test Page was worse. All the black lettering was there as perfect as can be. The black boxes were there rectangular as ever. B, Y, and R were in situ, K was not to be seen at all. Not a trace.

So I did the entire cleaning process again. Same result. K was nowhere to be seen. Yes, I changed the black ink cartridge early on and changed back again when it made no difference. Now I did that again. No K in the black hole on Test Page.

But the black words on Test Page? ...

I was at this point so frustrated and angry that I hammered in the face of the printer. Smashed broke dead.

June Day—I've Not Left Yet
Still here. Shopping this morning: new printer followed by plumbing parts to repair a failed pressure switch on Paul's well pump. I won't go into the saga of Plug'n'Play that doesn't or the WTF am I supposed to do with this stock of ink carts for the old printer. Too hot to handle tools to work on the plumbing so that will wait until tomorrow.

National Donut Day—What No Cinnamon?
Time was I ate a lot of donuts. Dunkin was on my route. Then one fine day Dunkin did away with the fine China mugs they used at the counter (and they did away with the counter too for that matter) and replaced them with plastic disposable cups. I started bringing in my own China mug.

Some times I'd bring in my Thermos(TM) to be filled until one day at the Dunkin in God's Country Vermont the counter clerk refused to fill my Thermos(TM). New rules they said. So I purchased five plastic cups of coffee, poured the contents into the Thermos(TM) my Self and left the plastic. I've not been back to Dunkin since.

From time to time I'll succumb to a pang of Donut Withdrawal but rarely do I find any Cinnamon Donuts. Only slightly more often can I find any plain deep fried cake donuts like my mother used to make.

National Lemonade Days
Finally! On the Road Again! Landed in Prescott AridZona friday after a two day climb up The Yarnell Hill. Much cooler here than in Tonopah. At least 20f degrees cooler. Hamfest at Embry Riddle then two nights at Watson Lake in Prescott. Got in a few miles of bike riding on the nice trails here but rather windy for any long distance. No help either that I am seriously out of shape and my wheels are taking advantage of my condition.

Ides of June?
Moved from Watson Lake (after two nights in their 15$ a night for no hookups but a shower) campground up the street a piece to Kevin's corner where I get pretty much the same accommodations but for the shower. Actually there is better TV reception here—small consolation.

Shopping along the way. At the Fry's on Willow Creek Road I saw this sign at the front of the local Fry's... chalk on blackboard: Reasons I Need Coffee... There were seven of them. Reasons that is. I spoke with the Starbucks mixologist. She said that one of the other girls makes up the sign every week or so. And there I was not wearing any.

Cold here this morning. Heat on. 42f was my low just before dawn. Warming quickly.

But I must turn this monologue back to Watson Lake's Pay-As-You-Camp-Boondocking. Over all, all things considered, Watson Lake is a nice place for camping in the city of Prescott. Too many rules and not enough infrastructure do not balance against the nightly camping fee, at least as far as I'm opined. There is water available from one frost-free but one is not allowed to connect a hose to fill a Residence Vehicle tank. You can fill and carry five gallons at a time but you may not use a hose. No Hook-Ups! Almost as if permitting camping was a barely tolerable afterthought of the rule-makers. Three-night maximum and then you have to wait thirty days to camp there again. It is all in the location. Nice lake. Miles and miles of well maintained walking and bicycling trails. Good trail maps. Great bouldering. I've been there before and I will go there again. Just be sure to bring plenty of water and an empty holding tank.

Another Day, Another Few Miles
Last night at the Safeway Market in Chino. Nice pasta dinner with KAL at The Cat Drag'd Inn. Thanks to Paul for the sauce. (And with that out of the way there is lots more room in my freezer for B&J's Coffee Toffee Bar Crunch of which the Safeway had lots. Now I am camped in the same woods as two years ago when I met Jewel and Warren and Itchykaibo Cat. This time I have the whole place to my Self except for the occasional car of gawkers who seem to materialise out of the dust. Hurricane Hazel says she feels good to be in a familiar back yard. Smoke on the northeast horizon is from the fire burning along u.s.180 northwest of Flagstaff.

FR71A Tree House
Moved to the east side of Williams Saturday morning. My usual camp spot was taken so I'm in my third choice slot. During my trash walk around the block this morning I spied a none too uncommon ugly orange flower today. Columba livia Claytonia. Startled to see these large bright orange blossoms against the sward of a waterhole near the Tree House on Forest Road 71A. Fortunately I didn't get near enough to get a closeup photo else I would have felt obliged to pick them all.

Summer Solstice and then Sum
From Williams to Winslow for a bit of Standin' On The Corner time. Aside from shopping at Camp Wally my main activities included picture taking and postcard shopping at The Take It Easy store, and finding that the main radiator of The Cat Drag'd Inn has a leak. A really slow weep but enough that occasionally I am obliged to top up the coolant, and at 17$ a gallon that is a serious problem.

On The Corner in Winslow a statue of the late Glenn Frey has been added to the plaza. Coming in September: The 19th Annual Standin' on The Corner Festival.

Now sitting atop a nice hill in Clay Springs with Dale and Dee waiting for the JBWeld patch on the radiator to set-dry-cure before I reload the coolant and see if the fix holds. Maybe. Fixed, yes. Repaired, no. Perhaps this fix will last the Summer. Until I can recover from the expense of six new tyres and save up for a new radiator.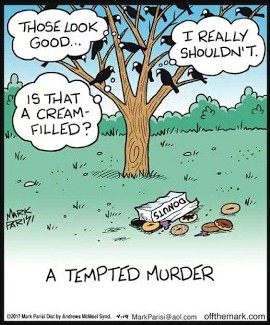 In Show Low, a town named for the ending of a particular poker game, I found a donut shop with Cinnamon Donuts! You know about a herd of cows, a school of fish, a crowd of people... What about crows?

A couple of days with Trish atop her hill in Concho to fix a few things and watch the sunsets. Then down the hill again and onwards to Springerville and Pie Town. The Red Hill Rest Area looked nice and clean for a change; no cleanup necessary there.

Last Leg To Nita's
A hundred and some miles more with stops for fuel and shopping. I cut off a Schwan's Truck at the fuel stop and asked the driver for a box of those mint ice cream chocolate covered bars. What's the item number? I don't know. I don't know if we have any I don't knows. Then he got out his catalogue and we paged through and perused the pictures: That one! I pointed, and he scanned the Item Number into his handy-puter which told him which freezer door they might be behind. And there they were! YUM!

Just missed Gin&Tonic time. Stella and Muenster were quick to point out that it was about time, now what was I going to do about their struggling with the ants over possession of their kibble feeder. I quickly got The Cat Drag'd Inn and connected; now to face the first of several problems demanding my attention: The ice maker doesn't make ice (Does this have anything to do with the tray being full of frozen corn on the cob?), the hot tub is off, the whirly-gig is broken, and Field Day starts tomorrow. Jerry warned me that I might find the back yard rather cold by morning; might be in the low 50's. I can live with that.

ARRL Field Day
Severe power line QRM at the NU7DE Field Day site this year. S9 from 80 thru 10 meters. Ten over s9 on 20m. Most of my time was spent troubleshooting the RTTY modem.

My choice of radio for this Field Day was a verry excellent boombox (Thanks Bill!). Convenient handle on the outside, nice sharp loop antenna on the inside. I could triangulate on the noise. I will call the SEC tomorrow and let them know that pole # 08636 has a serious arc in XFMR 10/12242 in my back yard.

From the NU7DE report for Field Day 2017...W1VBG and K1oiQ took turns at the NU7DE mic on 80, 40, 20 meters. Hurricane Hazel, the NU7DE me0w, never let the crisis interrupt her drinking; she spent the entire time cozied up to her water fountain.

Independence Day?
Tempered by my shame, OK. There was a 4th of July parade in Quemado today. The only walkers even trying to keep in step was a group of veterans, about a dozen, carrying stretched horizontally between two ranks and two files, a flag, American Flag of course--of almost as much area as those often seen waving above mauls and McDonalds--but there was no band to help them along. Just the bleating and honking of a fleet of fire trucks and other emergency services vehicles. I rather think that if the town could not afford a High School band they could at least have hired Sousa to conduct the bleating and honking in some sort of march tempo.

One Month to Eclipse
I was awakened at oh-dark-thirty again by the ISS signal. By the time I was awake and aware the pass had ended but after morning rituals were complete I turned on the HamShack computer and engaged tracking and image decoder applications.

Just in time. About 05h45, in the twilight before sunrise, the signal came up and commenced to paint an image. I chanced to look at the tracker and saw that the bird was approaching Pie Town! Ran outside and there she was, overhead just as the image completed.




Gardyloo, Hugs, Love, ajo (and Hazel who is tirelessly ministering to the indigenous alar natives. Except at the moment she is seriously involved in a sleep apnea study..)