Where's Hazel? Pet Hazel. Scratch Hazel behind her ears.
TPH-FLG-BOS-NNH & Around & Return
The last time I went "camping" away from "home" was in the vicinity of 1978. Time enough ago to misplace a lot of stuff and routine and What-To-Bring lists. Also time enough to discover that much of the gear I /can/ find I have been carrying around since then and which might still be useful. I am having to expend a lot of thought on what to bring and what I can get along without.

Finally, after several rounds of packing and repacking and too many delays to count The Cat Drag'd Inn is ready to sit here for another fortnight whilst I take the train around the bend. Hurricane Hazel is in charge and Dreaded Watch Cactus is on guard.

I've not been away from "home" since summer camp an hundred years ago. So much to remember about how to pack and what can I get along without. One thing for sure is that I cannot get along without money. Or time. At this point I am not sure which of those holds the greater value for me. Money I can earn or beg but time is running out. So for this adventure I will let someone else do the driving and make the best use of the time that I can.

Speaking of begging... Public Television gave me this idea with their Beg-A-Thons comprised of reruns of "Victor Borge on Sax" and "How to Increase your Shoe Size at Home": How about "Beg-A-Blog"? Reruns of previous letters from old road trips. This chapter is brought to you by "Is the Monsoon over yet?", from September 2004.

FLG to BOS is about 70 hours including connexion time at either end. On the (rail)road again... Paul got me to the FLG train station on time. Starting weather was rainy, dark, early in the morning, train was late. First leg FLG to CHI on Southwest Chief with cloth napkins. Second leg CHI to BOS on Lake Shore Limited with paper napkins. I think the "Limited" has to do with the limited amount of service and the quality thereof.

Between Barclay and Osage City as dawn twilight begins to brighten this tree-lined immense flatness. Every few minutes it seems the long-long-short-looong of the train's horn announces another grade crossing. The roadbed here is lumpy and my sleep was sporadic, disturbed, never really deep it seemed. My upper bunk has a safety net to keep one from falling out as the sleeper car rumbles along. My car is forth back from the tandem engine, next is the dining car where breky is about to be served. We entered Central Time during the night and that cost another hour of sleep.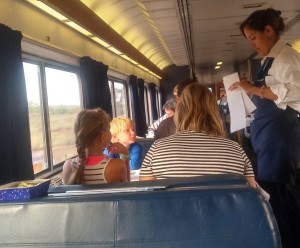 The galley help has no idea how much water is carried. Dishes are recycled, flatware is washed. Meals are partly precooked by the food service provider and finished to taste as needed. The table is set with cloth napkins and stainless flatware and your choice of condiments and beverages are in abundance. Bright spot this morning was a new adventure. A shower in a train. A moving experience to say the least. Nice hot water. But the stall walls are cold and getting clean is problematical when your hands are busy holding the grab-bars.

We just went screaming past the M&M factory in Topeka... And here is the Frito-Lay factory.

...Kansas City here I'm gone but I doubt I'll get far enough from the train to stand on the corner of 12th street and Vine.

This train has been an hour late right from the start. Every time they make up a few minutes some new delay sets her back again. Somewhen last night, in addition to changing time zones, we crossed a boundary from the sparse high desert of New Mexico and ColoradO to the thick lush green tall trees of Kansas

For those of you Virtual Travellers who've always wanted to travel by train: For any kind of longer than a day excursion you have a choice of two classes: coach or sleeper. Aside from sleeping arrangements the main difference is that in coach class, meals in the dining car are pay as you go; in sleeper class meals are included.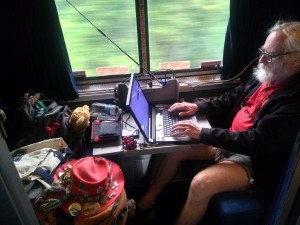 Going by train is more than just getting somewhere. Travel by train opens up an entirely new vista. You get to look into the back yards you don't see when you are confined to driving on the roads. And of course one can plug in to a wall outlet and write about the scenery, walk to the head or the lounge, or just walk to and fro the length of the train. And there is WiFi included.

But there is something about the AMTRAKWiFi that Google does not like. And that may not be the best way to describe the problem. More correctly perhaps is that Google Security gets upset when ever I use a different WiFi HotSpot. Somehow, Google is relating my gmail password to the ISP's IP address or the WiFi IP address and when that address changes my access is blocked and I receive several notes via my Alternate Recovery eddress, SMS, and Voice Mail to the effect that an intruder has intruded.

Time to begin to commence to get started packing. By the time I partake of another nap and have lunch we will be in CHI where I have a six hour layover in Amtrak's Metropolitan Lounge. That palace is another advantage included in First Class.

The VIP lounge at CHI, for Busines and Sleeper Class passengers. Another perk of travelling first class. Beverages, snacks, shower, WiFi, and train boarding announcements loud enough to wake you from your nap, all complementary. But the coffee was tepid. Huge cavernous well appointed lounge on two levels. With the Kids Corner telly on Disney channel and three other TVs with seating arranged so you could watch news, sports, or Wheel. When I finished my tepid coffee and gorp I explored the upstairs and took a shower. I could stand in that shower all day. Rains big drops of hot water.

Eastern Time Zone on The Lake Shore Limited
Eastern trains are different, no two storey cars. There is a lounge car with geedunk but no observation level. The roadbed seems smoother and quieter (mostly) and the sleepers are better appointed in that each cabin contains a commode and a wash basin.

But the meals, the food service, is nowhere near as good as the western division. McRailroad Sappy Meals. Worse even: No omelets, only cold cereal and a fruit selection. The list of entrées does not differentiate between lunch and supper/dinner. Of the five entrées only one includes hot food. The worst of this, I am told, is that McRailroad Sappy Meals is the wave of the future. "Eco Friendly" and "A Sustainable Choice" are the buzz words on the excuse card in the meal box. Read "No Servers and No Chefs equals More Profit". I'm all for sustainability but I also appreciate a certain quality of life engendered by china and glass and at least stainless flatware. Someone from the airline industry must be in charge now. At least I do not feel obliged to tip the attendant...

Beef Short Rib a la Nuke.
Supper tonight, somewhere near Pittsfield MA whilst waiting for a westbound freight to pass, was brought to my table, everything in another balsa wood box (no trees were harmed nor cut down in the making of this box) and consisted of braised beef with polenta, green and yellow beans and carrots, a sort of salad with no choice of dressing (you got what they gave you) and a salted caramel cheese cake in a fine and proper glass jar perfectly good for home canning. How out of character is that? The entrée is in plastic, the salad is in plastic, to be eaten with plastic flatware wrapped in a paper napkin, all packed in a disposable (they say recyclable) balsa wood box; but the caramel cheese cake is in a branded Kerr Mason jar. Some folks who can take the jar home rather than see it trashed.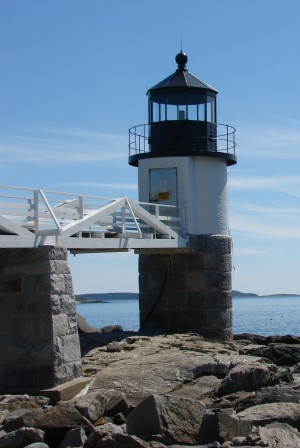 This meal is the only entrée of the five on the menu that is served hot. The attendant nukes the plastic bowl and the dinner roll just so. The butter is hard in a foil wrap, the black pepper is in a tiny paper packet, the serrated plastic knife teaches you patience. The short rib of beef is yummy enough and the beans were actually crunchy enough to give the appearance of freshness. The polenta I am not familiar with so I will just say tasty. The up side of the experience is in the Wine, Beer, and Spirits part of the menu. While first class travellers are comped this meal (as well as breky and lunch) the alcohol is to be paid for. Except: "First drink is on us." Hahn Estate Cabernet Souvignon 2016 goes well with braised beef short rib. It should at 16$ the half-bottle.

Friday 20 July, Nashua
The Lake Shore Limited finally arrived at BOSton South Station two hours late. I wonder if that is some sort of a record. The train is not allowed to leave any station early; you might miss an on-time passenger if you departed early. So, at best, every departure is only on-time to begin with. The biggest flaw in the system is the single track. Long ago the double tracks were mostly torn up as part of the usual short-sighted cost management profit driven motives of corporate America. As a result, whenever two trains meet on the single track one of them has to be shunted to a passing siding. Scheduling is very important. Freight has right-of-way. The passenger train gets later and later. Still, with all the delays, I think the rail way to travel is better than flying. Except when the meals and food service are railroaded into the airline business model.

Old Scout Dennis was pacing the rotunda when I found my trunk on the baggage cart; when I found him, we lit out through the brightly lit but otherwise dark one-way streets headed for NNH. My baby sister Ann-Marie met us at the kerb in front of her brightly lit house in Nashua. She and her husband Mike (not the same Mike who is my friend in Tonopah AridZona) raised three kids in this house and are now working on their kid's kids.

Now I have a day to visit, sit still, sleep in a bed that is not bouncing around, and rearrange my pack for the next few days of running around and visiting. I have to be mindful of the Fish Rule that Ben Franklin established. But then perhaps old Ben and his guests did not have inside showers as we find in suburbia today. First order of visiting was to pick up a rental car and have lunch.

My rental car is a scary new machine. A white Elantra with 9800 miles on the odo and push-button just about everything. And I thought The Cat Drag'd Inn has too many distractions. I'll have more to write about that after I've survived the next few hundred miles of driving. TinyTruck is going to be jealous.

Lunch was shepherds pie (made from real shepherds according to Dennis) with Old Scouts Dennis and Donald at The British Beer Company in Westford. We spent a delightful hour retelling old yarns of various adventures and new tales of current misadventures. Our meeting was a good time to relive and remember the old days.

Ms Android avoids Toll Roads.
Friday—starting for the Maine event, I told Ms Android to go shortest way and avoid tolls. So where does she lead me? North on the Everett Turnpike from Nashua towards Manchester. So how am I going to be directed to Manchester, to 101, and then east to Maine? The NH turnpike does not charge to get on, only to get off at certain exits, and twice, to keep going. There is a toll gate sort of about half way between Nashua and Manchester. Before that there is an exit which is open only between certain hours. Then there is another for E-Z-Pass or Correct Change Only between certain hours. Finally, looming on my horizon, is The Toll Gate I want to avoid. Ms Android pipes up with: "Get in the right lane and prepare to exit." Usually those instructions are accompanied by the name of the road or the exit number. "Prepare to exit..." There was a ramp there. I went. The road veered away from the toll gate, looped around, down onto a secondary road, to a traffic light, turn right, another loop, and onward to The Turnpike on the north side of the tollgate. WOW! My first thought was: I wonder if that works on the way back?

Saturday by The Seashore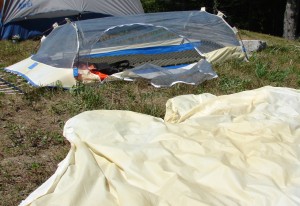 I am presently enjoying the sea fog wafting through the pines and spruces around the lighthouse at Port Clyde Maine and this gathering of The Antarctican Society. Morning fog and heavy dew made getting out of bed in my little hammock tent quite a challenge but the penguins were having fun. Storey telling, lectures and discussions are the order of the day. I met several old friends and lots of new ones. Watched the tide and Luna and Mars. Mars, rising above the rim of the shoals of Mosquito Island in Penobscot Bay, danced above the water and reminded me of the Marfa Lights.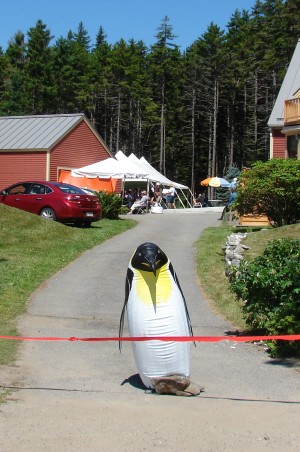 Next door is a house aptly named "Hatetoquitit". Around the corner is the Marshall Point Light where Nellie the Lighthouse Dog held sway when the light was kept by a lighthouse keeper. One of these is the Parking Penguin, the other is a Rock Hopper on the beach.


Folks attending this affair, about 130 this year, are from all over and all whens. The oldest is about 93: Dr Paul Dalrymple was studying ice on the IGY in 1957 whilst I was busy with the Boy Scout Jamboree in Valley Forge. Kids Ethan(?) (10) and his sister (8) are the youngest as somebody's grandkids. All have an interest in Antarctica. Among others, Pisco, chef, who cooked at Palmer is here, and Bill, engineer, from Palmer and Spole is still running. We compare notes. How are you doing? Pisco uses a cane. My pisser doesn't work as well as of old, no more writing my name in the Antarctic snow at 60f below, but my eyes are still 20/20 and I don't need a cane tho I occasionally practice with one. If Polly has any complaints she is not voicing them. She is still working for NSF, looks a little smaller, less imposing, perhaps because we are on more equal footing now.

Sunday morning came with more fog and drizzle becoming rain. Precipitation had been a threat the night before and with the dew on my tent taking so long to dry I thought to move my kit to a dryer place. Rolled up the hammock and reset the whole affair atop one of the long tables under the dining tent on the upper lawn. Great idea! Thank you very much. After an early take-down to make way for dining realignment of the tables a caterer brought giant pots and cookers and seafood for our closing feast.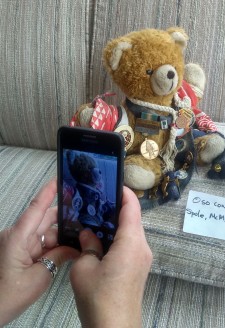 Inside the house, breky was a do-it-yourself affair, Oso con Migo, on a zafu in the office, was posing for photos and hugs, and preparations were underway for The Auction. Numerous Antarctic related items had been donated to help raise money for the Society's doings. Meanwhile, under the dining bigtop Pemaquid Oysters from the Damariscotta River in Lincoln County were being opened. The veteran professional oyster-opener (I neglected to record his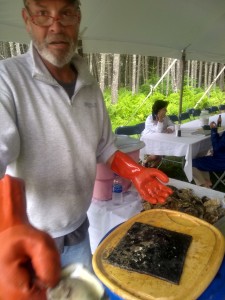 name when I took this picture—sorry about that) carefully poked and sliced the shell open and then deftly disconnected and flipped the oyster over. Oyster on the half-shell. I vaguely recall my father relishing something of the sort from long ago when we lived on Washington Street in Somerville. I've had smoked oysters—they're good—but I'd never eaten a raw one from the half-shell. Now suddenly I had one of these sea creatures in my hand. Over the lips, under the gums, look out gullet here she comes. Another please? YUM! And another after that? But wait, I have to save room for the lobster! Here, have another, oysters don't take up much room.

Finally after lobster and corn—and another Atlantic ale ("Save the Ales" is their tagline)—another round of hugs and goodbyes. I gotta go. The road is curvy and steep and I have no idea of the way. More rain in the forecast. Time to roll up my tent and get on the road again.

Beyond Hope (ME that is...)
T-Mo cell service is spotty at best here in the outback of deepest darkest Maine; Ms Android the Nagrivator, struggled with connectivity. Eventually I resorted to my tattered copy of The Maine Map, an antique from B.G. days. Drive and drive and drive, stop for coffee, stop to pee; windshield wipers slapping time... Out beyond Hope, on hwy 201, seven miles beyond the Caratunk sign, Ms Android woke to say: "Your destination is one-quarter mile ahead on the right." Just in time for supper. The Sterling Inn is a bed and breky a mile off the Appalachian Trail and has bunk rooms and a special low rate for hikers. Private rooms for private people. Eric is one of my regular correspondents so we had a lot to chat about. Thanks Eric and Zachary; you have a delightful home; thank you for sharing.

Monday Rainy Day
Pouring driving rain to drive in. Reminiscent of the Toaster House in Pie Town, here there is The Birdhouse Wall in Caratunk. Only birds live there. The yellow triangular caution sign says Watch For Falling Rocks. Do they mean coprolites? I have no idea how much rain fell along the road but the puddles made big splashes and the windscreen wipers were working double time. Onwards to visit Paul at Conway Truck Service—thanks for lunch Paul—and then Jane & Kenny at their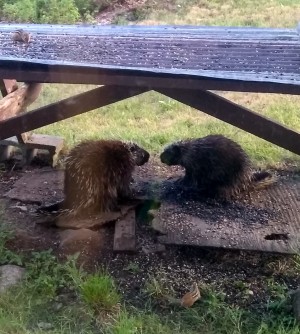 octahouse on Dundee Hill; thank you for sharing your fine castle in the clouds. This part of the drive was like going back in time at first but then future shock set in as I saw the old houses replaced by stores; the two-lane roads now four; the trees, taller and thicker, or gone altogether. We had a lot of news to catch up on. Jane and Ken have lots of animals visiting and foraging in their yard. The last time I was there a bear was helping himself to the bird feeders. This time there were four porcupines Hoovering up the black sunflower seeds and several chipmunks in attendance as well.

Return to Nashua
Unpack, unwind, clean rental car of balsam fir needles, repack, shower, sleep. That rental Elantra from Avis is some fine car. TinyTruck is gonna be jealous if I write too much but I have to say she has a lot of pickup and got 40mpg during my 903 miles of driving around and around. I have to wonder how long I would have to make payments and if the money saved from better fuel mileage would cover the payments. And if they make a pickup version. But don't breath a word of all this speculation to TinyTruck.

Tall Ships at Portsmouth
The Tall Ships were in at Portsmouth NH. We went to visit the the Oliver Hazard Perry. The ships offer tours at wharf, tours at sea, seamanship training, and opportunity for volunteering to help keep the seafaring traditions alive and well. At at Dr Seuss Art Festival in Prescott Park Ann-Marie espied one of of those stick-your-head-through-the-hole boards and said "Let's stick our heads through the holes without looking first and take a picture." So we did and there you are. Later, back in Nashua Oso con Migo espied a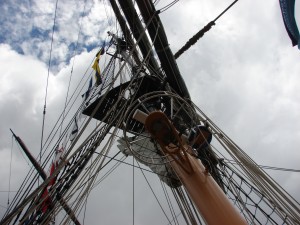 Teddy Bear's Picnic he just had to crash. Those pictures are somewhere below.

Monday, 27 July, On The Rails Again
My three sisters drove me to South Station in Boston to begin the return trip to AridZona. Just in time. My three days were up and my all-over tan is beginning to rust. Finally got luggage checked in. The cargo master didn't weigh my trunk this time and I kept the pull cart for my carry-on packs. That cart is a life saver—Thank you Ann-Marie! Thank you very much Ann-Marie and Mike. Then my bag of popcorn burst open at the bottom. That was not nice. Fortunately over a table, didn't lose much. Popcorn and fruit salad for lunch. South Station is packed. Mobbed. Crowded. What a crush of humanity. Everyone going or coming or waiting. Wandered around half an hour looking for a seat. Post cards are a dollar! They were three for a dollar at Portsmouth. But I'm not going back to that rain for more. I thought to have a walkabout outside to look for less inflated postcards but ran out of time. On the train now; run out of town on a rail. Nagrivator is nagrivating. I'll let you know if we stray from the track.

Lake Shore Limited Under Water
Cold and wet all over from the reports I am receiving. All except AridZona of course. From last night near Deming NM Capt Hook reports there was 4.6" of rain and thunder. Here along the lake shore track the rain on the train was making a wake.

How to Tell Supper from Breky?
The "Box Breakfast" box has a cello window. Ingredients for Dianne's Fine Sea Salt Caramel Cheesecake in a Mason Jar dessert include "Lem-On Juice" and "Artificial Butter Fla-Vor". I'm nitpicking, I know, especially since as my friend and mentor Will once told me: If you can't say anything good, don't say anything at all. Nitpicking is the best I can do else you would have nothing to read on this matter.

As I told the steward, the present airline driven food service is little better than a cheap fast food joint. The food may be intrinsically palatable but the service is nowhere up to the standards traditionally set by Amtrak's history.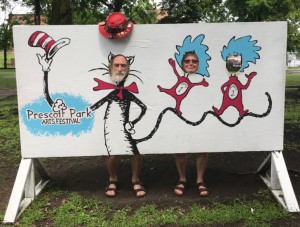 I'm working on a list...

The cabin heaters don't work. Or you canna turn them on. Nor can you turn off the a/c. One cabin attendant told me to stuff tissue into the a/c vent. That worked!

None of the three reading lights work.

The water tap in the wash basin leaks.

The Amtrak WiFi works but is intermittent.

Good thing all these amenities are included in the cost of transport. My bed was comfy and warm and the view from the upper bunk quite nice. The long sections of welded rail have eliminated the clickity-clack apparent in old movies however there are occasional lumps and lurches that remind me of a New Hampshire pothole or a Vermont frost heave. Scary sometimes at 67mph.

The Lake Shore Limited is presently two and a quarter hours late "steaming" across Indiana—next stop Elkhart—and I hope I can make connexion in CHIcago to the western division Southwest Chief before this plague of meal service degradation strikes there too. There are some good things to write: The bread spread is real Land O'Lakes Butter (Cream, Natural Flavor), and the "Side Green Salad" is made of real lettuce, carrots, and cherry tomatoes with Newman's Own Balsamic Vinaigrette. The coffee is Ok and there is real half&half on the table. The Lake Shore Limited, somewhere in the vicinity of Purdue University, just entered the Central Time Zone. That takes an hour off her lateness.

On The Southwest Chief Again
Another shower at the Amtrak Chicago Metropolitan Lounge, more snacks, the coffee was fresh and hot this time. I never did get to look up Charlie or Jim or say hi to a number of other friends and relatives. Sorry about that. Not enough time in my daze. But I did have such a good time that I can see making this an annual event. But with a lighter pack. Or bring the bus, then Ben's Three Day rule will not apply.

The Place Where They Grow Windmills
Mountain Time Zone. Sorry, no pictures, the Southwest Chief wouldn't interrupt breky to stop for me. Southeast of Garden City Kansas, acres and acres of wind turbine parts along the tracks to the north. Row after row of blades, pedestal sections, generator housings; the area should be easily visible in Google Maps. Hard to judge the length of the blades; they were at least five times longer than a croissant held at arm's length. But then that guesstimation was compromised by the red shift of the speed of the Southwest Chief. Here is a GIF clip made by Steven showing the growth of the Windmill Staging Area from 2011-2017. If you go there press your back button to return.

Climbing into the Mountains of Northern New Mexico
My ears are popping every few miles. The land outside my window actually looks tilted. The Southwest Chief snakes through switchbacks so from the mid-train dining car one can see the engine smoking along ahead and at the same time the coaches dutifully following. The landscape is become more like the southwest. The tall trees and almost tunnel of dense vegetation back east has given way to the open prairie of Kansas and now the scrub of the western high desert.

ABQ: Refuel, Change Crew, Shop for Postcards
The fuelie doesn't know what mileage this train obtains but he says the last fuel stop was Kansas City and he now is adding 1100 gallons. He says that bigger freight trains usually get five gallons per mile. I told him my bus gets better than five miles per gallon. The train crew time-in-service is governed by DOT rules so the crew coming on now gets off at Kingman AridZona; in contrast, the cabin and dining attendants work the train end to end and back again, six days on and then five off.

There is no gift shop at ABQ in the Alvarado Station however there are gift vendors on the platform where passengers have half an hour to shop whilst refueling and safety inspection are ongoing. Postcards at the one table having any at all are fifty cents each. My Postcard of the Month Club purchase requires fifteen, all the same. The saleswoman said she would do three for a dollar however she had only thirteen and they were all different.

Monday-Monday
Grants NM, (Ms Android switched to AridZona Time Zone) Holbrook & Winslow AZ; I began to appreciate the anticipation that Sara(h) La Gata often displayed as we drew closer to her familiar territory after a sojourn on the road.

At Old Scout Dave Blanchard's home in FLG this morning. He met me when the train came in an hour late. When I stepped from the train, getting my feet on the puddled brickwork, the sign "FLAGSTAFF" on the side of the station, dark, same air temperature and threat of rain, lightning flashing in the clouds, and the entire past fortnight collapsed: WHOOSH! As if I had gotten in one side of the sleeper car and then right away out the other side. As if going through a black hole. I will have to go over my notes and reconstruct the days and events. I still have to get back to The Cat Drag'd Inn at Tonopah and see what reception awaits from Hurricane Hazel. This adventure is not over yet.

Home Again-Home Again Jiggity Jig
The heat has a lot to do with exacerbating procrastinitus. I could feel the tentacles of tardiness creeping in, thickening around my brain, as the Arizona Shuttle descended on i17 from the Sunset Point Rest Area. I had all I could do to disembark from the van and off load my luggage when we stopped at Phoenix Metro where Mikey met me.

With anticipation building, laundry smelling, and luggage seemingly increasing in mass, we took time out for a late lunch. Finally at The Cat Drag'd Inn, Hurricane Hazel was hiding behind the telly and crying when I called to her. I was very sad. Eventually she came out from behind the telly and after a bit she came round and for the rest of the day and evening followed me just about every step. I think she is better now. I know I am. Several discussions I have had with a few old time friends this past fortnight and in many instances our memories of similar events are at odds. Whether we were conflating events of melding first, second and third hand storeys I don't know but all was very interesting. I may spend the rest of my life sorting through old newsletters, journals, and photos, trying to piece together a definitive history.

Now the time is nigh to get on the road to Pie Town. Structured procrastination. More delays. Lack of motivation. A tinge of some undefined fear. My GGGgreat Uncle Issac wrote about that: A body at rest tends to stay at rest, a body in motion tends to stay in motion—except when going up hill. He named his law The Constipation of Energy.