Where's Hazel? Pet Hazel. Hazel needs her dreadlocks trimmed.
Twelfth Night
Turning off the candle in the window and the lights in my Yule Branch. Take down all the greeting cards that accumulated on the clothes line. Time to get back to volunteering at the food bank and fixing things at The Cat Drag'd Inn to be roadworthy for the annual drive to Quartzsite.

This morning in my crossword: GRIMALKIN
Hurricane Hazel-Rah has learnt she is a grimalkin.

William Least Heat-Moon rates local eateries in his /Blue Highways/ travels as one, two, three, or four calendar diners. The Cat Drag'd Inn is now a three calendar inn. I should have no trouble keeping track of special days this year. According to one calendar, the flush toilet(3rd) and popcorn(22nd) were invented in Febter and the Vernal Equinox is 19 March, the earliest in over a hundred years.

Speaking of Popcorn
The General Coverage Radio/CD player on the bridge as well as the Optical Drive in The Cat Drag'd Inn's MikeMachine—the mainframe in the computer room—have been acting out of late. Behaving out of sorts one might say. After a long battle too lurid for grown-ups, tho a ten-year-old would have had the solution right away. When the CD player failed completely I was finally obliged to replace the radio. Originally purchased in 2007, this Sony had played a lot of music, outlasted two sets of speakers, and been eclipsed by Mobile Entertainment Centers with more features than you can shake a thumb drive at. Once I was on that track then replacing the Optical Drive in the MikeMachine became just one more line on the purchase order. Enter Entropy (def-4).

The Optical Drive part was easy. Plug&Play as the saying goes. And a good cleaning out of all the floobydust as well. Thanks to Mike for his help with that part. For the Sony radio/CD player I contacted Crutchfield in Charlottesville, VA. I've purchased several other radios from them over the years. Great company with very excellent customer support. And let me be perfectly clear that the ensuing saga was in no way Crutchfield's fault.

I chose another Sony with the hope that the power/speaker plug would be the same (too much to hope for) and seller promised two day delivery to Tonopah. Three days later Postal Service Tracking indicated my radio was at the post office; they didn't say anything about a flood.

The Box is in The Puddle?
Postal tracking reads from the bottom-up; the photo shows the box, as received at the post office, before I opened the outer carton. Despite the degradation of the biodegradable packing peanuts (when these peanuts get wet they shrivel up and disappear) the inner box had only one little dent and the radio inside was not damaged. I suppose that is all that really matters but...

January 16, 2020, 7:13 am
Delivered, Parcel Locker
TONOPAH, AZ 85354
Your item was delivered to a parcel locker at 7:13 am on January 16, 2020 in TONOPAH, AZ 85354.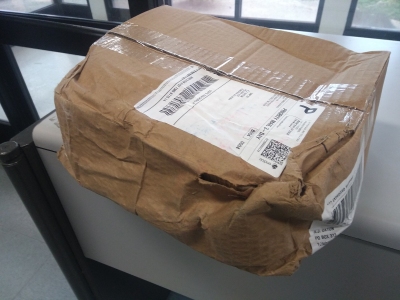 January 16, 2020, 5:38 am
Arrived at Post Office
TONOPAH, AZ 85354

January 15, 2020, 3:24 am
Arrived at USPS Regional Destination Facility
PHOENIX AZ DISTRIBUTION CENTER ANNEX

January 14, 2020, 2:05 pm
Arrived at USPS Regional Facility
GREENSBORO NC DISTRIBUTION CENTER

January 14, 2020, 12:28 pm
Departed USPS Regional Facility
RALEIGH NC DISTRIBUTION CENTER

January 14, 2020, 7:05 am
Arrived at USPS Regional Facility
RALEIGH NC DISTRIBUTION CENTER

January 13, 2020, 11:16 pm
Departed USPS Regional Facility
RICHMOND VA DISTRIBUTION CENTER

January 13, 2020, 9:06 pm
Arrived at USPS Regional Origin Facility
RICHMOND VA DISTRIBUTION CENTER

January 13, 2020, 7:51 pm
Accepted at USPS Origin Facility
EARLYSVILLE, VA 22936

January 13, 2020, 2:26 pm
Shipping Label Created, USPS Awaiting Item
EARLYSVILLE, VA 22936

...my experience with the post office is that usually when mail is damaged in transit the carrier makes some effort to repack the remains or attach a note of apology or consolation; at the very least the label will say "Received this way..." thus pointing the finger of blame elsewhere. Prob'ly the most damning frustration of this "postal" treatment is that there was no attempt at repacking or over-packing on the part of the "Postal" Service. There was not even any "Sorry About That" sticker.

What has 4 letters, sometimes 9 letters, but never has 5 letters.


The cross-quarter day following Midwinter falls on the first of February and traditionally marks the first stirrings of spring. It aligns with the contemporary observance of Groundhog Day. I hope you had a good Imbolc and palindromic date 20200202--happens only once in a thousand years.

I'm mostly ok. Next up will be my bi-annual (or maybe tri-annual--I've lost count) dental checkup and cleaning. Medically ok except for an occasional bloody nose. Even my back is feeling good. Met with Kay (the mother of one of my long ago boy-friends who now has an 11-year-old son. I guess my friend and I have not seen each other in that long time...) ...and we spent a day out around Saddle Mountain, driving and walking. She is of the adventurous sort, camping in the back of a pickup, plastic bag for a toilet. Still have not spent my savings on a new set of batteries for the bus. I'm having buyer's remorse before the fact this time. Need to rethink that plan.

Imbolc is a good time for cleaning. Spring Cleaning like Battery Buying is another idea that floats along in the sea of Structured Procrastination where I keep falling off the surfboard. I cleaned Hazel-Rah's litter box and vacuumed the rugs. That was as far as I got. Today is Food Bank and Geezer Discount Shopping. 32f outside right now; I have to remember to start the TinyTruck shortly so she will have plenty of time to warm.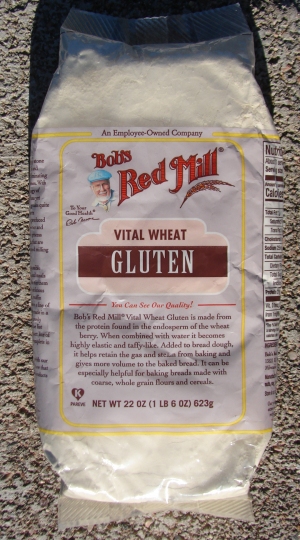 Next week is the Yuma Ham Fest, I will go there and try to unload a few more things. All those mag-mount antennas, the ancient square wave inverter, sundry other leftovers, went on the Free Table at Quartzfest and disappeared quick enough. I cleaned up several sacks of trash along the road to town there and found a neat little solar USB charger and one of those collapsible trash barrels, helped out with license exams, baked a banana bread, and stayed on for a few days of the Geocache Ralley that followed Q'fest.

Planning A Head
My Theme Music for this past year is Steve Key singing 33-45-78 1979 must have been a significant year or popular theme as there are scads of lyrics that include '79 tho few if any make much sense. Now is the time to submit your entry for next year's Theme Music. Entries so far include Eilen Jewell - 79 Cents (The Meow Song) and the top contender: "I Don't Look Good Naked Anymore" Any other entries?

Where Has All The Gluten Gone...
Remember that song? …Gone to somewhere, every-bite (byte?)... Well, now we know where all the Gluten is. Did that fact never occur to your sensibilities? Gluten-free this and gluten free that... Where has all the gluten gone? Bob's Red Mill has all the gluten ready to sell by the sack to all of us who want to have our gluten and eat it too.

That Was Zen, This Is Tao
Seeing his Zen master on the other side of a raging torrent, a student waved his arms and shouted out, "Master, master, how do I get to the other side?" The master smiled and said, "You are on the other side."

Battered Battery
I almost shamefully admit to my negligence. For the first year of so of The Cat Drag'd Inn's 660 Amp-hour house battery installation I watered the cells monthly. That meant crawling into the battery bay and with the aid of a mirror and electric torch carefully dribbling steam-distilled water into each cell. Eventually I found and installed a watering manifold necessitating only that I squeeze a bulb until the float valves in each cap closed. Then, additionally, for 3-4 years, dutifully annually disconnected and removed the 420 pounds of battery to clean, load test, equalise, rotate, and reinstall. For the last 3-4 years the batteries were lucky to get their monthly watering. Now I have spent the big bucks to install no-maintenance AGM batteries. No more watering, no more corrosion. I pay fairly close attention to the instruments and there are limits set on high voltage and charge current. But already I miss being able to hear the wet cells boiling and the lack of ability to measure electrolyte specific gravity.

Taking Root
From time to time the thought intrudes: What about hanging up the keys. What about putting down roots. This past week another step was taken in that direction: Permanent connexions for Water and Propane. Winter quarters for The Cat Drag'd Inn has for some years now included a water pipe laying on the surface. Propane for heating and cooking comes from portable bottles which I carry to the local propane store for refill. This week Paul proposed that I hook up to his 200 gallon propane tank so he brought in a trenching tool and we put water and propane pipes under the surface to permanent hookups.

Random Observation: Whenever I play solitaire the cat wins.

Making light of a serious Pi Day...
For this link: Thanks Mike! Renowned bush poet S.J. Paterson presents his latest work. The Ballad Of The Dunny Roll 13 Mar – 2020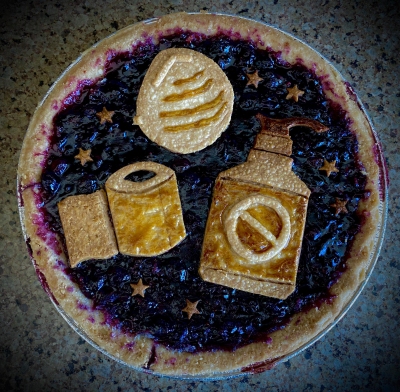 And for those who have no internet I have transcribed the poem here:
S.J. Patterson – The Ballad of The Dunny Roll

The year was 2020, early March or thereabouts,
off the back of quite a summer plagued by bushfires and droughts.
So the nation was exhausted, many folks weren't thinking straight.
Which goes some way towards explaining #ToiletPaperGate.
It started with a virus, some say China was the donor.
They called it COVID-19 but we called it My Corona.

And we saw the illness spreading and the cruise ships quarantined
and we sanitised our fingers as we lined up to be screened.
Then in amongst the panic, someone headed down to Coles
and loaded up their trolley full of toilet paper rolls.

We'll never know who did it, what their motive way or why.
Or what brand of roll they hoarded, was it scented or two-ply?
All we know is in that moment, when they took it from the shelf,
they unleashed a chain reaction as a nation shat itself.

Now we've faced wars and cyclones, we've survived them all as one.
But a toilet paper shortage? Well, it made us come undone.
For the people started hoarding all the last remaining sheets.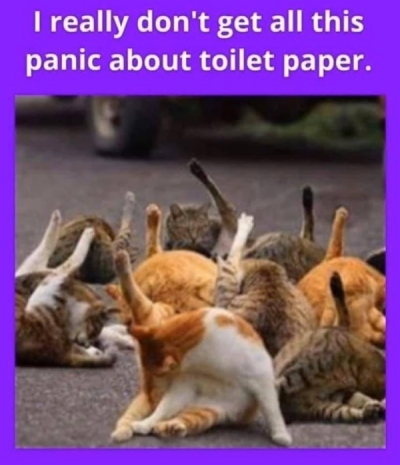 There were punch ons in the aisles, there was panic in the streets.
"Me crack's in need of wipin!" Someone cried in desperation.
What else can I bloody use to solve this situation?
Some stooped to using gum leaves. Others left it on the floor.

Many wiped with plastic bags and returned them to the store.
While others rocked on the verandah with a shotgun fully manned.
To protect their precious stock, they'd rather die than use their hand.
And the cheeky bidet owners with their derrières unhurt?
Well they rented out their bathrooms, $20 for a squirt.

But the greatest single irony throughout this sordid farce,
you get Corona in your nose and lungs, not shooting out your arse.
So we'll never know when faced with a pandemic level slaughter,
why we spent our cash on poo tickets instead of food and water.
'Cause history will tell you how the virus was contained.
But the rush on toilet paper? That can never be explained.

And I wonder if the Anzacs were infected by some jerks
who'd fight over a dunny roll instead of fighting Turks.
'Cause it seems to me it could just be a true blue Aussie trait,
to panic in a crisis and steal bog roll from your mates.

Spring-Quinox
Food bank food was a little short yesterday. Toilet paper at risk there as well. Shopping at Fry's and WallyWorld: On the entire bread shelves in Fry's there was one loaf of raisin bread, in Wally's three sacks of hot dog buns. Same situation with dish soaps. Paper towels and bathroom tissue: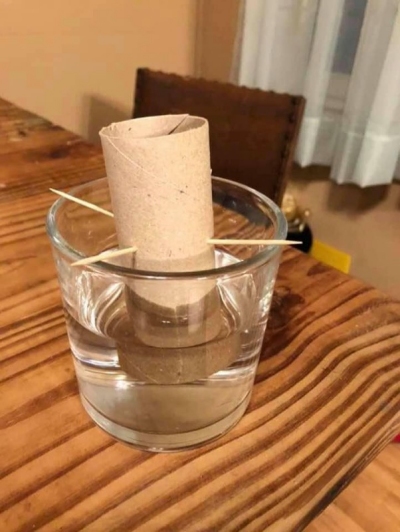 nada, period. Nita reports her sister is planting these seeds in her garden and expects a cash crop in a few days.

MedCram Lectures on Coroniavirus Pandemic
MedCram is a go-to resource to get clarity on challenging medical topics. Memorable illustrations solidify the most important concepts. Entire playlist of Corvid-19 videos (42 videos so far).

Are you scared yet?
"I'm in the age group that has a one in seven mortality rate if I get it. If you're not worried, you're not paying attention. But I'm not scared. I firmly believe that the steps that we're taking will extend the time that it takes for the virus to make the rounds. I think that, in turn, will increase the likelihood that we will have a vaccine or we will have a prophylactic antiviral in time to cut off, reduce, or truncate the spread. Everybody needs to remember: This is not a zombie apocalypse. It's not a mass extinction event." --Larry Brilliant, Epidemiologist
On a lighter note:
Last Week Tonight with John Oliver on Coronavirus (HBO). As coronavirus spreads to the US, John Oliver discusses what's being done to fight the illness, what's gone wrong, and how to stay safe.

Got to get this posted before the news changes. For better or worse, remains to be seen.