---
Travels With Oso con Migo
Sojourn In America
OAE On The Road Again, The Morels of Kaniksu
---

Last Letter 99a, 1 May; This Letter 99b
26 April 1999
And how are all my special friends this morning? I am parked under view of Cathedral Rock, a pretty, large, wind-sculpted rock, a little south of Shiprock New Mexico, over four hundred miles from Arizona Oasis. Fine morning here, but chilly; too cold to go running around sans clothes and besides there are cars and trucks and school buses driving by past the rest area where The Cat Drag'd Inn.
Departure from camp at Arizona Oasis was delightfully delayed by a second last supper and parting hugs. I drove only three hours north that night and despite all the sad feelings of tearing my Self away from those I have recently come to know and love I was deep inside happy to be driving, sore from the exercise of unused muscles, tired from the vicissitudes of the road. That night, Sunday, The ... Inn dragged into a rest area near Bumble Bee.
Monday I continued north through Sedona and spent more than a fair share on trinkets and baubles. Quite a touristy experience but now that spasm is out of the way and I should be able to get all the way to Kaniksu without shopping for more than a few tomatoes and mushrooms for lunch when there is nobody nearby on my dinner list.
Sedona is supposed to be the center of the Energy Vortex culture but the only things I saw of the energy, without getting more than a block off main street, was all the folks making a living off the believers. I suppose one must travel further afield to find the mystical experience but that will have to await another less hasty journey; now I am only passing through.
Spring has come to the Oak Creek Canyon and the scenic route warned of sharp turns and steep grades. Everything went well for this first real test of all the new features installed over the past few weeks of preparation for this adventure and the bus made it to the top in fine shape. The trees have leaved, not left, all right...
To ope their trunks
The trees are never seen.
How then do they
Put on their robes of green?
They leave 
Them out!
...and the smells of running brooks and sun on new growth was intoxicating. I stopped for lunch and a walkabout at the top of the canyon before more driving north and east. Just beyond Flagstaff I picked up an old woman who told me she regularly hitches to and from Sanders where she waters the plants at her brother's house; it was a long drive and we had tea along the way and talked a little of life on the road. I've finished reading _Apples and Pears_, here are some quotes:
"The first thing to go when you walk into the wilderness is time. You eat when you are hungry, rest when you are tired. You fill a moment to its brim.
"Tight clam shells fall open in the autumn, just as I, no sooner made comfortable than I feel the call of the road. Friends, goodbye!
"Your bunched curls so crisp
around your slender neck
are clipped and lie scattered
in ravaged handfulls, in heaps
on the black ground. Poor hair!
Laid waste by the scissors.
What grief I suffer to see
you close-cropped, like a calf.
And nothing can be done about it,
nothing at all.
"To explain is to evade."
Next along the Way was Farmington, after Gallup (where the polls came from?) and Shiprock, where I spent Monday night in the moonshadow of Cathedral Rock. The Farmington Trading Post beckoned so I stopped to look for postcards but there were none. But there was a pile of fine hides and some hard to find tools so there went another big spend. Hides are so much nicer to sit on than plastic chairs or vinyl seat covers and my old leather punch has been long worn out. Back at the bus an old man was pouring oil into the motor of his old truck while admiring The Cat Drag'd Inn. T.P. he introduced himself as, at least that's what the neighbors called him, he said, cos he lived in one back up the road a piece, with several chickens and mules and goats. He went on to tell of his travels across country in a covered wagon pulled by a mule--until the mule got too old. Then he bought a truck to pull the wagon and the mule rode in the back. Another storey concerned a goat kid rejected by its mother--he fed it with a bottle and took it to bed with him to keep it warm. He had to throw away the mattress after a while but the goat grew strong and healthy and followed him around like a dog.

Over the Continental Divide and Cumbres and La Manga passes to Alamosa. The passes were over 10,000 feet MSL, a new high for the bus. It was on the way up Cumbres that I found the low range switch for the two speed rear axel was not functioning well but it held together enough to get the bus over the top and down the other side.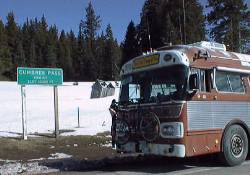 Above 8,000 feet I began to see snow under the trees and along the side of the road. I was tempted to get out my skis or stop to make snow angels but, like before, decided to drive on. The afternoon was waning and I did not want to be at this elevation when the sun set and chance ice on the steep curves going down. On the north side the spring season has not arrived and it was only 34 the next morning at Alamosa.
Fred and Char welcomed me with hugs and Grand Mariner. The last time I visited them was in '93 when I rode from Seattle to Montreal by way of Alamosa and Austin. At that time they had just finished putting on a new roof. I arrived in time to share the Grand Mariner in celebration of its completion. This time they had finished the new kitchen and were working on a sundeck. Fred helped me fix the bad Hi/Lo switch and I helped him with a couple of computer problems while Char made a fine banana bread with some of my bananas. The bus was rather hard to start the next morning--its the altitude, Fred said, not enough air. But she did start eventually and after Fred filled the fuel tank--Thanks Fred and Char for that gift to help me on my Way!--the GPS pointed the way out of town.
Not a block along an old bus parked at the Wal-Mart caught my eye and I turned around to visit. Big Red is a 1951 GM, formerly a Greyhound, that is just beginning its new life as a motor home coach for a couple who make their living on the flea market circuit.
The rest of the ride from Alamosa to Englewood was uneventful but for the rain and wind. Now I am visiting other folks from my time in Antarctica.
Saturday, May 1, 1999, High Ground In Englewood
Yesterday was a drear day in Englewood Colorado and all the more so after all the fine warm sun of Aridzona. But it is also an adventure to poke about in closets and cupboards of The Cat Drag'd Inn to find clothes suitable for this climate and for dinner at a fancy restaurant.
I hope this finds you well and soaking in the warm but not too hot sun. Here the weather continues to be cold and wet. There was no rain this morning and I was able to get a few things done outside but not everything on my list. Last night when I was at dinner and play with Jeff, my friend from Antarctica, the rain was heavy and water came in through the roof of The ... Inn where the wires from the solar panels come through. The rug in front of the sewing machine was wet.
Now it is saturday afternoon and raining again--really coming down. Probly I'll wait here til monday afternoon before I depart so I can see a few more old friends and talk to some of them about work offers.
Denver is really crowded. Like Phoenix. I don't know which city is bigger but there are just houses everywhere, mile after mile of them, new houses since I was here last. But they are so close together there is no room to run and play like back in the desert west of Maricopa. I will say there there are wide greenways between some of the developments but the yards around the houses are so small you have to stand your bike on end to turn it around. Despite the crowding there are deer and foxes in the open spaces. The parking lot where I am writing this is separated from a small airport by a narrow strip of trees and grass, and a wire fence. For two evenings now I have seen a bobtailed fox walk past The Cat Drag'd Inn; last night there was another fox with the first, with a tail big enough for both of them.
Tuesday, May 4, 1999, Rock Springs Wyoming and north.
There is ice on the puddles this morning at the Flying J truck stop and in rest areas along the road to Driggs frost decorates the grass. Since leaving Denver the road has been climbing and the temperature dropping; this morning one was at 7,000 feet and the other 28f.
Today is Tuesday, and I have relapsed from the early Spring of Alamosa to late Winter at Pinedale Wyoming, almost to Driggs.
But in my window box all is well. In soil from Char's garden I planted seeds from Fred's collection and they have germinated already. Little green stems or stalks with two leaves each have sprung up overnight--they were not there yesterday when I watered. They're all leaning toward the window. Maybe tomorrow I will turn the box around to give them a little exercise. I'll be sure not to put them outside until the frost is gone--that may be weeks by the looks of it--maybe I'll take them under the sunlamps with me if this dastardly weather keeps up.
This territory is no place for a nudist and I am wondering what I am getting my Self into. I'm moving north faster than the speed of spring; I hope Spokane will have a more sensible climate. Outside, in this Wyoming Wildlife rest area where I am stopped for coffee, there is a tall power pole topped by an osprey nest; it appears to be occupied, I can see the movement of a white head now and again. A sign nearby says ospery lay eggs in May.
What is white, has six points, usually dry but also wet, falls, even in spring. Spring? I left spring so far behind. The driving was not all that bad today considering that I thought at any time I might have to abandon The Cat Drag'd Inn and strike out on snowshoes. There were lots of curves and bumps and holes and the Hogback River was along side much of the way. That would be a great place for tubing if the snow ever stops.
Pick'd up an old guy who was walking along in the late morning trying not to hitch but I was guessing he should have been or was wanting to. Good guess. He was walking on an isolated section of road, fairly well dressed for the weather, which was none too good and getting worse, the small satchel he carried slung over one arm belied what I would eventually learn of his greater adventure. Even though he was not hitching I slowed and was just crawling up to him when he removed ungloved hands from his jacket pockets and shrugged his shoulders. As I passed I got a look at his face and decided to stop. He ran up and boarded, smelled of wet wool, preferred to sit in the stairwell rather than remove his shoes. We drove on.
Norman, for such was the name he introduced himself as, twice, as we gained altitude on the road into the mountains south of Jackson Wyoming, had left the Greyhound bus in Rock Springs yesterday and was hitching north to visit Yellowstone and eventually head west to Seattle. He'd been picked up by the police and told it was illegal to hitch, while we both agreed there were no signs along the roads to proclaim that, and returned to sleep in the police station that night. Now he was just walking, not hitching, and was very grateful for the ride. Usually, he said, he travelled by night, either sleeping on busses or hitching, and then in the morning would spread out his great coat by the side of the road and sleep in the sun. Sleeping bags were a nuisance, always getting lost or stolen. He'd been travelling this way for fifteen years, mostly by bus, and before that, when he could run faster, by hitching freight trains. He asked me as many questions as I him, wanting to know where I was during the Korean and Vietnam eras, how old was my bus, where was I bound and where from. After an hour or so I stopped to make lunch and served him tomato soup and grilled cheese in the stairwell.
Wednesday, May 5, 1999, Driggs Idaho, Snow Flakes Keep Falling on My Head...
Last night I parked The Cat Drag'd Inn at Tony's and had dinner with Elizabeth over the state line in Alta Wyoming. On the way back the blizzard was so bad I was seriously wondering why I'd ever left the dust devils behind to venture into this sillyness. Photovoltaics do not work well when blanketed with snow. This morning the temperature was 17f outside and the heater was struggling to keep frost damage away from the spider plant.
Sunday, May 9, 1999, Bare Mountain Stage Road Hideaway, Gold or Cold in the Hills
Now I am having adventures of a different sort north of Boise. Friday when I arrived at this camp I propositioned the old codger who keeps the gate and lives here full time. I offered him my services to pay for my stay. Talked about fence to repair and runoff ditch to dig. I'm available I said, at your service. This guy is only two years older than me and has the kind of life I long for--to live full time in a nudist camp. He actually has a job in town a few days a week--it's a long commute--but otherwise spends time keeping track of the visitors, checking the water system and the sites and club buildings. Wild turkey, deer and bear (real bear) come to visit him but the trees are what I find most magnificant. You should see all the tracks in the fine sandy surface of the volley ball court.

This place is great. One-hundred-eighty degrees the opposite of Aridzona Oasis. Big trees, running water in streams and brooks that gurggle forth from abandoned old gold mines, and where the Oasis was flat, here is straight up and straight down with switchbacks and campsites carved into the sides of the hill. Picture the distance from the bus to the back fence at the Oasis and add a two-hundred foot climb to get there. They could call it Stair Mountain rather than Bare Mountain. Another place to come and visit for a longer period in the high summer. The old mines are all blocked by iron grates and fills of boulders but icy cold streams issue from each. The water is not fit to drink as it is, Ok for pools and showers and for cooking if well boiled, so I'm told, but everyone here hauls water. There are more bats in the mines now than gold--I guess it's the bat guano that makes the water unfit for human consumption. It is only eight miles over the pass at Aldape Summit to the southwest and down to Boise on the Shaw Mountain Road and the stage use to carry the gold from here to there. The very last stagecoach robbery in the state of Idaho happened right up there at the summit, so I'm told. Now it is thirty miles around and the stage robbers have been replaced by scenic routes and shopping mauls.
Today I am going to head north and visit some hot pools and springs on the way to Spokane. I hope the ice is out on them. The temperature here this morning is 25f as I write this and the sun is just showing on the north face of the of the hill across the brook. It may be another hour before she comes round the ridge east of me to flood my front window and brighten the PV's. Maybe I'll wait long enough for the showers to melt out so I can wash my hair and get a good clean shave before rolling out The Cat Drag'd Inn.


Sunday, (continued), Pine Flats Hot Springs
Once upon a long ago and far away, somewhen on another tour, I happened across the original J.C.Penny store. Now, on the corner of 16th and State Street, northwest of the capitol building in downtown Boise I find the site of the original Albertonson's. Joe Albertson built the first market to bear his name on that corner in July 1939 and at that time it was the first full-line supermarket in the state of Idaho. The original building is gone but the site is still occupied by an Albertson's supermarket.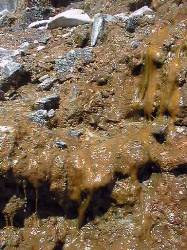 The snow was falling in clumps onto my naked self through steam raised by hot water bubbling from the red coloured side of the hill below the highway and cascaded into rocky bath tubs perched above the freezing cold South Fork Payette River. Despite the crowd of canoeists back at Pine Flats camp, and the delightful setting here at the springs, there was nobody else about. The rocky face of this hill, which towers one hundred feet above the river, is slippery with red algae or moss wherever the hot water runs but there are dry boulders that provide access to the pools built on little shelves and hollows by uncounted nameless volunteers. My thanks to thoes who care for this place; I collected a bag of trash from along the trail, and buried one cigarette butt, that I mightn't otherwise have bothered with. The water issues clear and hot, too hot to hold your hand in, from numerous springs in the side of the hill and cools as it cascades into the pools. Below, in a backwash protected by a sand bar from the torrent of snowmelt in the river, the tepid water found there is thick with wriggly black things that look like tadpoles. All about are a host of spring flowers. God Bless the Forest Service; I hope they are never driven to commercialise this place.
There are lots of hot springs and hot pools around that have been built up and controlled and constrained with boardwalks and cement and dressing rooms, and that charge admissions and fees, and have rules and guards and fences. But this place is great just as it is; nobody can do a better job of keeping it for everyone than the volunteers and the Forest Service.
Monday, May 10, 1999, Hot Springs Revisited
Emboldend as I was by yesterday's experience I returned to spend more time in the water and to range about and measure count. The pool I soaked in last night today measures 110f but it could not have been that hot before. Up hill from there one measured 116f while the cooler one below was 102f; that is where I soaked today. Hot Springs & Hot Pools of the Northwest (ISBN 0-9624830-7-9) says "temperatures up to 125f". At the base of the hill where the pollywogs live the water is 85f while just across the bar the Payette is 42f.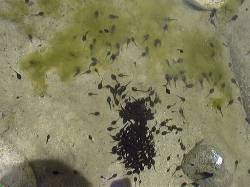 I would stay longer were there friends, or even strangers, with whom to share this time and place but it seems this is early in the season--the campground does not really open until next week, when the Camp Hosts start to collect camping and parking fees. The trail returning upstream to the camp follows along the river and crosses several rivulets all of which are warmer than would be expected of water just melting out of snow higher up in the forest. Whilst I was testing the warmth of one such rill an eagle crash landed a few steps away towards the river, apparently in dive bomb pursuit of something that resembled a quail. I guess my standing at the surprise of the noise threw the eagle off and the quail got away, right out from under the larger bird, and ran off across the trail, right in front of me, and up the hill. The eagle gave me one of those looks like a cat does when she wants you to believe that was all according to plan and took off across the river. Eventually the susurration of the Payette gave way to the rumble and purr of the highway as I continued walking; it is time to stop and don the accoutrements of our so-called civilisation.
Tuesday, May 11, 1999, Kamiah, Nez Perce, Heart of the Monster
There is no "over" here; everything is either up or down. Along the 228 miles from Pine Flats I have been up and down nearly a mile in elevation twice whilst driving from the valley of the Payette River to that of the Salmon and now the Clearwater at Kamiah. The river canyons are so tall and steep that sunlight on the few homes along the river lasts for only a few hours each day. This is Nez Perce territory and the Lewis and Clark Wild and Senic River Corridor. Lots of history.
Somewhen back down the road a piece I passed into Pacific Daylight Time which at this time of Spring Ahead Time elsewhere is the same time as Arizona Standard Time at The Cat Drag'd Inn. Arizona does not indulge in all this foolishness of changing the clock twice a year so when I left that state of sensibility and passed into the state of confusion to its north I was faced with a problem. I've been round this before needless to say and it is one of the other reasons I like Arizona. (See "The Big Dummy's Guide To Time Zones" in a previous On The Road Again Letter. AJO024OC.HTM The essay is about a third of the way along the letter.) In any case I was faced with having to think about changing the time in five clocks, not to mention one sundial. The computers are set to GMT and that never changes; the ships chronometer likewise. The wall clock, that is screwed to the wall, I just put a sign on the front "Add one hour until Spokane" and the sundial? No matter, it was cloudy anyhow. Now that I have slipped back from Mountain Time to Pacific Time and Pacific Time is ahead so it matches Arizona Time for the summer time I can remove the sign from the wall clock. I still think it would be easier just to get up earlier if you want more daylight.
Wednesday, May 12, 1999, Weir Creek Hot Springs, Partly Cloudy Partly Crowded
I wonder at times how these things are found. And who all drives fifty miles and hikes to get to them. More than me it would seem. This place is reputed to be busy some summer days with families wearing swimsuits. They do not know what they are missing doing it sans clothes. But today it was not summer and the two people who had been in the pool all morning were just dressing to leave when I arrived. Several hours later the next two arrived and in the meanwhile I'd time enough to soak, walkabout, soak, roll in the snow, soak, lunch, and soak. I had met these folks at the trailhead; they were sitting in their camper-truck while I was condensing my things into the tote to take when they offered a toke in trade for my beer. --Sorry about that but I've only got the one, I said by way of opening the conversation. Both were talkative and it was hard to get away. We exchanged pleasantries and histories, weather forecasts and trail conditions, and finally I was relieved to strike out on the trail up the west side of the creek.
Water runs hot from under the rocks in several places on this steep hillside a half a mile north of U.S.12 in the Clearwater National Forest. The pools here have been built of rock and cement, no plastic sheeting for these volunteers, and thick boards form a rectangular frame on which to sit for a respit between soaks. The water was just the right temperature for me. After lunch and a walk these two arrived and we picked up the conversation. She carves bears with a chainsaw; he is learning how. She said she knew I was a hot springs groupie by the sparkle in my eyes. He was born around here and use to live in a gold mining camp when he was 10-12--two kids and a teacher and a bunch of miners at one point, he told. Families would get together in the evening and sit by the fire and make popcorn and play cards and sing--nobody had a television--all gone now, he said, the kids today just fight.
On the drive up here along the Lochsa River I passed two guys on skinny tyred bicycles; they were wearing black windbreakers with COAST TO COAST emblazoned on their backs but their bikes were bereft of gear and luggage. It was between Horsetail Falls Creek and mile marker 113. I pulled off at the next wide spot and waited for them to catch up. I wanted to ask them --Are you really going coast to coast? As they approached I held out my hand in a gesture to stop but they kept going so I shouted. And the one in the lead nodded and Yuhp'd. As they passed through perihelion I shouted again --Where's all your stuff? --... motorhome, dopplered back as they continued round the bend. That's got to be cheating I thought.
Friday, May 21, 1999, Kaniksu Ranch Morels
Arrived Kaniksu Friday last. Now I are a cook? Not yet--tho there are Cooks in my family tree--I have first to make a meal, to survive a weekend, to enjoy the belch of satisfied guests. I also have to find suitable attire--at the very least a proper chef's chapeau--clothing is required in the kitchen. Maybe there is an old burlap rice sack lurking in a forgotton corner of the walkin.
The Cat Drag'd Inn to Kaniksu Ranch and is perched on a wooded point near the north end of camp between two babbling brooks. Already I wonder if I'll not be babbling before the summer is through. Good site location here but lacking the two most important amenities--sewer and phone. The big trees all around make the sky small after the big sky of the Arizona desert but they will provide shade to cool me when summer finally comes--next month maybe. There is a phone in the kitchen so connectivity at least is assured.
The last two days on the road were pretty scary and tense with all the twisty curvy up and down roads along the edge of deep cold rivers. I had to drive slow. But the hot springs were super great! and I will return to some of them, perhaps as soon as the trip south.
The last stretch of the road into Kaniksu goes along the north side of Deer Lake; wide and paved with a double yellow center line where it turns off U.S.395 at the upscale beginning. At the first fork the wide part bears right following a sign that indicates members or residents only, and there are a multitude of signs, one for Kaniksu at the bottom, pointing to the left, where the pavement narrows a bit and only a single yellow line continues. At the next fork half the width of the pavement becomes a driveway and the other half, sans yellow line, continues on becoming increasingly more narrow-bumpy-curvy as the lot sizes decrease and houses grow older-smaller-closer to the water. Then a fence and cattle guard; the pavement ends; the road becomes gravel-sand-mud. But then as the road moves away from the lake, higher, the houses further apart, the road is less curvy, smoother.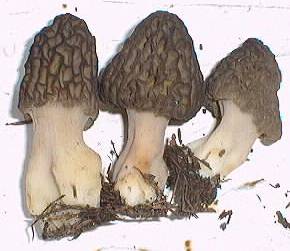 I am told there are bear and cougar and moose in the woods and morels might be found if one would look carefully. I've been bare but I've never been cougar. So far I've seen moose scat and dear tracks. Mostly there are robins and black squirrely things I'm told are pack rats that stink like skunk. The days are cold and wet and the nights are dark and cold and wet. But I am told summer is just down the road a piece and all this will dry out in a few weeks. As you can tell my impression rates mixed reviews. I am going to have fun! There are a lot of willing hands making things happen.
Oh yes! The morel (Morchella esculenta) of this storey was very good. I gave some to Faith who added them to her potato soup for the pot luck and later I sautéd more along with some pale yellow coral fungus (Clavaria flava) pointed out by Doug. Picking shrooms out of the woods sure beats paying five dollars a pound for portabellas at Albertsons.
This is an old camp, the buildings show it in interesting ways. There are rental rooms in the main lodge that reminds me of the old TP at the Pinkham Notch AMC Camp; did any of you ever know that building? Many of the members lease lots and have fine cozy cottages. On some lots you can see the evolution from parking a trailer, building a pole barn over it and then gradually walling in the pole barn and constructing additions up down and over.
Kaniksu is a staid old club, among the oldest, and in the lodge there are a series of framed collages of camp activity photos, each frame a year, taken by the official camp photographer; up until 1993, when official camp photography was replaced by a morbid concern of exposure and threat of lawsuit. Nudist life lost some of its "life", some of its fun went away when that happened, my guide told me. The same thing has happened to the body painting events. Between the paranoia over touching untouchable body parts and those inconsiderate people who would not clean off the paint before getting into the pool or hottub the fun and artistic expressions of body painting have been lost to this group.
The kitchen reminds me most of the kitchen at AMC Madison Hut. Maybe tomorrow I will begin to get acquainted with its innards. Have to learn about shopping and inventory all what is left over from last year.
Monday morning I woke to the thud of a robin crashing into the window of my bedroom--repeatedly--maybe a dozen times--it would launch from the branch of a cedar a few feet away, fly straight into the window, thud, fall to the ground, and after a few moments fly back to the branch look around, head tipped first one way and then the other, and repeat the cycle--fly-crash-fall. After a while I pulled down the awning on that window. Then the bird would sit in the tree and look around as before and sometimes fly down and peck at the ground and then fly back to the branch.
In the course of going out to the awning I found there was a wet spot on the deck in front of the galley stove. Sometimes water gets there from splashing out of the dish tub in the sink when the bus is moving on a very bumpy road but she's not been moving for two days now. It was a riddle until I lifted the old Joe Dodge coffee pot off the burner to give my spider plant her breky drink and then make morning coffee. The pot was empty. I've had this blackened steel pot since back in the '70's when I helped clean out all the radio and camping stuff from Joe's garage after he died. Once upon a time I can imagine this pot shiny with new tin plating but that was burned off from countless times of coffee boiling dry in the cooking fires of his fishing camps. Now the rust has finally worked through the bottom and the water left in it from yesterday is what I found on the floor this morning. There's a hole in the bucket dear Eliza and another good thing comes to a sad end. Maybe I can use it for a planter or a candle holder.


Love, ajo

A.J.Oxton, OA, OO, OAE, k1oIq

Back to ajo
Copyright © 2003, A.J.Oxton, The Cat Drag'd Inn , 03813-0144.