! -- changed by ajo, 10sep95>
---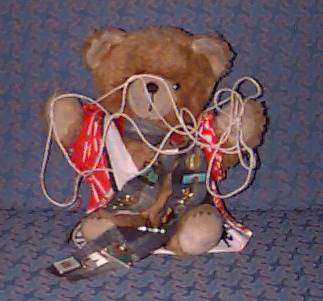 String Figures are woven with a loop of string on your fingers. Cats Cradle is a game involving two or more people. Most other figures, constructed by one person, sometimes in sets of several related designs, illustrate storeys and oral history.
Here are some of my favourites.
Tere Te Vaka is a string figure I learned on Easter Island. String figures in general are called Kai Kai in the language of Rapa Nui. Playing with the string, making figures, string games, all called Kai Kai.
The Dancing Man and the Butterfly Queen were discovered during my tour to Alaska in June of 1998. We met Adam Milligan on the Malaspina ferry along the Inland Passage between Bellingham and Haines when I volunteered to do a Cat's Cradle and other string figures workshop for the kids who were aboard. Adam is a school teacher from New Hampshire and was pretty creative with the string; he invented these two figures during the voyage. Both of these figures are also described in the Bulletin of The International String Figure Association




---
Bibliography
These first three titles are good books for beginners of Kai Kai. The fourth title is fairly technical by comparison and includes an ethnological introduction and comparisons of methods.
Cat's Cradle, Owl's Eyes: A Book of String Games Camilla Gryski, Beech Tree, ISBN 0-688-03941-3
Many Stars & More String Games Camilla Gryski, William Morrow and Company, ISBN 0-688-05792-6
Super String Games Camilla Gryski, William Morrow and Company, ISBN 0-688-07684-X
String Figures and How to Make Them Caroline Furness Jayne, Dover Books, ISBN 0-486-20152-X
The International String Figure Association was founded in 1978. The primary goal of the organisation is to gather and distribute string figure knowledge through the publication of the Bulletin of the International String Figure Association and the String Figure Magazine.
---


Last Update: 28dec2001


A.J.Oxton, OA, OO, OAE, k1oIq

Back to ajo
Copyright © 2003, A.J.Oxton, The Cat Drag'd Inn , 03813-0144.