---
--"What do you do in your spare time, like when you're not eating or sleeping?"
What I used to do is one storey:


I spend most of my time indoors, at my portable beach whenever I can, and only run off to the dining hall when I am low on carbohydrates and certain beverages considered among the essential insanities. When there is work to do I visit around to several offices where some of the equipment I am responsible for is located but I usually try to wait until there is no wind. The wind is the worst part. The cold is easy to handle, but the wind hurts. There are some construction workers

here

who are obliged to do their jobs in the wind and I am in awe of them. They often don't stay out very long at a time and they work very slow (try wearing a loaf of bread on your hands and put the chain on your bicycle.) but they get paid well.

My job is to watch over the satellite radios and computers that link McMurdo with the rest of the world, to maintain them in operating condition, to fix them when they break anyhow. We have a remote satellite communications earth station on Black Island. There are windmills and photovoltaic panels there to generate electricity to power the radios and heat the buildings and I travel to there a few times in the course of the winter. In the summer it is about 20 miles by helo, in the winter about 70 miles by sno-cat. When I am not doing those things I write letters and poems and read books. Other folks put on plays and dance classes, fix trucks and oil burners, cook and clean up, play various sports (but there is no swimming pool), maintain inventory and library.

---
However what I do now is a very different one: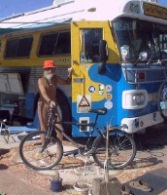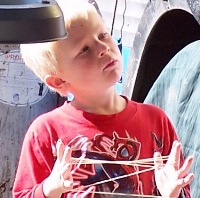 Today I spend most of my time flying kites and playing with strings, writing storeys & letters and fixing things. I daydream a lot about road trips & adventures past and future. And I travel still: searching for grandsons in need of a grandfather, kids in need of a mentor, students looking for a tutor, and anyone else who wants to have an adventure. Most Peoples aren't interested in adventures and Humans seem to be in short supply.

I prefer to live where clothing is optional, where hot springs and skinnydipping are available. I live on the road. Home is where I park it. Elsewhere in these pages is an invitation to ride along and storeys of past adventures.


A.J.Oxton, OA, OO, OAE, k1oIq

Back to ajo
Copyright © 1995-2003, A.J.Oxton, The Cat Drag'd Inn , 03813-0144.

---