Resumé of Alfred J. Oxton,

[2009 March]

LIFE EXPERIENCE:

Casa Blanca Hot Spring and Buddhist Retreat Center: Maintenance & Grounds, Heavy Equipment & Public Relations, Tonopah AZ, Nov 2005 to present. Included: landscaping, building carpentry and electrical & plumbing construction, website design, and customer services.


El Dorado Hot Spring: Maintenance & Grounds, Heavy Equipment & Public Relations AZ, January, 2001 to Nov 2005. Included: landscaping, electrical & plumbing construction, website design, and customer services.


Fryeburg Fair: Maintenance & Grounds, ME, October, 2001, 2000

Jackson and Tull: Antenna Construction Facility, NM, Feb-Jul 2001: Refurbish and test 7m steerable antennae and up/down link RF equipment.

Loudon Int'l Speedway: Security & Traffic Control, NH, May&Sept 2001, 2000

Palo Duro Canyon State Park: Camp Host, October 1999

Kaniksu Ranch: Chef, Kitchen Manager, Cooking Counselor, Summer 1999

Arizona Oasis Camp/Retreat: General Maintanance & Construction, Dec 98-April 99 Campground expansion projects, membership database programming, day to day operation.

Youth Tour Leader - Summer Camp on The Road: mobile B&B operator, Arizona-Alaska, Summer 1998 Tour Leader-Driver for bus tour to The Arctic Circle (...and return). See On The Road Letters 98a-98g

Computer Access--Motorola Iridium Project, February 1998-thru April 1998 Contract Consultant assisting with establishment of Customer Service Call In Helpdesk.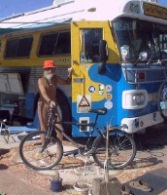 Sabbatical, On The Road--February 1997-February 1998
National Science Foundation, United States Antarctic Program
Palmer Station and McMurdo Station, Antarctica Communications Technician/Communications Coordinator Antarctic Support Associates April 1990 to February 1997
Federal Electric Corporation December 1987-ITT Antarctic Services March 1990
Mount Washington Observatory September 1969-November 1987
From December 1987 to January 1997 I worked at McMurdo Station and Palmer Station, wintering at each more than once, as Comms Tech, LAN Manager, Comms Coördinator. Experience in remote site power generation and site management, computer programming and repair, heavy equipment and snow tractor operation.
September 1969 to November 1987: Mount Washington Observatory as Communications Technician involved with a wide variety of disciplines.
Experience in various areas of practical and scientific endeavour, electronic maintenance and computer communications including but not limited to: programming, oil furnace repair, Spryte driver, weather observations, rudimentary welding, carpentry, strain gauge measurement, chart recorder maintenance, data collection problem solving, field site management, pet maintanance, tour guide-leader, public education, search & rescue, cooking and cleaning up after.
Certified by National Weather Service as Weather Observer at Mount Washington, NH. and holder of current FCC First Class Radio Telephone License, NABR Certificate, Amateur Radio License; US passport valid, NH driver's license.
PUBLISHED RESEARCH
Bulletin of the International String Figure Association, Vol.2, 20-26, 1995; Vol.5, 210-214,1998.
RECENT EDUCATION
School for International Training (Brattleboro, VT) TESOL/ESL Certificate Course. Novel, LAN Manager; Internet Communications-WWWeb Design, UMN; EFData, Satellite Communications; Northern Power Systems, Wind Turbines; Compaq Computers, Field Maintanance; Harris-Farrinon, Quadralink Digital Microwave; Paradyne Acculink, Digital Multiplexer; Fryeburg Fair, Rake & Shovel Department.
References available from me at

(2004dec23)

A.J.Oxton, OA, OO, OAE, k1oIq

Back to ajo
Copyright © 2009, A.J.Oxton, The Cat Drag'd Inn , 85354-0313.