2003 Winter Solstice Letter, The Cat Drag'd Inn, Tonopah, AridZona

1
Greetings Cohort; Pen Friends, Relatives, Loved Ones, Special Friends, and Others who may happen upon this epistle. The last Full Moon is near upon us at this writing and the Winter Solstice follows. This is a time of sleeping and renewal, remembering and dreaming.
A lot of miles The Cat Drag'd Inn travelled this Summer past; that storey is detailed elsewhere. See http://www.TheCatDragdInn.org/migo.htm for the chapters of that storey. 12,000 miles give or take a few, from April headed north from El Dorado Hot Spring until October arriving back at that starting point. The time was one of adventure and learning, revisiting old friends, finding new ones, perhaps even loosing a few along the Way. At least I missed a few, even if I didn't loose them.
Thirty-five states (some of them twice), 1691 gallons of diesel (7.6 mpg), all on speculation.
2
So much for the numbers. Mostly I was riding on hope. Now I am going to sit for a while and hope the motor will start when it is time again to move.
In April I turned 62 and started Social Security. So I'm retired, whatever that means. It as been said by others: --I don't know how I ever found time to work; I'm busier now than I ever was when I was working.
And it seems like the right thing to have done.
Remembering: Happy Big Wind Day and the Feast Day of Saint George at El Dorado Hot Spring. May Day at Talent Oregon. Broken Windscreen Day in Lolo. Memorial Day in Rand Bluff. Field Day in Coventry Vermont. The Summer Solstice and 4th of July at Center Conway New Hampshire. TNS Festival, Empire Haven. Feast Day of Saint Augustine of Hippo in Goodwin on the road to Rushmore. Exhaust Pipe Day in Ten Sleep. Autumnal Equinox near Mount Hood. Fall Back Time in AridZona again where the TimeZones never change.
I will try to remember all your names too but I fear to leave anyone out.
3
A guy showed up at El Doradodo last week asking for me by name. Do I know you, I replied? I guess, he said, that I have the advantage of knowing who you are but you don't remember me. And he went on with a storey of how he stumbled upon my website while searching for information on Saddle Mountain. Cool! Then he brought out a photo of a group of Boy Scouts posing behind a placard that proclaimed "Wah-tut-ca, 1973", and pointed to one slim blue-eyed boy in the middle. Remember the cross country tour that Summer? CCT73 we called it. We went to the Grand Canyon, and Chula Vista, we had bicycles on the roof; I remember laying on the ground in Banff putting the dipstick back in the engine--my name's Bob Anderson.
Now he is a stocky guy about my height, working at the powerplant out back here and living in an off-the-grid house near Saddle Mountain. He said his love of the southwest was kindled by that Summer of travel with me and the several other kids living on the road in a yellow van named Willshedoit. What a gift, eh?
Where have all the others gone…
4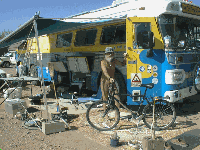 Dreaming… I'm looking forward to a fine and cozy Winter. Any of you passing by along the road between PHX and LAX are welcome to get off at the 94X and stop to set a spell. Have a cup of tea with me, soak and stay (some costs may be incurred), take a walkabout in the desert outback.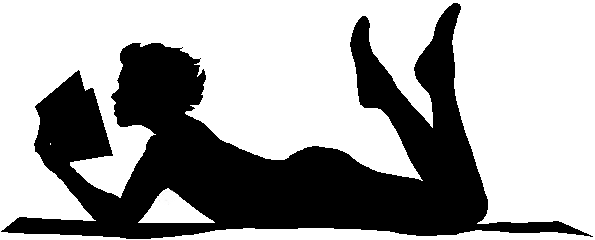 In 2004 there will be no Summer Tour for The Cat Drag'd Inn. It is my plan to stay on here for the Summer and see what hot weather is really like; I want to see the Monsoon in the desert. I'll have a Spring Break Tour that will comprise at least the Gulf Coast route to Florida and return via the second tier of states. The plan is in the dream stage now. Any HomeSchool Travellers who come with me will have some input. Write if you want to ride along.
There is so much to do and so little time.
Gardyloo, ajo
* Thanks to Doyle for the photo at the top.

A.J.Oxton, OA, OO, OAE, k1oIq

Back to ajo
Copyright © 2003, A.J.Oxton, The Cat Drag'd Inn , 03813-0144.