Travels With Oso con Migo
Odyssey In America
OAE On The Road Again, Hot Springs and Old Friends...

Greetings Cohort:

The time has gone, the Walrus said,
The bus is off up the road;
You're not going along? I'm surprised, he said,
Someone else will drive the Toad...

2003 April 23rd, Happy Saint George's WenzDay
One of the last obstacles to my departure is vehicle registration tags. One of those can't renew until after the first of the month of expiry things and then it takes a week to remember and a week to deliver my letter to NH and a week for them to process. I finally called the town hall clerk and learned that they had put my SASE in the outgoing box in Center Conway on the afternoon of the 11th. The envelope is postmarked--one of those rare occurances where you can actually read the date on it--in Portsmouth NH on the 14th. Then it took ei8ht days, until the 22nd, before the tags showed up at General Delivery Tonopah. The clincher is that a letter was included with the tags saying that next year I am going to have to prove residency. So much for Live Free or Die.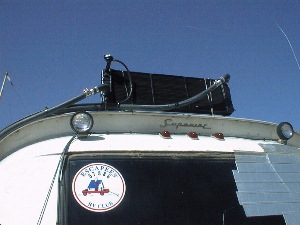 I've also added a radiator to The Cat Drag'd Inn's cooling system. 10x30 inches and three cores deep, it is a Jeep part. It's plumbed into the heater loop and mounted on the roof above the rear window so it catches all the ram air. What a difference! I went screaming 40 miles along Interstate10 at 55 mph in ambient temps of 91f and a tail wind--usually just the formula for 230f operation, if not full blown overheat--and the thermostats did not open for the first 20 miles. After than the main radiator added its cooling and the fans were never called for. Now I think I can see some ways to make better use of the air that is escaping around the main radiator. I will have to make some better ducting back there.
Still procrastinating here at the hot spring. This is too nice a place, peaceful, eden-like, and it is way too scary out there on the big road.
But I think when I face up to it that it is not the road that is scary but life it Self out there that has become scary. I feel safe from it all here.
Even so, the road calls to me ever stronger and I must heed that call.
What a screwed up mess my head is in just now.

News from the back: This just in from New Hampshire:
> CO Digest readers from Naturist New Hampshire sent us the link to an
> article in "The Citizen" from Laconia, NH, in regards to a new ordinance
> in the town of Gilmanton. In it's Tuesday, April 15th edition, reporter
> Geoff Cunningham tells us that the city selectmen voted 2-1 to approve
> "a new public indecency ordinance that makes it a violation of town code
> to bare one's breasts or buttocks."
>
> According to the article:
>
> "The ordinance was brought to the board by Police Chief Russell Boynton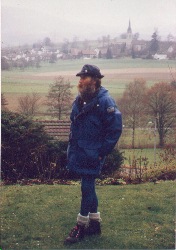 > as a way of remedying what he sees as loopholes in state criminal code
> that allow acts of lewd behavior to go unpunished.
>
> On Monday (April 14), he told selectmen that under the current state
> law, he
> cannot win convictions against those who show their breasts or
> buttocks. He said this is because state statue does not specifically
> identify those parts of the anatomy in its definition of lewd behavior.
>
> While some judges interpret such acts as violations of the indecency
> law's general description of lewd contact, others do not.
>
> The gray area in the law was brought to the chief's attention last
> summer when Israel Willard was charged with trespassing and allegedly
> exposing himself to Dorothy Willard, his neighbor and sister-in-law.
> Dorothy is married to Israel's brother, Arthur. "
>
> The article goes on to describe the ordinance as being similar to one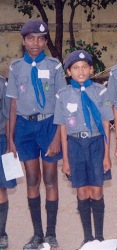 > passed in Laconia, which has had 'problems' in the past with women
> flashing their breasts during an annual motorcycle rally.
>
> So much for "Live Free or Die".

And from Franklin Massachusetts:
The boy, Gopu, whom I have been sponsoring to the school of the Church of South India in Erode, Tamil Nadu since 1995 when he was a little 8 year-old, is a fine young man of 16 now and in 11th Standard this year. Gopu is on the left in this picture. There's a gift and letter from that Gopu fellow waiting for me when I get back to Franklin. See my Letters from India for more on that storey and check the pages of Manjula's Children to learn more about the sponsorship project.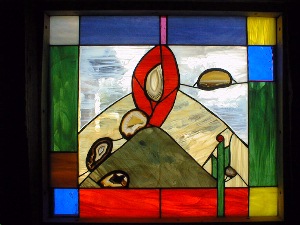 Susi and Klaus came to visit. We had a good soak and a fine dinner. Now I guess it is my turn to visit them at their home in Switzerland again. Klaus gave me a picture he took during my last visit to them. Note blue hat and red beard, both are faded to grey now. The church in the background is where we went for a concert.
My first commissioned stained glass window was completed with just enough time to get it installed in the window frame. The theme is that of the desert. Combining ideas from geologic history and Zen meditation with elements from the desert itself in the form of polished thin sections of geodes and chalcedony created a striking collage. (If I do say so my Self.)

2003 April 25th, Needles California, 186 miles
Two false starts this morning. First away was before the front desk was open. Up early. Everything was ready to go. Lights ok'd the night before, toad hitched, all packed. I wrote two letters at breky and then got as far as the post office before I realised I had no clothes to wear. Not being an emperor this proved to be a serious problem. They were all back at Eldo in the laundry machine. On the way back there I met an old-timer who, like me, lives in an old bus. I've seen him at Eldo before; his bus is an old scenic-cruiser. We spent a few moments chatting about old times, old buses, old problems, and cooling old motors. He had some reasonable, logical ideas and the more I thought about it the more sense it all made. So I went back into Eldo and made some radical changes. And retrieved my shorts and shirts from the washer; then, finally, managed my second away by early afternoon.

London Bridge is in Lake Havasu City; just up the street there is another 1964 Superior coach for sale.

This old bus is especially interesting because its roof line is different to that of The Cat Drag'd Inn and it has no belly boxes. There are owner-added storage boxes but not the sort of all the way under belly boxes found on The Cat Drag'd Inn. There is also no destination window. Inside, the ceiling is at least six inches lower than mine however the acoutrements are well arranged. There is a good shower and a nice sized bed. Lots of floor space. Underneath is all new steering parts and an aftermarket air bag suspension. With this one I have seen a total of four other buses of this make/model/year. The others may be described in previous letters but I will list them here:
front engine, military version, with drawbridge rear door, seen at QTZ,
rear engine, high roof model on GM chassis, from Oregon, seen at QTZ,
the special, built as a motorhome by Superior, seen at Tonopah,

All the same year, all with the same front end. But some are on International chassis, some on GM chassis. Only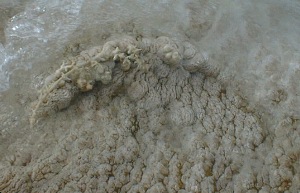 the Oregon one has the original motor and only Lake Havasu has the low roof.

Sunday, 27 April, Calcium Builds Strong Bones and Teeth...
And strong tree branches also. Somewhat west of P'town (and a host of other places as well), way out along venerable U.S. Route 6, where 6 junctions with S.R. 375, there is found the place known as Warm Springs. Two buildings stand at the crossroads, five if you count the dressing room and two structures backed into the side of Rawhide Mountain. On the west side of the "T" intersection Warm Springs Bar & Grill is boarded shut whilst on the south side a small house stands unoccupied. At the spring above the Bar & Grill natural mineral water bubbles out of the ground "at more than 120f" according to the Hot Springs of the Southwest book. The hot water flows down the side of the hill through a trench of brilliant white calcium to a swimming pool near the road. Feathers of calcium deposited all round the inside of the soaking pool give the water a milky cast, however once you are down into it, making calcium angels in the dust, the surface looks more blue, like the sky. I measured 102f at the inlet of the pool; just right for a relaxing soak at the end of a long drive.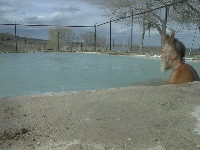 Three hot springs and three geocaches today. Not too many miles.

Ash Springs, north of Alamo was my first stop. The water was just right for an early morning soak and an hour of picking up trash. Just as my trash bag was nearly full two other persons arrived with more and larger bags. They wore hats with BLM stitched onto the front and one of them told me that they lived nearby and came out to clean up every morning after the usual hundred or so people who visited this spring. I put my bag of trash into their truck and thanked them for their efforts. --Don't thank me, the man said, thank the Bureau of Land Management.

The best cache of the day, for the walk anyhow, was the one in the rock wall across 375 from Echo Canyon Reservior. The best treasure came from the one in the Alien Abduction Zone, an Eagles CD. The most interesting cache was the one in the town of Rachel.

What is it about people that they like to fence their property and then litter it with all manner of trash? Or more to the point, what about when "they" leave their trash behind on "our" property. Among the stuff I picked up at Ash Spring was a pair of those zip-on legs that one can use to convert long shorts into pedal-pushers. Nearby were three socks, one towel, and sufficient empty bottles and cans to more than make up a six pack. What is to deduce from that other than an intoxicated three legged alien ran off with two legs undressed.

Last stop this day is at Tonopah. Tonopah NeVada that is. Unlike the flatness of Tonopah AriZona, this place is all up and down. I found a flat spot in a gravel carpark next to a boarded up bowling alley between Golden Mountain and Rushton Hill. Spring has not yet arrived at this Tonopah. The trees have only just begun to show the faintest trace of green; snow lingers on the higher summits around me. As I write this the outside temperature is 39f. I think I left Tonopah AriZona too early.

This Tonopah was once known for its silver mines. 1901 to 1921 Tonopah mines produced 8.1 million tons of ore. The gross yield in the dollars of those days was $147,600,000. Lottie Stimler was, in 1901, Tonopah's first white cook however the cooks of the "First Inhabitants" had been at it from some 10,000 years ago. By the mid 1900's they had been displaced by the establishments that Lottie pioneered.

Today, museums, MacDonalds, and trash (er-ah, pardon me; ruins and relics) are the featured items found in Tonopah.

I need to find some Ritalin for Sarah La Gata. She is climbing the walls in a vain attempt to get out and play. While we are moving she will move around and look from the windows or she will sleep on a shelf or under the galley table, however whenever the bus stops she wants to get off. When we stop for long enough and far enough from the traffic on the roads I open her special door. She sticks out her head and, assaulted by the strange smells, stops there, looking about and sniffing, before making a leap onto strange soil. Moments later she is back. Just to make sure this is her home bus? And then out again and in, again and again; each out is for a longer time and her circles of exploration are greater than the last. Then it might be hours before she returns to eat and drink and nap.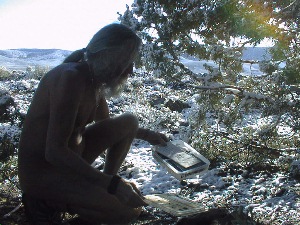 2003 april 30, Last Soak at Spencer's Spring
Been here two nights. The spring is about six miles southeast of the junction of u.s.50 and s.r.376. Such a dandy place. On an island of grassy knoll, in the midst of a sandy desert valley between the Toquima Range and the Toiyabe Mountains the water comes bubbling out of the ground at 140f. How magical! Hot water to soak in, snow capped mountains all round, and a busy blue sky overhead. Volunteers have built a stoned lined pool on the side of the knoll and a wooden deck for sunning. The water temperature can be regulated from way too cool to plenty hot enough. There are several other springs nearby with pools or stock tanks for soaking but this one is the best.

Yesterday morning I drove up to the crest of the Toquima Range to visit a cave by that same name. From the historical marker on s.r.376: "East of the summit ... lies Toquima Cave. Red, white, and yellow Aboriginal drawings decorate its walls.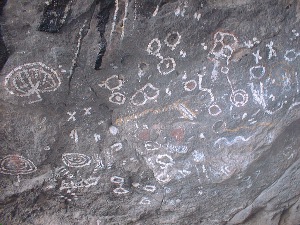 "Usually located near springs, as here, and on migratory big game trails, painted or pecked pictographs are associated with the food gathering localities of NeVada's prehistoric inhabitants.
"There are no known specific meanings attached to the particular design elements. Presumably, these people created the designs as ritual devices to insure success in the hunt.
"Most petroglyphs, therefore, probably are not "messages" or conscious "art forms"."
The cave is gated courtesy of the Forest Service to protect the graffiti of the ancients from the graffiti of the moderns. I had to erect my supertelegrabber lens extension to get photos through the chainlink fence. There is a Forest Service Campground a quarter mile away however I would not try to get the bus all the way up to it. Rough narrow winding road, sharp turns, overhanging trees... On the way between Spencer's Spring and Toquima Cave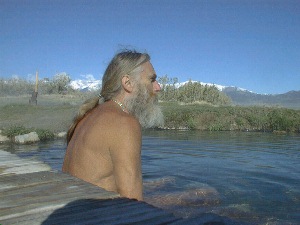 there is CmdrMark's Past The Hot Springs Cache. Hard by the first tree on the right, under a cairn of stone. Found that one easy enough.
At the spring Kirk is camping. Kirk is a retired submariner who has visited around the world a lot of the same places as me and a lot of different places as well. He is also one of the volunteers who care for this beautiful place so we had some good soaks together and shared a pasta dinner with my famous tomato basil mushroom sausage celery carrot merlot sauce. And an equally famous bread and raisen pudding for dessert in the desert. For a tip he left me one troy ounce of .999 fine silver.

2003 May 2nd, Talent Oregon, Visiting Old Friends
Fourty-five miles this morning but 293 the day before. That's the greatest and the least daily mileage for this trip back to back. Stopped in Battle Mountain on my way here to say Thank You to the Bureau of Land Management folks for their excellent maintenance of the hot springs in the neighborhood. Volunteers do most of the work however BLM administers that and they pick up the bags of trash that some folks are wont to leave behind. Amazing, flabbergasting even, that people will go to so much effort to carry, sometimes uphill, one or more six-packs of beer--that's got to weigh a few pounds--and yet they cannot find the wherewithal to carry out those selfsame empties.

In Talent Oregon now for a day of renewing friendships. Kathy lives here with her husband Terry. Their two grown children are busy making over their parents into grandparents. I knew Kathy when she and her brother Billy were on one of our Fifty Milers across the White Mountains of New Hampshire. Back in the late '60's somewhen? Thirteen years later Kathy and her young family drove from Talent to New Hampshire one summer when we had a reunion of that Fifty Miler group. I last visited here in '98 whilst waiting on transmission repairs at a shop in Eugene.

The road from last night to here was along Oregon route 66 from Kalmath Falls west to Ashland. Not a road I would want to drive in the easterly direction, that's for sure. Going my way I was always on the inside, against the cliff; driving eastward you would always be driving with your wheels along the edge of nothing. For any of you with a copy of StreetAtlas by Delorme, you can download the log file for this section of the tour and follow along through all the wriggles and switchbacks.


Love, ajo



I do not know what I may appear to the world; but to myself I seem to have been only like a boy playing on the seashore, and diverting myself in now and then finding a smoother pebble or a prettier shell than ordinary, whilst the great ocean of truth lay all undiscovered before me. --Sir Isaac Newton



Back to Oso
Back to ajo
Copyright © 2003, A.J.Oxton, The Cat Drag'd Inn , 03813-0144.